8 Great Recipes For Brunch Or Supper On Easter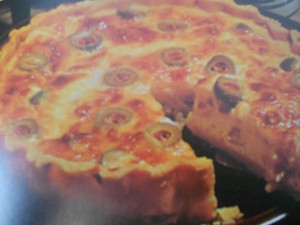 Easter traditionally, includes a full day of scheduled social activities and can be a rat-race. 'The Parade' may be a thing of the past, but there is still church, with emphasis on clothing, an egg hunt, afternoon socializing and, of course dinner. When combined with the following day being the start of a work week, it's stressful. No one relishes preparing and cleaning up after a large meal at such a time, unless it's a real part of the family gathering with lots of help. Restaurants do allow scheduling options. Dinner can be early for those who have travel plans, or later to accommodate afternoon engagements.
However, people need some nourishment to carry them through such a full day. The solution is, depending on the schedule, a brunch or supper dish which can be mainly prepared ahead or is so easy to make that it doesn't cause the cook any anxiety or require more precautions than covering clothes with an apron. This can be a casual pick-up, or a more formal seated meal, either way it makes guests, and family feel catered to in a special way while giving the host a sense of having filled hospitality obligations and freedom to enjoy the holiday.
Last year, my Easter post gave 13 brunch recipes suitable for holidays or just a weekend, all simply made. (April 1, 2015- Click either Blog or Table of Contents)  This year, I reprint the Eggs Parmesan, which is elegant, could serve as a light supper, but is so easy to prepare that an apron is optional, The other dishes below can all serve as a brunch or supper, but more importantly, they can all be prepared ahead and table ready with minimal effort, time and mess.
.Eggs Parmesan: Serves 4—Custard cups are needed for this
4 slices Deli ham—optional
8 large eggs
8 Tbs. heavy cream, half-and-half, or evaporated milk
4 Tbs. Grated Parmesan cheese
Line each custard cup with a slice of ham. Break 2 eggs into each cup. Cover with 2 Tbs. milk or cream. Top each with 1 Tbs. cheese. Place cups on a cookie sheet and bake in a preheated 350 deg. oven until set about 12-15 min. Serve hot with rolls or toast.
Spinach Squares, Poached Eggs and Pickled Salmon: Serves 4
12-14 oz. package of frozen chopped spinach
5 eggs
1 envelope chicken or beef bouillon granules
Ground nutmeg
4 salmon fillets 4-5oz.each – thawed if frozen
3 Tbs. white vinegar
2 tsp. pickling spice
Gently poach salmon in salted water to cover plus vinegar and spices, turning once, until no longer transparent, about 8 min. total. Remove from heat, bring to room temperature and chill in broth. Can be refrigerated up to 4 days.
Drain excess liquid from spinach; mix with 1 egg and bouillon. Place in a lightly greased 8X8 inch ovenproof dish and sprinkle with nutmeg. Can be chilled for several hours. Make 4 wells in the spinach and fill each with one egg, taking care not to break the yolks. Bake at 350 degrees for 20 min. until spinach and eggs are set. Cut into squares and serve with drained cold salmon.
*Salmon recipe adapted from Rozanne Gold's Menu Cookbook
.Sausage Casserole: Serves 10-12 * To be made the night before
2 ½ cups seasoned croutons – Use the boxed ones for salads or a stuffing mix
(1) 1 lb. roll of sausage
4 eggs
2 ¼ cups milk
10 oz. box frozen chopped spinach – thawed
10 oz. can condensed cream of mushroom soup
4 oz. can chopped mushrooms – drained
1cup shredded Cheddar cheese
1 cup shredded Monterey Jack cheese
½ tsp. brown mustard
Crumble and cook sausage then drain grease. Grease a 13 x 9 inch metal baking dish; spread croutons in the bottom and top with sausage. Whisk to blend eggs and milk; stir in all the other ingredients and pour over the mix in the dish. Refrigerate overnight. Preheat oven to 325 deg. Bake 50 to 55 min. until set and top is golden. Serve garnished with herbs like parsley or with salsa on the side.
* A Bob Evans recipe
Antipasto: Serves 4
6-8 oz. sliced salami
2 oz. sun dried tomatoes in oil – drained
(2) 14 oz. cans artichoke hearts- drained and sliced in half
8oz. Cheddar cheese thickly sliced
(1) 6oz. can pitted ripe olives
(2) 4oz. cans button mushrooms – drained
¼ cup Italian vinaigrette dressing
12oz.= 1 bag baby spinach
Marinate the artichokes and mushrooms with half the dressing in a bowl for 1 hr. drain ,Arrange the ingredients across an oval platter in the following order from left to right cheese, olives, salami, artichokes, mushrooms, tomatoes. Place the spinach in a bowl. Toss greens with the drained dressing, and drizzle the reserved half over the items on the platter.
Be sure to have a large loaf of crusty artesian bread to serve with this.
Classic Quiche Lorraine: Serves 4
Quiche is a dish that allows a lot of room for variety, yet is quite simple to prepare. If one of these won't be enough for your family, make two and use different ingredients. Think of it as if you were making pizzas with different toppings.-but here it's bottoms!
(1) 9 inch deep dish pie shell-store bought is fine– baked
1 Tbs. butter
4 oz. sliced mushrooms—(1/2) 8 oz. can will do –optional
1 small onion diced
4 eggs
1 cup light cream or whole milk
½ tsp. dried mustard OR prepared Dijon mustard
1 cup shredded cheese -Swiss usually preferred
Salt and pepper.
8-10 slices bacon cooked and crumbled OR ¼ lb. sliced Deli smoked turkey- chopped
Dash of ground nutmeg
Paprika and dried parsley
Spray skillet with cooking spray and cook bacon until crisp or frizzle smoked turkey and dice. Melt butter in skillet add mushrooms and onion and cook until they render their juice.-about 3 min. Line a 9 inch pie plate with the crust. Put mushrooms, onion and bacon in the bottom of the pie shell and cover with the cheese. Then pour over the eggs beaten until frothy with the milk, mustard and salt and pepper to taste. Sprinkle with the nutmeg, garnish with the paprika and parsley and bake in a preheated 400 degree oven for 15 min .Reduce heat to 325 degrees and bake for 30 min. more. Allow to stand 5 min. before cutting.
 Hot Chicken Salad; Serves 4
4 chicken thighs or 2 split chicken breasts
1 cup diced celery
½ small onion diced
3 Tbs. slivered toasted almonds
1 Tbs. lemon juice
(½) 4oz.can mushrooms -drained
½ tsp. salt
2/3 cup Hellman's mayonnaise*
¼ cup grated sharp cheese
1/3 cup toasted croutons
1 Tbs. melted butter
Paprika and dried parsley for garnish
Boil chicken, skin and bone and cut into bite sized pieces (save broth for another use).  Mix in a bowl with the next 7 ingredients. Spread evenly in a flat bottomed, oven-proof dish or casserole. Toss croutons with butter and scatter over the top, sprinkle with cheese.**  Bake in a 450 deg. oven for 30 min.
*Hellman's is recommended for this because it cooked better than other mayonnaise.
** can be frozen at this point. Cover top with plastic wrap and seal dish in a plastic bag. Good for 2 weeks.
Cobb Salad: Serves 4-6
1 Head Romaine lettuce –A combination of iceberg and Romaine is better, with some watercress added for taste.
3 large eggs hard boiled and in large dice
1pt. grape tomatoes- halved – or 2 large tomatoes diced
5oz. package of crumbled Roquefort cheese
2 avocados diced
4 slices bacon cooked and crumbled
2 cups cubed cooked chicken
Dressing*
Cut the greens in small pieces or ribbons. Toss them with the dressing and spread them on a platter as bedding. Starting at the left, line the other ingredients in stripes across the platter in the order listed above.
*The traditional dressing mentioned for this is French, but it was a special blend, not the commercially bottled found in a market. For convenience, oil and vinegar vinaigrette, such as Balsamic, would be a good substitute, especially with the addition of a dash of Worcestershire and a bit of mustard powder.
Salad Nicoise: Serves 6
1/2 small head of Romaine coarsely chopped
(3) 6oz. cans tuna-solid white is best- drained
½ lb. green beans – whole is best but frozen cut are fine
(2) 15oz. cans small whole potatoes-drained
2 large tomatoes sliced
3 large eggs hard boiled and sliced
(1) 6oz. can pitted ripe olives
½ cup white wine
Capers for garnish – optional
Cook the green beans just to crisp-tender. Marinate with the potatoes in the wine for 1hr. at least.
Line a platter with the Romaine. Arrange the other ingredients in a clockwise pattern starting at the number 6 position in the following order: Tuna, green beans, eggs, tomatoes, potatoes. Fill the center with the olives. Garnish the tuna with the capers.
Nicoise Dressing: 6 servings*
4Tbs. minced shallots – or mild onions
2Tbs. dry mustard – 4 of Dijon can be used
5 drops of hot sauce
5Tbs red wine vinegar
3Tbs fresh lemon juice – 4tsp. of concentrated will do
2 ½ cups salad oil.
1 Tbs. dried Tarragon or to taste
Mix the ingredients well and allow to meld for several hours. Drizzle a little over the Tuna, and serve the rest on the side. Chill leftover for other salads.
*A simpler dressing can be made by combining in a jar and shaking.
¼ cup olive oil
2 Tbs. white wine vinegar
½ tsp. Dijon mustard
1 clove garlic- mashed
1 tsp. dried tarragon.