7 PERFCT DESSERTS FOR LABOR DAY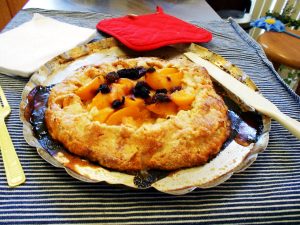 Planning Labor Day dinner can seem like a re-run of July 4th. Both summer holidays are expected to be warm, hopefully sunny days, offering the preferred option of eating outdoors, perhaps grilling. Both dinners rely heavily on seasonal produce. In fact, the menus are all but interchangeable except for one big difference—the desserts.
July 4th desserts are all about icy confections that laugh at the heat, seeming to say;"its summer, have fun and come cool off with us." Traditionally, on Labor Day, the oven returns to make pastry showcasing the stone fruits of August, peaches, apricots, plums and nectarines. The desserts are a bit nostalgic, carrying the message; "Enjoy us while you still can. Autumn is near."
The operative words are".. while you still can." Other summer produce, tomatoes, zucchini, cucumbers even cantaloupes and strawberries, though not field ripened, are transported to markets all year. Stone fruits are only available in season. Although these fruits cook better than most, as witnessed by their long history of being canned, for much of their short season it's too hot to stand over a stove. We prefer to eat them out-if-hand or sliced into or over other foods.
However, there is a saving grace because though the end-of-season fruits may be of lesser quality to eat raw, they cook as well, perhaps even better than the lush ones in their prime. Probably it's due to the fact that they have less water content and the meat is more compact, but heating brings out a ton of flavor.
Stone fruits combine well. If there isn't enough of one type for a recipe, another can often be used to fill the quota. They're generally interchangeable in recipes especially peaches and nectarines, which are really an antique Chinese variety of peach. Only peaches have to be skinned before cooking. That's done as with tomatoes, by dipping in boiling water and peeling off the skin, but don't remove the skin if grilling, roasting or broiling them, unless they're to be sliced.
The following recipes are easy go-tos, not just for Labor Day, but for early Fall desserts. There are several more in the site Archives, just go to the right margin and select a month from the drop-down box. I suggest looking-up August-September of any year.
RECIPES:
Broiled, Grilled or Roasted Peaches or Nectarines
Peaches and nectarines are the favored stone fruits to withstand intense heat without the support of pastry or a pan. Simply halve and pit them, place them on a baking sheet in the oven or directly on the grill and cook them until the juices bubble and the cut edges begin to char. Grilling time depends on the size of the fruit and degree of heat. Roasting is done at 400 deg. for 20 min.
They can be served directly with meat but as a dessert I like to let them marinate a few minutes in a complimentary liqueur or liquor, Peach Brandy, Triple Sec, spiced rum etc., until they form a bit of sauce and then serve them with the sauce and meringues, ice cream or whipped cream.
Fruit Rustica, or Galette, is the easiest type of pie to make. This is a short version of the recipe from my book Dinners with Joy:
If making the crust: mix 1 ½ cups flour, ¼ cup sugar, cut in 1/3 cup shortening, add 3 to 4 Tbs. ICE water to form dough, and roll to a 12 inch round.
If buying the crust: roll only to 10 inches.
Transfer to a parchment or foil covered cookie sheet, or a pizza pan for baking.
Depending on size, fill the center with a 1 lb. to 1 ½ lb. fruit, leaving a 2 to 3 inch margin. (Apples pears and peaches should be peeled and sliced. Plums and apricots can be halved and stoned.)
Dot fruit with ½ Tbs. butter.
Sprinkle with 1 Tbs. cornstarch, 1 Tbs. sugar and ½ tsp. lemon juice.
Carefully fold edges of pastry up around filling, pleating as you go. The edges can be brushed with cream or egg white and sprinkled with sugar as decoration.
Bake at 400 degrees for 30 min. Cool on sheet; preferably on a wire rack.
This can be moved to a plate for serving, but as the name implies, it's a "rustic" or casual pastry, and I like to bake it and serve it in a pizza pan.
Fruit Pizza: Serves 8-10
Make dough as instructed above, increasing sugar to ½ cup and shortening to 2/3 cup.
If buying; purchase a roll of sugar cookie dough, not pie dough. Roll dough to fit a pizza pan, prick several times with a fork and bake as for cookies, 350 degrees for 10 to 12 min. until lightly browned, or as directions on package state.
Cool completely in pan.
Decoratively arrange raw fruit over the crust. The amount you will need depends on the chosen fruit, roughly about 1 ½ lbs. For July 4th use a combination of strawberries and blueberries. Top with a glaze made from a clear jelly, apple or current, melted with 1 Tbs. water per ¼ cup jelly. For a thicker glaze dissolve ¼ tsp. cornstarch in 1 Tbs. water per ½ cup jelly, which is the amount I use for one of these. Boil until clear and spoon over the fruit. Chill until completely set. Serve in wedges and optionally pass whipped cream, or ice cream.
American Trifle Recipe: Serves 8
Note: the flavor of the pudding mix can be changed to taste Coconut, Lemon etc.*, as can the type of fruit preserve**. For example the trifle could be blueberry-strawberry or peach. Experiment and have fun!
(2) 4 serving packages of Vanilla instant pudding-pie filling*
1 ½ cups milk ( note reuced amount from that stated on box)
10 oz. pound cake –available at the Dollar Store
10 oz. jar of raspberry preserves**
3-4 whole fruit –sliced or more as needed
¼ cup sherry, brandy, other complimentary liquor, or orange juice
1 cup sweetened whipped cream –optional garnish
¼ cup extra slices and/or a few mint leaves for garnish
Mix pudding with milk for pie filling as directed on package. Arrange 1/3rd of the cake in a single layer to completely cover the bottom of a deep glass bowl or large compote dish (clear glass is best) Spread with 1/3rd the preserves, sprinkle with 1/3rd the liquor or juice, spread with 1/3rd the fruit slices and top with 1/3rd the pudding. Repeat layers twice ending with pudding, Top with whipped cream if using and garnish with a few slices and/or mint. Chill for up to 1 day.
NOTE: If the trifle is to be kept for any time adding 2 thinly sliced bananas to layer under the fruit protects the cake from becoming too moist and falling apart or 3 bananas can be used alone
Wonton Fruit Cups: Serves 12
24 wonton wrappers
2 Tbs. melted butter
1/3 cup fruit preserves—flavor complimentary to fruit filling
1 cup lemon yogurt or instant pudding-pie filling, flavor optional
1 ½ cups diced fruit
Line a 12 cup or (2) 6 cup muffin pans with a wonton wrapper. Brush with ½ the butter. Place a second wrapper diagonally across the first and brush with remaining butter. Bake in a preheated 350 deg. oven 10 min. or until golden. Remove and cool. Spread 1 tsp. fruit preserves in each cup. Fold yogurt or pudding with 1 cup fruit and spoon into cups. Garnish with remaining fruit.
Fruit Crisp: Serves 6-8
4-5 cups sliced peaches or nectarines, halved apricots, quartered plums
½ cup melted butter
¾-1 ¼ cups white or light brown sugar-depending on sweetness of fruit
¾ cup flour
¼ tsp. salt
1 tsp. cinnamon or ½ tsp. nutmeg or allspice—depending on choice of fruit
Few drops lemon juice
Place the fruit in an ovenproof bowl or pan the size of a 9 inch pie plate and sprinkle with lemon juice. Stir all the other ingredients into the butter and scatter over the fruit. Bake in a preheated 400deg.oven about 30-40 min. until fruit is done. Cool on a rack and serve spooned into bowls topped with ice cream or whipped topping.
Dump Cake: Serves 12
4-5 cups sliced peaches or nectarines, halved or quartered plums or apricots
½ cup white sugar
½ cup melted butter
1 tsp. cinnamon
(1) 18.5 box of cake mix-flavor optional
Place fruit in the bottom of a 9 x 13 inch pan and mix with sugar and cinnamon. scatter dry cake mix over the top and pour melted butter evenly over it. Do not stir! Bake in a preheated 350 deg. oven about 30 min. until golden on top. Serve with ice cream or whipped topping.