7 DESSERTS FOR THANKSGIVING THAT AREN'T PUMPKIN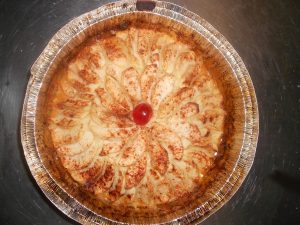 Turkey and pumpkin, in fact all winter squash, are native to North America, so it's logical the traditional American Thanksgiving Dinner should feature roast turkey and pumpkin pie. In fact, Pumpkin Pie Spice Mix has become so popular that it's now considered the signature flavor of fall. For those who like the taste but not the pie, I wrote a post on Oct. 6, listing other pumpkin or squash desserts that can substitute.
Then there are people, and I'm one of them, who would prefer a different type dessert. Fortunately there's lots of autumn produce with tempting recipes, nuts, apples, pears, cranberries, grapes and/or raisins. After all, Thanksgiving is officially a 'feast', and that implies options, so why not include dessert choices? I'm listing several recipes which 'fill the bill'. They also fit the requirements I've been following in this series of postings. They can be made ahead, are easily transported, need little attention on site, and a few will appeal to those seeking something 'lite' after a big meal.
Offering a dessert selection on Thanksgiving isn't a new idea. Since colonial times, mince pie was a Thanksgiving alternate to pumpkin, but, aside from being an acquired taste, mincemeat has some 20 ingredients and is so labor and time intensive that by the 1920s it was mainly commercially produced and by the 1940s offered in condensed blocks in expensive specialty stores. It disappeared from menus because like many antique foods, it doesn't fit in a healthy diet,requiring goodly amounts of sugar and suet. I offer a 21st century recipe that imitates the taste. The Apple, Raisin, Walnut Pie can be made days in advance, assembled and baked on the day.
The French Apple Pie recipe is one of mine. It's more a compote than regular apple pie and lighter without a thickened filling or upper crust. The Pecan Pie is the first recipe I ever developed and the one that started me down this road. I lived in a section of the U.S. where it was never served, and I decided, if I had to make the pie, I would not settle for one with an overly sweet gelatin-like filling and a few nuts on top. I wanted one with pecans in it, on it and a custard-like filling. I got what I wanted, if you agree, let me know.
I'm saving the cranberry recipe for December. The color is better suited for those holidays, and the fruit is part of the Thanksgiving meal so who needs repetition? Without frosting, the cakes are less sweet than regular layer cakes. The apple one makes a great snack or even a breakfast. The rest of the dessert recipes below are for those who crave something lighter, less filling, to end the meal.
So Happy Thanksgiving! Enjoy your dinner and we'll deal with the leftovers, in a slightly different approach, next week.
PIES: All serve 8-10, baked in a 9 inch pan. Packaged pie crust dough is fine or—
My Crust Recipe for single crust pie
1 cup flour
1/3 cup shortening- Crisco
3 Tbs. + if needed ICE water
In a deep bowl, cut shortening into flour with 2 knives until pea sized crumbs form. Add the water a Tbs. at a time mixing until dough holds together. Form into a ball cover and chill 30 min. Roll on a floured surface until slightly larger than the pan. Line the pan with the dough, cutting off or tucking excess under and crimping edges. Crust can be frozen, chilled or baked ahead according to pie directions.
French Apple Pie
3-4 lb. cooking apples-peeled, cored in ¼ inch slices
¼ cup melted butter
¼ cup sugar
½ tsp. ground cinnamon
Successively layer the apple slices so they lay flat, in the pie shell; a circular pattern looks best for presentation. Sprinkle each layer with some sugar and cinnamon. When the crust is filled, pour the melted butter over all, and then garn garnish with sugar and cinnamon. Bake in a preheated 450 deg. oven 10 min, then at 350 deg. for 30-40 min. until apples are tender and crust is crisp. Best done serving day, but can be done the day before. Store at room temperature.
Apple, Raisin, Walnut Pie
1 ½ cups chopped cooking apples
2 cups raisins
3 cups apple cider
1 cup sugar
1 tsp. cinnamon
1 Tbs. lemon juice+ ½ tsp. zest
2Tbs.butter
½ tsp. salt
3 Tbs. cornstarch
½ cup chopped walnuts.
Double crust recipe or buy 15 oz. package of 2 dough rounds
NOTE; I like a thin crust, so this will allow for some extra, especially if making a lattice top. Don't use over a heaping ½ cup shortening. Store left over dough chilled and use within 10 days, or roll and freeze.
Line pie pan. Dissolve the cornstarch in ¼ cup of the cider; put all the other ingredients except the walnuts in a pot and heat to boiling. Stir in cornstarch mix, and simmer, stirring until thickened. Stir in nuts. Pour into bottom crust. Top with top crust, well vented, or lattice top. Bake at450 deg.for10 min. then at 30-35 min at 350 deg. Cool before slicing.
To prepare in advance; the cooked filling can be kept chilled, in a plastic container for several days and then poured into the shell and topped before baking. The pie pan can be lined and the top crust dough kept chilled in plastic wrap for several days as well.
My Pecan Pie
¼ cup butter
2/3 cup brown sugar
3 eggs well beaten
¾ cup dark corn syrup
1 tsp. vanilla
Dash salt
1 cup pecan halves-divided 1/3 cup reserved
Crust for pie shell
Chop 2/3 cup pecan halves. Cream together the butter, brown sugar and salt, add the syrup, incorporate well, then fold in the eggs and chopped nuts blending evenly. Pour into the pie shell and use the reserved nuts to decorate the top. Bake in a 450 deg. oven 10 min. and reduce heat to 350 deg. for 30-35 min. more until a knife inserted comes out clean. Cool. Pie will puff then fall slightly. Serve on day of baking or store covered overnight.
CAKES: Both serve 8
Pear Ginger Cake: Use a 10 X 2 inch round cake pan. Serves 8 well
6 pear halves preferably fresh from 3 Anjou pears. (1) 16 to17oz can of pear halves can beused, see below **2 Tbs. butter
½ cup brown sugar
¼ cup maple syrup – -pancake can be used
½ cup chopped pecans Or 6 tablespoons craisins or raisins
1 box gingerbread mix
If using canned pears, skip this paragraph. Peel, halve and core the pears. Place cut side up in a microwave safe dish, with enough water to cover half way up the sides and ¼ cup sugar. Cook on high, @ 3 to 4 min., epending on the oven wattage, or until just fork tender. Allow to cool in the liquid. Preheat the oven as per cake box directions, and grease the pan well. Melt the butter, mix in the sugar and syrup, blending well, and pour into the bottom of the cake pan. Drain the pears, reserving the juice, and arrange them, cut side down, attractively in the bottom of the pan on top of the sugar mixture. Sprinkle the nuts, or craisins, in the spaces between the pears.
Mix the cake according to directions, substituting the pear juice for equal amount of required liquid. Pour the batter on top of the pears. Bake according to directions, plus five minutes, or until a toothpick inserted into the center comes out clean. Leave the cake to cool in the pan for at least 20 min. allowing the bottom to set. Invert pan on a plate to remove the cake. *Fitting the pan bottom with a round of greased parchment paper helps the cake to flip out easily. Once it's plated, simply peel off the paper ** Fresh pears are better for this cake, because, once cooked, pears are very fragile. Canned ones, having been boiled until soft, are harder to handle, and might not support the weight of the batter as well as fresh.
Dutch Apple Cake: Use an 8 inch round cake pan
2-3 apples-depending on size, peeled, cored and sliced
1 cup flour
2 Tbs. sugar + a little for garnish
2 eggs beaten
2 ½ oz. butter
2 Tbs. milk
½ tp. baking powder
¼ tsp. salt
Cinnamon and sugar for garnish
Sift dry ingredients, blend in butter. First stir in eggs then milk. Pout into a greased and floured pan and arrange apple slices decoratively in a circular pattern over the top. Sprinkle with cinnamon and sugar. Bake at 450 deg. for 40 min. Serve inverted onto a plate or from pan. Optionally pass whipped cream. Can be made 1 day ahead, store at room temperature.
FRUIT
Wine Poached Pears: Serves 8
8 Bosc pears—peeled but stems left on
2 cups cranberry juice
1 cup lighter red wine such as red zinfandel or Pisano
1cup water
¼ cup sugar
1cinnnamon stick
Put everything but pears in a large pot and heat to dissolve sugar, bring to a simmer and add pears. Cover and continue simmering, turning occasionally until pears are tender 15-20 min. Cool in syrup still turning to keep color even. Can be made a couple of days ahead, but chill fruit separate from syrup to keep color even. Gently re-heat syrup and serve around pears.
Grapes in Sweet Sour Cream: Serves 4
2 lb. seedless grapes –red makes a better presentation
1 cup sour cream
¼ cup sugar- or to taste
¼ tsp. cinnamon
Remove grapes from stems, wash and dry well. Stir the cream, sugar and cinnamon together and taste to adjust seasonings. Gently stir in the grapes and chill well. Serve in compotes. Can be transported separately and mixed before serving. Cream can be mixed a day or two in advance.