6 GREAT PASTA RECIPES FOR LENT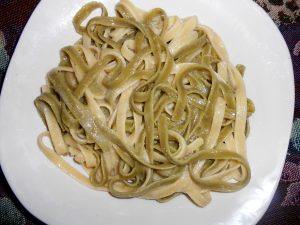 Last week we discussed fish and this week it's some pasta suggestions for Lent. Pasta is perhaps, globally, the most popular food. With over 100 varieties of noodles, it fits any cuisine and occasion depending on the sauce and sauces can be traditional or spur of the moment innovations with an infinite number of combinations depending on the ingredients available. Pasta dishes are always fresh, can be quick and easy, subject to the sauce, and constantly offer room for creativity. That's part of the fun, and appeal, of pasta.
As an example, soon after I moved to Italy, I learned that the commercially bottled and labeled olive oil, sold in stores, used in hotels and large restaurants was different from the 'house oil' oil served in small trattorias and homes. That oil came from communal pressings in near-by towns or from family or friends who had groves, and it had enough body and flavor to stand alone. Within weeks I had worked out a favorite fast meal to make after a long day's work; a steaming plate of capellini, tossed with oil salt, pepper and cheese.
Then a friend suggested I up the taste by adding spinach pasta and another advised I add tomato pasta as well and call it Pasta Bandiera or Flag Pasta because it was the color of the Italian flag. That led to a running game of devising sauces to use on the dish using only those three colors. The red was tomatoes or peppers, and the white fennel, onion, cheese, even chicken or fish but the green ran a whole range of vegetables and herbs, even pesto which counted as one ingredient. As for me, I stuck to my original combo for the most part, and still do as a favorite go-to after a busy day but the story illustrates the imaginative fun that working with pasta offers.
The only real guideline in using pasta is in pairing the sauce with the right one. Smooth sauces are best presented on long strands and flat surfaces while chunky ones are better topping shaped varieties because the crevices trap the morsels of food. Of course, the smaller the food bits, the smaller the pasta shapes needed, and the more delicate the sauce the more delicate the pasta, whereas chunkier or more rustic sauces require firmer gauges of pasta. Other than that, it's up to the cook!
Of the following recipes the first two are traditional. The others are really versions of other presentations and open to experimentation or adjustment. Aside from the giant shell dish which is a given, I mention pasta types with each recipe but only as suggestions. If you want to see more sauce recipes, I have a series of them in the archives. Just go to the blog and select Sept. 30, 2015 and Oct. 7. 2015 from the drop down menu in the box labeled 'Archives' in the right margin of the page.
Recipes: * Try my favorite fast go-to as described above. There are no set measurements. It's simply 'to taste' and if you decide to try your hand at making a sauce, you'll probably want to add some garlic as well but it's a great starting point to hone your pasta skills.
Pasta Puttanesca: Serves 4 (Spaghetti)
8 oz. pasta
4 large tomatoes, peeled, seeded and chopped = 1 ½ lb. or (1) 28oz. can diced, drained, juice reserved
1 Tbs. oil
1 tsp. red pepper flakes
2/3 cups drained tomato juice + water to reach amount if needed
2 crushed garlic cloves
12 pitted ripe olives-sliced
8 anchovy fillets chopped
2 tsp. chopped capers
¼ cup chopped parsley
1 Tbs. chopped fresh basil or 1 tsp. dried
In a large saucepan heat oil and cook garlic for 1 min. Add tomatoes, juice and/or water. Cover and simmer 10 min. for fresh, 5 min. for canned. Add water if needed to prevent sticking. Add remaining ingredients and simmer uncovered 5-8 min. Toss with cooked pasta. Serve hot garnished with parsley—NO Cheese Please!
Straw and Hay: Serves 6 (Fettucine)* –VERY child friendly
8oz. spinach pasta
8oz.regular pasta
½ cup butter
1½ cups heavy cream or half and half
Salt and freshly ground pepper
1¼ cups grated Parmesan
Cook pasta according to directions, drain and set aside. In pasta pot or a large skillet, melt butter over medium high heat and stir in cream. Keep stirring until cream thickens, lifting pot if cream starts to boil. Add pasta to pot and toss to mix with salt and pepper. Serve hot with cheese over top.
Note:* This is a mild flavored dish. For more zip, keeping it meatless, my favorite tip is to add ¼ cup shredded Pepper Jack cheese to the sauce as it cooks, and a bit of pasta water if needed, also consider adding capers, sliced green olives, anchovy paste or a few drops of hot sauce. Otherwise, 1 cup of cubed ham, turkey ham or corned beef or en evan envelope of bullion powder are good options.
Stuffed Shells: Serves 4
8oz. package giant shells
3 Tbs. butter
3 Tbs. flour
2 cups half and half or milk
½ lb. Gruyere cheese or 8 oz. bar Monterey Jack shredded
2 egg yolks
½ tsp. each nutmeg and salt
¼ cup melted butter
½ cup grated Parmesan
(1) 15 oz. can diced tomatoes (flavoring optional)or tomato sauce- optional*
Cook pasta and drain. Melt 3 Tbs. butter in a saucepan over medium, stir in flour to make a paste, remove from heat, stir in milk and return to heat stirring until thickened, about 3 min. Add shredded cheese, nutmeg and salt. Keep stirring until cheese melts. Whisk in eggs and mix well. Stuff shells and place in a greased 9X 13 inch pan, drizzle with melted butter and top with Parmesan. Bake in a preheated 400 deg. oven 15 min. until golden.
NOTE *If using: 1)Place tomatoes or sauce in pan before adding shells and bake together, or 2)heat tomatoes and spoon on plates before plating shells or 3)Heat and serve on the side.
Stir-Fry Primavera: Serves 4 (Rigatoni) "Primavera" means Spring in Italian and this is the truest form of the dish, using all spring vegetables not even summer tomatoes.
1 lb. pasta, cooked and drained
1 medium onion in large dice
1 medium carrot, halved lengthwise and thinly sliced
1 zucchini cut in ¼ inch slices
1 lb. asparagus cut diagonally in ¼ inch slices-tips set aside
1 small fennel bulb, thinly sliced and slices cut in ½ inch pieces
1 cup peas
½ lb. sliced mushrooms
6 scallions thinly sliced
6 small or 4 large red radishes, thinly sliced – optional
2 large garlic cloves minced
½ cup chicken broth
¼ cup white wine
½ tsp. oregano
1 tsp. basil
2 Tbs. parsley
Salt and pepper
½ cup grated Parmesan
Melt butter in a skillet over medium-high heat and sauté garlic and onions until tender. Stir in fennel, carrot, zucchini, asparagus stems and mushrooms and cook for 2 min. Add broth, wine, basil and oregano, bring to a boil and boil until liquid is slightly reduced, about 3 min. Add peas, scallions, radish slices and asparagus tips, salt, pepper and parsley. Stir gently for 2 min. add pasta and cheese. Toss gently until well mixed. Serve with shaved Parmesan as a garnish.
Pasta with Pea Pods and Goat Cheese: Serves 8 (Bow ties or Penne)
16 oz. pasta
9 oz. pea pods- frozen is fine-large ones cut in half
1 onion halved lengthwise and thinly sliced
2 large red bell peppers julienned or 2 roasted jarred peppers thinly sliced
5 Tbs. butter
1 ½ cups light cream
1 Tbs. basil
6 oz. goat cheese-shredded
1 cup chopped toasted pecans
Cook pasta and have ready. Melt 2 Tbs. of the butter, sauté the onion, and pepper if using raw, until tender, about 3 min. add pea pods and cook ½ -1 min. more until bright green. In a saucepan, heat cream until ready to simmer and add to vegetables, off stove, along with basil and goat cheese. Add remaining 3 Tbs. butter to hot pasta in a serving bowl and top with vegetable mixture. Toss gently and serve at once garnished with pecans.
Pasta with Artichoke Hearts: Serves 6 (Small Shells)
1 lb. pasta
(2)9 oz. boxes frozen artichoke hearts or (3) 6 oz. jars marinated artichoke hearts
1 onion halved lengthwise and sliced
1 ½ lb. tomatoes, peeled and chopped or 15 oz. can diced
¼ cup oil
½ tsp. each salt, pepper and garlic powder
1 Tbs. capers
Salt and pepper
¼ cup chopped parsley
Cook pasta according to directions. If using frozen artichokes, cook according to directions and cut in half if large. If using marinated hearts, drain, cut in half if large and use oil to replace some of that required for cooking. Saute onion in a large skillet until tender; stir in artichokes and sauté for 3 min. Add tomatoes, capers and seasonings and heat through. Toss with pasta and serve hot.