5 Great Naturally Resources Greens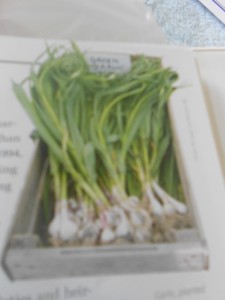 Foraging for food, especially in spring, can be rewarding fun. The town where I grew up had been a farm but unlike regular developments, which level the land and immediately begin building, the founding group laid out the property grids and sold the lots independently, leaving construction to the owners.  Resultantly, some plots remained vacant 'investment properties'. Each spring those lots yielded vestiges of the crops that once grew on them, most having returned to their wild form. There was asparagus, tiny, sweet 'wood' strawberries, an occasional blueberry bush and loads of ramps. Gleefully we children gathered them and ate them raw. At the edge of town there were several acres of nettles we dubbed "The Ouch Woods". We were told the Indians had cooked and eaten the young shoots.
By the time I was 10 the lots held houses and the woods had been replaced by a school. My foraging days were forgotten until college, when I was reminded by the owner of the local pub. He gathered and cooked fiddlehead ferns and ramps each spring, reminding me how delicious natural produce can be. Once again, the memory dimmed over the years except for an occasional mention in a food magazine or a rare sighting in a boutique produce market.
Then, about five years ago a movement was started by innovative young chefs to create dishes centered around locally foraged, now called 'resourced' ingredients.  Scandinavia was an early leader and Australian chefs became quickly involved. Their restaurants received global reservation requests.  This may well be the guiding force behind the Millennials' focus on making salads of grains, nuts, seeds and greens the major part of a meal, as well as their willingness to spend for the best, purest ingredients. I plan a post on this soon, but this is a generation that has grown up amid the controversy over GMOs, pesticides and exfoliants.  They want their food unchanged by science and untreated by chemicals; in other words, as natural as possible.
I'm listing 5 of the easiest items to 'resource', even if from a Farmer's Market, and use in spring. I think fennel could be added to the list, because though grown commercially, it's found wild in most countries, usually near water. See my post of March 3, 2016.
1)Fiddleheads are easiest to find in upscale produce markets and are only in season for a couple of weeks. These are the shoots of the Ostrich fern, and get their name because they are tightly coiled resembling the carved end of a violin's neck. They are very ornamental, can be eaten raw, cook well, also can or freeze and have a flavor similar to asparagus. Like asparagus, the woody end of the stem will break off easily. If you attempt to gather them yourself, be sure they have wooly tops and a distinctive grove running down the stem.  They have a mildly toxic relative which resembles them.
Sautéed Fiddleheads
3 cups fiddleheads – stems trimmed
3 Tbs. extra virgin olive oil (The pub owner used butter)
½ tsp. each salt and pepper
½ tsp. garlic powder
1 Tbs. lemon juice
Bring a large pot of salted water to a boil. Cook fiddlehead ferns in the boiling water until barely tender, 7 to 10 minutes; drain. Heat olive oil in a large skillet over medium-high heat. Stir in the prepared fiddlehead ferns, garlic, and the salt and pepper. Cook and stir until ferns are tinged lightly brown and tender, about 5 minutes. Remove from heat and sprinkle with lemon juice
For more recipes go to:
allrecipes.com/recipe/
2) Ramps also called Spring Leeks or Wild Onions are native to North America and Canada, where they are now endangered. Often confused with scallions, having a crisp texture but a nuttier, more garlicky flavor, they can be eaten raw, cooked or pickled. They have broad, smooth, light green leaves, often with deep purple or burgundy tints on the lower stems, and a scallion-like stalk. Both the white lower leaf stalks and the broad green leaves are edible. They grow in tight groups, strongly rooted with a bulbous end.
Food writer Jane Snow calls ramps' flavor a combination of onions and strong garlic, or "fried green onions with a dash of funky feet" which is adaptable to numerous cooking styles. In central Appalachia, ramps are most commonly fried with potatoes in bacon fat or scrambled with eggs and served with bacon, pinto beans and cornbread. Ramps can also be pickled or used in soups and other foods in place of onions and garlic, but taste milder and sweeter than either. Sautéing over a high flame with olive oil, salt and pepper enhances their sweetness and is an excellent topping for burgers.
Ramps can often be found in markets, especially in Northeastern United States. The following is a recipe for a fancier presentation. It calls for leeks, but ramps can be substituted. 6-8 should do.
Leek and Potato Bake: Serves 4
2 large leeks trimmed –equal quantity of ramps about 6 to 8
2 lb. potatoes- a more floury variety is best here – Idaho, Russet, Eastern All-Purpose
1 ½ cups light cream
6 oz. Brie cheese sliced
Trim leeks (ramps), cut across in ½ inch slices and blanch for 1 min. Pierce the potatoes and microwave for 2 min. cool and slice thin. Put half the potatoes in a shallow baking dish and spread out to the edges and cover with 2/3rd of the leeks (ramps). Cover with the rest of the potatoes and tuck the other 1/3rdof leeks (ramps) and the cheese around and slightly under the potatoes. Pour the cream over and bake in a preheated 360 deg. oven for 1 hour until potatoes are tender. Cover with foil if the top begins to over brown.
For more recipes go to:
15 Recipes to Celebrate Ramps | Serious Eats
www.seriouseats.com/2015/
3) Lambs Ears have been used in many ways medicinally for centuries but few people outside the West Indies enjoy it as food, where it is frequently made into mole verde.  Why is a mystery, because the plant is plentiful, often found in gardens and easily bought in garden centers. The leaves, especially the young, tender ones are wonderful fresh in salads. They have a bland fruity taste compared to apple or pineapple. The leaves can also be served gently steamed or dried and made into a soothing tea very like chamomile.
Easy to grow and maintain, the best way to have lambs ears handy for the kitchen is to plant them in your garden as borders. They also deter rabbits and deer.  They need no further reference. You can get growing directions where you buy them. The young leaves can be used in salads according to taste, or simply steamed or dried for tea. If you want to explore the edible uses further, refer to a Caribbean Cookbook.
4) Dandelions are the most common of these resourced items, but not the easiest to find commercially. The best bet is a Farmers' Market where they may appear in bags. The large leaves are very tough, so choose leaves about 3 inches long, but don't chop them or they will shrink to a sodden mess when they wilt. I'm tempted to harvest my lawn, because I fight dandelions all summer, but after so many applications of weed killer over the years, I don't know what chemicals have seeped into the plants.
Dandelions are used for wine, but their best kitchen purpose is in salad, and never raw, always wilted. Beware they shrink as much as spinach. 2 quarts will serve 4 normal portions. Also be sure to wash them well, soil and sand tend to cling. One quick preparation is:
Dandelion Salad with Bacon Serves 4
2 quarts dandelion greens-washed and trimmed
4 slices of bacon- cooked and crumbled
Salt, and pepper,
Vinegar  of choice.
Blanch the greens in boiling water. Drain well and serve topped with bacon. Pass the condiments on the side. (Optionally, hot bacon fat can be drizzled over the greens when plated.)
I'm including a favorite family recipe for Hot Boiled Dressing which will wilt the leaves as it's tossed. The recipe makes about 1 ½ cups dressing and covers 2 quarts of dandelion leaves with some to spare.
Hot Boiled Dressing Makes about 2 cups
This dressing is wonderful, cold in place of mayonnaise in sandwiches and salads like potato, chicken, tuna and salmon. Hot it gives a new dimension to spinach and, if you can get them, dandelions.  Young spring spinach is best but the "baby" found pre-packed all year is also acceptable. Just make sure both types of greens are well washed and the hard part of the stems is snapped off. Either salad can be garnished with crumbled bacon. Used cold with the addition of quartered hard boiled eggs it can make a meal.
3 Tbs. sugar
½ tsp. dry mustard
1/8 tsp. paprika
1 Tbs. flour
1 tsp. salt
1 Tbs. butter
½ cup water
½ cup cider vinegar
2 eggs – well beaten
In the top of a Bain Marie or double boiler, whisk together the first 5 ingredients. Whisk in the next 3 and place top pot over bottom in which the required amount of water is boiling. Cook, constantly stirring, until smooth and butter is melted. Pour a little into the beaten eggs, stirring to prevent curdling, pour the rest of the hot liquid into the eggs. Then return the mixture to the top of the double boiler and cook constantly stirring until mixture is thick and smooth.
Serve hot over cleaned greens. Do not use over lettuces. All greens will wilt with the heat and lettuces don't stand up well.
Chill leftover and use as mayonnaise or a salad dressing.
5) Nettles are the only one of these greens I haven't eaten. So I'm giving several references for recipes and more information. It's imperative to wear heavy gloves when handling nettles. The leaves and stems are covered with hollow hairs which inject itchy histamines upon contact.  However, those who have eaten nettles say it's worth the effort.
Like dandelions they aren't edible raw. Their stinging power disappears instantly when cooked, and they can be used in many ways from pureed for soups to simply steamed or sautéed.  The cooked leaves are delicate greens loaded with vitamins, tasting like a spinach-cucumber hybrid, and able to be used in any recipe calling for spinach. Beware, like dandelions and spinach the greens shrink as they wilt, so buy at least double the quantity needed.
Below is a recipe for Nettle Soup and other Nettle recipes from HuffPost Taste
1 tablespoon butter
1 small leek
2-3stalks green garlic
1 medium russet potato, peeled and chopped into 1-inch pieces
1 quart water or vegetable stock
1 teaspoon salt
1 bunch nettles (~1/2 pound)
Regular or greek yogurt (optional)
Salt and pepper to taste
In a saucepan over medium heat, melt butter until foamy. Add leeks and green garlic, stir, sauté for 5-6 minutes until soft. Add potato, water or stock and 1 teaspoon salt and bring to a boil. Reduce to a simmer, simmer for 15 minutes or until potato is fork-tender.
Meanwhile, remove the nettle leaves from the stem and rinse to clean. Wear gloves! Bring a pot of water to a boil and drop cleaned nettle leaves in the pot. Cook for 2 minutes. Drain and quickly put nettles in a bowl of cold water for 30 seconds. Remove and drain again.
When soup is ready, add nettle leaves and cook for 1-2 minutes. Remove from heat and puree with an immersion blender, blender or food processor. Add salt and pepper to taste.
Serve soup with dollops of yogurt, if desired.
This recipe was entered in the contest for Your Best Spring Vegetable Recipe
MORE GREAT RECIPES
Top of Form