HOW TO STOCK A VACATION KITCHEN-EVEN FOR A WEEKEND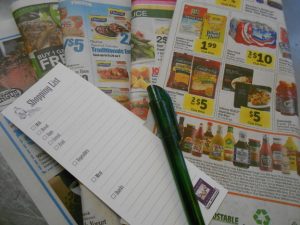 August is a big month for vacations, but increasingly people are choosing September, even October when the resorts are less crowded, especially for long weekends. If your destination has kitchen facilities, be it for a long weekend in a motel efficiency unit or an extended period in larger digs, it's often more stressful on the person responsible for the meals than staying home. Not only must they get acquainted with the equipment but making the time to shop and cook shouldn't intrude on planned activities. Whether for 5 days or 3 months, it can be a daunting task requiring prior planning.
I learned this lesson the hard way. The first summer I was married, we rented a cottage at the seashore near my in-laws vacation homes. My 11 yr. old step-daughter and I were to spend August, with my husband joining us on weekends and for the last week. Though I grew up in a shore resort town, and had had my own city apartment, this was my first vacation rental, and my first time packing for a family. I thought I covered everything, clothes, equipment, toiletries and towels, even toilet paper but the first morning we woke up with NOTHING to eat or drink! Needless to say, we spent it introducing me to the local supermarket and other 'survival' important local sites.
This was where I made my second mistake, though not so glaring as the first. Stressed, 'winging it' without a definite plan or list, I over bought staples and made impulsive purchases. I should have paused to think more often. I had the situation under control within a week, but was still left with a surplus of products to use or lug home and this wasn't just packaged food, but wraps, bags, paper, soaps, everything to do with a kitchen.
The next year, I bought a small trunk which I knew would hold 'collectable memories' for the return trip. I was in the midst of packing it with staples when I had another revelation. I was looking at this project through the wrong lens. I wasn't 'stocking up' for an extended period; it was 1 month=4 weeks, with a supermarket at hand in case I miscalculated. We didn't use 4 lbs. sugar a month in winter even with possible baking. At the shore, I might make a rustica (free form pie using ¼ cup) but sugar was really only for beverages. The same was even more true of flour; especially since Kara and I were the only ones there 4 days a week and I don't fry much, if ever. We only needed to take what we would normally use. So I filled quart jars from my open supplies, and put the new packages in the home pantry.
After that the other supplies fell into line. I found 6-compartment plastic spice/herb carousels in The Dollar Store. I filled 2 of them with my favorites and figured if I ran out, I'd buy more, but I never did. I had worried about taking care of my husband, whose involvement in kitchens began and ended with the dinner table, but then I realized that he was only 'batching it' a total of 12 days and of those he had regular plans for 2 days a week while I was gone. So I made him 4 lasagna and 4 chicken in cream sauce, over rice dinners, and planned to send him home with weekend leftovers. That more than covered his wellbeing because he really only needed 6 dinners. It was all a matter of seeing things in the right perspective.
I bought the smaller, lighter household items, wraps, bags, sponges and added them to the trunk, but the larger ones, detergents, a boom, pail, mop etc. I got on vacation in one stop. Also in the trunk were condiments, and just so history didn't repeat were coffee, dry creamer, tea, a box of cereal, a can of pineapple rings and 2 boxes of honey buns as well as the utensils I had learned I'd need. A full list of these follows.
The first morning that year was very different. We had breakfast! My husband went golfing while Kara and I headed to the Farmers' Market, which she loved. We bought fruits and produce and from the adjacent dairy we got bacon, sausage, cheese plus local milk, cream, eggs, and butter. The next stop was a prominent marina restaurant with a fish market and artesian bakery. I bought fish, and crab cakes for the next night, lemons, vinaigrette, Cole slaw and a couple of loaves of bread.
By noon, a cold vegetable dish and salad were ready for dinner, the fish chilling and fruit was marinating for dessert. We had fresh BLTs for lunch, and I was ready to enjoy a free afternoon knowing I was set for days as far as meals were concerned. In fact, I don't think I even went to the supermarket more than twice that whole month, and only food shopped once a week. So I guess I can say that long before I thought of becoming a personal chef, I had discovered from vacation rentals the advantages of planning in advance and shopping once a week. It gives you so much more time!!
None of this would have been possible without my being willing to take time before leaving for vacation, to calculate exactly what I would need and in the proper amounts, or at least in approximation, as with the flour and sugar. Each year I noted what ran out, what was in surplus, what meals were popular and what weren't. It let me shorten the preparation time and expense, as well as eliminate stress in creating the menus.
As the years passed, so did the long rentals to be replaced by more exotic trips and short get-aways, but the rule of basic food supplies and utensils to include remains solid. Of course the prime one is in any DIY situation, plan a breakfast for the first day! It does set a tone. Nothing fancy, a jar of instant coffee, plain envelopes of tea bags and sugar packets, a jar or envelope of non-dairy creamer or dry milk, even a can of evaporated milk, dried fruit or a can of pineapple rings and a shelf-stable pastry such as honey buns will do and gets the motor running. Of course if only a short car trip is involved, a bag or container of fresh fruit is an option.
The other staple items, in quantity for a long stay or simply replacement ingredients for a short one, should be determined by individual need and use. The one I NEVER skim on is salt. It's the best extinguisher for a grease fire. In any rental situation, one place that may not have been totally cleaned is the oven, and who knows what a previous tenant cooked? Salt also inhibits mold and in a pinch can clean a greasy sink and drain.
Utensils, too, are determined by the length of the stay.
For electrical appliances: Rule one is- never take anything valuable or irreplaceable. Coffee lovers can learn to accept old-fashioned percolator or for short term, instant. The only other things I found I needed for a long stay were a hand blender and a mini-chopper. Before packing any electrical appliances, check the type of current at your destination.
Hand Held Utensils: Several of these are handy for even the shortest of stays
Pot holders- A necessity for any stay away from home. These are never provided in any rental kitchen and it can be hard taking hot coffee or warmed-up take out from the microwave with a bath towel.
Towels, both paper and dish-A roll of paper ones can be used as napkins and are great for spills, but the micro-paper ones in 2 pack which are reusable and washable are good for dishes and can be tossed.
Spoons-or at least 1-that stands heat.-A few plastic ones are fine for a weekend, but metal ones and a serving spoon are needed for longer.
Manual can opener– Always a good companion as is an old-fashioned Church Key opener
Knives– A short paring knife to be used for small jobs and for longer stays another with a blade long enough to trim meat or slice bread. For an extended stay there should be a carving knife as well
Hand held knife sharpener-Because no knife is worthwhile if it can't cut
Scissors-Not shears, but a pair with enough strength to do some kitchen work, yet pointed enough to be useful with mending.
Plastic chopping board-Protects counter tops and provides a clean surface for your food. Light and flat fits in the bottom of a suitcase.
Packets of plastic containers with lids– found in supermarkets in 3paks- most can be microwaved
Small pan with lid-Able to boil a couple of eggs, make a sauce or heat a can of soup–for longer stays or traveling with children
All the above hand held items, with the exception of the knife sharpener and, possibly, the metal spoons can be found in The Dollar Store. Some stores have the plastic containers too. No matter the cost or how well equipped the rental kitchen, chances are it will have none of the above items.
For a more relaxed vacation, just follow these tips and listen to your better judgment. Above all take time to stop, evaluate and plan. You'll be glad you did!!