16 Cooking And Kitchen Tips For 2016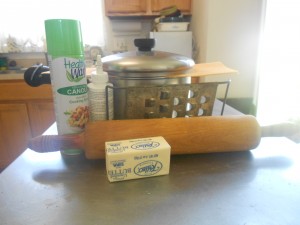 In looking at my blog listings, I realized that I'm way overdue for a post offering simple kitchen tips to make your life easier. I try to give helpful advice in all my posts, but it's been far longer than I thought possible since I've devoted an article to nothing but helpful hints alone, unrelated to a central theme. So, with apologies for the oversight, here we go. I promise I won't wait so long in future to add more.
If you want to see the other posts I've written on tips, go to the site archives. Just click Table of Contents on the page header and look for "Tips" in the blog title listings.
Lightly oil the threads of a jar or bottle with 'sticky' contents (honey, jam, syrup etc.) when first opened. It will always open easily. This trick makes measuring utensils easier to use as well.
Keep a supply of large plastic lids (coffee, whipped topping, Deli items etc.) When mixing batters or other sticky items, they can be cut to fit the bowl and used as scrapers to transfer the contents. They are easy to clean or disposable.
If covering rising batter, baked goods or a garnished casserole to be cooked later, lightly spray the plastic wrap with cooking spray and it won't stick to the contents.
If working with rising dough, put it in a rectangular pan. It's much easier to roll into a desired shape.
To prepare salads ahead, separate and wash the leaves of the greens, lay them out on a clean kitchen towel and loosely roll it up. They will keep fresh and dry in the refrigerator for 2 days, ready to be tossed
Use a can of compressed air spray to clean a pasta machine or coffee grinder. It works as well for them as it does for the computer.
When oranges are in season, don't throw away the peels, chop or zest and freeze them. This way you have the fresh flavoring handy all year.
To give plates a 'pro presentation' with swirls of sauce around the rim, or to make line design or write on cakes and other items, put the sauce or icing in squeeze bottles. Even well washed ones that held condiments will do and they're disposable.
Canned frosting can be heated in the microwave (about 30 sec,) to form a glaze to pour over a cake. It can also be heated in a squeeze bottle, upside down, to make it flow for easy use. It cools to its regular texture.
When cooking or chilling stuffed bell peppers, to keep them upright, stand them in a tube pan. Just remember, if the pan is non-reactive, to add a few drops of lemon juice or vinegar to the water to prevent discoloration.
To cut jalapenos, slice a piece off the end to stand them up, and trim the sides away, as you would a bell pepper. Then the core and seeds can be removed in one piece.
An easy way to mix meatloaf or a recipe with similar ingredients is to put them in a plastic bag and kneed it. It's even neater if you give the inside of a bag a squirt of cooking spray first.
To quickly soften chilled or frozen butter, cut it in pieces, put it in a plastic bag and roll it with a rolling pin. This way it's an even texture for mixing into other ingredients, such as cake batter. To cut butter into ingredients, as for pie dough, freeze it, then grate it into the bowl and toss with the flour.
Fresh ginger root keeps best frozen. It can be peeled and grated easily, or cut into thin slices and frozen for chopping later.
When cooking rice and other grains, place a clean, folded towel between the lid and pot. It keeps the moisture from dripping back into the pot and making the grain soggy. I buy the disposable micro-fiber ones from the Dollar Store, use them to clean the kitchen later and toss them.
Plastic or glass cutting boards are great for meat, especially for poultry with the issue of salmonella, because they can be cleaned and sterilized. However, good wooden ones are a wise investment. They last for a lifetime and more. I use one I made for my mother in kindergarten. The design on the front is intact, but the back has a groove worn into it, because it's just the right size for small tasks and handy to store. A medium sized board, 11" x 15" with a nice grain can do double duty in the kitchen and to present a loaf of artisanal bread at dinner. A larger board is essential to roll pastry or knead dough, but can also plate a cold roast for a casual meal. You can get creative with wooden boards too. I bought a blank clock face in a crafts store. It just fits the center of a dinner plate and makes a great cheese or fruit server of any plate. To maintain a polished surface, rub occasionally with cooking oil; otherwise just wipe the boards down with water and a little soap if needed. Be sure they're dry before storing them.