11 Ways To Use Frozen Bread Dough In Summer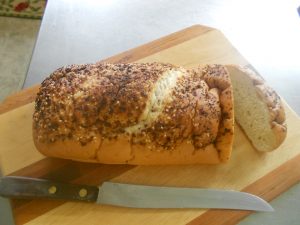 Summer is coming and it's time to talk about bread. That's right bread. Though the mention of fresh bread usually conjures the image of cold evenings, warm kitchens and one dish meals like hearty soups and stews actually more bread is sold in hot weather.  Not just the pre-sliced product in plastic sleeves, but different types of bread, artesian loaves, rolls, buns, flatbreads and so on. Cold sauces can be soaked up as well as hot ones and then there's all that grilling, the composed salads, the platters of cold cuts for sandwich meals and don't forget picnics, which are so popular in summer. Each of them needs bread.
Back in the 90s it seemed I was always gifting someone with a bread machine. I bet most of them are long gone or gathering dust on a shelf by now and I know why. By the time I got around to buying a machine for myself, I realized I didn't need or want one. The Bakery as such was disappearing, but supermarkets were stepping up. Although a bit pricier than the traditional products, their bakeries were turning out artesian loaves, pitas, flatbreads and more. Restaurants sold to patrons and Delis carried the French, Italian and Jewish rye breads so great for sandwiches. Quick breads don't need a machine nor do muffins, but the main reason I didn't get a machine was that I had discovered frozen bread dough.
Since then I've learned that having a 3-loaf package in the freezer can cover most any need.  Aside from rolls, and regular loaves of bread, I can shape the dough into a good replica of French or Italian and make garlic or herb bread. I've made Stromboli, impressed guests with homemade Hot Cross and Cinnamon buns and amused children by making soft pretzels. I've improvised a dinner with a quick pizza crust, understand I can do the same with tortillas and just learned to make pita bread.  So who needs to spend the time and effort making the dough too? This way is so easy, and, actually less expensive.
Below are a few of my favorite uses for frozen bread dough, but first a few tips;
Let the dough rise in a rectangular pan for long or stuffed breads-it's easier to roll, or shape.
To cover the dough as it rises, place a piece of plastic wrap over the dough, lightly spray with cooking spray and flip the wrap over, this way the dough won't stick to the cover as it rises
To avoid hands and/or utensils sticking to the dough when working it, spray them with cooking spray
Slash the top of the loaf with a razor or sharp knife before baking so the crust won't split
A baking stone dispenses heat evenly for better, faster baking. Save money and buy an unvarnished quarry stone from a home-supply store. Preheat stone 45-60 min.
Thaw dough in the refrigerator overnight, it shortens the rising time.
To speed rising time, place covered bowl of dough in the microwave with a glass of water. Heat on low 3 min., rest 2 min. heat again 3 min, and rest 8 min. Bulk will have doubled
Use warm water to clean work surfaces. Hot water will bake the dough to them.
Basic baking information:
After dough has risen, punch it down to disperse air bubbles, then let it rise again. This aerates the dough and makes the bread lighter, without large holes, for even baking
After the first rising is the time to add ingredients and/or shape the dough and/or to stuff it
If forming rolls, after punching, allow dough to rest 5-8 min., shape and place in a pan barely touching. Allow to rise 5-10min. more and bake.
To save over risen dough, punch it down and let it rise again-reason room temperature too warm
To save under risen dough bake it and serve in thin slices.-reason, room temperature too cool.
Glazing and topping advice: different glazes will produce a variety of crusts
For a plain rustic look, simply place the toppings, seeds, herbs etc. on a piece of paper on the counter and lightly dip the top of the unbaked dough into it.
Egg yolk browns, Egg white adds sheen. Whole eggs give both
Milk combined with butter or oil yields a soft crust
Water crisps the crust. For extra crispy spray again 10 before done
Water mixed with whole eggs gives a shiny, brown crisp crust
Honey or molasses makes the crust soft and sweet
To make toppings stick, spray or bush on glaze, add toppings and bake. Re-apply glaze 10 min before done.
Recipes:
Note: To flavor bead, per 1 lb. loaf size, allow to thaw and rise.  Punch down and knead in 1/3 cup chopped fresh herbs or 1/2 cup pitted, chopped olives or 2/3 cup sautéed vegetables, such as peppers, onions, celery. The latter will also keep bread moist. Allow to rise again. Bake as directed on package.
To make Cheese Bread, after thawing, knead in 1 cup grated sharp cheese and work in ½ cup of the same cheese diced. Allow to rise until double its size. Bake according to package directions
Hot Cross Buns*
I loaf frozen bread dough
½ cup finely diced dried fruit
3Tbs. chopped raisins
1 egg white or yolk-optional or ½ an egg
1 cup confectioners' sugar
2 Tbs. hot water or milk
¼ tsp. vanilla
Thaw the dough and allow to rise as directed. Punch down and knead in the fruit and form into balls. Place in a pan and allow to rise again. Mix egg and spray or brush over tops and bake as directed. Cool in pan 30min. Mix sugar, water and vanilla until smooth and spoon or pipe in cross pattern over the tops. Cool and serve.
*Baked in a round loaf this becomes Panettone
Stuffed Bread Dishes:
Stromboli: Serves 8
1lb.loaf frozen bread dough
1 ½ cups marinara sauce
2 cups shredded cheese
2 Tbs. olive oil
Garlic mashed or garlic powder – to taste
Choice of toppings—meat, artichoke hearts, olives, mushrooms etc.*
After first rise, roll dough into a 10 X 18 inch rectangle and brush all but a 2 inch rim with olive oil. Starting at the long side nearest, spread the cheese on the dough, leaving a 2+ inch rim on the farther long side. Top with garlic and toppings. Tuck side margins over and roll away from you starting at near long side. Seal ends by pinching and place on a sprayed baking sheet seam side down. Lightly score the top. Cover with sprayed plastic wrap and let rise 30 min. Bake in a preheated oven 25-30 min. Serve hot sliced, with warm marinara sauce for dipping.
* Meats may be varied, but restrict to 1-1½ lb. total, thinly sliced. Thinly slice all other add-ins as well or the Stromboli will be lumpy and bake unevenly.
The Very Best Cinnamon Buns
1 lb. loaf frozen bread dough
2 Tbs. butter or margarine –melted
½ cup brown sugar
2 Tbs. cinnamon
½ cup raisins
6 Tbs. butter
½ cup brown sugar
½ cup chopped walnuts or pecans
After first rising, roll dough into an 18 X 14 inch rectangle. Leaving a ½ inch margin all around, brush with melted butter, sprinkle with sugar, cinnamon and raisins. Starting from a long side, roll up and leave seam side down while topping is mixed. Cream remaining sugar and butter and spread in the bottom of a 9X13 inch pan, sprinkle on the nuts. Cut dough roll into 1 inch slices, and place barely touching in the pan. Cover and allow to rise for 30+ min. until double in volume. Bake in a preheated 375 deg. oven for 25-20min. until golden. Let cool 3 min. and invert onto serving plate. Spoon over any topping still in pan.
Flatbread
Divide a 1 lb. loaf of bread dough into 4 portions and roll into balls. On a floured board, flatten them with your hand and roll into 8 inch rounds 1/8 inch thick. Place them on a lightly floured towel, cover with another and let rise 15 min. Put a rimmed baking sheet (jelly roll pan) upside down, in a preheated 500deg. oven for 5 min. Place one or two dough rounds on the top of the heated pan and cook 3-4 min. only until bread is swollen in the middle and a light tan color. Remove and wrap in a clean towel to cool. The swelling will disappear, but leave a pocket in the bread to form a pita.
Pizza Crust
The baking principle is the same as for flatbread. Placing the dough on a hot surface the bottom sets up instantly. When the dough is rolled, or in the case of pizza, pulled to about ¼ inch thickness the air bubbles are dispersed horizontally. The filling ingredients prevent it rising to form a pocket.  A 1lb.loaf of frozen bread dough should make 2 pizzas. Allow dough to rise, then knead it briefly, place the dough in the pizza pan and with oiled hands stretch it to fit the pan. Brush lightly with oil and spread on ingredients of choice. Selections are too numerous to list, but easily found on the web or cookbooks. Bake filled pies in a preheated 425 deg. oven 10-12 min. until bubbly.
Focaccia
1lb. loaf of frozen bread dough
2Tbs.oil
2Tbs. dried rosemary
1Tbs.kosher salt
1 egg-optional
6 black olives halved – optional
Baked with tomatoes on top or packed separately in the lunch pail with cheese, this bread is the original pizza. It's easy to make with frozen dough and you might want to try incorporating herbs or vegetables into the dough for extra taste.  Let the dough rise, punch it down and knead it briefly on a lightly floured surface. Form into a 12 inch circle, cover and let rise for 30 min. Alternately, roll into a 9X13 in rectangle. Indent the top with a spoon handle at 1 inch intervals, brush with olive oil and sprinkle with salt and dried rosemary. Optionally stud the top with olive halves, or apply an egg glaze for sheen. Bake in a preheated 375 deg. oven for 30-35 min.
Rolled Dough
Bread Sticks
Allow a 1 lb. loaf of frozen bread dough to rise, punch it down, knead it slightly, optionally adding  2 tsp. caraway seeds or dried herbs and divide into 4 parts. Roll each part into a rope about ½ to ¾ inch in diameter; cut into 6 inch segments, squaring ends.  The width of the rope you roll will determine the thickness of the bread sticks, so remember when doing this step that they will have a second rise. Optionally roll the segments into seeds and/or sprinkle with salt.  Place them on a lightly floured towel, cover with another and let rise 15 min. Optionally, lightly spray with water to help seed and salt coating, if using, adhere and crisp the crust. Bake on a sheet in a 425 deg. preheated oven for 10 min. until golden.
Soft Pretzels*
Let dough rise, punch down and roll into 12 inch ropes about ½ inch thick. On a lightly floured board, make a loop in the center of the rope, using about 1/3 the length. Twist the ends and bring them down over the loop to form the traditional shape, pressing to make them stick. Place the pretzels on a lightly greased baking sheet and freeze for about 20 min. if you don't want them to rise again and lose their shape.  Spray lightly with water and sprinkle with Kosher salt. Bake in a preheated 300 deg. oven 11-12 min until golden.
Alternatively drop into boiling water for 30sec.to set the shape. Place on the lightly greased sheet and sprinkle with salt. Bake as above.
As a note: soft pretzels don't have to just be topped with salt. Any of the other bread toppings or glazes will do including changing it up and substituting sugar and cinnamon or adding a sugar glaze after baking.
*For explicit directions and to use Pillsbury breadsticks in place of frozen bread dough and twisting the dough -visit tablespoon.com/recipes/homemade-soft-pretzels/    OR dairyfreecooking.about.com/od/breadsbakery/
Tri-Color Braided Bread*
1 lb. loaf frozen bread dough
¼ cup tomato paste
½ cup frozen, chopped spinach, thawed and drained
¼ cup grated Parmesan
2 Tbs. flour + if needed
Separate thawed dough into 3 parts. Into one knead in the tomato paste plus 2 Tbs. flour to prevent sticking. Knead spinach into the second adding flour if needed. Knead cheese into the third. Roll into ropes.  Line up the cylinders facing you on a lightly floured board and begin braiding from the center toward you. Turn the board and braid the other half. Pinch the end so the baked loaf tapers at the ends. Optionally top and glaze. Bake as for a regular bread loaf.
*Recipe from Food Tips and Cooking Tricks by David Joachim