START MOTHER'S DAY RIGHT FOR EMPTY NESTERS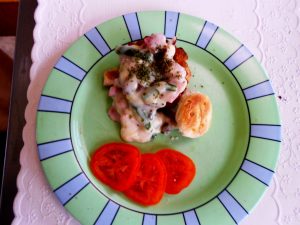 Last week's posting was about Mother's Day meals for young, active families. This week is about pleasing my group of mothers, those with older children; children in their late teens or out of the house, perhaps with families of their own. After a busy week, these moms like to sleep-in a bit and many are looking forward to dinner in a restaurant or with family. Planning three meals doesn't really do for them, but a late morning brunch is perfect. It removes morning hunger and keeps it at bay until dinner.
The brunch doesn't have to be elaborate, just something a bit different. The day's honoree will usually pitch in and help, so long as the meal can be enjoyed in a leisurely way with good companionship and conversation. The following recipes are for dishes that can be dressed up with pastries, fruit and salads or simply served with coffee and toast. They require little effort, both to make and better still, to clean up. In short, they're perfect for the occasion.
The first five recipes are from my book SOME RECIPES FOR MOTHER'S DAY. The last two are my favorites. One is my own Mother's take on a classic, Creamed Chipped Beef. The Creamed Mushrooms on Toast is my own invention. Recipes for 2 can be doubled and those serving 4 easily halved.
Eggs Florentine: Serves 4
(1) 10 oz. box frozen chopped spinach
4 eggs
1tsp. salt OR 1 envelope bouillon powder-beef or chicken
Pinch nutmeg
Grated Parmesan cheese
Thaw and drain the spinach in a sieve until it is moist but not wet. Mix in the bouillon or salt and nutmeg then divide it between 4 greased custard cups or ramekins. Top with a raw egg and sprinkle with cheese. Place cups in a pan with ½ inch water and bake at 350 deg. 15 min. or until eggs are set.
Frittata; Serves 4
Count on using about 1 cup vegetables, leftovers or canned are perfect. If using frozen or raw, they must be sautéed or blanched first. Frittatas are also forgiving. If one sticks and won't slide onto a plate, slice it in wedges and serve it in the pan.
4 large eggs
1 cup vegetables*
2 Tbs. oil
1/8 tsp. baking soda
1/3 cup milk or water, or milk + water to equal this amount
Pinch salt
¼ tsp. curry powder
¼ tsp. paprika
Ground pepper to taste
Optional toppings- for example ¼ cup grated cheese or 1 cup tomato sauce.
Cut vegetables to ½ inch size or thin slice In a bowl, lightly beat the eggs, with all other ingredients except the oil and the vegetables. Heat the oil in an 8-9 inch skillet over medium. Turn on the broiler. Sauté the vegetables, or if cooked, turn them over in the oil to coat and warm. Reduce the burner heat to medium-low and pour in the eggs. Cook, gently pulling the eggs away from the sides of the pan, and tilting it to allow the uncooked portion to run into the spaces, until the eggs are fairly set, but still quiver in the center. Put the pan under the broiler, until the top begins to tan and all the eggs are cooked. Add the cheese, if using, before broiling and the sauce as serving. Be careful not to put the handle of the skillet in the oven, unless it is metal. Slide the frittata onto a plate to serve.
* If not using leftovers, substitute an equal amount of cooked fresh or frozen vegetables. Broccoli and green beans can be parboiled. Others, such as a zucchini and onion combination.
* ½ cup diced meat can replace ½ cup of the vegetables
Baked Eggs in a Cloud— Recipe for 4
4 large eggs separated
4 thin slices of ham or smoked turkey
2 drops of cider vinegar
Butter for the [an
Salt and pepper
Optional seasonings
Lightly butter a 7X7x1 ½ inch square ovenproof pan. Preheat oven to 350 deg. Lightly grease the bottom of the pan, and line the bottom and sides with a single layer of ham leaving a slight overhang all around. Whip the egg whites until they stand up in peaks, incorporating the vinegar half way through. Add seasonings. Spoon them over the ham. Using a spoon, make 4 dents in the whites, evenly spaced for portions. Put a yoke in each depression. Bake 12 to 15 minutes until whites are slightly brown and yokes are just set. Serve at once. I like a bit of curry powder or dry mustard in the whites. Alternately serve with Worcestershire sauce to top.
Eggs Adeline: Serves 2
2 eggs
2 slices Canadian bacon- cooked
2 Deli slices Swiss or Cheddar cheese
2 thick center slices of beefsteak or other large tomato
1 English muffin
Worcestershire sauce
Split and toast the muffin. Layer equally on each half in order the bacon the tomato and then
cheese. Run under a hot broiler until the cheese just melts Meanwhile, poach the eggs. Top each muffin half with an egg and sprinkle with Worcestershire sauce.
Note: Substitute toasted slices of Italian bread for the muffin and put the topped slices in the microwave for 30 sec. instead of heating the broiler.
Classic Quiche Lorraine: Serves 4
Quiche is a dish that allows a lot of room for variety, yet is quite simple to prepare. If one of these won't be enough for your family, make two and use different ingredients. Think of it as if you were making pizzas with different toppings.-but here it's bottoms!
(1) 9 inch deep dish pie shell-store bought is fine—baked
1 Tbs. butter
4 oz. sliced mushrooms—(1/2) 8 oz. can will do
1 small onion diced
4 eggs
1 cup light cream or whole milk
½ tsp. dried mustard OR prepared Dijon mustard
1 cup shredded cheese -Swiss usually preferred
Salt and pepper.
8-10 slices bacon cooked and crumbled OR ¼ lb. sliced Deli smoked turkey
Dash of ground nutmeg
Paprika and dried parsley
Spray skillet with cooking spray and cook bacon until crisp or frizzle smoked turkey and dice. Melt butter in skillet add mushrooms and onion and cook until they render their juice.-about 3 min. Line a 9 inch pie plate with the crust. Put mushrooms, onion and bacon in the bottom of the pie shell and cover with the cheese. Then pour over the eggs beaten until frothy with the milk, mustard and salt and pepper to taste. Sprinkle with the nutmeg, garnish with the paprika and parsley and bake in a preheated 400 degree oven for 15 min .Reduce heat to 325 degrees and bake for 30 min. more. Allow to stand 5 min. before cutting.
Creamed Chipped Beef: Serves 4
(1) pkg. dried beef—about 6-8 oz.*
2 cups milk or 1 ½ cups milk and ½ cup heavy cream or half and half
4 Tbs. butter
4 Tbs. flour
4 oz. can sliced mushrooms
¾ cup peas or cut green beans cooked to crisp tender
Salt and pepper
¼ tsp. curry powder – optional
Parsley
Pull off any strands of fat and cut the meat into 1 inch squares. Prepare the cream sauce by heating the butter until it foams and stirring in the flour to form a roux or paste. Add the milk quickly and return to the heat, stirring constantly until a smooth, creamy sauce develops. Add the other ingredients and cook over warm, stirring until the mixture is heated through.
Serve hot, garnished with parsley over toast, in patty shells or in baked potatoes.
*Substitute and equal amount of Deli sliced ham or 2 cups cubed leftover ham.
Creamed Mushrooms on Toast: Serves 2
8 oz. button mushrooms-try to get large ones
¼ cup white wine
1 Tbs. butter
2 Tbs. flour
1 cup half and half
¼ tsp. marjoram
Salt and pepper—optional-taste before adding
2 Tbs. chopped fresh parsley-for garnish
4 slices of toast—I like rye bread
Clean the mushrooms and coarsely chop the stems.
Briefly broil the caps on a foil covered sheet, turning once and reserving any juice that appears. Melt the butter in a skillet and gently toss the stem pieces until slightly wilted. Add the wine and flour and make a roux. Add the liquid, marjoram and any reserved mushroom juice; stir over medium heat until sauce thickens. Taste for salt and pepper. Divide the toast between the plates and arrange the caps on top, then spoon the sauce over. Sprinkle with parsley and serve.