SPRING CARBS FOR HOLIDAY DINNERS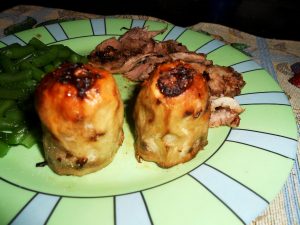 With the first signs of spring, our spirits perk up. Our moods, like the days, are sunnier and we opt for lighter and brighter choices in everything from clothes to food. Because of this attitude, I put together the book SPRING ROASTS FOR EASTER AND PASSOVER. The hardy stars of winter holiday feasts are out of place now. Spring holiday dinners need a more delicate approach. Instead of a large stuffed turkey, for example, smaller birds, even multiples are more suitable. The same is true of roasts; whole loins are often carved into crowns or in racks for a more 'open' presentation.
The sides for spring holiday dinners reflect the new outlook too. Fresh seasonal produce is a must and if the local crops aren't in yet, transported items, or frozen ones, are available in markets. The same holds true for the carbohydrate part of the menus. Dense bread stuffings and creamy potato dishes are replaced by simply prepared new potatoes, light herbed pastas and more frequently, as they gain popularity, grain presentations.
If you're looking for suggestions for serving spring produce, there are several articles in the site Archives. Just click on the Table of Contents button on the Home Page header. In addition, there are several articles still featured on the panorama at the top of the Home Page. Just click on any of those to see the recipes. It's the carbohydrate portion of the meal that I want to talk about this week.
The grain and pasta recipes below are really more outlines than written in stone. The add-ins and flavorings can be changed to better compliment the rest of the menu, even so far as substituting fruits for vegetables. The grains can be altered to fit your preference, so long as you calculate the cooking times to avoid overdoing the additions. Brown rice is preferable to white due to its higher fiber and protein content but be aware of the difference in types of rice. The choice can result in big changes in the appearance and texture of the finished dish.
1. Long grain rice cooks up fluffy and separates easily
2. Medium grain rice is more moist and tender, but becomes stickier the longer it cools
3. Short grain rice is almost round. Moist and tender, it has a high starch content and becomes very
sticky when cooked.
The pasta choices should be small sizes, orzo or couscous. In fact, packaged couscous is an excellent time saver. Fast cooking, it comes flavored and is open to any amount of add-ins, which can be stirred into the pot after cooking and before fluffing. Rice and pasta are inter-changeable in most recipes but be sure of the cooking times of all the ingredients.
The grain, potato and stuffing recipes are more set, but they too are open to altering. It's simply a matter of following a preparation formula while changing the ingredients to better compliment the entrée and of course, staying with appropriate and/or seasonal items.
Rice, Spinach and Peas with Almonds: Serves 4**
1 cup long grain rice
3 cups water
1 envelope beef or chicken bouillon granules
1 small bunch spinach
4 Tbs. butter OR 2 Tbs. butter and 2 Tbs. oil
2 cloves garlic minced
2/3 cup fresh or frozen peas thawed
Salt and pepper
¼ cup toasted sliced almonds
Cook rice in water with bouillon until tender, about 14 min.; rinse in cold water and drain well. Remove tough stems from spinach and cut leaves in 1 inch strips. Heat 1 Tbs. butter and 1Tbs. oil, if using, or 2 Tbs. butter, in a skillet over medium low heat. Add spinach and garlic and sauté until spinach wilts about 1 min. Add peas, rice and seasonings and toss. Add remaining butter and oil, cover and allow butter to melt, about 5 min. Toss again gently with almonds and serve.
NOTE: This can be made a few days ahead and kept chilled, covered, without the almonds. Reheat in the microwave and toss with the nuts before serving.
Scented Rice: Serves 4
1 cup long grain rice
2 cups broth-chicken or beef
1 Tbs. butter
¾ tsp. flavoring spice or herb*
¼ tsp. other herbs or spices*
1 large onion diced—preferably red
1 bell pepper diced
½ cup peas- thawed if frozen
1 Tbs. oil
Salt to taste
Saute the rice in the butter until it's shiny and a bit golden. Add the flavorings and/or spices with the broth, bring to a broil, reduce heat, cover and simmer until rice is cooked and liquid is absorbed, about 20 min. Saute the onion, peas and peppers in the oil, then add to the cooked rice. Adjust seasonings. Serve hot, but can be made ahead and stored covered in the refrigerator for several days and reheated in the microwave.
*This rice dish can be altered to fit any ethnic menu by altering the spices, herbs and flavoring in quoted amounts or to taste. For example: Mexican=3/4 tsp. cumin + ¼ tsp. EACH oregano and chili powder; French=substitute powdered rosemary for the cumin and marjoram and thyme for the oregano and chili powder; Italian –use basil, oregano and garlic. A simpler, but tasty combination is to forget all the herbs etc. and add 1-2 Tbs. fresh lemon juice and 2 Tbs. fresh chopped parsley to the cooked rice.
Taboule: Serves 4 — This is a traditional dish and though the basic preparation is the same, the optional choice of add-ins can change its presentation. I've had it with only tomatoes and lemon juice, although mint is usually present as well. I marked the optional add-ins in this recipe (*) but feel free to add any others you like.
½ cup bugler
1 medium tomato –diced
2 Tbs. fresh lemon juice
2 Tbs. olive oil
1/8 tsp. dried oregano
½ cup chopped fresh mint
Kosher salt and freshly ground pepper to taste
½ cucumber-diced*
1/3 cup diced onion or thinly sliced scallions*
½ green bell pepper –diced*
¾ cup chopped fresh parsley*
¼ cup fennel- diced*
Cover the bugler with water and soak for 45 min. Drain well and squeeze in a towel to be sure it's dry. Drain the tomato, and cucumber, if using, and pat dry if needed. Gently toss the bugler with the chosen vegetables and herbs and store covered in the refrigerator until ready to use. Mix lemon juice, oil, oregano, salt and pepper in a small jar and store chilled. When ready to serve, gently toss bugler, vegetables and herbs with dressing. Can be served cold or at room temperature.
Bugler with Mushrooms: Serves 4 – This is excellent with all roasts
1 cup beef broth
1 cup bugler
3 Tbs. butter
1 Tbs. oil
12 button mushrooms- caps and stems sliced
1 large shallot-diced
1 Tbs. thyme-fresh minced or 2 tsp. dried
Salt and pepper
Combine bugler and broth in a bowl and soak about 45 min. until tender then drain in a sieve to lose excess broth. Saute mushrooms in oil and 1 Tbs. butter until starting to brown, about 8 min. add the rest of the butter and the shallot and sauté 5 min. more. Add bugler and thyme, seasonings and heat through. Serve at once or cover and freeze. To reheat thaw and use the microwave.
NOTE: With the addition of 1/3 cup thinly sliced celery sautéed in 2 Tbs. butter and 2 Tbs. chopped fresh parsley, this can be used as a stuffing.
NOTE: Any of 4 recipes above can be made with cooked orzo or couscous following the same directions for preparation, storing and reheating.
New Potatoes and Asparagus: Serves 4**
6 new potatoes—red or other colors preferred over brown
2 lb. asparagus—fresh preferred
1 roasted red bell pepper slivered-jarred is O.K.
2 Tbs. fresh lemon juice
½ cup olive oil
2 Tbs. Dijon mustard
1 small shallot in fine dice
4 Tbs. chopped chives
Salt and pepper
Boil potatoes until tender, drain cool and quarter. Cook the asparagus in 1/2 cup water in the microwave until crisp tender about 4-8 min. depending on thickness, drain and cut in 1 ½ inch pieces. Toss potatoes, asparagus and pepper together. Whisk mustard, oil, lemon juice and shallot in a small bowl and pour over the vegetables; toss gently. Serve at room temperature garnished with chives.
Note: Can be kept for a few days covered in the fridge. Lightly microwave to warm for serving.
Stuffed Potatoes: Serves 4–If the new potatoes aren't in regular ones can be used. I like to peel brown skins, but redskins or other colors are decorative if left on.
4 potatoes
1 medium onion
4 slivers of butter—depending on roast and size of potatoes
Wash and prepare potatoes if peeling. Cut a sliver off the bottom so they stand up. Using an apple corer or vegetable peeler, scoop out the center of the potatoes, leaving at least ½ inch margin. Grate the onion (I use a mini-chopper) and stuff the potatoes making sure they are packed solid. If the roast is quick cooking and the potatoes are large, bake the potatoes, topping each with a sliver of butter, in a pre-heated 375 deg. oven until beginning to brown but be sure they have at least 30 min. in the pan with the roast being basted to finish. Otherwise, simply bake the potatoes with the roast.
Raisin and Fruit Bread Stuffing: This is estimated for a 5-6 lb. bird and can be used with chicken or duck.
5-6 slices raisin bread-toasted and torn in ½ >1 inch pieces
½ small onion –diced
1 smaller inside rib of celery- stalk thinly sliced and leaves chopped
1 cooking apple, cored, peeled and sliced-slices cut in half
1 orange
1 tsp. sage
Salt and pepper
1 egg
milk
Put the bread, apple, onion and celery in a bowl with the seasonings. Cut the orange in half and add the meat from one half to the bowl and the juice from the other half. Mix in the egg and enough milk to keep the stuffing easy to toss but not wet or sticky. Fill bird, both neck and body cavities if there is enough stuffing. Any extra can be cooked covered in a dish, for half the time the bird roasts. Follow regular cooking directions, according to the size of the bird.
** Recipes adapted from ones in the U.S.P.C.A. files