Slow Cooker Recipes For Casual Outdoor Eating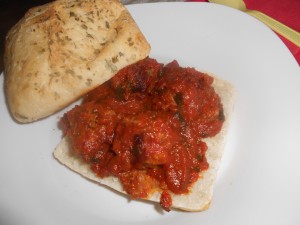 Early this spring, I wrote about using slow cookers for outdoor meals.(March 18, 2015) At the time I focused on the neat and ready to serve option they offered to grilling for busy people. I briefly mentioned that they could be a big help in entertaining outdoors especially for kids parties, and act as a safety measure. That point was brought to my attention this week..
Since our swim club is just across the street, my neighbor volunteered her yard as a base for her nephew's 9th birthday party. It was an organized plan: the children would swim, have grilled burgers at her house and then be bussed to a game arcade for cake and ice cream. She and her sister decided they would only need one other mother to help them keep the kids busy with lawn games while the burgers cooked.
Whether the swimming built their appetites, or it was a phase of the moon, the only thing that interested the children was the grilling. They clustered around the grill, giving directions, trying to help, even trying to touch "my" burger. It was all the three women could do to prevent someone getting burned. My neighbor was still concerned when she told me about it some days later. The alternative of ladling meatballs and sauce from a slow cooker onto rolls really appealed to her and she tells me to her sister and their friends, as well, for future parties.
However, normal dinners and children's parties aren't the only things to benefit from using slow cookers for outdoor meals. Many recipes appeal to all ages for casual entertaining; food stays fresh, the lids keep bugs off and there is no greasy grill to clean. Understand I love grilling, but it is easier to wash out the pot than scrub the grill. All you need is an outlet, an extension cord and the strength to carry the cooker out at any stage in preparation. You can even do a roast, slice it or shred the meat ahead and put it back in the pot to stay warm until serving, but, warning, never use a cooker to re-heat any food.
Below are some recipes which show the range of dishes a slow cooker can make for outdoor finger food, casual eating. Several are from the Fix IT and Forget It Cookbook by Phyllis Pellman Good, and the title says it all. You may even be tempted to buy another pot, or two, or at least borrow from your guests before a get-together to prepare the whole meal. These are only examples to give you an idea of how these dishes are constructed and start you on your way to making up your own versions I'm omitting soups, vegetables and desserts because they are better served cold in summer, but should you want them, there are slow cooker recipes galore to research. All the following recipes may be multiplied to increase yields.
One additional note, please do check the March 18, posting. It covers the basic facts about slow cooking. First and foremost, know your own appliance. Slow cookers vary in timing according to manufacturer. Until you're familiar with the way yours responds, check the cooking progress. I'm also including a conversion chart below. Many recipes can be converted from standard to slow cooker and vica-versa. If you're interested in using the cooker for some of your favorite recipes, or there's one I've listed you want to try to make conventionally, it is quicker after all, consult the chart.
Honey Wings Makes 32 pieces
16 chicken wings, tips removed, divided to make drumettes= about 3 lbs.
3cloves minced garlic.
¼ cup oil
2 cups honey
1 cup soy sauce
½ cup ketchup
Rinse wings and dry. Put on a foil lined baking sheet, sprinkle with salt and pepper and broil on an upper rack 20 min. turning once until brown. Place in a slow cooker. Mix all the other ingredient and pour over chicken. Cook on low 4-5 hrs. or high 2-2 ½ hrs.
Cranberry-Barbequed Chicken Serves 6-8
3 cups cubed cooked chicken
16 oz. can whole berry cranberry sauce
1 cup barbeque sauce
1/2cup diced celery
½ cup diced onion
Salt and pepper
Put all ingredients in a slow cooker, cover and cook on high 2 hr. or low 5 hrs. Chicken will shred when stirred, or simply ladle out. Serve on rolls, optionally spread with mayonnaise. The addition of lettuce is also optional.
Pork Chalupa Serves 12-16
3lb.lean pork
3garlic cloves
1Tbs. each dried oregano, cumin and chili powder
40z. can chopped green chilies
1lb. dried pinto beans—soaked overnight in water to cover
For Garnish–Grated cheese-Parmesan, sharp or Jack, Diced tomatoes, chopped onions
Lettuce for bedding
Put pork in bottom of slow cooker add remaining ingredients including beans with water. Add enough water to cover if needed. Cook on high 1 hr. and low 6 hr. Remove meat, shred it and return to pot. Cook on high another hour. Serve bedded on lettuce on plates or rolls with garnishes.
Barbequed Ribs Serves 4-6*
NOTE: Most recipes for ribs call for pre-cooking them either by browning them on the stove, broiling or baking them to remove the excess fat. They can be done completely in the slow cooker by cooking on high 1 hr. and adding one hour to the total cooking time.
3-4 lb. baby back or country style rib
Salt & pepper
1 large onion diced
1 garlic clove sliced
1 cup barbeque sauce
1 cup Catalina dressing
Season ribs with salt and pepper and brown under broiler. Put ribs in cooker, top with other ingredients and cover with sauce and dressing mixed. Cook on low 6-8 hrs. until done.
*This recipe can be made with a lean roast of equal weight. Cook 1 hr. less, remove meat. shred and return to the pot with ½ cup barbeque sauce, cook remaining hour. Serve spooned on rolls.
Meatballs for Sauce Serves about 6
This is a recipe I used for the many years I was automatically assigned the meatball sandwich booth at the local elementary school Spring Fair. It makes up well in bulk and can be served in any sauce to fit the occasion. An added tip is that the frozen meatballs can be microwaved 1-2 min alone or with sauce until warm and served as a canapé or over pasta.
Recipe for meatball Sandwiches– Makes 18 meatballs
1 lb. ground meat
1 Tbs. Worcestershire sauce
½ hamburger bun in crumbs
½ small onion in fine dice
1 egg
Salt and pepper to taste
3 cups SAUCE home-made or commercial, any variety-tomato, Alfredo etc.
Combine all the ingredients except the sauce in a large bowl. Mix together well. Roll into balls about 1 ½ inch diameter. Place, well separated, on a foil covered cookie sheet and bake in a preheated 350 degree oven for 18 min. Cool on sheet.
Heat sauce over medium heat in a pan on stove top. Add meatballs and cook 15 minutes until flavors meld and meat is heated through. Serve hot on sliced buns with sauce.
TO FREEZE: Freeze meatballs in an air-tight plastic bag on a flat surface, so they don't crowd together. Best re-heated in sauce thawed, but can be done frozen –increase cooking time to 20 minutes.
Beef Fajitas Serves 12
11/2 lb. flank steak or bottom round
1 cup chopped onions
1 green bell pepper sliced lengthwise in ½ inch pieces
1 tsp. EACH powdered garlic, chili, cumin, coriander
8oz. can diced tomatoes
1 jalapeno pepper – chopped
1 Tbs. chopped cilantro
Salt and pepper
(12) 8 inch flour tortillas
TOPPINGS
Sour cream, salsa, guacamole, shredded sharp cheese
Cut meat into 6 pieces. Place in slow cooker with all other ingredients except tortillas and toppings. Cook on low 8-10 hrs. or high 4-5 hrs. Remove meat from cooker and shred. Return to
pot to keep warm. Serve by spooning a portion down the center of a tortilla, adding topping and roll.
Far East Steak Sandwich Serves 6
1 lb. thin sliced sandwich steaks
2 garlic cloves minced
1 onion thinly sliced
! bell pepper julienned
½ tsp. red pepper flakes
¾ tsp. powdered ginger
3 Tbs. Soy sauce
4 0z can sliced mushrooms drained OR 1 cup fresh
Provolone cheese slices
Put all ingredients but cheese in cooker, cover and cook on low 6-8 hrs. Serve on sub rolls topped with cheese.
Reuben Sandwiches Serves 4-6
TO COOK CORNED BEEF: Place a 3-4lb piece of corned beef on a slow cooker. Top a sliced garlic clove and about 10 peppercorns. Cover with water and cook on high 4-5hr.until tender. Remove and slice. Proceed as below for sandwiches.
FOR COOKED CORNED BEEF – deli or home cooked
1 lb. sliced corned beef
1 lb. sauerkraut –(2) 15 oz. cans do well
¼ lb. sliced Swiss cheese
1 bottle Thousand Island salad dressing*
Sliced loaf pumpernickel or rye bread:
Drain kraut well and squeeze dry. Layer in cooker in this order, kraut, beef, cheese. Spread bread slices with dressing and spoon cooker contents over them trying to keep layers intact. Serve warm.
*Tartar Sauce with ketchup (2 Tbs. per ½ cup) is a substitute for the dressing.
Corn on the Cob
6-8 ears of corn in husks – more if cooker can hold them without crowding
½ cup water
Cut stems off bottoms so ears can stand upright. Fold back the husks and remove silk and any loose outside leaves. Optionally lightly sprinkle taco seasoning over the kernels. Fold the husks back to cover the corn. Place ears vertically in pot, pour the water over them. Cook on low 2-3 hrs.
CONVERSION CHART
IF RECIPE SAYS COOK ON LOW COOK ON HIGH
15 to 30 minutes 4 to 6 hours 11/2 to 2 hours
35-45 minutes 6 – 10 hours 3 – 4 hours
50 minutes to 3 Hours 8 to 18 hours 4 to 6 hours
See you next week!