SHOP HOLIDAY FOODS NOW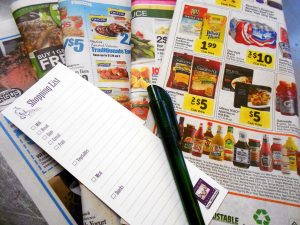 With summer memories still fresh, it seems 'jumping the gun' to talk about provisioning for the winter holidays, but I assure you the food industry is already loaded and zooming in. Several years ago I realized that from October 1st to Thanksgiving was the prime time to buy for coming festivities. It's the period offering the largest supply, most variety and the deepest sales on items that will be needed. Baking supplies, from the basics; flour, sugar and shortening to specialty ingredients such as candied fruits and decorating sugars, packaged goods including mixes, canned sweet potatoes, cranberry sauce and cider and frozen products like vegetables, pasties, ice cream and, yes, turkeys all will be at their best prices.
It's smart to begin paying attention to the market flyers now, because, contrary to traditional belief, these prices don't hold through December. They will hike again the week after Thanksgiving. About eight years ago I became aware of the fact that food prices most frequently went up after holidays. For example, chicken thighs on sale cost $0.68 last spring, $0.78 last summer and now, since Labor Day, are $0.98 per lb. I'm not sure if the reasoning is that the consumer will have forgotten the pre-holiday price and accept the new one as normal, or think it reflects an 'out of season' status, though with modern food transport, that term is irrelevant unless applied to local goods.
In the case of the winter holidays, the past few years the December prices reflected the September ones and the permanent hikes came in January. So please start to think ahead if you anticipate being involved in any food activities over the coming holidays. Doing so will let you amortize them, saving not only money, but time as well. It's also a great stress relief, in the midst of a busy season, to realize that certain things are ready and waiting.
I'm not advising you go wild buying food. Anyone who has read my book How to Control Food Bills is familiar with the Diet for the Dollar Food Plan and knows my first warning is against overstocking, especially speculative overstocking. Items tend to gravitate to the back of the shelf, expire and become a waste of space and money. I believe that organized planning and informed shopping are key and a LIST is the most valuable tool to managing any situation involving food preparation.
So get a pen and paper and answer four questions, omitting any that don't apply.
1) Are you solo hosting a holiday dinner?
2) Do you plan any cooking projects for the holidays, cookies, nuts, cheeses etc., either for personal consumption or as gifts?
3) Do you plan to entertain over the holidays?
4) Will you be obligated to provide a finished dish for events? (A communal dinner -include Thanksgiving- a church or organization bazaar, a club or office party and don't forget the kid's class or team parties.)
Normally, I like to take things one-at-a-time or at least in order, but because the sales on the items you'll need will be appearing intermittently in the same time period, you need an over view, a master list which includes ALL the ingredients of everything you plan to make in proper quantity, no matter how insignificant they seem, even garnishes. Be sure to check the amounts of required items you have in stock too. Before I learned formal organization from Chefs' Training I made many mistakes in that area. I remember a snowy trip to an all-night market for lack of 1/3 cup of molasses. Not fun!
Answering "Yes" to questions #1 and #3 will involve the most work, planning, effort and expense, so let's begin with #1. Write DINNER on your paper and start to write down the different dishes in order of service. If your menu is filled with traditional family favorites it's a big help, the outline is pre-set. If you're starting from scratch, or a newbie, it's even better that you're starting early. You have time to decide your financial boundaries, weigh your options and choose the recipes, but you still should start a list even if it's filled with question marks.
Don't be afraid of question marks either. My menu is traditional, but I still leave a couple of slots open in planning each year, usually one in each category. Small changes freshen the menu and keep interest alive. For example, I serve four hors d'oeuvres, my two cheeses, a kids' favorite and then one of seafood which changes annually. At dinner, the green vegetable and its garnishes are always different, and I began to make my own cranberry salsa three years ago.( It was voted a keeper!) Dessert consists of my cookies and three cakes, a Yule log, a fruit cake and a surprise. The traditions are anticipated and appreciated, but the surprises bring the excitement and fun.
Having an early start allows me to fill in those 'surprise' blanks in my menu with consideration, and by November the ingredients are on the shopping list down to the last grain of salt. By the first week in December, the contents required for those dishes are in my pantry along with everything else needed to cook not just for the dinner, but for the holiday season. This is important because my answer to all four questions is "Yes" and my lists would be very long if done individually. I'm going to show you how not so much combining them, as intertwining them, eases the shopping task.
The next heading on your paper will be PROJECTS, question #2. Here I list things I make only for winter holidays; Christmas cookies, nuts, crock cheeses and fruit cakes/breads. Perhaps you make, or want to make candies, preserves, spice mixes or other special items. List them and then begin to fill in the ingredient requirements, paying attention to amounts in relation to desired quantity. I calculate enough to provide for two meals plus any gifts I anticipate giving.
Heading #3 is ENTERTAINING. When it comes to throwing party, you know your social preferences and/or requirements , small groups, large ones, purely friends, business or other connections, casual, dressy, cocktails, dinner, dessert even after- event breakfasts. There are so many choices. The best way I can show you how to make one event play off another is to explain what I do and give you the general idea to apply to your situation, Also please check my blog of 12/29/16 on this subject.
My choice for holiday entertaining is to give a buffet on New Year's Day and my affirmative answers to questions #1 and#2 make the planning and execution easier. I like a large turkey on Christmas and deliberately order one with a few extra pounds to provide meat for my Hot Chicken Salad to serve at the buffet. I use celery, onion and bread in my stuffing, I make almonds and I will have lemon juice on hand, so I can cross the requirements for a major part of my main entrée off the shopping list. This is true of other dishes as well. I buy the vegetables with those for the other meals. I double my Christmas eggnog recipe, add a package of fruit muffin mix to beef up the fruitcake, which is cut into squares, and with the cookies, dessert is finished. I usually get a ham on sale at Thanksgiving and lay in packaged items to make a couple more hors d'ouvers-this group likes gourmet flavored popcorn to nibble. All I have to buy fresh for the party are greens for a tossed salad and a few loaves of artesian bread. This kind of planning can be used for any type of holiday party and is so easy and simple!
If your answer to question #4 is "Yes", it goes under the heading CONTRIBUTION. Not as connected as the others, it still should be resolved during this period. The easiest thing is to ask, when contacted, the number of servings required and if you can choose the food category. My first choice for a communal dinner would be a vegetable dish. They can be made ahead and reheated, some even cooked on site.(See posts 11/13/15, 11/3/16, 11/10/16, 12/15/16) For a club party, or bazaar, make an extra fruit bread, for an office, nuts and for kids, cookies (but also see 12/5/16, 12/2/15). Try to tie your contribution in with what you're going to be doing anyway. It saves a lot of time in shopping, planning and especially in clean-up. If you anticipate being asked to contribute a 'covered dish' call the person in charge, explain you're getting started early, and offer to bring a specific dish of your choice. They'll probably agree, glad to have one less thing to worry about at this season. The important point is get this obligation filled during these weeks of shopping.
So here's the way the list method works.
1) The first list has the headings for any questions to which you answered affirmatively. Under each heading you write the dishes you intend to or are considering making, in order of menu service for #1 and #3. Leave a' ?' in the space for any undecided dishes. Don't just leave a blank which can be overlooked later.
2) On a second page, under the same headings, begin to list the ingredients for each recipe you have decided upon in required quantities, again in menu order. Include garnishes.
3) Compile a master list. Begin by combining common ingredients in correct total quantity. Start with the basics, flour, sugar, butter, eggs, broth, even salt and pepper. Check your supplies for anything on the list you might have but don't check off an item because the container is there. Make sure the contents are sufficient. Once my menus are clear, I tend to group the things I want to buy by category, because that's the way the market flyers are laid out and the sales often run, frozen vegetables, ice cream and toppings, cake mixes and frostings, condiments etc., it simplifies the searching. BUT before you do this make sure every ingredient is on the list in proper amount. To paraphrase: "..make a list and check it twice…"
This provisioning technique is the one used by personal chef services and caterers. It guarantees immeasurable savings in time and stress. Imagine having to satisfy five clients a week, each demanding five entrees of four servings or covering two occasions with 400 guests apiece. The shopping can be a huge problem without a method to handle it.
This is not a budget plan. Since most items are bought per pound the monetary savings depend totally on when they are bought not where. You will save money if you follow the sales, that's a given. You will save money simply by buying your holiday food supplies during this period rather than waiting until December. However, if you believe that time is money and eliminating stress invaluable then, when the holiday rush sets in, you'll be laughing all the way to the bank!
It may seem like a lot of work at first glance, but you soon get into a rhythm and let's face it; is it easier to sit and write out a plan of action or to pay gas for many trips to markets, chasing up and down aisles? My Diet for the Food Dollar Plan in How to Control Food Bills shows how to get all the shopping done in about 6 trips, one per week. This approach to food shopping is great because it provides a safety net, especially for newbies. Moreover, it can be used to ease the planning for any holiday or special occasion so it really is worthwhile to give it a try.