SALADS SPOTLIGHTING PRODUCE IN ITS PRIME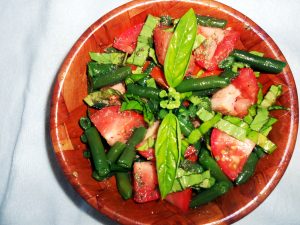 One of the best things about August is the abundance of fresh produce at peak ripeness. Several items are robust enough to stand alone, or in a duet as a salad. Lettuces and leafy greens, also available now, can be used to simply add flavor or texture contrast, rather than the heavy body-building they supply the rest of the year. Herbs too are wonderfully fresh now and can be worked into many dishes as flavor accents or even as working components.
Because of the focus on a specific taste, and monochromatic coloring, salads concentrating on just one or two fresh produce items are appreciated more when served in smaller quantities, as a luncheon or an accompaniment to an entrée food, optionally on a bedding of complimentary greens. Adding ingredients in an attempt to convert them into an entrée ruins the recipe and defeats the purpose of choosing one or two items to savor and enjoy by showcasing them at their perfect moment.
Of course knowing how and where to find good produce is important. Field grown and naturally ripened are key. If you live near a farming area, taking a drive to find roadside farm stands is great, otherwise seek out a central farmers' market or, in urban locations, try specialty stores. Supermarkets often feature specials on different produce crops in season, especially local ones, but check the labels to see where the product was grown; the closer it was the fresher it is and the less chance it was harvested prematurely to ripen enroute. If you have any doubts about how to select the best items, ask someone who works at the market and also be sure to inquire about handling and storage. It's no good to buy perfect produce and have it spoil because it was bought too far in advance or improperly stored.
One other note on buying for and preparing these recipes; no matter where you look nowadays, most of what you find will be GMOs. I personally, mourn the loss of regional differences in and depth of flavor and deplore the bland equality of taste. Still, GMOs do offer some advantages; the overall perfection in appearance and longer shelf life are two. Developing a firmer skin or rind on fruits and vegetables to protect from infestation in the fields and bruising in transport is a big third.
This is especially relevant to preparing tomatoes. Formerly, removing the thin skin used to be the cook's option. Now, dealing with the firmer skin is basic to the preparation. Left on, it preserves the integrity of diced or sliced pieces, especially if to be tossed, but prohibits the flesh from melding into the whole in some recipes. The presentation description will tell you what to do, if the recipe directions don't.
The following recipes are good examples of making a specific produce into a salad, but only suggestions. (Again several are adapted from Three& Four Ingredients by Jenny White and Joanna Farrow.) If you have a favorite, go for it! A friend loves pears and has created a delicious salad with sliced pears, walnut oil, a dash of balsamic vinegar and chopped, toasted walnuts. Sometimes she adds a mild cheese, and sometimes plates it on a green of choice at the time, but it's always soooo good.
RECIPES:
Tomatoes with Cut Beans (or Peas) and Basil: Serves 2- This Italian recipe is equally popular with lightly cooked peas or cut green beans. The peas are more filling but higher in carbohydrates.
2 Beefsteak tomatoes OR 4 plum tomatoes
1 ½ cups cut green beans OR 1 cup peas
1 Tbs. oil
½ tsp. garlic powder or to taste
Salt and pepper to taste
2 tsp. dried basil
12 large fresh basil leaves + 2 sprigs for garnish
Cook the beans or peas to crisp tender and cut the unpeeled tomatoes in 1 inch dice. Lightly toss everything but the fresh basil in a salad bowl and chill to marinate at least 1 hr. Slice the fresh basil leaves thinly and toss into the salad1/2 hr. before serving. Garnish with the basil sprigs.
Watermelon and Tomato Salad: Serves 2
2 slices of watermelon- rind cut off, seedless and cut in 1 inch cubes
1 beefsteak tomato OR 2 plum tomatoes
½ Tbs. oil
½ tsp. balsamic vinegar
Salt and pepper to taste
2 oz. crumbled Feta cheese – optional
Small bunch of watercress OR baby spinach – torn
Peel the tomato by dipping in boiling water for a few seconds then pulling the skin off with a sharp knife. Cut the tomato in 1 inch dice and gently stir with the melon, vinegar, oil, salt and pepper. Marinate, chilled for at least 1 hr. Serve cold on greens optionally garnished with the cheese.
Crushed Tomato and Pasta Salad: Serves 4
6 plum or small tomatoes peeled and halved
1 lb. lasagna noodles broken diagonally in pieces the size of the noodle's width
¼ cup fresh basil leaves + sprigs for garnish
3 Tbs. oil
Salt and freshly ground pepper to taste
2 tsp. garlic powder
Shaved or grated Parmesan-optional
Gently crush the pulp and juice from the tomatoes into a bowl. Add everything else but the pasta and marinate, covered, chilled to meld 3 hr. Meanwhile cook the pasta al dente, drain and hold in a bowl of cool water. To serve, drain pasta and add to bowl with tomatoes; toss well and adjust seasonings. Serve garnished with basil sprigs and grated cheese if using.
Sour Cucumber with Dill: Serves 4
3 small cucumbers thinly sliced-mandolin recommended
3 small red onions thinly sliced- mandolin recommended
3 Tbs. chopped fresh dill + a few sprigs to garnish
5-6 Tbs. cider vinegar diluted with 2-3 Tbs. water
Salt and pepper to taste
In a large bowl combine the cucumbers and onions with salt and leave for 10min.until they 'weep. 'Rinse well and drain. Add diluted vinegar, the dill and toss well. Marinate in the refrigerator 2-3 hours and serve cold, drained garnished with dill sprigs.
Cucumbers in Sour Cream: Serves 2
2 medium cucumbers-thinly sliced-mandolin recommended
Cider vinegar to taste
Sugar to taste
1 cup sour cream
Salt
Paprika
Place the cucumbers on a plate and liberally sprinkle with salt. Allow to sit about 15 min, until they 'weep'. Rinse and drain well. Mix the sour cream with vinegar and sugar to taste-mildly sweet-sour. Refrigerate both separately. Just before serving, place half the cucumbers in a flat-bottomed bowl, then ½ the cream. Dust with paprika and repeat with the rest of the cucumbers and cream, ending with the paprika. Be sure to serve well chilled. This salad can also be served in individual saucers.
Roasted Pepper and Anchovy Salad: Serves 4
6 large bell peppers-assorted colors red, orange, yellow green
2 oz. can anchovy fillets
2 garlic cloves-thinly sliced
2 Tbs. Balsamic vinegar
Salt and pepper to taste
Cut the peppers in half and roast in a 400 deg. oven, cut side down, in a roasting pan 30-40 min. until skin is charred. Place in a bowl, cover with plastic wrap and leave for 15 min. then peel off skin and cut into julienne strips. Drain the anchovies and halve lengthwise. Mix the anchovy oil, vinegar, garlic and seasonings in a deep bow. Add the peppers and anchovies and fold to combine with a spoon. Chill until ready to serve. Excellent on spinach leaves with a slice of lemon to garnish.
Beets with Fresh Mint: Serves 4-This salad is an easy fix substituting canned tiny whole beets for the fresh ones.
4-6 beets, cooked OR (3) 15 oz. cans tiny whole beets
1-2 Tbs. Balsamic vinegar
2 Tbs. oil
Salt and pepper to taste
1 bunch fresh mint.
Cut the cooked beets in about 1 inch dice, or drain and halve the canned ones. Strip the mint and shred the leaves-reserve half. Place all the ingredients in a bowl, toss and chill to marinate at least 1 hr. Serve garnished with reserved mint.