Rhubarb Is A Real Taste Of Spring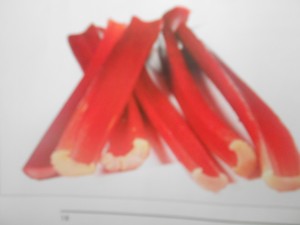 Before I begin this week's post, I want to introduce you to our new comments box. I do apologize, I was not aware that a former tech had disabled the old one. My apologies if I didn't answer before. It won't happen again.
Although there's a variety of tender, young, greens available in early spring, there is only one fruit mature enough to eat at that time, rhubarb. It's followed about a month later by strawberries but rhubarb is a true symbol of the new season. It's a bundle of contradictions, though, from its sweet-tart taste to the fact that people either hate it or love it. A perennial vegetable, native to the Orient, related to sorrel, it's only occasionally used as such in some Asian dishes and a few Eastern European ones. The rest of the world considers it a fruit. In fact the U.S. Department of Agriculture classified it as one in 1947.
Rhubarb looks like red celery, but it's harvested stalk by stalk, not by the bunch, leaving the roots, which along with the leaves are toxic, in the ground, to rejuvenate.  Inedible raw, it can be steamed, baked, canned and makes a wonderful jelly. It's often served 'stewed' as a fruit with breakfast or as a dessert after dinner, but not mixed into cereal, salads, or eaten as a snack or accompaniment to meat as are other fruits. Field grown rhubarb, available only in spring, has bright red slender stalks which are less fibrous and slightly sweeter than the hothouse variety, available all year, with wide, thick pale to deep pink ones.
A common spring sight in markets and kitchens until the mid to late twentieth century, I hadn't realized that it had become a rarity until several years ago when I wanted to make the Rhubarb Kutchen recipe below. I couldn't find it in regular markets and ended up in a boutique produce 'farm' one. Possibly its decline in favor is due to the fact that it requires sugar to be acceptable and sugar has become a bad word in food preparation. However, new verities have been developed which are sweeter and hopefully will revive rhubarb's popularity. I've been glad to see it in my supermarkets again the past few years. It is unique and deserves a place in our menus.
Rhubarb doesn't ripen after harvesting, and should have stiff stalks and fresh looking leaves when bought.  Keep it wrapped in plastic in the refrigerator and use within three days. The quickest way to cook rhubarb is to 'stew' it, which is not exactly accurate. It's actually simmered or 'steamed' gently in a double boiler. However, for any recipe, the stalks should be trimmed of the leaves, which are toxic, washed and cut in 1 inch dice. The celery-like 'strings' will soften in cooking, especially if cut on the diagonal, and need only be removed from the largest of stalks.  Rhubarb should be cooked over low heat, never boiled or overcooked because it loses body in the process. It has a high water content, so some recipes call for a little water while others call for none. It also has a high pectin content which allows it to gel nicely for a sauce or compote.
One pound of rhubarb yields about two cups cooked.  Always use a non-reactive pot; aluminum turns it grey and gives it a metallic taste. Also, it should be kept covered because it oxidizes in the air One fun part of working with rhubarb is that it combines well with other fruits, especially ones that share its season, like strawberries and cherries, or have a similar texture such as fresh pineapple.  Directions to make these changes are quite simple; just exchange another fruit for half the amount of rhubarb in any recipe. The only adjustment that may be needed is in the amount of sugar, which is a matter of personal taste. See the Strawberry-Rhubarb Pie below.
So if you see rhubarb in your market in the next few weeks, give it a try. Incidentally, one of the reasons that it was so linked to spring was because it was considered a tonic. Its mild cathartic properties were said to rid the body of winter's ills. In any case, I'm a big fan and with the current flavor preferences, I think you will be too.
Steamed Rhubarb I: Yields 4 cups = 4 servings alone
2 lbs. rhubarb cut in 1 inch pieces
1 ½-2 cups sugar
2 tsp. lemon zest (optional)
½ cup water –optional
Place all the ingredients in the top of a double boiler, cover and cook over medium-low heat until fruit is tender, about 10 min.
Steamed Rhubarb II: Serves 6
4 cups cut rhubarb
1 cup sugar
Proceed as above but don't stir. This requires less sugar and no water allowing the rhubarb liquid to moisten the dish.  I haven't tried it but the lowered sugar amount may be more acceptable.
Serve alone, as a topping for ice cream, with meringues or whipped cream.
Baked Rhubarb Yield 4 cups= 16 dessert toppings or 8 compotes*
2 lb. rhubarb cut in 1 inch pieces
1 ½ cups sugar
¼ tsp. ground ginger
¼ tsp. ground nutmeg
½ cup orange juice
Preheat oven to 350 deg. Toss rhubarb and dry ingredients in a non-reactive 9 x 12 baking dish. Drizzle with juice and bake 30 min. covered. Uncover and bake 10 min. more or until rhubarb is tender. Bring to room temperature then chill.
*Due to the pectin in rhubarb this sets when chilled and can be used for;
1.Cake filling-spread over whipped cream to layer a cake.
2. Top pound cake layers with this, adding a dab of whipped cream for a quick dessert
3. Shortcake-Spread over biscuits or sponge cake shells
4. Compotes-Place crumbled gingersnaps in the bottom of a goblet fill ½ way with rhubarb, repeat layers again. Chill well and serve topped with whipped cream.
Rhubarb Crisp:  A fluted pan gives a nice presentation
Fill a 9 inch unbaked pie shell with
4 cups rhubarb cut in 1 inch pieces
Mix to form crumbs:
½ cup melted butter
1 ½ – 1 ¾ cups sugar
¾ cups flour
½ tsp. ginger
½ tsp. nutmeg or cinnamon
¼ tsp. salt
sprinkle the crumbs over the fruit and bake in a 400 deg. bake in a preheated oven 30-40 min. until topping is crisp and fruit bubbles. Cool on a rack; serve warm or chilled with whipped cream or ice cream.
Rhubarb Kutchen: Serves 12
1 ¾ cups  flour                                 4-5 cups rhubarb in1 inch pieces
2 Tbs. sugar                                        *Meringue*
½  tsp. salt                                            4 egg whites                                         
½  cup butter                                       ¼  tsp. salt
¼ cup chopped nuts                            ¾ cup  sugar
2 egg yolks beaten lightly                   1  tsp. vanilla
2  egg yolks                                          2 drops cider vinegar or ¼ tsp. cream of tartar
2 cups sugar
½ cup flour
1 tsp. baking powder
Stir together 1 ¾ cups flour, baking powder, 2 Tbs. sugar and salt, cut in butter until mixture is crumbly. Stir in nuts and 2 beaten egg yolks until well mixed. Press into the bottom of an 8 x 12 inch pan. Beat other egg yolks well, stir in remaining sugar and flour, add rhubarb, and pour mixture into the pan. Bake in a preheated 350 degree oven 45mins.  Remove from oven, and reduce temperature to 325 degrees. Meanwhile, have made Meringue by beating room temperature egg whites until soft peaks form, add vinegar or cream of tartar and beat to incorporate, likewise with vanilla. Gradually add sugar and beat until whites are stiff and glossy.  Spread Meringue over fruit, return to oven and bake until delicately brown-about 10 min. Serve at room temperature.
Strawberry-Rhubarb Pie: This can be made into a Rhubarb Pie by using 4 cups rhubarb and 1 ¼ – 1 ½ cups sugar. Other fruits can also be substituted for the strawberries in equal amounts.
Crust for a covered pie
1 cup sugar
½ cup flour
2 pt. strawberries
1 lb. rhubarb – chopped
2 Tbs. butter
Gently toss sugar, flour and fruit together  and let marinate 30 min. Line a 9 inch pie plate with one layer of crust. Pour filling into shell and dot with butter. Cover with second layer of crust with holes cut to vent steam. Bake in a preheated 400 deg. oven for 35 – 40 min until bubbly and brown.