RECIPES TO LIGHTEN THE WINTER MOOD AND YOU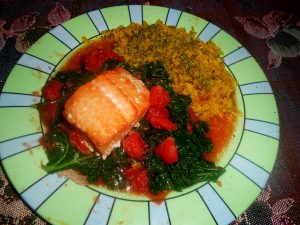 We're into the New Year, and for a lot of people, especially those facing the brunt of Winter, like me, it feels more like the morning after than a fresh start. The idea of facing the winter blahs isn't improved by the prospect of dealing with diet deprivation to get rid of the effects of over-eating during the holidays either. But what if it didn't have to be hard? What if we could lose weight and have tasty, enticing meals to look forward to each day? Wouldn't that make the short days brighter and if everyone around the table was enjoying them too, wouldn't that warm the cold evenings a bit?
Well, it is possible to have flavorful meals that will help you curb your weight, but you have to be willing to do 3 things.
Put all canned and packaged foods and/or mixes to the back of the pantry or freezer shelf.
Brush up on spices, herbs, condiments and use of citrus fruits in flavoring
Come to understand carbohydrates and how they work
It's well known that protein builds muscle, fiber keeps the digestive system running and carbohydrates give us the energy to do everything from blinking to building the muscles to run a marathon. It's also well known that there are two classes of carbs; simple and complex. The simple are sugar based foods like candy, which are quickly absorbed into the bloodstream giving a quick burst of energy. The complex are slowly absorbed and account for our ability to move through life.
The body's treatment of all carbs is the same, like a miser with gold pieces. No matter how quickly absorbed, they are welcome and doled out only as needed. Any excess is stored in specially created cells, like the miser's bags and stuffed under the mattress, or in our case, our skin, which results in those bumps and ridges we call fat. When we restrict our daily deposit of carbs, the body has to make with drawls, and we lose weight.
There's another important factor in dealing with carbohydrates; often overlooked, fiber isn't just a digestive lubricant. The more fiber in a food, the longer it takes to digest and the less hungry we feel. This is why fruits despite high natural sugar content are still considered desirable complex carbs. Simple carbs like candy, are often called 'hollow', not just because they contain no fiber, but also because they leave us still hungry, or feeling empty.
Which brings us to a group of carbs that is often confusing, the dreaded 'whites' or 'starchies'. These are whole foods that have been refined or processed to make the products in which they are used as
Ingredients, lighter, smoother or more easily combined with other flavors. Refined flours are used in baked goods and pasta, cornstarch to thicken gravies and sauces and white rice in desserts, soups and as bedding; all famous enemies of dieters. They have not become simple carbs, but like simple carbs they enter the bloodstream quicker and lack the fiber to satisfy hunger, encouraging larger or second helpings; in other words, over eating.
So it's very important for anyone interested in their weight, or, in fact, healthy eating in general, to be informed about carbohydrates. I deal fully with the subject in my book How to Understand Carbohydrates, So They Don't Go To Waist, available on this site, Amazon and our Etsy store.
The recipes below are full flavored low carb ones from my menu cookbook Dinners With Joy, also available on this site as well as on Amazon and our Etsy store. As I do in the book, I've included recipes for side suggestions which are also low carb. So happy eating!
ITALIAN BRACIUOLINI: Serves 4
A favorite recipe from Tuscany. Usually done in a skillet, it can be difficult, at first, to turn these over in the pan without spilling the stuffing, and it requires a spoon and spatula to do so. That's why I'm offering an oven alternative.
8 slices beef braciuolini or sandwich steaks – @ 1 lb.
4 plum tomatoes – skinned, seeded, julienne
2 large ribs celery in thin diagonal slices
1 green bell pepper julienne
1 large onion thinly sliced lengthwise
2 tsp. dried basil
2 tsp. dried oregano
2 tsp. garlic powder
½ tsp. lemon pepper
4 oz. fresh sliced mushrooms
1 can Madrilène—usually sold to be jellied—a form of consume
2 Tbs. butter – divided
½ cup white wine
2 tsp. Worcestershire sauce
1 tsp. mustard
Lay the slices of meat on a board, and divide the vegetables except mushrooms, equally between them, placing them in a pile parallel the long side of the braciole or steaks. Sprinkle the herbs and seasonings evenly over all. Fold the shorter sides over the filling, and roll the longer sides around it. Secure the seams with toothpicks. Preheat broiler. Melt 1 Tbs. butter in the ovenproof pan, carefully roll the topside of each braciuolini in the butter, then rest it seam side down in the pan. This will be a close fit toward the end, so temporarily move one out to make room for another, if need be, but make sure all have a coating of butter. Broil until nicely brown, @ 3-5 min. Turn the oven to 350 degrees, add madrilène, cover and bake for 30 min. When meat is almost done, melt the other 1 Tbs. butter in the skillet, and brown mushrooms, deglaze pan with wine, stir in Worcestershire sauce and mustard until well incorporated. Remove pan from oven, plate braciuolini, stir skillet contents into pan drippings and mix well. Pour over meat.
Suggested sides: Potatoes Seaview: Cover a baking sheet with foil. Wash 2 large potatoes—baking are good for this. Slice them about ¼ inch thick and lay them in lines on the foil, overlapping about 1/3 of their surface. Dot liberally with butter, and broil until nicely brown-@ 10 min. Use a spatula to place them in segments on the plates. Can be done ahead and kept warm.
Broccoli Crowns: 2 large crowns split and steamed to crisp tender, dressed with ½ tsp. oil and lemon pepper to taste.
MINUTE STEAKS IN WINE SAUCE: Serves 4
"Minute Steak" applies to any piece of beef, about ¼ inch thick, that can be "pan fried" to acceptable doneness in about 1 minute. Because of the reduced cooking time, less tender cuts, such as Round, become an option or even the paper thin, "frizzled" beef, used for Philly Cheese Steaks. However, the real beauty of this recipe is that the sauce is made separately, and can be used for leftovers, regular sized steaks, or even as a quick cover for Deli beef, julienned and served over rice
(8) Minute Steaks
2 Tbs. butter
2Tbs. oil
1 medium onion halved and sliced very thin
2 cloves minced garlic or 2 tsp. jarred
1 envelope beef bouillon granules
1 cup water
1 Tbs. cornstarch
¾ cup red wine
2 Tbs. brandy
Ground pepper
Kosher salt
1 tsp. tomato paste or Kitchen Bouquet
4 oz. fresh mushroom slices or (1) 4oz can stems & pieces (optional)
Melt butter in a skillet over medium heat. Sauté onion and garlic about 2 min. Add everything else but the meat, to the pan. Stir until sauce thickens, about 3 min add salt and pepper to taste. Add Kitchen Bouquet if the sauce lacks color. Pour sauce into a small saucepan and keep warm over low heat. Raise heat under skillet to high. Add steaks and brown quickly and evenly, about 1 ½ – 2 minutes. Do not overcook. Plate steaks and top with sauce.
Suggested Sides: Artichokes: This is such a quick meal, you don't want time consuming sides 1 can artichokes or (1) 10oz frozen box, thawed. 2 jarred red roasted peppers in thin strips, 1 medium onion sliced thin, 1 tsp. dried thyme and 1 Tbs. butter. Sauté the onions in the butter over medium heat until the onion softens @ 3 min. Add the other ingredients and cook until heated through @ 5 min. If directions on artichoke box indicate the need for longer cooking, add them first, cover and cook the required time, allowing at least 3 min. of uncovered cooking with the other ingredients at the finish. Salt and pepper to taste.
Green Beans: 1lb. fresh or frozen, whole or cut, cooked to crisp tender and garnished with a drizzle of oil and sprinkle of lemon pepper.
PORK CHOPS WITH CARMELIZED ONIONS: Serves 4
A very mild dish, so the best substitutes would be turkey or chicken thighs.
4 fairly thick loin or center pork chops @ 2 lbs.
5 large onions sliced @ 3/8 of an inch thick
1 tsp. sugar
1 Tbs. minced garlic
@ 2 cups chicken broth = 1 can Condensed Broth
2 Tbs. butter
2 Tbs. oil
¼ cup Madera wine
Melt butter in a skillet over medium heat and brown chops well. Remove from pan, add oil and sauté onions with sugar until a golden color and translucent add garlic and cook 1 min more. Lower heat and return chops to pan, covering them with the onions. Add the broth, cover and cook 40 min. Plate chops, with onions over them. Add the Madera to the broth and deglaze the pan. Bring the liquid to a boil and simmer for 1 min. to reduce it slightly then pour over chops and serve.
Suggested Sides: Squash: 2 boxes. 10 oz. each, cooked squash. Drain well, mix with 1 Tbs. butter, salt, pepper and sugar to taste. Heat in microwave according to package directions Herb Roasted Carrots: Toss 1 lb. baby carrots with 1 Tbs. oil and 1 Tbs. dried crushed rosemary or thyme. Bake on a foil lined sheet for 20 min. at 400 deg. Toss with ½ Tbs. balsamic vinegar and roast 8 min. more.
Spinach Pie: (2) 10oz boxes of chopped spinach, thawed and squeezed of excess water, mixed with 2 envelopes beef or chicken broth, and 2 eggs. Pour into a greased casserole, sprinkle ground nutmeg on top and bake 350 degrees for 30 min. Both sides can be cooked along with the entrée.
PORK IN PEPPER SAUCE: Serves 4
This dish can be done two ways – on a grill > Method A – OR in a skillet >? Method B. Either way the sauce is made first. As usual turkey can be substituted or veal.
@ 11/2 to 2 lb. pork loin or loin chops cut –
A). in 4 thick slices, or chops, for the grill
B). in 8 thinner slices or chops for the skillet
2 tsp. minced bottled garlic
1 tsp. dried basil
1 medium onion – chopped
(1) 7 oz. jar roasted red peppers
1tsp oil
1/8 tsp. lemon pepper
¼ cup White wine
2 Tbs. butter – for Method B
To make sauce :Microwave onion in oil with lemon pepper 1 ½ min. Drain peppers, blend with onion, basil, and garlic to a puree. Add the wine.
Method A: Put the sauce in a small pan. Grill meat. Warm the sauce as pork is finishing, pour over the meat and serve.
Method B: Melt the 2 Tbs. butter in a skillet over medium heat and brown meat on both sides. Pour sauce over the meat, reduce heat and cover. Simmer gently for 8-10 min., until pork is done.
Suggested Sides:. A Quick Vegetable Medley. Thaw and drain ½ a 1 lb. bag frozen cauliflower. Slice 2 zucchini, 1 large onion and 1 stalk celery. Pour 1 Tbs. oil in a microwave safe bowl, toss with celery and cook on high 2 min.; add cauliflower and cook 1 min. add onion and cook 1 min.; add squash and cook 3 min. more adding ½ tsp. EACH dried basil and oregano and ¼ tsp. garlic powder. Add salt and fresh ground pepper to taste.
CHICKEN IN LEMON-WINE SAUCE: Serves4
A classic dish, with recipes found in various forms, but always a good choice.
4 boneless, skinless chicken breasts
¼ cup flour
2 Tbs. cooking oil – -canola
2 Tbs. butter
1 small onion diced
2 cloves garlic sliced
1 lemon – zested and juiced
1/3 cup white wine – – recommend dry vermouth
¾ cup water
1/2 envelope chicken bouillon granules
½ cup chopped fresh parsley – – or 2 Tbs. dried
2 tsp. garlic powder
Pound chicken between two pieces of plastic wrap, to an even thickness, and dredge in flour, shake off excess. Place 1 Tbs. oil in a skillet over medium heat and begin to cook chicken, add 2 Tbs. butter, and brown chicken in both sides – @ 6 min. total. Remove chicken to a plate. Add 1Tbs. oil to pan and sauté onion until soft @ 2 min., Add sliced garlic and sauté 1 min, more. Add wine, and deglaze pan by scraping all the browned bits from the surface with a wooden spoon. Add water, bouillon powder, 1 Tbs. lemon juice, and return chicken to pan. Reduce heat and cook, uncovered, over medium- low about 8-10 min. until chicken is done and sauce thickens.
Meanwhile, make what the Italians call "Gremalata" by mixing the parsley, garlic powder and lemon zest in a small bowl.
Plate the chicken pieces individually with sauce. Top each with a small portion of gremalata, and pass the rest.
Suggested sides: 1 lb. Fresh Sugar Snap Peas. Blanch in boiling water @ 2 min. Drain and toss with 1Tbs. olive oil and 1/8 tsp. lemon pepper.
Herb Roasted Carrots: Toss 1 lb. baby carrots with 1 Tbs. oil and 1 Tbs. dried crushed rosemary or thyme. Bake on a foil lined sheet for 20 min. at 400 deg. Toss with ½ Tbs. balsamic vinegar and roast 8 min. more..
PEPPER CHICKEN ROLLS: Serves 4
4 boneless, skinless chicken breasts or 8 boneless, skinless thighs or a mixture
4 bottled roasted red peppers
(1) 4oz jar of mixed olive Tapenade OR next 5 Ingredients combined
12 pitted ripe olives chopped
12 pitted green olives chopped
3 cloves garlic chopped or 1 1/2 tsp. bottled
1 small canned jalapeno chopped (optional)
Olive oil to moisten the above
2 tsp. dried basil
2 Tbs. butter
2 Tbs. oil
1 envelope chicken bouillon granules
1 1/3 cups white wine
¼ cup flour—or less
Toothpicks
If using the Tapenade, then add the garlic, pepper and basil to it. If making it, chop the olives, garlic and pepper together and add the basil and olive oil.
Prepare chicken by pounding very thin. Butterfly the red peppers by slitting each on one side, and lay one over each breast or ½ over each thigh. Spread an equal portion of the olive mixture down the center of the pepper, leaving a 1 inch margin all around. Roll the chicken, starting with the narrower short side and secure with toothpicks. Sprinkle the flour over the chicken rubbing lightly to spread it. Don't press or the stuffing will leak out.
Heat 1 Tbs. of butter and 1 Tbs. oil in the skillet over medium heat. Brown the chicken, first seam side down, then the top, adding more oil as needed. Be careful not to let it stick. Turn the top side up; add the last of the butter, the wine and the bouillon, stirring to combine. Reduce the heat to low, cover and simmer 10 min. until the chicken is cooked, and the sauce thickens. If the sauce seems too thin, continue to simmer for a few minutes with the lid off.
Suggested sides: Spaghetti Squash Jardn: Halve and seed a small -@ 4 lb. – spaghetti squash. Cover and refrigerate one half. Microwave the other in ½ inch of water, on high 9 min. Cool and drain. Slice 1 small zucchini, 1 small yellow squash and ½ a small onion add 1 Tbs. oil and ¼ tsp. lemon pepper and microwave 2 min. Add 2 chopped tomatoes and Microwave 1 min. Using a fork, remove the meat from the squash. It will come out in spaghetti-like strands. Combine everything together in a bowl, and microwave to heat through before serving. Check seasonings.
COCONUT CRUSTED TILAPIA: Serves 4
4 Tilapia filets – about 1lb
1 cup plain Panko
½ cup sweetened coconut flakes – toasted
1/3 cup mayonnaise
Lemon pepper
Preheat oven to 350 deg. Toast coconut on a piece of foil until golden, about 4 min. watching that edges don't burn. When cool mix with Panko SEE note below.
Step 2 – Place fish on a lightly oiled cooking surface, a pan or baking sheet. Completely cover the tops with a thin sheet of mayonnaise, more like a veneer. Dust lightly with lemon pepper.
Step 3 – Sprinkle with Panko-coconut mix, and bake 8 min. per 1 inch width of filet, until top is golden, fish puffs slightly and edges bubble. Serve at once
Note: I put the breading mix in an empty herb bottle with a shaker top. It's easy to apply, and any extra can simply be stored in the bottle.
Suggested Sides: Baked Tomatoes: 4 large tomatoes, tops sliced off, but don't hollow out. Slide 4 slivers of butter into each tomato, top with breadcrumbs, Parmesan cheese and dried parsley. Broil on a lower shelf until tomatoes are soft and topping bubbles.er
Asparagus Spears: Snap the woody stems off 1 lb. fresh asparagus and microwave with about ¼ cup water for 3-9 min. depending on size until crisp tender. Drain and marinate in vinaigrette of choice until serving.
Salmon with Tomatoes and Greens : Serves 2
2 thick center slices of salmon (slices work better than fillets)
(1) 5 oz. bag spinach leaves  or equal amount of Kale leaves, thick stems removed
(1) 15 oz. can diced tomatoes with juice
1 Tbs. oil –optional
¼ tsp. garlic powder
Skin the salmon and bake on a non-stick surface at 350 deg. for 5 min, per inch of width or until flakes.  When fish is done, put greens in a flat-bottom dish, top with oil if using, tomatoes with juice and garlic. Microwave for 1-2 min. until greens are slightly wilted and tomatoes are warm.  Plate greens topped with tomatoes and place a piece of fish diagonally across each plate. Serve at once.
Suggested side:4 small white potatoes, washed, dried and lightly pierced with a fork in the tops, and microwave, on a paper towel, 2-3 min. Split and rub with butter then run under broiler to brown.