Poaching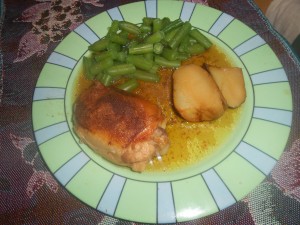 Last week I explained that my way to cope with the after effects of eating all those holiday goodies is to focus on plain food and straight-forward cooking for the first week(s) of January. I avoid carb laden marinades, thickened sauces and gravies and fat based cooking preparations. Practicing what I preach the other night, I was poaching salmon and suddenly realized that this technique had been sidelined for decades, generally considered as antiquated and time-consuming , yielding bland, boring results. It's such a clean cooking method that ignoring it seemed an oversight in our current health-conscious culinary world.
Poking through newer cookbooks and magazines, I found it's actually been evolving, undercover so to speak, literally, by taking to the oven.  Recipes give directions without naming the process or often call it "oven poaching," just "poaching" and even "oven braising" which is incorrect. Just to be clear before going on "Braising" is browning a food in some form of fat, before adding liquid and finishing the cooking, slowly, either on the stove or in the oven. Poaching doesn't involve the fat used to brown.
Technically, poaching is immersing food in hot liquid, maintained at a temperature just below simmer until cooked. This is important because the air bubbles created by boiling or simmering tear delicate foods or result in uneven surface cooking. Usually the liquid is water, which is why the cooked items have been considered bland. Newer recipes call for the food to be only partially submerged in a non-fat fluid, without browning first, and cooked by moderate heat, either on stovetop or in the oven, sometimes covered, maintaining the liquid level and, usually, basting.  This keeps the item moist and justifies the slow cooking by allowing it time to become infused with the flavor of the poaching liquid and/or the other items being cooked with it.
This definition puts a lot of dishes in the "poached" category, not previously thought of as such, Corned beef and cabbage for example. It also opens the door to a realm of flavoring possibilities dependent on the ingredients composing the cooking liquid. I'm listing several here all of which will add flavor to the food being cooked with the added advantages of being able to be strained, chilled and reused or having a portion reduced to a sauce.
The time required is roughly equivalent to roasting or baking the item per pound at 350 deg. in the oven or stewing on stovetop. To reduce it cut the food to be poached into smaller pieces if possible. Because poached foods keep so well in their broth, I find doing them ahead and reheating in their fluid is a time saver.  These recipes need little attention, so I can cook them while busy elsewhere and have the food ready in a hurry to serve later.
Poaching Fluids:
White Wine: Simmer 6 cups water, 3 cups white wine , 2 carrots, 2 stalks celery and 2 small onions –all chopped –for 30 min. Strain and chill until needed if necessary.  For seafood.
Orange-Spice:  Simmer 3 cups water, 3 cups orange juice, 2 cups white wine, 1 large leek sliced*, 4 star anise** and 6 whole allspice*** for 30 min. Optionally substitute 1 small chopped onion and a pinch of garlic powder*, 1 tsp. each ground anise** and allspice*** and cook 20 min. Strain and chill until used.  For poultry or pork.
Red Wine-Rosemary:  Simmer 3 cups red wine, 3 cups water, 2cups V8, I onion chopped, 1 sprig rosemary or 1 Tbs. dried and 1 tsp. peppercorns  for 20 min. Strain and chill until used. For beef or lamb.
Portions of the above poaching liquids can be reduced to a sauce. Each makes 8 cups.
Black Tea: Steep 8 black tea bags in 4 cups boiling water. Remove squeezing out the tea and add 1 Tbs. lemon or lime juice. For poultry or seafood. Yield= 4 cups
Spice Tea: Steep 8 bags orange spice tea in 4 cups of boiling water. Remove bags squeezing out the liquid. Add ¼ cup honey and ¼ cup orange juice. Use for fruit. Yield – 4 cups.
RECIPES
Poached Salmon with Cucumber-Dill Relish: Serves 4
4 salmon steaks
1 Tbs. dried dill weed
1 medium cucumber, seeded in fine dice
2-4 Tbs. total non-fat sour cream or plain yogurt and lite mayonnaise mixed to taste
Mix cucumber and dill with desired mixture of cream, yogurt and mayo ahead if planning to serve hot, for flavors to meld or chill. Poach salmon in water to cover about 8 min. per inch of thickness. Drain and remove skin and bone, keeping shape intact. Chill if not serving at once. Serve portions with a dollop of relish and pass the rest.
Swordfish, Marlin or Tuna Poached in White Wine Italian:  Serves 4
4 fish steaks
1 cup white wine-or enough to come ½ way up steaks
1 Tbs. chopped parsley
5 scallions, white part only, sliced on the bias
1 large tomato, peeled, seeded and diced or ¾ cup canned drained
1 Tbs. capers
1 lemon quartered – optional
Poach fish in wine until done, about 5min. per inch of width.  Remove fish keep warm. Reduce liquid by half and add the other ingredients, cooking until scallion is soft; season with salt and pepper. Return fish to pan to warm if needed. Serve at once
New New England Boiled  Dinner: Serves 4
1 Lb. slice ham or 4 slices
(2)15 oz. cans small whole potatoes
(2) 1 lb. bags frozen French green beans
3 cups chicken broth or 3 cups water and 3 packages chicken bouillon granules.
Cut ham into 4 pieces. Place potatoes in pot, cover with beans and then lay ham across the top. Pour on  broth. Bring fluid to just under a simmer, cover and cook until beans are tender
Pork Chops Basil: Serves 4
This also works well for roasts, consult charts for times per pound. It can be refrigerated for three days, or even frozen for two weeks, after the baking, so it can be made ahead and quickly ready on a rushed night. Veal chops or turkey cutlets may be substituted for the pork.
(8)  ½ inch thick center pork chops well trimmed
½ cup flour (optional)
1 Tbs. garlic powder
2 Tbs. dried basil
½ a small can frozen orange juice concentrate
Water to dilute juice
¼ cup cream sherry
Sprinkle half the garlic powder and half the basil in the bottom of an oven proof dish or pan that will hold the chops closely but not overlapping. Dredge the chops in the flour, if using, by shaking in a plastic bag, one at a time, making sure they're well coated. Place in pan, and sprinkle the rest of the garlic and basil over them. Cover and seal the pan with foil. Bake, preferably at 250 degrees for 2 hours, but acceptable at 350 degrees for one hour. Remove from oven, turn on broiler, and lift foil. Dilute orange juice with the sherry and just enough water to come almost to the top level of the chops in the pan, and pour over the chops. Broil until chops brown and the sauce thickens.
Sauerkraut and Pork: Serves 4
4 pork chops with bone -about 2 lbs. total
(2) 28 oz. cans of kraut
4 large potatoes or 4 servings instant mashed
Water
Open the kraut and place 1 can in the bottom of a Dutch oven or large pot. Lay the chops on top and cover with the other can of kraut. Pour in water just to cover, bring almost to a simmer, reduce heat to medium low and cover with a lid. Cook about 3 hours until meat fall off bone. Serve at once. Meanwhile, peel and cook potatoes (can be done on top of kraut) and mash, or make up instant using skim milk, but no butter.  Plate some of the kraut, or at least juice over potatoes.
Teriyaki Basted Garlic Dusted Chicken Serves 4 – This is a recipe I used last week, but I'm repeating it here because it is a form of the new way to poach.
4 chicken pieces, breast or thighs
About 1 tsp. Teriyaki sauce per piece, and 1 Tbs. reserved (Optional)
2 tsp. garlic powder
½ envelope chicken bouillon
1 cup water – estimate –more if needed
Salt for brining
Rinse and clean chicken well. Place in enough water to cover and add 2 Tbs. salt to make brine and soak for at least 15min. Rinse well. Lift skin from meat with a rounded utensil like a butter knife, and fill each pocket with Teriyaki Sauce. Place chicken pieces in an ovenproof pan, large enough to fit comfortably. Add water to measure 11/2 inches in the pan. Sprinkle the bouillon on the water, add reserved 1Tbs. Teriyaki sauce and sprinkle ½ tsp. of garlic powder on each of the pieces for a good dusting. Best baked in a 350 degree oven for 1 hr., but can be done at 375 degrees for 45min.  Maintain water level but do not baste. Serve with pan juices on the side. Optionally, strain and chill pan juice to make aspic to serve on the side.
Suggested side: Wash and cut 2 medium-large potatoes in half. Leave enough room to place the halves, cut side down in the pan to cook along with the chicken. They won't need further seasoning.