NEW SALSAS BRIGHTEN MEALS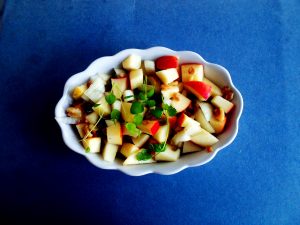 'Sauce', no matter its translation, sos, coyc or zhong, in most cuisines, refers to a class of smooth liquids served under or over a solid food, enhancing its flavor. However, 'Salsa' in the Spanish cuisine, and all its New World off shoots, is an exception. It's not smooth. Its ingredients are left in chunks and it's not just a finishing accent, but often used as a marinade or glaze or served as a 'side' or a dip.
Probably, it's salsa's firmer consistency, allowing it to be spooned onto a plate rather than poured, which accounts for its evolution over the past few decades. Once it began to be considered more a separate condiment than an accessory to another food, the possibility of using a wide range of ingredients opened up.
A salsa can be cooked or raw and its ingredients need enough contrast in texture to be interesting but not jarring. It's vegetarian and, generally, composed of one main ingredient, a vegetable or a fruit, as a base with one or more milder items to provide body and one spicy or hot ingredient to give zing. Sometimes herbs are included for flavor contrast and finally a bit of citrus juice or vinegar is added for an acidic 'bite' and as a melding agent. Often, a bit of oil, as a finishing touch, smooths the flavor.
As with any food that gains popularity, salsa recipes have advanced beyond the 'basic'. I've seen some that contain 15 ingredients with 3 more as optionals but one condition remains constant; salsas, if not commercial products, should be fresh. The best are custom created for the meal they accompany and that is the main point of this post. Nothing adds bit of spice to a traditional dinner or can rejuvenate leftovers like a fresh salsa. Picture a platter of slices of cold roast with a big bowl of gleaming fruit salsa in the center or a plate of meat with crisp greens topped with equally crisp salsa. Beats a casserole of meat in gravy whether for week night dinner or entertaining. (For other quick entertainment ideas, check my post 12/29/16, click 'Archives' on the right margin of the blog page and select the month.)
The old concepts of salsas are red-tomato- and green-chili-ones. I want to focus on newer recipes that make your meal shine, not mimic Mexican night, (although if you've never had Pico de Gallo or Salsa Verde freshly made, try them. You'll be pleasantly surprised.) The recipes below reflect the current trend in cosmopolitan salsas which compliment any cuisine.
You will notice a similarity of ingredients in the recipes that allows for interchangeability-chives, onions, scallions, Bell pepper colors and jarred jalapenos for fresh. Some recipes can be modified, perhaps only two or three fruits are needed not five, grapes or melon can replace more exotic ones, substitute walnuts for pecans, or add raisins to an apple based salsa. This leaves you room to experiment, to make the recipe fit your needs or even create a salsa from your pantry supplies. Be sure to check the 'Quick-Fix' solutions at the end of this post for ideas.
RECIPES
My Melon Salsa: Serves 2
1/3 large cantaloupe- meat in 1inch cubes
½ Green Bell pepper-in ½ inch dice
2 small scallions- white part only- sliced thinly on diagonal
2 tsp. lime juice
¼ tsp. oil
1 Tbs. chopped fresh mint leaves
Combine everything in a bowl allow to sit for 30 min. to marinate and chill for 30 min. Pair with poultry, pork or stronger flavored fish.
Pacific Rim Salsa: (6) ¾ cup servings
1 cup EACH chopped fresh pineapple, mango and papaya
½ cup EACH peeled, chopped kiwifruit, red bell pepper and red onion
2 Tbs. EACH chopped fresh cilantro and green chilies
1 minced garlic clove
1 tsp. lime juice
Freshly ground black pepper and salt to taste
Combine all ingredients in a bowl and allow 1 hr. to marinate–chill if to be held longer. Serve with any white meat or ham.
Cucumber-Orange Salsa: Yield about 4 cups-From Everything Low-Carb Cookbook by Patricia M. Butkus
4 oranges-zested- 1 ½ Tbs. reserved
4 medium cucumbers
2 Tbs. oil
1 tsp. crushed red pepper flakes-or to taste
½ cup rice vinegar-or white wine
Whisk the last 3 ingredients to make a dressing. Peel 2 cucumbers and halve all 4 lengthwise, remove seeds and cut in ¼ inch slices. Cut the oranges in half and scoop out the meat in segments. Combine cucumbers and oranges with 1 Tbs. zest in a bowl. Pour over dressing. Stir gently, cover and marinate chilled at least 2 hrs. Serve garnished with reserved ½ Tbs. zest. Goes well with all seafood.
Salsa Margherita: Serves 6 Adapted from 501 Recipes for a Low-Carb Life by Greg R. Gillespie & Mary E. Johnson
2 large, ripe tomatoes preferably Beefsteak—cored and diced
1 cup = 1 small bunch basil washed and torn in small pieces
2 shallots peeled and diced
¼ cup EV olive oil
1 lime zested and juiced
2 Tbs. crumbled Feta or Gorgonzola cheese-in reserve as garnish—optional
Mix everything but the cheese in a bowl thoroughly. Serve soon after making, optionally garnished with cheese. Serve with all forms of beef, especially grilled.
Apple-Nut Salsa: Serves 2-From Steven Raichlen's Indoor Grilling
1 large, crisp apple- sweet-tart such as Fuji—skin on-cored and in medium-small dice
2 Tbs. finely diced onion
1 jalapeno pepper in fine dice-or more to taste
3 Tbs. chopped, toasted pecans or walnuts
2 Tbs. lime juice
1 Tbs. finely chopped candied ginger*
3 Tbs. finely chopped cilantro
1 Tbs. brown sugar-optional
Toss the apple with the lime juice in a bowl to prevent browning. Then add the other ingredients, but don't mix until ready to serve. Can be made several hours ahead and kept covered, refrigerated. Serve with ham, pork, sausage, good with barbeque.
*If you don't have candied ginger, mix powdered with a little brown sugar to taste.
Sweet Potato and Apple Salsa: Serves 4-6** Adapted from 501 Recipes for a Low-Carb Life by Greg R. Gillespie & Mary E. Johnson
1 large sweet potato baked and diced into cubes
1 apple cored and diced-skin on
1 medium onion diced
1 bell pepper-any color—seeded in large dice
1 jalapeno diced
1 clove garlic-minced
1 lime-juiced
¼ cup cider vinegar
¼ cup EACH fresh parsley and sage-chopped
2 tsp. coriander
1/8 tsp. cayenne pepper
Salt and pepper
Toasted pumpkin seeds or sharp cheese for garnish—optional
Mix all ingredients in a bowl, cover and chill until serving, at least 6 hrs. or overnight. Serve with ham, pork, sausage or poultry.
**(1) 15 oz. can = 2 cups canned black beans, rinsed and drained-Will increase servings to 8-10
NOTE: By mashing half the sweet potato first this becomes a dip or pasta sauce, with or without the beans.
Grapefruit Salsa: Serves 2-4
1 grapefruit, halved meat removed in segments and pulp juiced
½ green bell pepper-in medium dice
4 red radishes-thinly sliced
1 Tbs. oil
Cracked black pepper to taste
Lime juice to taste as needed
Chopped chives for garnish-optional
Put first 5 ingredients in a bowl, toss gently, add lime juice as needed and correct pepper. Toss again, cover and chill well before serving. Garnish with chives or a bit more ground pepper. Serve with a firm white fish like Mahi Mahi, Opah or event Tuna.
My Easy Cranberry Salsa: Yield a bit over 1 cup with recipe, over 2 cups using canned sauce —all measurements are approximate and can be adjusted. (1) 14 oz. can whole berry sauce can be substituted for the *marked ingredients, making this super easy
1 cup cranberries*
¼ cup packed brown sugar*
¼ cup finely diced onion
½ green bell pepper diced
Meat of 1 orange
1/3 cup orange peel in fine Julianne no more than ½ inch long
½ tsp. finely diced jarred jalapeño pepper- optional and to taste OR freshly ground black pepper
Mix everything together, adjust flavors and allow to sit, covered, in the refrigerator for several days before serving. Excellent with poultry, pork, ham and veal.
NOTE: Keeps chilled for several weeks
Fresh Peach and Mint Salsa: Serves 8 Adapted from 501 Recipes for a Low-Carb Life by Greg R. Gillespie & Mary E. Johnson
2 Tbs. oil
1 shallot – finely chopped
1 large clove garlic-sliced
2 limes-zested and juiced
4 ripe peaches-blanched peeled, pitted and chopped*
1 large tomato-blenched, peeled, seeded and diced*
1 jalapeno – finely chopped
1 tsp. sugar
1 Tbs. chopped chives
Handful chopped fresh mint leaves
Salt and ground pepper to taste
* Peaches and tomatoes can be easily peeled by immersing them in boiling water for about 30 sec. then, under cold running water, simply pull the skin off with a paring knife.
Soften the garlic and shallot in the oil, either in a sauté pan or by placing them in the microwave on high for 2 min. Combine all the ingredients in a bowl. Toss gently, taste to adjust seasonings. Chill well, covered. This is a good hot weather salsa.
QUICK TIPS:
Quick Nectarine Salsa: Serves 4*
1 cup good, commercial chunky salsa
1 cup chopped nectarine
2 Tbs. chopped fresh cilantro
1 jalapeno finely chopped
1 clove mashed garlic
Lime juice to taste or lime wedges for garnish
Mix all the ingredients in a bowl and chill well.
NOTES:
1)* This quick custom salsa can be done with any fresh fruit, pineapples, mangos, oranges etc. you choose to compliment your meal.
2) Many salsas can be altered to fit another cuisine by changing the herbs and seasonings. For example exchange the cilantro and cumin etc. in Mexican cooking for basil and oregano to suit an Italian kitchen. For French, substitute marjoram, thyme or Herbs de Provence.
3) The serving yield of several salsas, even commercial ones, can be increased with the addition of beans-preferably black for Hispanic dishes and white for most others. See the Sweet Potato Salsa above as an example.