New DIY Salads That Make The Meal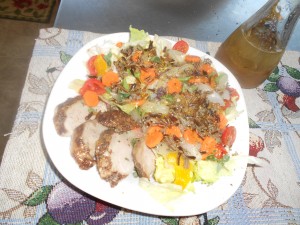 We've discussed composed salads and alternative ones. Now, at the peak of the growing season, I've got to tell you there's a new guy in town making waves by combining produce in ways that make salads stars in our diets. They're innovative not just in the wide range of ingredients used but also for the complete meals they so effortlessly provide. As in the alternative creations, all sorts of items are included, with less emphasis on the leafy greens, but they are not chopped or diced as they used to be. Rather the ingredients are presented in chunks, or pieces, or more often, in thin slices or shaved. The mandolin is replacing the knife, and is actually easier and quicker to use.
Like the composed salads, the current versions accompany meat to constitute a full plated entrée but the meat now is usually a lean cut, a fish fillet, a cutlet or loin chop, lightly grilled, broiled or sautéed just prior to serving, although this is an excellent way to serve well-trimmed, leftover slices of roast too. The dish is further fortified by the inclusion of nuts, seeds, cooked grains such as farro, quinoa, bulgur, kasha, rice and even "country croutons", pieces of torn, not cut, artesian bread, to make it into a fully nourishing attractive meal.
Although the salad ingredients can be prepared ahead and kept in chilled water, ideally they are tossed with a vinaigrette (see my recent post on DIY dressings) just before serving and plated after the meat, spontaneously draped slightly over it rather than positioned rigidly to one side as was the usual practice. The whole effect is a most inviting one of freshness and casual elegance.
As for the actual ingredients, start with the thought that things that go together hot, will do so cold. The Italian gang, for example, tomatoes, zucchini, onions and fennel make a wonderful salad when grape tomatoes are split and the other things shaved and yes, the zucchini is raw. Add fresh basil and oregano, some quinoa and perhaps shavings of Parmesan or Romano some grilled chicken or slices of beef and it's a full meal.
You can have fun thinking outside the box too. Many fruits and vegetables are great matches: tomatoes, watermelon and avocados, cantaloupe, peppers and onions, plums, radishes and cucumber to name a few. Lesser greens such as watercress, sprouts and baby spinach are great compliments for these combos, rather than the usual lettuces. Herbs are wonderful as well. Don't buy a bunch for garnish and wonder what to do with the rest. Use then as salad greens: parsley, especially the flat leaf, cilantro and basil are good choices.
Then it's simply a matter of deciding what grain, cheese, seeds or nuts, toasted please, best go with the other ingredients, appeal to you, perhaps you have on hand or want to get to round out the salad, turning it into the chief component of the main course rather than a side, I've found the grains present no problem in taking up prep time either. They can be cooked ahead, frozen in salad sized portions and thawed when needed.
In fact, I had leftover fennel crusted pork tenderloin this week and I made one of these salads to
use on a hot night. I had no recipe, just the meat and some cooked wild rice. I tossed the rice, thinly sliced carrot, zucchini onion, bell pepper and grape tomatoes with a couple of torn Romaine leaves, fresh basil and oregano in a light vinaigrette, and served it over the sliced cold pork. It was delicious but the interesting thing was how little of each ingredient was required to create a fully satisfying meal.
So let your creative side loose, listen to the inner voice that tells you what would taste good together and build yourself a salad. You might discover combinations you want to enjoy all year. Wonderful as these are in hot weather, they can carry over to other seasons. The food media is full of recipes for these "complete" salads and serving suggestions right now, because they are the new BIG thing, but in case you're really stuck, I'm including some recipe ideas below.
Melon Salad: Serves 4*
1 cantaloupe rind and seeds removed sliced ½ inch thick and cut in 2 inch pieces
1 small red onion thinly sliced
1 green bell pepper – in Julianne cut in 2 inch lengths
1 bunch cilantro- leaves only
Leaves of 2 mint sprigs – chopped
2 tsp. oil
½ lime juiced
3 green leaf lettuce leaves torn in bite-sized pieces
Few drops hot sauce—optional
¾ cup cooked couscous or cooked quinoa
¼ cup chopped pistachio nuts
Toss melon and all other ingredients except nuts gently to coat. Chill if not serving at once, but no more than 30 min. Plate chicken and add salad to plate allowing some to partially cover the chicken. Top with nuts.
*Serving suggestion-4 pieces skinless, boneless chicken breasts or thighs, pounded to an even thickness or 4 tuna steaks, cooked as preferred, grill, sauté or broil
Pear Salad; Serves 4*
3 ripe pears thinly sliced
1 head small Bibb, Boston or 4 leaves green leaf lettuce-torn in bite-sized pieces
3 Tbs. oil
1 Tbs. tarragon vinegar
¾ cup cooked farro
1/3 cup chopped toasted pecans
6 oz. Brie- crumbled
Toss all ingredients except the cheese gently inn a bowl. Plate salad partially over the meat at once and garnish with the cheese.
*Serving suggestion-4 loin chops, cutlets or 1-1 ½ lbs. packaged loin
Avocado, Cucumber Spinach Salad; Serves 4*
1.package baby spinach 8-11 oz.
1 avocado – sliced thin and cut in 3 inch pieces
½ medium cucumber sliced on a mandolin
1/3 cup chopped, toasted walnuts
¾ cup cooked kasha
2 Tbs. fresh dill chopped
½ cup mayonnaise
¼ cup sour cream
2 Tbs. white wine vinegar
Whisk the last 4 ingredients in a bowl to make a dressing and chill for at least 1 hour. Gently combine 1/2 the dressing with the other ingredients, except the nuts. Plate the salad with the meat, garnish with the nuts. Serve the remainder of the dressing on the side.
*Serving suggestion- excellent with salmon, but can be served with any strong flavored fish such as cod or hake.
Italian Vegetable Salad: Serves 4*
4 plum tomatoes in 8ths
1 zucchini sliced on a mandolin
1 onion sliced thin
1 bunch flat leaf parsley
1.3 cup fresh oregano and basil leaves or 1 Tbs. of each dried**
2/3 cup cooked bugler
4-6 leaves Romaine lettuce torn in bite-sized pieces
3 oz. shaved Parmesan or Romano cheese
½ tsp. garlic powder
¼ cup olive oil
2 Tbs. red wine vinegar
Combine last 3 ingredients in a bottle and shake well. Toss dressing with all the other ingredients gently and plate with meat. Garnish with cheese.
*Serving suggestion – any grilled, sautéed or broiled cut of beef or well-trimmed slices of roast beef, even thicker cut Deli ones.
** if using dried herbs, add them to the dressing rather than to the vegetables.