MOVE GRILLING INDOORS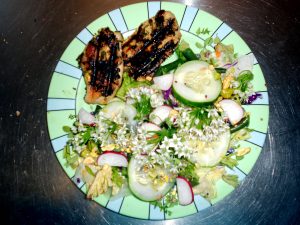 Early Fall is the time to talk about indoor grills, whether to look at the options or to remind people that they don't have to bundle up their recipes when they cover the outdoor gills for winter. Though I have several grills and grill pans, I admit I'd never really taken advantage of them. I had always lived in houses with large working fireplaces. Grilling in them and enjoying dinner by a roaring fire was appealing on cold Sunday evenings, while the oven and stove top seemed more efficient on weeknights.
Now my fireplace is decorative, but I still overlooked the indoor grills until recently when I became a convert to the current practice of incorporating salad into the dinner entrée. I can promise my attitude is undergoing a BIG adjustment, because meats with sauces and gravies have no place in these meals. Sliced leftovers, broiled, sautéed, even Deli sliced are O.K., but the fastest, flavorful way to cook meat is to grill it. Since I have no intention of giving up enjoying these dinners a couple of times a week even after the cold weather sets in, I'm getting to know my indoor grilling appliances.
There are several reasons why I like the meat-salad combinations so much, not the least of which is personal. Since I've been eating them, I have more energy, I've lost weight, and I find it easy to keep it off. From a cook's viewpoint, this type meal is simplicity itself. All the ingredients can be prepared ahead and most in sufficient quantity to supply two or three meals. The grains and/or beans, which give substance, the vegetables, cooked and/or raw, which supply character and flavor, the leafy greens for body and the herbs for seasoning all keep well in the refrigerator, as do optional cheeses. Garnishings of nuts and seeds have long pantry lives.
Currently, the food media is filled with examples of entrees incorporating salads, geared to every level and slanted toward most cuisines. They include recipes with ingredient amounts, but these are more suggestions than stone carved directions, allowing a lot of room for innovation. However, there are definite requirements. Freshness is imperative, compatibility of flavors and textures is important, but the key is that the salad compliments the meat. Even though it occupies the majority of the plate, it is still an accompanying accessory to the meat.
With the meat as the focal point of the entrée, the way it's prepared and cooked is a chief concern. Grilling is one of the best methods to highlight natural flavor and texture because it's so simple and direct, but there's a big difference between outdoor and indoor grilling. Outdoor grilling allows for fluid marinades, where excess can drip onto the coal and large cuts of meat can cook slowly while the fat sputters harmlessly.
Indoor grills require more caution. After all, they are inside the home, and they're smaller and have limited ventilation. So the cuts of meat and the preparations have to be altered to fit the situation. The best book I've seen on the subject is Steven Raichlen's ' Indoor! Grilling'. He describes the different types of indoor grills, pan, contact, fireplace, rotisserie, built-in and smoker, and gives tips for using each with every recipe from appetizers to desserts.
Raichlen advises using thin, boneless cuts for pan and contact grills, loin or center chops, center tenderloins, boneless breasts or thighs, because bones, no matter how small prevent even cooking. Rib chops, petite steaks, fillets and bone-in poultry do better on built-in grills and panini machines but save the chuck roast or 'T Bone' for a fireplace grill.
The same is true of oil-based, fluid marinades and sweet, basting sauces often part of outdoor cooking. Indoors they can be hazardous, prone to burning and messy. I like to flavor meat by applying rubs or coating surfaces lightly with oil, pressing with herbs and/or spices then allowing the seasoning to be absorbed for several hours or overnight.
Marinades can still be used. Often they can be heated, cooled and with a few added ingredients, transformed or incorporated into the dressing. Just be sure the excess oil is drained off before the meat hits the hot grill.
I've started experimenting with two of my contact grills, a George Foreman and another with only a bottom element. So far, I've cooked salmon, pork and chicken. I'm looking forward to continuing through the coming months and am especially eager for the fall vegetables to come in. I love roasted vegetables and bet the sturdier autumn and winter ones will grill well along with the meat, making great additions to my dinner salads. I also want to try some of Raichlen's regular recipes for sides particularly the yam, mushroom and squash ones. The prospect of winter seems less bleak with a slew of kitchen adventures ahead.
I've cooked most of the following recipes but the beef ones, marked with an * are Steven Raichlen's. If you are an experienced indoor griller, they may seem too basic but remember, I'm still getting to know my appliances. I'm also gearing these recipes toward presentation as part of a salad inclusive entrée as well as being able to stand alone as a 'meat course'. Please note, the term 'total contact grill' in the directions, refers to a George Forman type machine where heat comes from both top and bottom. There are contact grills, like the Aroma Cool Touch, which have only a bottom heating element and can be classified with 'other' type appliances.
Herbed Chicken: Serves 2
2 boneless, skinless chicken thighs
1 Tbs. oil
½ tsp. lemon pepper
2 Tbs. dried herbs, thyme, crushed rosemary, marjoram or oregano—but not mixed
Pound the chicken between two sheets of plastic wrap to an even thickness. Lightly brush all surfaces with the oil and sprinkle each with 1/8 tsp. lemon pepper and ½ Tbs. dried herb. Place chicken in a pan, cover and allow to sit for at least 2 hours or overnight. Grill as per directions on machine; about 4-6 min. on a total contact grill, per side on others. Serve warm or cold alone or with salad.
NOTE: Recipe is valid for skinless, bone-in chicken parts, but change cooking directions to fit the appliance. See advice on using grills above.
Grilled Salmon: Per serving
1 skinless salmon fillet
1/8 Tbs. balsamic vinegar
1/8 tsp. dried dill weed
Cook the salmon on a total contact grill for about 3-4 min. per side on others Remove to a plate, and brush with vinegar. Serve warm or cold garnished with dill weed.
Moroccan Lamb Chops: Serves 4
4 rib lamb chops-8 if very small
1 tsp. EACH ground ginger, turmeric, cumin, coriander, lemon pepper
¾ tsp. ground cinnamon
Mix all the spices and rub into both sides of chops. Cover and allow to stand 30 min. to 2 hrs. Grill as directed by the manufacturer on the proper appliance, as quoted above; about 4-6 min. on contact grills, per side on other grills.
Shanghai Boneless Pork Chops: Serves 4 Remember that chicken recipes like the one above, also do well with pork.
4 lean slices center cut pork
2 tsp. ground fennel seed
1/3 tsp. cinnamon
½ tsp. garlic powder
Pinch ground cloves
Mix the seasonings and rub into meat. Cover and allow to stand for 30 min. to 2 hrs. Grill as directed by appliance manufacturer usually about 3-5 min. on a total contact grill, per side on others.
Ham Steaks: Serves 2
2 small or 1 large ham steak-about 1 lb.
½ Tbs. oil
Pinch of ground cloves-optional
If steaks are thin, lightly score the edges at 1-2 inch intervals to prevent curling. Brush the ham with oil, sprinkle one side sparingly with cloves and grill 3-5 min. on a total contact grill, per side on others.
Optionally-Lightly brush 2-4 slices of pineapple with oil and grill for 30 sec.-1 min. on total contact grill, per side on others. Serve on ham.
Optional salsa for serving ham alone
½ cup crushed pineapple-drained
3 Tbs. finely diced mango
½ cup barbeque sauce
1 +? Tbs. soy sauce –to taste
1 +? tsp. cider or white vinegar to taste
Few drops hot sauce-optional
Bring ingredients to a boil in a saucepan, then simmer for 10 min. Cool and serve with ham.
*Beef- Steven Raichlen has two recipes perfect for this post. The first is beef intended to be served with a salad and the second is beef which can be sliced and served with a salad or stand alone. Both exemplify how simplicity of preparation is great for meat
Beef Paillards with Fresh Herb Salad-Serves 4
Paillards are boneless slices of meat which are pounded to about ¼ inch thick. The process tenderizes and enlarges the surface area for faster cooking as well as providing a pretty presentation. It isn't needed for tenderloin except for appearance, but can be an economy measure with round steak or chuck.
1 ½ lb. beef divided in 4 slices-tenderloin or round
8 asparagus stalks
2 cups fresh herbs-parsley, basil, cilantro, mint, oregano and other leafy herbs
1 Tbs. chopped fresh chives
1 bunch arugula – washed, dried and torn in 2 inch pieces
16 grape tomatoes or 8 cherry tomatoes halved
3 ½ Tbs. olive oil
2 Tbs. lemon juice
Coarse salt and freshly ground black pepper
Lemon wedges for serving
Cover the meat with plastic wrap and pound to ¼ inch thickness if necessary. Snap the woody ends off the asparagus and slice it thinly on the diagonal, leaving the tips. Place it and the next 3 ingredients in a bowl. Brush the beef with 1 ½ Tbs. oil, season with salt and pepper to taste and cook according to grill directions about 1-3 min. on a total contact grill, per side for others, then plate. Toss the salad with the remaining oil, lemon juice and spoon attractively around meat. Serve with lemon wedges.
Lemon Pepper London Broil– Serves 4- Flank steak is traditional for this, but hard to find now. Recently shoulder steak has been advertised but tends to be tough. The best choice is top round London Broil. If possible choose an Oyster Cut, a kidney shaped piece which comes from close to the sirloin.
1 1/3- 1 3/4 lbs. beef London Broil-If using flank steak, score both sides to prevent curling
1 Tbs. freshly ground black pepper
2 tsp. lemon zest
3 cloves chopped garlic
1 shallot –diced
3 Tbs. soy sauce
1 Tbs. Dijon mustard
1 Tbs. lemon juice
2 Tbs. oil
Puree the pepper, zest, garlic and shallot, add the next 3 ingredients and 1 Tbs. oil to form a paste. Making sure both sides of the meat are covered with the mixture, marinate 4 hrs. or overnight. Scrape the marinade off the meat before cooking and rub both sides with the remaining 1 Tbs. oil. Cook following the grill instructions, depending on thickness of meat, anywhere from 3-5 min. for a thin flank steak to 7-10 min. for a round steak on a total contact grill, per side on others, for medium rare. Allow to rest 3 min. and slice on a diagonal to serve.
NOTE: The marinade scraped off the meat can be heated to a simmer briefly, cooled, and with the addition of oil, more lemon juice or vinegar and optional seasonings to taste, be transformed into a salad dressing. Doing this creates a flavor bond that unties the meal.