Melons-The Mid-Summer Fruits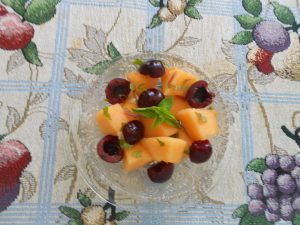 My favorite supermarket's flyer features cantaloupes this week.  It's only a small notice at the bottom corner of the front page, but it started me thinking about our changed perception of melons in the past few years. I come from a state known for its summer produce, including several varieties of melons. We always considered the seasonal appearance of fruits to be in three 'Acts' actually over a period of half a year.   Berries usher in the warm weather, then by mid- season watermelons introduce the other melons signaling high summer. Finally, as the summer matures so do the stone fruits, lingering into early Fall.
What startled me was that, here we are in July, and this small notice was the only mention I'd seen of a melon sale. Where are the banners on the front page, or at least in the produce section? I see watermelons and some honeydews in the markets, but where are the Casabas, Persians and, my Mother's favorite the spicy-sweet Crenshaws? I don't find them even in the Farm markets.
Cantaloupes have always been the most available melon but now they appear to be the whole category.  I did realize this past winter, that they were always in stock at a reasonable price but am surprised that those prices prevail in July, 2/$4 or 2/$5, depending on the week. This week's 'feature' is 3/$5, only slightly lower than normal and almost double the usual cost in season.  Honeydew's cost hasn't changed since December; watermelons are slightly higher than last year.
Poor melons! They are given less attention, less representation of varieties, so a lowered profile, and less marketing than ever before. This is not a case of 'less is more'. I'm afraid it's a case of removing the category from the consumers' attention. Cantaloupes are rather bland, especially when mass grown for commercial use. Combine this with their constant presence all year at an unchanged price and people, unable to compare them to others in their class, consider melons a 'Ho-hum' item.
In fact, I doubt if the trend continues, that most consumers are aware of the existence of the other types of melons in a few years. The mid-summer is already becoming a gap between berries and stone fruits, not a period with a special offering. 'Act II' is disappearing from the Summer Fruit Parade.  The only remedy would seem to be to raise awareness of this exceptional class of fruits. So here's my contribution to the Melon Fan Club: recipes for every course.
One fun fact is that, a true symbol of high summer when we don't feel like cooking, melons are the only fruit that is never cooked. The rind may be pickled but the meat can't stand heat.  Generally, their taste is mild, their flavor subtle, and the flesh, high in water content, is substantial in volume. Consequently, though delicious alone, melons combine well with other ingredients and the meat makes excellent bedding in salads and compotes.
To pick a melon, the best test is to thump it and listen for a hollow sound.  Ripe cantaloupes have a faint, sweet fragrance as well. If the stem stump is indented, the melon was vine ripened and easily detached, rather than being harvested on a schedule and cut away. Finally, shake the melon and if you hear the seeds, it's apt to be dry. Unlike other fruits, melons don't ripen once picked, so eat them soon.
Now, a few tips on working with melons.  Wash the outside well, before cutting into one. A knife slicing through the rind can carry contaminants into the flesh. Melons are loaded with nutrients but they quickly disintegrate when exposed to light and air, so avoid buying cut segments. Once opened, cover the exposed flesh with plastic wrap and store chilled. I put mine in a black plastic bag in the fridge.
RECIPES:
Melon con Prosciutto
This classic Italian presentation traditionally Involves simply draping thin slices of dry-cured ham over slices of melon. It can be transformed into a canapé by cubing the melon and wrapping it in ham secured by a toothpick.  Baled ham or smoked turkey create a reasonable facsimile.
Honeydew-Pineapple Soup: Serves 4
4 cups seeded, cubed honeydew
2 cups cubed, fresh pineapple
2 Tbs. honey
1 Tbs. lime juice
½ cup sour cream
½ cup yogurt
Pinch all spice
Blend everything to a puree and chill. Serve garnished with chopped fresh mint.
Moosewood Melon Soup: Serves 4*
6 cups cubed cantaloupe
14 oz. can coconut milk
2 Tbs. fresh lemon juice
2 Tbs. grated fresh ginger
2 Tbs. chopped mint
1 tsp. almond extract
Dash cinnamon
@¼ cup brown sugar or to taste
Puree all the ingredients, adding the sugar to taste. Chill well. Serve garnished with mint leaves.
*Recipe from the Moosewood Restaurant New Classics Cookbook
Melon Salsa: Serves 4
Wonderful with chicken or fish
½  small  cantaloupe –seeded and cubed
4 scallions- white and light green parts in thin slices or ½ small onion in small dice
½  green bell pepper in small dice
1 Tbs. chopped fresh mint
½ lime juiced
Pinch salt
Combine all ingredients and chill well. Serve as a side with the meal.
Melon-Scallop Salad; Serves 4
2 cups melon-any type but watermelon
1 ½  cups chopped tomatoes
½ cucumber-seeded and cubed
1 small onion in thin rings
1 Tbs. fresh mint
1 head green leaf lettuce
1/3 cup citrus vinaigrette
1 lb. broiled scallops
Toss first 5 ingredients and divide among lettuce lined plates. Top with scallops and drizzle with vinaigrette.
Watermelon-Shrimp Salad: Serves 4
3 cups cubed seeded watermelon
1 cup cherry or grape tomatoes –halved
1 small onion in thin rings
1 Tbs. fresh lemon balm or lemon thyme (lemon-pepper to taste is a substitute)
1/8 tsp. Kosher salt
Freshly ground pepper to taste
1/3 cup Balsamic vinaigrette
Small head Romaine lettuce –torn
½ lb. cooked shrimp-tails off and halved if large
Have all ingredients chilled. Gently toss and divide among plates.
Melon Sherbet: Serves 6-8
1 medium melon-cantaloupe or casaba
Juice of ½ lemon
4 egg whites
6 oz., sugar-super-fine or 'bar' sugar is best
¼ -1/2 cup cherries or berries for garnish-optional
Fresh mint leaves for garnish-optional
Cut the melon in half, in a zigzag pattern if to be used it for serving. Remove seeds and cube meat. Blend with the lemon juice until smooth. Pour into a 1 ½ quart container and freeze until beginning to set. Beat the egg whites until stiff and gradually add the sugar.  Gently whisk or beat the melon mixture until broken up and light. Fold in the egg whites and return to the freezer and freeze until firmly set. Serve by the scoopful, in the melon shell or dishes. Garnish with fruit and/or mint. Keeps frozen about 1 month.
NOTES: Choose overripe fruit to make sherbet.
For anyone concerned over Salmonella, I recommend substituting Wilton Meringue Powder in any recipe that calls for directly adding raw beaten egg whites.  See June 30, 2016 posting on Icy Desserts.
Watermelon Granita: Serves 4
1 small watermelon-seeded and cubed
Sugar to taste
Dash hot pepper sauce and/or lime juice and/or salt to taste
Blend the melon meat and strain through a fine sieve or cheesecloth. Add sugar and allow to dissolve, and then add the other flavorings sparingly. Put into a metal 9 X 13 inch pan. Freeze, scraping with a fork to break up every 20-30 min., for 2-3 hours until resembles fluffy shaved ice. Store in a covered container in the freezer for 1 week. Scrape to fluff before serving. (The ice chips don't clump during storage.)
Melon with Ice Cream
This is a recipe my Mother, who was from a different part of the country, introduced to my Father's family. At first skeptical, they learned to love it and even had competitions as to the combinations.
Cut a thin slice off one end of the melon and stand it up. Cut a slice off the top just low enough to expose the interior. Scoop out the seeds and fill with softened ice cream or sherbet. Secure the 'cap' piece with toothpicks and freeze until ice cream is firm. Serve cut in wedges or in rings. Garnish with a drizzle of liqueur- Triple Sec or Crème de Menthe.
Suggestions: Vanilla or peach ice cream with cantaloupe—Triple Sec
Lime sherbet with honeydew –Green Crème de Menthe
Melon Tequila : Serves 4*
1 large ripe cantaloupe
½ cup tequila + extra for dipping glass rims
4 Tbs. sugar + extra for dipping glass rims
Salt and pepper
Using a scoop make melon balls. Place melon balls in a bowl with other ingredients stirring to dissolve sugar. Cover and chill for 30 min. Dip glass rims in extra tequila then sugar to coat. Fill the glasses with the melon balls. Spoon over any remaining marinade. Serve at once.
* A recipe from Rozanne Gold's Recipes 1-2-3 Menu Cookbook