MEAT 'BIRDS' THAT FLY OFF THE PLATE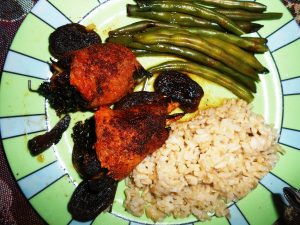 "Everything old is new again" should apply to these tasty recipes. They really need to be revived because they're a perfect fit for today's food culture. The term 'Bird' is an old-fashioned one applied to small parcels of mixed ingredients wrapped in thin slices of meat, as opposed to the meat being rolled around them. As a result they appear as small nesting 'birds' on the plate, not logs and when cut into, spill their stuffing, like a bird, rather than present in a spiral patterned slice.
Traditionally they are served hot ( although I can think of some seasonal adaptations) which makes them perfect for those who want a lighter, but satisfying, easily prepared meal for a cold winter's night. They're also ideal for those who prefer higher end meats such as heritage pork and grass grazed beef, because a small amount can deliver a lot of taste and nutrition, with the proper seasonings and filling. One more plus, extras can be 'brown bagged' and eaten cold or quickly nuked, 'cause they're finger friendly.
I start my recipes below with my own for pork, then an adaptation by a health conscious Tuscan friend of Italian braciuolini, after that a 21st cen. take on classic German Rouladen, which also fits this category, and finally I offer one of James Beard's recipes for 'veal birds' from his book American Cookery. In it he points out that these concoctions were once so popular that many European countries and most regions in the U.S. had their own special variation. They all seem to have become 'extinct' in the early 1950s, which is unfortunate because they are perfect for our current menu demands–So stay 'til the end and get some ideas—this WILL work for you!
NOTE: Always remove the string or toothpicks when plating the birds, before adding any sauce or pan juices.
EAST-WEST PORK BIRDS: Serves 4
4 lean slices center cut pork chops or pork cutlets (use turkey scaloppini)
2 tsp. ground fennel seed
1/3 tsp. cinnamon
½ tsp. garlic powder
1 ½ cups apple juice or more
1 envelope chicken or beef bouillon
2 cloves
1/3 cup thin celery slices
2 kale leaves-thick stalks removed
½ small onion thinly sliced
18 dried apricots- 12 julienned
Pound the pork to an even thinness. Cover the kale leaves in water and microwave 10—20 sec. to slightly wilt. Spread seasonings over meat slices. Pile, in order, celery, onions, julienned apricots and kale equally in center of meat slices. Roll meat and secure with skewers. Place meat rolls in a pan with bouillon, cloves, remaining 6 apricots and enough apple juice to come 1/3 up the sides. Bake at 350 deg. 1 ½ hr. basting occasionally and maintaining liquid level. Remove cloves. Serve hot with pan juices.
ITALIAN BRACIUOLINI : Serves 4 -well
A favorite recipe from Tuscany; Usually done in a skillet, it can be difficult, at first, to turn these over in the pan without spilling the stuffing, and it requires a spoon and spatula to do so. That's why I'm offering an oven alternative. Sounds like a lot of work, but it really isn't.
8 slices beef braciuolini or sandwich steaks – @ 1 lb.
4 plum tomatoes – skinned, seeded, julienne
2 large ribs celery in thin diagonal slices
1 green bell pepper julienne
1 large onion thinly sliced lengthwise
2 tsp. dried basil
2 tsp. dried oregano
2 tsp. garlic powder
½ tsp. lemon pepper
4 oz. fresh sliced mushrooms
1 can Madrilène—usually sold to be jellied—a form of consume
2 Tbs. butter – divided
½ cup white wine
2 tsp. Worcestershire sauce
1 tsp. mustard
Lay the slices of meat on a board, and divide the vegetables except mushrooms, equally between them, placing them in a pile parallel the long side of the braciole or steaks. Sprinkle the herbs and seasonings evenly over all. Fold the shorter sides over the filling, and roll the longer sides around it. Secure the seams with toothpicks. Preheat broiler. Melt 1 Tbs. butter in the ovenproof pan, carefully roll the topside of each braciuolini in the butter, then rest it seam side down in the pan. This will be a close fit toward the end, so temporarily move one out to make room for another, if need be, but make sure all have a coating of butter. Broil until nicely brown, @ 3-5 min. Turn the oven to 350 degrees, add madrilène, cover and bake for 30 min. When meat is almost done, melt the other 1 Tbs. butter in the skillet, and brown mushrooms, deglaze pan with wine, stir in Worcestershire sauce and mustard until well incorporated. Remove pan from oven, plate braciuolini, stir skillet contents into pan drippings and mix well. Pour over meat.
German Roulaen: Serves 4- Also listed in old cookbooks as 'Beef Birds'. This is best with less tender cuts of meat such as round
4 (1/4 inch) slices of lean beef
4 slices cooked bacon broken into pieces, not crumbled—turkey or regular
1 dill pickle slivered lengthwise
½ onion thinly sliced
1 tsp. Dijon mustard
2 tsp. oil
Paprika
1 bay leaf
1>2 cups beef broth
Cook onion with 1 tsp. oil in a microware for 1min. Combine with pickle, mustard, bacon and dust with paprika; fill beef slices and secure with string or toothpicks. Drizzle with 1 tsp. oil and place in a pan with 1 cup broth and bay leaf. If using tenderloin broil briefly, if using round, cover and bake at 350 deg. 35>45 min. up to 1 hr. depending on thickness of meat, adding more broth as needed. Serve pan juices on the side.
Veal Birds: Serves 4. It's interesting that a variation of this dish appears in all older cookbooks.
8 veal cutlets pounded thin-(substitute turkey, chicken or pork cutlets)
2 Tbs. chopped onion
¼ cup finely chopped ham
1 Tbs. softened butter-or more if needed
3 Tbs. chopped parsley
Salt and pepper
4 Tbs. butter
3 Tbs. oil
Flour
1 cup chicken stock
Chopped parsley
1 cup sour cream
Mix onion, ham, parsley, softened butter and seasonings together, divide between the pieces of meat, roll ends together and secure with string or toothpicks. Melt 4 Tbs. butter and oil in a deep pot; dredge the birds lightly in flour and brown in the hot pot. Add the stock, cover and simmer 25-30 min. until tender. Remove birds to a plate, bring the stock in the pot to a boil, reduce a few minutes, then lower heat and add cream. Just heat through and spoon over birds. Garnish with parsley. Serve at once, hot.