LIKE FROZEN YOGURT? THEN DIY THE FLAVOR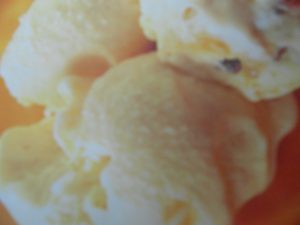 I seem to be stuck in a cold foods' rut the past weeks, but with all the heat waves this summer it feels natural. So continuing along that path, this week's posting is for the more health minded people—Frozen Yogurt or Fro-Yo. Hey, you guys, why stick to the flavors in the glass case, when it's so easy to create your own?
Yogurt is made by fermenting any type of milk, cow, sheep, goat, even soy, full fat to skim, with bacterial cultures. It's simple to make but whether commercial or home-made, once finished, it must be kept chilled and should be used while fresh. About 2 weeks or 10 days after the sell-by date, the active cultures start to dissipate.
Heating kills the live cultures, so be aware that while yogurt tenderizes meat, moistens baked goods and adds flavor and body to soups and sauces, it doesn't bring any special 'health' benefits to cooked food. On the other hand, freezing inhibits the cultures yet doesn't totally destroy them, but Fro-Yo isn't just freezing a container of fresh yogurt. Yogurt, even Greek yogurt contains too much water to freeze evenly; even strained it will separate and be 'icy' or 'gritty' when frozen.
There are several ways to overcome this. The addition of sugar or corn syrup, which inhibit ice crystals forming, cream, mascarpone, boosted by a bit of cornstarch, even beaten eggs to give a creamy texture all help, but the final step in starting with plain yogurt, always seems to be the use of the ice cream maker.
However, I've made it a point in passing on recipes during this very hot summer, especially the 'Treat' ones, to avoid space and time consuming requirements. So I'm going to simplify this right now. If you want to make Frozen Yogurt from scratch, to preserve the tartness, Google directions and then use the following recipes to make Fro-Yo in your choice of flavor. Otherwise, start with a container of a commercial brand vanilla frozen yogurt. Incidentally, these recipes also work with ice cream.
One of the beauties of yogurt is that it readily combines with other flavors. When heated it blends in but chilled it hosts them, even spotlights them. So use these recipes as base directions and feel free to take off and follow your fancy. The important thing is to mash the ingredients together until well incorporated so they freeze together smoothly.
Have on hand 2 cups =1 pint vanilla frozen yogurt for (4)1/2 cup=1 scoop servings. Soften in the refrigerator 20-30 min. then mix in the any of the following combinations and refreeze at least 30 min. When soft this can be spooned into popsicle molds and frozen for easy eating.
Bananas Foster
1 large very ripe banana
2 Tbs. rum
1 Tbs. light brown sugar
Slice, then mash the banana with the rum and sugar. Mash again into the yogurt until well mixed. Refreeze.
Burnt Almond
1/3 cup chopped toasted almonds
2 Tbs. grated chocolate
2 Tbs. Amaretto
2 tsp. honey
Mix ingredients and add yogurt, mashing until blended. Refreeze
Peach-Bourbon*
2 peeled peaches chopped
2 Tbs. bourbon
1 Tbs. dark brown sugar
Mash the ingredients well and mash again with the softened yogurt until blended. Refreeze
Peña-Colada*
8 oz. can crushed pineapple-well drained
2 Tbs. dark rum
1 Tbs. dark brown sugar
1/8 tsp. coconut extract
Mash ingredients well, then mash again into yogurt until well mixed. Refreeze
*Recipes courtesy of Food Tips and Cooking Tricks by David Joachim
It's easy to imagine more flavor combinations. For example, just off the top of my head:
Baked Apple
2 apples, peeled, cored and chopped
2 Tbs. light brown sugar
1 Tbs. apple juice or cider
1 Tbs. brandy
Pinch cinnamon
Microwave the apple with 1 Tbs. sugar, cider and cinnamon until soft -about 3-5 min. depending on machine. Mash with other ingredients and allow to cool. Mash again with yogurt until well mixed and refreeze.