LET KIDS HELP COOK ON MOTHER'S DAY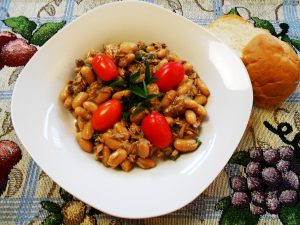 I love cooking with children. It can be such fun. I learned this one spring, years ago, when I agreed to bake cakes for three events scheduled on three successive weeks. The first Saturday, I saw I had an audience of my daughter and friends, eager to lick the batter. The second Saturday, they were waiting for me and by the third, were perched on the counters asking questions. I realized I had a cake fan club when they showed up the fourth Saturday, though I had no cake to bake. I simply reached for a box of mix and got started cooking, thus beginning what was dubbed 'Cake Saturdays' that summer.
Our weekly project soon evolved from layer cakes into sheet cakes that were consumed at the pool over the weekend. By September, I had a rather accomplished crew of sous chefs who participated in the baking process. In fact, over the coming years, they anticipated when I would be contributing food to certain events, school fairs, community gatherings, bazaars and club occasions, and showed up to help. We baked many a cake or pie, made doughnuts, meatballs, and quantities of side and main dish salads and casseroles together. It's interesting to note that each of these kids, at some point during their school years, worked in a restaurant.
Today they are all food knowledgeable, nutrition conscious adults. One is a professional in the food industry, holding two degrees from The Culinary Institute of America. Perhaps it was a trend of the times, and I'm sure a lot of family influence was involved, but I like to believe that early positive kitchen experience was partially responsible for their healthy attitude toward and appreciation of food.
The key phrase is 'early positive kitchen experience'. Children are different in the kitchen. They're curious, interested, perhaps because they're reward oriented, and so enthusiastic it's contagious. Their eagerness to learn lowers their defenses. They look to you to teach them tasks for which they will be responsible, and recognized as such. In doing so, you gain their trust and they begin to open up to you. It's the best bonding opportunity ever, but only if you give them a skill or responsibility they can take away with them. Chastise them, or relegate them to being spectators and the door shuts.
So what can children safely do in the kitchen, especially those in the first years of grade school? Actually plenty! They can spread bread and fill sandwiches, stir and mix, particularly if it involves squishing things with their hands, like meat balls, rinse and drain, or strain and sieve. They can spray oil on pans, shake items in bags to flour coat them, sprinkle herbs for flavor or garnish and they love forming patties, cutting dough shapes, chopping nuts with the bottom of a can and stringing skewers. Older children can measure ingredients, even combine them in to a recipe, open cans, use a grater or chopper, with supervision run a blender or processer and many other tasks.
The trick is to give a child a job that requires they pay attention and then more difficult jobs as they progress. Keep an eye on them but don't hover. Play up their pride in accomplishment but don't overly praise, especially the older ones and treat them as colleagues achieving peer status in the kitchen.
The person in charge of cooking for the family on a regular basis usually does these things instinctively, because they welcome help on a regular basis. However, for other family members, they are tips to help get to know a child and what better time to try them out than Mother's Day, when the object is to keep Mother out of the kitchen?
To help achieve both goals, I've written a book, RECIPE SUGGESTIONS FOR MOTHER'S DAY. It contains lots of delicious recipes for all three meals, plus desserts, which can easily be made with the help of children. Also included are two full days of menus, which I worked out for neighbors. In the first, the father was away and the children wanted to make Mother's Day special. In the second, the family was packing to move and only had limited equipment to work with. They may offer some suggestions or pointers. In addition, I'm including recipes from each meal category, showing how simple it is to involve children in your kitchen plans.
Yogurt with Bananas and Nuts: Serves 4
3 large, ripe bananas –or 3 very ripe bananas (the brown won't show when they're mashed)
16 oz. Greek yogurt
4 Tbs. toasted chopped nuts, walnuts, almonds or hazelnuts
Using a fork, mash the ripe bananas or peel the fresh bananas, wrap separately in plastic wrap and microwave 1 min. on high. Cool, unwrap and mash. Gently mix with the yogurt and spoon into 4 dessert dishes. Chill briefly to cool and sprinkle nuts equally over the tops as garnish. Serve chilled with baked goods, buns, biscuits, muffins or croissants. To chop nuts, put them in a plastic bag and pound with the bottom of a tin can. Children can mash, mix and chop.
Tuna and Bean Salad: Serves 4
6 oz. can solid white tuna in water- drained
16 oz. can cannellini or other white beans
4 plum tomatoes quartered OR 16 grape tomatoes (optionally,the tomatoes can be diced and mixed in)
2 tsp. dried basil
Ground black pepper
Salt to taste
1 Tbs. balsamic vinegar
2 Tbs. fresh lemon juice
1 tsp. powdered garlic
1 Tbs. oil
2 Tbs. Dijon or spicy mustard
Mix the last 5 ingredients well and set aside to let the flavors form a dressing. Gently toss the first 5 ingredients, then add the dressing. Allow the whole to chill for 30 min. at least to meld flavors. Serve on lettuce lined plates garnished with a sprinkle of basil and the tomatoes fanned on top. Excellent with a loaf of artesian bread. Children can prepare almost if not all of this dish.
Beef Kabobs This is calculated for 5 skewers but 4 servings, so that the excess can be shared.
A crowd pleaser! Marinate the meat the night before or early in the day and the meal comes together quickly.
2 lbs. Top round London broil 20 cherry tomatoes
2 Tbs. red wine vinegar 2 large green bell peppers
1/3 cup oil 2 large onions
1 Tbs. Worcestershire Sauce 25 button mushroom caps
2 tsp. dried thyme – divided
2 tsp. dried oregano – divided 1 box long grain and wild rice mix
1 tsp. paprika – divided
2 tsp. dried rosemary – divided 5 skewers 12" long
2 tsp. garlic powder – divided
2 tsp. dry mustard powder – divided
Trim any fat off the meat. Place in an oblong glass dish; pour on the vinegar, oil and Worcestershire Sauce. Sprinkle half the given quantity of each of the herbs over it.
Allow to marinate for 2 hours, turn it over and sprinkle the rest of the herbs on the other side .Keep turning the meat every few hours for about 6 hours, or overnight. This is to give both sides of the meat equal time in the marinade. When ready to cook, cut meat into 25 large pieces. Reserve marinade.
Cut the peppers into 20 large pieces, and cut each onion in 8ths, then separate those pieces to make a total of 20 segments. Wash the mushrooms, saving the caps and slicing the stems. Thread 5 skewers, alternating meat and vegetables, starting and ending with meat. I find the vegetables hold better during cooking if the natural curved shape of the pepper and onion pieces is used to form parentheses enclosing the tomato and mushroom caps. Use a mushroom cap as a 'stopper ' on the end of each skewer. Grill as per your usual routine but don't overcook. If broiling, I like to do it on a lower shelf, for 8-10 min. That way the vegetables have a chance to cook through without burned skins. Do not cook kabobs until rice is ready.
Cook the rice according to package directions, substituting the marinade for an equal amount of the water required, and adding the sliced mushroom stems. Hold on warm while meat cooks.
This only needs a simple green salad
Children can mix and marinate the meat. Once the items are prepared, they love stringing the skewers.
Easy Berry Angel Cake
(1) 1lb. purchased pound cake
(2) 8 oz. tubs of Whipped Topping
1 pt. box of strawberries
Save several nice berries for decoration. Slice the rest and sprinkle with sugar. Allow to rest a
few hours for the juice to extract itself. Just before serving, cut the cake into 3 layers. Spread first with 1/3rd of the whipped topping, spoon ½ the sliced berries over it allowing the juice to drip down the sides. Repeat with 2nd layer. Finish with 3rd layer topped with the rest of the whipped topping and the reserved decorative berries.
Children can sort and marinate the berries and assemble the cake.