How To Put Some Spring Into Your Easter Menu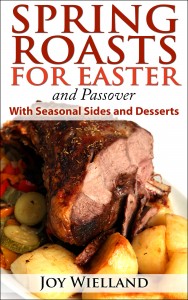 Ordinarily I wouldn't write two successive posts about my books, but rarely do two food specific holidays fall back-to-back. This year, Saint Patrick's Day and Easter are only ten days apart. So I'm going to talk about Spring Roasts for Easter and Passover now, because skipping a week, wouldn't allow a reader time to choose a recipe, plan the menu, shop and prepare an Easter dinner.
Easter is the first Sunday after the first full moon after the vernal equinox (March 21). This year the full moon is March 23. Three days earlier and Easter would be a month later, more in step with Passover, but instead it's March 27. Even though Easter is regarded as the threshold to spring, nature isn't always ready for it quite so soon.
Traditionally, Easter and Passover food is based on the first yield of new crops. The keywords are 'fresh', 'young' and 'seasonally appropriate', berries replace apples as garden lettuce and dandelions do the hardier greens of winter. Thanks to freezing and swift transportation methods, we don't want for suitable menu fillers, but sometimes when the weather and/or landscape aren't up to speed yet, it falls a little flat.
A good roast is always a great centerpiece, perking up any dinner, but adding a new take on your usual one, or trying something different can make a dinner stand out with any crowd. Even a slightly different twist on a roast recipe can make it appear fresh, brightening the whole meal in keeping with the season.
If you normally serve chicken, try stuffing it with fruit or rubbing it with a fresh herb butter. For small groups Apricot Glazed Cornish Hens are a great option, and for the adventurous, duckling is very seasonal and the recipe with cherries a simple one. For many, lamb is traditional, but try it with a yogurt marinade for a new presentation. Even small changes can rejuvenate a menu.
Many spring associated side ingredients, as mentioned, are always available, asparagus, leeks, spinach, radishes; others, new peas and baby carrots (not the dwarf ones) for example, are harder to find. Still there are enough to insure a variety of options for a menu.  Salad greens too, are easily found, but stick to the lighter ones choosing Bibb, or Gem lettuce and baby spinach, even in bags, over cabbage, kale or iceberg.
Desserts ought to appear seasonally appropriate as well. Fresh berries are in markets all year. Angel Nests are an easy, but colorful, decorative choice. Even berries just scattered over a bakery cake with whipped cream make a simple and suitable dessert for a spring dinner.
Though not always easy to find, rhubarb is a spring classic and makes a wonderful kutchen, with layers of fluffy meringue.  Coconut is a popular ingredient in spring holiday goodies. Sweetened, it can be used to ice a cake, flavor custard for a tart filling, or make meringue cookies, but unsweetened and toasted it can garnish salads, sides and even be mixed into fruit stuffing for a roast.
I'm printing the Table of Contents from Spring Roasts for Easter and Passover below to help you solve any holiday menu problems and give you some suggestions to perk up the dinner. Lighter and brighter dishes better relay the fresh, expectant spirit of the season, but so does tweeking recipes a bit, as well as trying new ones.  It gives you, in preparing them and your guests in savoring the results, a wake-up to the fact that a new season is here, even if nature hasn't provided the proper backdrop as yet. The book can be found on this site's Bookshelf as well as on Kindle, Etsy and Smashwords and @iBookstore
TABLE OF CONTENTS
INTRODUCTION
POULTRY
CHICKEN
Chicken with Herb Butter
Chicken with Fruit Stuffing
Chicken with Lemon and Garlic
Chicken with Mustard and Onions
GAME HENS
Game Hens with Wild Rice and White Grapes
Apricot Glazed Game Hens –
Game Hens with Whisky Sauce
DUCK
Duck with Apple-Apricot Stuffing-
Duck with Cherries
Duck a l'Orange
Duck Oriental
SQUABS
Squabs with Black Olives
Squabs with Tarragon and Port-
Doves Royale a l'Antoine's
MEAT 
LAMB
Leg of Lamb with Garlic and Rosemary –
Leg of Lamb with Mint Sauce *
Lamb in Yogurt Marinade
Stuffed Lamb with Mint and Apricots
VEAL
Braised Leg of Veal
Rump Roast with Mushroom Sauce
Veal Tonnato
Veal with Current Glaze and Cumberland Sauce
SPECIALIZED CUTS OF MEAT
Stuffed Breast of Veal
Crown Roast of Lamb
Racks of Lamb
Number 1
Number 2
Rack of Veal                                                       –
SIDES
Asparagus – Preparing, Cooking Methods and Garnishes
Peas – – New, Recipes
Sweet Pea Pods and Snow Peas
Green Beans – – Preparation and Ways of Presenting
Carrots – – Description
Recipes
Leeks – Preparing and recipes
Potatoes, Preparation Roasting and recipes
Zucchini & Yellow Squash Preparation and Recipes – – Page 20
Shallots – Description and Recipe
Spinach – Description and Recipes
SALADS
General Spring Choices
Recipes for Baby Spinach and Bibb Lettuce
DESSERTS 
Coconut –
Cake uses
Variety of Macaroons
Meringues – Plain and Uses
Meringue Based Desserts
Angel Nests – Torte – Tower
Rhubarb Kutchen
Meringue Gateau –
Berries
Easy Berry Angel Cake
Berry Napoleons
Tartlets
Yogurt Berry Cups
White Chocolate Brownie Torte
*Mint Sauce Recipe