HOW TO FREEZE PEACHES, CORN AND GREEN BEANS FOR WINTER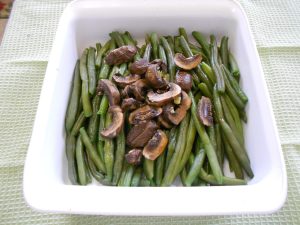 Last week, we discussed freezing zucchini to enjoy later, but there are other items available in late summer which can be similarly preserved to have handy during the months ahead. I'm not talking about 'stocking up for the winter'. That's far too time and space consuming for today's lifestyle. This is about having enough of certain produce items to make a featured dish for a holiday feast, or to serve as occasional reminders of warm, sunny days during cold, snowy ones.
Still, not all of the produce so plentiful in the early fall is suitable for freezing. The best way to tell is to check the glass cases in the supermarkets. If an item isn't there, it doesn't commercially flash-freeze well and won't survive the slower domestic process. This especially applies to things with high water content and soft flesh, tomatoes, plums and eggplant for example. The frozen water content forms crystals which attach to the other frozen elements in their make-up, thaw faster and drain the item of its juice and flavor, leaving a deflated, pulpy mass. These items are better canned, or for tomatoes, optionally, dehydrated, allowing the juices to remain or dry in the flesh, retaining flavor.
You'll probably think that the best choices from the late summer crops to freeze, green beans, corn and peaches are 'Ho-hum already done' and you'd be right. However, I can promise you the difference in texture, flavor and appearance between commercially processed and what you do yourself, will be a happy surprise, no, make that shock.
There are a few tips to simulate the commercial flash-freezing process which help to assure a good result. The difference between treatment of the 3 items discussed here is noted at each step. Of course, they should be cleaned and prepped first; the beans trimmed, any strings removed, the corn husked and silk brushed off, the peaches washed, stems removed.
For corn and peaches bring a pot of water to a boil, for beans use a skillet.
1) Immerse the beans only until they turn bright green (blanched) about10-15 sec.
2) Dip the peaches about 10-30 sec. until the skins will peel easily
3) Cook the corn on cob about 5 min. until just beginning to tenderize.
Immediately run cold water over the produce to stop the cooking
Spread a counter top with paper towels
1) Lay the beans and corn cobs out, separated, to dry
2) Using a sharp knife, peel the skin off the peaches. Do not allow to dry. Start freezing prep.
Cover cookie sheets with waxed paper
1) Spread the beans out separately on the cookie sheet and freeze
2) Brace the bottom of each corn cob in the center of a tube pan. Using a sharp knife, slice off the kernels, letting them fall into the pan. Spread them evenly over the lined sheet and freeze.
3) Slice the peaches, about 6 per half, directly onto the lined sheet, not overlapping, and freeze.
Freeze the produce according to your freezer's rate, usually between 40-60 min.
To Package: The reason for freezing the produce on cookie sheets is to capture color, freshness and taste. The reason to take pains to be sure there's no overlapping is to avoid clumping and damage in storing, as well as to make it easy to remove a desired portion. It's important the packaging maintain these assets.
Use zip lock bags or square plastic boxes with secure lids, like those used for dinner entrees.
Do not let the items thaw, package for storage quickly
Place the items in the containers individually, not overlapping
If layering is necessary to fill the container, separate them with accordion-like folds of waxed paper-not plastic wrap
1) the corn is best in bags and should be spread to an even thickness
2) The beans can be arranged in a uniform layers in bags or boxes.
3) The peach slices should be placed individually in each layer, and dusted with a thin coating of powdered sugar before being covered with the paper for the next layer, in boxes.
Make room in the freezer to store these containers flat, even stacked, but never on end, allowing the contents to clump together
Cooking: Because these items have been blanched and domestically frozen, which takes more time than the commercial flash method, they take a few minutes less time to cook. Here are some general guidelines. Individual recipes follow.
Normally green beans need 15 min.to steam or boil. These should be checked at about 10 min. frozen, 8 min. thawed. Take about 5 min. off roasting time too.
It takes about 2 ears of corn for a single serving as a side dish and that's a lot to freeze. If you have room for this-fine, but if not use this corn to add to casseroles, salads, side combos or even salsa. Done this way it will stand up to cooking in a dish or just being tossed in a salad.*
The peaches quickly lose their juice when thawed and are best used directly from the freezer. Remember they have a thin coating of sugar and adjust other ingredients accordingly
*I come from a state famous for its white table corn. My Mother-in-Law was a master at freezing it. She taught me the tube pan trick and her winter dinners occasionally featured sides of buttered corn. She froze it in 1 cup bags which she considered a single portion or the amount usually required for adding to 4 portion dishes. She stored the bags in large plastic containers in the freezer. If you're a corn lover and have access to a lot of it, plus the freezer space, this is the way to go.
Now on to the recipes.
Beans: Hand select the beans to be frozen, choosing the largest, firmest, straightest ones. This assures even freezing and makes the best presentation later. As stated above, they cook as directed for commercially frozen ones, only for a bit less time, depending on your appliances and can be used in the same ways. Always serve these whole; cut beans are too ordinary to be 'special '.
Of course, the easiest and often most attractive way to serve green beans is simply to add toppings. Fresh herbs such as thyme, sage and rosemary are favorite toppings and mushrooms and Karmelized onions are popular add-ins too. Broiled portabellas, sliced, are wonderful, so are button caps first lightly broiled in butter with soy sauce added, then reheated, poured over the beans. A good entrée suggestion is:
Ham and Beans au Gratin: Serves 4
1 lb. beans or about 80 whole beans
8 slices Deli ham – custom cut 1/16 to 3/8 of an inch thick
½ cup grated sharp cheese
2 cups milk
4 Tbs. butter
4 Tbs. flour
¼ tsp. garlic powder
Salt& pepper
Paprika and dried parsley for garnish
1 envelope chicken bouillon granules –optional
Parboil the beans until crisp tender, about 8 min. Shock under cold water and drain well. Divide the beans into 8 piles of 10 beans each, and wrap each bundle in a slice of ham. Place bundles in a greased dish, seam side down. Make a simple cream sauce by heating the butter in a saucepan until it foams, Add the flour and stir to a smooth paste. Quickly add the milk, return to medium heat and stir constantly until sauce becomes smooth and thick, about 3 min. Add seasonings; pour the sauce over the bean-ham bundles and top with the cheese and garnish. Bake at 350 deg. until bubbly and cheese melts and browns slightly, about 15 min. Serve hot at once. Tip: plate with a spatula, taking care to serve the bundles intact.
Corn: Don't try to freeze corn-on-the-cob. It isn't that great commercially and even worse domestically. Make sure the ears are silk-free before you cut the kernels off because shreds of silk will mat them when frozen and can ruin any dish.
As stated, the best use of the corn is as an addition to another dish, and, of course, that depends on the recipe for the dish. If it's a cold salad or salsa, dip the bag with the corn into boiling water for about 3 min. then shock under cold. Otherwise just add to the recipe as directed. The following salad is a refreshing change in winter
Corn Salad: Serves 4
2 cups corn kernels-thawed and parboiled-see directions above
½ a jarred fire-roasted red pepper- in thin strips about ½ inch long
2 scallions-white and light green portions only, sliced thin
1/3 of a green bell pepper –finely diced
1/3 cup light vinaigrette
4 medium tomatoes seeds hollowed out or 4 Roma tomatoes, halved lengthwise and seeds removed.
Mix the vegetables; toss with the dressing, fill the tomatoes and chill before serving.
Peaches: Keep the peaches in the boiling water only long enough to loosen the skin. The riper the peach the less time it takes. Hold the peach on a slotted spoon under cold water, until cool enough to handle; prick it with a paring knife and peel off the skin. Place the peaches on a waxed paper covered flat surface until all the fruit is peeled, then begin slicing each for freezing over the paper covered cookie sheet, making sure the slices don't touch. Freeze, then lightly dust with powdered sugar as boxed.
When frozen, place the slices in a 4 inch square freezer box. Supermarkets sell these in 3-packs. Place the slices, without touching, in layers and separate the layers with a long strip of waxed paper woven accordion style between layers. Peaches are best used frozen and thawed in a dish's preparation. Remember in using them that they are lightly sugared and adjust the recipe.
Frozen this way peaches consume more room than packaged in bags, so, unless you have a lot of space, they're best reserved for accessory dishes like salsas and sauces. If you plan a dish using a quantity of them, like a pie, for a winter event, make it, then freeze it in a metal pan, and bake it frozen, just add about 15 min. to the oven time.
Peach Salsa; Yield 3 cups
2 cups peaches
½ cup sliced grape tomatoes-or chopped tomato
½ green bell pepper-chopped
1 scallion-thinly sliced-white and green parts only
Generous dash garlic powder
Dash cayenne pepper
1 Tbs. chopped fresh cilantro
1 tsp. lemon juice
Salt and pepper to taste
Mix all the ingredients in a bowl and allow flavors to meld for about 20 min. Store covered and chilled for 2 days. Serve with fish, poultry and rice.
Peach Syrup Topping –Filling: Yield 1 ½ cups
1cup peaches
1 Tbs. butter
1/3 cup apple juice
1tsp.lemon juice
1 tsp. corn starch
Pinch powdered ginger-optional
Sugar to taste-if needed-preferably brown
1 tsp. – 1 Tbs. Brandy, rum, Madera or Triple Sec-optional—extracts may be substituted
Mix the liquids and flavorings in a cup and dissolve the corn starch. Melt the butter in a skillet over medium heat and add the peaches, gently stirring and shaking until the color brightens 1-2 min. Add the liquid and continue stirring gently until the mixture thickens and clarifies-3 min.
Use over ice cream or slices, optionally toasted, of pound or angel food cake.
Quick Dessert Cups: Serves 6
12 wonton wrappers
2 Tbs. butter
1 ½ cups peach filling
½ cup whipped cream or flavored yogurt
2 Tbs. all fruit spread-optional, but keeps pastry from becoming soggy if cups are prepared ahead.
6 cup muffin pan
Place a wrapper diagonally in each muffin cup. Brush with butter and lay another diagonally across the first, so the 4 corners stand up in points. Brush with butter and bake in a preheated 350 deg. oven for 10 min. until golden. Cool and remove from the pan; can be done ahead. Spread a teaspoon of the jam in the bottom of each wonton cup, and divide the filling among them. Top with a dab of yogurt or whipped cream.
Don't forget the thawed peach slices can be used by themselves scattered over ice cream, meats, in salads, mixed with winter fruits in compotes and other ways, even over cereal to brighten a dreary winter morning.