HOW MUSHROOMS HELP WITH THE HOLIDAYS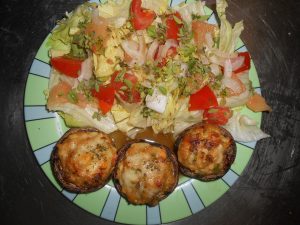 Mushrooms work magic with recipes. Add them to any dish with gravy or cream sauce, plus optionally a bit of wine, and it becomes worthy of a name. Sliced, raw into a mix of greens and fruit, with vinaigrette and perhaps a garnish of cheese and/or nuts and it's a luncheon entrée. Stuff the caps with something as simple as the chopped stems, breadcrumbs, an herb and cheese and it's a party canapé and they can elevate a plain stuffing to 'holiday special' status.
The amazing thing is that mushrooms are readily available, fresh or canned, all year, reasonably priced, canned, have a long shelf life and fresh, keep chilled well, need little prep and cook quickly. Any other vegetable with those qualities would be treated as a workhorse, but mushrooms have maintained their glamorous profile though centuries. Maybe it's because they have always been considered a 'frill' rather than a basic, nutritional ingredient-something added to dress up a dish.
Actually that's a misconception. Mushrooms have about the same nutritional value as zucchini and a bit more than cucumbers. This fact added to the others is all the more reason to include them in your holiday food shopping list. Here's an item which can make leftovers 'special', and with little effort or cost can provide elegant hors d'ouvres, a light entrée or side dish, definitely an asset to have on hand.
There are many species of edible mushrooms, but only three, actually two, can do this type of all-purpose work; the common white Button, the Portabella and the Porcini, also called correctly, Baby Bellas. Buttons are uniformly tender and the first choice to use raw. Portabellas, even' Babys', develop a nutty, meaty taste when cooked which brings out the best in them.
Buttons and Porcini cooked or raw, marinate well and are the proper size to stuff for appetizers. Large Portabellas are great grilled or broiled as additions to entrees or filled and baked as a main course. Not only do they exceed 'bite size', but like many vegetables allowed to fully mature, they're less tender.
The only prepping fresh mushrooms need is a wipe with a damp cloth. Stubborn soil can be removed by gently swishing them in a bowl of cool water but be sure to dry them on towels. To remove the stem hold the cap and twist. It will pop off. A thin slice removes a dried tip, if necessary. Often recipes suggest using a spoon to scrape off the gills, but I find they add flavor, preserve structure and allow a bit of space to leaven stuffing.
I guess the best way in which to present the recipes this week is in the sequence in which they would appear on a menu. There are more than enough recipes, especially in the 'Stuffed Canapé' category to fill a cookbook. So I'm going to try to give a wide view but remember, as stated in the opening paragraph, mushrooms can be added to, as well as accompany, many dishes, casseroles, stews, soups, stuffings, sides. Feel free to use your initiative.
RECIPES
The majority of recipes can be made using raw mushrooms as well as commercially packaged or fresh ones that have been processed at home. Processing them at home preserves them, lengthening their shelf which allows advance preparation, a real help during this busy season. Below are the main ways to do that.
Pickled: Tiny mushrooms, even canned or jarred ones can be pickled by boiling for 2 min. in a solution of 1/3 vinegar of choice and water to cover,1 clove garlic and 1 bay leaf, then marinating for 1-2 days. Serve them, drained, in a bowl with toothpicks.
Marinated: For 1 lb. mushrooms, stems removed first: Mix ` cup white wine vinegar, 2 tsp. oil, 1 clove chopped garlic, 1 tsp. Sage, 2 tsp. parsley, in a bowl. Add mushrooms and let stand 12-48 hrs. stirring occasionally. Serve drained with toothpicks or stuff.
Cooked: Mushrooms cook quickly and become wrinkled and tough when overdone. They can be steamed for about 15 min. in a double boiler with a bit of butter, but the more flavorful ways are to sauté them in butter or oil, or on a buttered cookie sheet, bake for about 8 min, at 375 deg. or broil them for about 5 min. turning once just until they release their juices. Toss them to mix and cool.
STUFFED:
Recipe quantities may vary because of difference in mushroom sizes. Additionally, several recipes can be used for raw, processed or cooked. Mushrooms shrink when cooked or pickled. If preparing ahead for guests, remember raw has a shorter shelf life, a few hours at most when stuffed.

Cheese Stuffing: Serves 30- From the Everything Low Carb Cookbook by Patricia M. Brutus
30 medium mushroom caps—steamed or pickled
2/3 cup small curd cottage cheese
3 oz. crumbled Feta cheese
1 lemon pepper to taste
½ tsp. olive oil
1 Tbs. dried dill weed + more to garnish
Mix ingredients 1-5 and stuff mushroom caps. Garnish and serve chilled.
My Stuffed Mushrooms: Serves about 24
24 medium-small marinated mushroom caps
4-5 oz. liver pate-I like Sell's by Underwood Co.*
½ small onion grated
Dijon mustard to taste
Dash lemon pepper
! Tbs. mayonnaise-only enough to smooth
Dash hot sauce or pinch cayenne –optional
Dried parsley to garnish
Mix the liver with the next 5 ingredients, stuff mushrooms and garnish, Serve chilled or at room. temperature.
* ¼ lb. Deli liverwurst may be an acceptable substitute, but test for taste when adding the other ingredients
Mushrooms with Scallops: Serves 4- From Rozanne Gold's Recipes 1-2-3-Menu Cookbook
This can be either a canapé or entree depending on sizes
20 small> medium mushroom caps or (20) 1 ½ + inch large mushroom caps- buttons or baby Bellas for the canapés and portabellas for the entrees.
20 scallops depending on size of mushrooms-calicos or bays for canapés or sea scallops for entrees
Salt and pepper
½-3/4 cup pesto
Sprinkle the inside of the caps with salt and pepper. Fit a scallop snugly into each mushroom cap and place in a baking pan with several tablespoons of water. Top with 1 tsp. to 1 ½ tsp. pesto sauce and bake in a preheated 450 deg. oven for about 8 min. until scallops are opaque. Serve hot.
LIGHT ENTREES
Mushrooms Au Gratin: *Serves 4-From the Everything Low Carb Cookbook by Patricia M. Butkus
1 lb. small button mushrooms-stems on and trimmed
Juice of 1 lemon
2 Tbs. brandy
¼ cup oil
1 small shallot chopped
2 Tbs. EACH sour cream, tomato paste, honey and Dijon mustard
Pinch cayenne pepper
Salt and pepper
1 Tbs. bread crumbs
2 Tbs. Gruyere cheese or Monterey Jack
Marinate the mushrooms in the lemon juice and brandy for 10 min. Saute the shallot in the oil for1 min without browning, add the marinade and reduce for 2 min. add the mushrooms and sauté for 2 min. Remove the mushrooms to a shallow casserole. Add the cream, tomato paste, honey, salt, pepper and cayenne to the skillet and boil stirring for 2 min.; add the mustard but do not allow to boil. Pour this sauce over the mushrooms and top with bread crumbs and cheese. Run the dish under a preheated low broiler until golden. Serve hot on toast rounds.
* This can also be served as a side
My Mushrooms in Wine Sauce:
Serves 2
12 or 16 large button mushroom caps- stems off and roughly chopped
4 Tbs. butter
½ cup white wine—Vermouth works wells
Salt and pepper
4 thin slices rye bread –toasted—preferable Jewish Rye with seeds
2 Tbs. fresh parsley- chopped R 1 Tbs. dried
Melt 2 Tbs. of the butter and sauté the caps until golden. Remove to a warm oven. Melt the rest of the butter and sauté the stems adding salt and pepper to taste. Add the wine and the rest of the butter and boil a few minute to reduce slightly. Place 2 slices of toast on each plate, divide the mushroom caps equally between the toast slices and pour the sauce over them. Garnish with parsley and serve hot
SIDES
Library Mushrooms:
Serves 4-6
1 lb. medium mushrooms-stems off, large caps sliced in half
2 Tbs. butter
1 Tbs. soy sauce
Sautee mushrooms in butter until beginning to brown, Add soy sauce and toss to mix.* Cover and cook on low 5 min. Serve hot with meat.
*Mushrooms and sauce can be sealed in a foil packet, leaving a steam vent, at this point and heated with the entrée at a later time.
Mushrooms Provincial:
Serves 4
1lb. mushrooms-stems off and trimmed
¼ cup oil
2 small cloves garlic crushed
1Tbs. balsamic vinegar
1 Tbs. dried or 2 Tbs. fresh chopped parsley, sage or bay leaves or a mixture of all
4 Tbs. fresh breadcrumbs-optional
Saute the mushroom caps in 2 Tbs. oil until brown. Remove to a plate. Saute the stems, garlic and herbs adding 1 Tbs. oil if needed, on low, for 3 min. Stir in vinegar, mix well and pour over caps. Optionally, sauté bread crumbs in 1 Tbs. oil until golden and scatter over mushroom mix. Can be served at once, but recommended to cover the plate and let stand 1 day for flavors to meld.
Bread Stuffed Mushrooms:
Serves 4—From James Beard's American Cookery
Can also be a canapé using small mushrooms
16 large mushrooms—at least 20 for canapés-other ingredient quantities unchanged
¼ cup butter melted + more for brushing
½ cup fresh dry breadcrumbs
1 Tbs. EACH parsley and chives or chopped onion
2 eggs lightly beaten
Dash Tabasco
Salt and pepper
½ cup grated Parmesan
Remove the mushroom stems and chop fine. Saute the stems, seasonings and bread crumbs lightly in 4 Tbs. butter; off heat blend in the eggs. Butter a baking dish large enough to hold the mushrooms comfortably. Brush the caps with butter inside and out, stuff and place in the dish. Brush again with butter and top with the cheese. Add a couple of tablespoons water to the pan and bake in a preheated 375 deg. oven for 15-29 minutes until golden. Serve hot in place of a carbohydrate with an entrée or with toothpicks as canapés.
ENTREES
Portabellas with Seafood Stuffing:
Serves 2
4 large portabella mushroom caps
1 cup crabmeat, scallops or cooked, diced fish or shrimp*
¾ cup white sauce**
¼ cup + Bread crumbs
Salt and pepper
1tsp. dried herb of choice- tarragon, dill, bay
1 Tbs. Dry sherry- optional
Grated Parmesan
1Tbs. dried parsley
Mix the seafood, sauce, seasonings and herbs with just enough bread crumbs to bind. Divide the filling among the mushrooms, top with the cheese and garnish with the parsley. Place on a buttered surface, pan or cookie sheet and bake in a preheated 375 deg. oven until puffed and golden. Serve at once.
* Equal portions of chopped chicken, turkey or ham can be substituted. Change herbs and liquor accordingly.
** A bottled white sauce such as Alfredo can be substituted. To make ¾ cup white sauce: Bring 1 ½ Tbs. butter to foaming. Remove from heat and stir in 1 ½ Tbs. flour to make a smooth paste or Roux. Quickly add ¾ cup milk and cook over medium heat, stirring constantly until thickened about 3 min. Do not allow to boil.