GREAT SQUASH DINNER RECIPES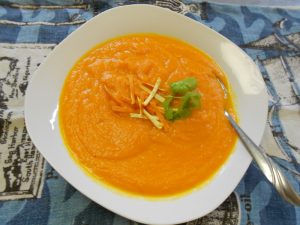 As I've mentioned in the past few weeks, pumpkin, zucchini, actually all squash are native to the Americas. The rather unique fact about them is that the seasonal varieties are interchangeable. Yellow squash and zucchini can be used in the same recipes as can the meat from the winter squash, or 'Winter Melons' as they're sometimes called. The only difference is that the meat of small ones like Delicata is slightly finer textured and sweeter than that of large ones like calabasa or pumpkin. The single deciding factor in choosing them for specific dishes is the thickness of the rind. Those with harder skin, such as acorn or pumpkin, can be halved or hollowed and baked 'in shell' with or without content, and the cooked pulp scooped out. The ones with thin skin, like butternut or Hubbard, are easier peeled, cut in chunks and boiled then mashed, or roasted.*(See TIPS below)
Squash is an excellent food source, easily cultivated, full of nutrients, durable, and most presentations are adaptable to being served either as a side or main dish, vegetarian or with meat added. Since many varieties are now grown globally, recipes exist in every cuisine. Soups are especially popular. I have one book that lists 16 recipes. So it's been hard to select just a few examples to illustrate the use of squash in dinner recipes. I hope the ones I have chosen will show how easy it is to create a dish using squash and how quickly the same dish can convert from side to entrée.
I've chosen two soups, one for hard shell squash and the other for thin skinned types. After the recipes, I've listed some additions to add body and suggested garnishes. The other dishes, risotto, pozole and ravioli can be sides or entrees, depending on quantity, and vegetarian or main stream with the addition of meat. In each recipe the change in purpose is a simple conversion. To see more squash recipes consult blogs for 10/8/12, 10/21/14, 10/22/15, 10/29/15 in the site archives. Click the table of contents on the Home Page header or select the month from the drop-down list in the Archives box on the right margin of each blog page.
Roasted Pumpkin Soup: Serves 6-8
3 ½ lb. pumpkin
2 Tbs. oil+ 4 Tbs.
2 onions—chopped
2 garlic cloves – chopped
3 in. piece of grated fresh ginger root
1 tsp. ground coriander
½ tsp. turmeric
Salt and pepper
1 qt. vegetable or chicken stock
Fresh cilantro for garnish
Prick pumpkin all over and rub with 2 Tbs. oil, or cut it in wedges and brush with oil. Roast in a 400 deg. oven for 45 min. until tender. Meanwhile, sauté onion, garlic and ginger 4-5 min. in the 4 Tbs. oil; add the other seasonings for 2 min. When pumpkin is cooked and cool, scoop out the flesh and add it and the broth to the pot. Bring to a boil, reduce heat and simmer 20 min. Puree the soup, test seasoning and reheat to serve with cilantro and other garnishes below.
Butternut-Cider Soup: Serves 4-6*
3 lb. butternut squash- peeled, saving seeds and cut in 1 inch cubes
2 Tbs. oil
½ gal. apple cider
1 tsp. Chinese 5-Spice powder
Preheat oven to 350 deg. Toss rinsed seeds with the oil and roast on a cookie sheet for ½ hr. until golden. Over medium heat, cook the squash in the cider and seasonings until tender. Puree and add salt, pepper and more cider for a thinner soup. Reheat and serve with seeds as a garnish.
* From 500 3 INGREDIENT Recipes by Robert and Carol Hildebrand
The addition of precooked rice and/or meat to either recipe will fortify it into a full meal. Allow ¼-1/2 cup per portion.
Pumpkin Crisps are an elegant garnish for any squash dish. Using a potato peeler, slice off strips from a wedge of raw pumpkin. Fry in ½ cup oil until crisp, drain on paper towels and sprinkle over serving.
Chopped toasted Walnuts or Pecans are good garnishes, as are sour cream or yogurt when they complement the ingredients.
Orange rind, slivers or zest is a tasty seasoning garnish for most squash dishes.
Pozole: Serves 6*
4 c ups delicata squash -peeled, seeded cubed
2 large onions diced
1 Tbs. oil
2 cloves garlic- mashed
(1) 28 oz. can diced tomatoes
4 cups coarsely chopped bell peppers-any color
(1) 29 oz. can hominy- white or yellow
3 Tbs. minced chipotles in adobo sauce
2 tsp. lime juice
¼ tsp. salt
1 Tbs. dried oregano or sage
Saute the onions in the oil until soft and golden; add the garlic and ½ the salt and cook 2 min.. Add the tomatoes and squash and simmer 10 min. Add the bell peppers, cover and cook 15 min. until the squash is soft. Stir in the other ingredients and heat through, about 5 min. Garnish with choice of: Jack cheese, crushed tortilla chips, shredded lettuce, fresh herbs or lime wedges. Serve warm.
* Adapted from The Moosewood Restaurant New Classic Cookbook
Roasted, Curried Butternut Squash: Serves 6-8*
2 lb. butternut squash- peeled and cut in ½ inch cubes
2 Tbs. curry powder
½ cup olive oil
¼ cup toasted squash or sunflower seeds –see directions above for Butternut-Cider Soup
Toss the squash with the oil, curry powder and salt and pepper to taste. Spread on a baking sheet and roast in a preheated 350 deg. oven until soft and brown, about 30 min. Serve hot with the seeds scattered over.
* From 500 3 INGREDIENT Recipes by Robert and Carol Hildebrand
Squash Risotto: Serves 4
2 cups cooked squash- cubed
1 small onion
2 tsp. oil
4 cups vegetable or chicken broth
1 ¼ cups Arborio rice
¼ cup chopped fresh parsley
¼ tsp. black pepper
3 Tbs. grated Parmesan
Bring the broth to a simmer. In a separate pot, sauté the onion in the oil until soft; add the squash and mash then add the rice and 1 cup broth. Simmer until broth is absorbed and repeat until all the broth is used up and the rice is tender but still firm, about 20 min. Stir in the other ingredients and serve hot garnished with more parsley and cheese.
Squash Ravioli: Serves 4
1 lb. squash cooked and mashed until smooth
½ tsp. cinnamon
2 Tbs. butter
24 wonton wrappers
Mix squash with the cinnamon. Lay out the wrappers on a flat surface and place 1 tsp. of the squash mix
In the center of each; top with another wrapper and dampen the edges with water and press to seal. Alternately, place ½ tsp. filling in the center and fold the wrapper over to form a triangle.
Bring 4 qts. salted water to a boil and cook the ravioli, a few at a time, until they float. Remove and drain on a plate. Melt the butter, pour over the ravioli and rewarm in a microwave before serving. Garnish with parsley and/or Parmesan.
Spinach Ravioli: Serves 4 This dish is especially good when served combined with the squash ravioli in equal amount. With or without meat the combination makes a full entrée.
(1) 10 oz. package of chopped spinach- thawed and drained
1 cup ricotta or cream cheese
½ tsp. nutmeg
2 Tbs. butter
24 wonton wrappers
Repeat the process as directed above, substituting the spinach, mixed with the cheese and nutmeg for the ingredients in the squash recipe. Serve on the same plate with the squash ravioli using the full 4 Tb. butter as a sauce.
Stew in a Pumpkin: Serves
This is a favorite recipe of mine, and one I've even featured in a post on reasonably priced dinners. It's great for a weekend or a dinner party at this season.
Original Recipe Stew in a Pumpkin; Serves 6
3 Tbs. butter
2 lbs. beef for stew cubed
3 Tbs. cornstarch
2 large onions diced
3 tomatoes chopped
2 Tbs. butter
¼ tsp. EACH salt and pepper
3 cups beef stock
½ lb. prunes
½ lb. dried apricots
3 sweet potatoes sliced
(2) 10 oz. packages corn –thawed and drained
1 pumpkin, top cut off and reserved, cleaned of pulp and seeds. Melt 3 Tbs. butter in a Dutch oven. Roll the meat in the cornstarch and brown. Set aside. Melt 2 Tbs. butter in a separate pan and sauté vegetables until tender. Add to meat with juices. Add all remaining ingredients except pumpkin cover and simmer 1 hr. Preheat oven to 350 degrees. Ladle stew into the pumpkin; set in a roasting pan with 1
inch of water, and bake for 1 hr. Carefully transfer pumpkin from the pan to a serving dish and replace its top as a lid for garnish. Serve at once scooping out some of the pumpkin meat as you ladle out the portions.
NOTE: I save clean-up by sautéing the vegetables in the Dutch oven first and then browning the meat. It's one less pot. Also if you have it on hand, replace one cup of stock with beer. It deepens the flavor.
Squash Tips:
To choose squash, pick the heaviest for its size and the one with the deepest color. It will have the most beta-carotene
To peel thinner skinned squash, cut odd the ends, prick the skin several times and heat in a microwave 2 min. on high. Halve, lay flat and peel the skin off in strips with a knife or peeler. The harder skinned types sometimes require a heavy knife and hammer to halve.
Kept in a cool, dry place, squash will hold for a few weeks, but once cut, should be covered, chilled and used within a day or so.
To roast squash whole, pierce in several places to let the steam escape, otherwise cut it in half or wedges and cook, skin side up in ½ inch water at 400 deg. for 45-60 min. Beware of the steam when cutting into a whole roasted squash.
To cook squash quickly, peel, seed and grate the raw meat, then sauté or boil. To microwave, halve, or cut in large chunks, slice off the ends, seed, season and cover with plastic wrap. Cook on high 7 min. per pound. To rescue over-cooked squash, puree it.
Don't over worry about removing the strings when cleaning raw squash. Once the squash is cooked they can be 'raked' out with a fork, or will simply stick to the beaters during blending.