GREAT PUMPKIN DESSERTS OTHER THAN PIE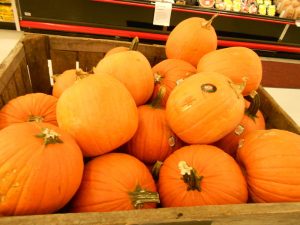 If pumpkin is the symbol of autumn, then pumpkin pie is its iconic dish. The tantalizing aroma and flavor and the light assertiveness of the combination of spices used to make it, help erase memories of lush summer produce by reminding us that every season has its special treats. This particular spice blend also conveys a feeling of warmth and comfort, perhaps because all the ingredients are so familiar to the American kitchen and make no mistake, pumpkin, in fact all squash, are uniquely New World plants.
Pumpkin Pie Spice Mix is so popular that it's sold separately. In recent years it's flavored everything from coffee to ice cream, not to mention candles and other household products. Although the individual spices in the mix are used in other squash dishes, because sugar is basic to the blend it's generally featured in dessert recipes and there are lots of options to pie. It's fun to take a look at some of them and maybe try a few over the next weeks while pumpkin is available or later in the winter substituting other squash.
First though, since pie is the primary use of pumpkin, I'll offer some variations to the usual presentation. Fun fact here, the colonists cut the top off the pumpkin, removed the seeds and strings and filled the cavity with milk, spices and sugar. Replacing the top, they baked the pumpkin until the flesh was soft and spooned it into bowls with the liquid like mashed potatoes and gravy. As for today's custard pie recipes, I don't think one can go wrong with Libby's printed on their pumpkin cans. My personal touch is to cover the top with meringue and brown it in the oven.
Beat 2 egg whites until soft peaks form; add a drop of cider vinegar and continue beating gradually adding ¼ cup sugar until stiff, glossy peaks form. Casually spread the meringue over the top of the cooled pie and place in a 300 deg. oven for 20 min. until the top browns slightly.
I just want to mention that pumpkin makes a wonderful cheese cake and there are a lot of pumpkin cheesecake recipes in books, magazines and on the web, especially at this time of year, too many to pick one for this article. My personal favorite is Kraft's Philadelphia Cream Cheese Pumpkin Marble Cheesecake. Find it on their web site.
For reference the basic Pumpkin Pie Spice Mix is:
1 cup sugar-preferably bar or super-fine sugar
½ tsp. EACH salt, cinnamon, ginger, nutmeg, allspice
Stir everything together in a glass jar. Screw on the lid and shake well and put in a cool dark place for several days to incorporate the flavors, shaking every day or so to keep them blended. This can be adjusted to suit personal preference.
Pumpkin Chiffon Pie– This is a great pie for anyone who doesn't like the more intense flavor of pumpkin custard or to serve in warm weather.
1 baked pie shell- this is especially good with cinnamon and sugar and/or ground nuts added into the dough
1Tbs. gelatin softened in ¼ cup cold water
1 ½ cups cooked pumpkin
½ cup sugar
¾ tsp. salt
1 tsp. Cinnamon
½ tsp. ginger
2 eggs-separated
1 cup milk
¼ cup chopped toasted walnuts, pecans or Brazil nuts for garnish
Beat the egg yolks slightly; combine with the seasonings milk and pumpkin inch and cook over boiling water stirring constantly 5 min. Add the gelatin and stir until dissolved. Chill until slightly thickened. Beat the egg whites to soft peaks then add the sugar, beat to stiff peaks and fold into the pumpkin mixture. Pour into the baked shell, garnish with the nuts and chill until firm. Serve cold.
Pumpkin Crumble: Serves 18-20*
1 box plain yellow cake mix
1 stick butter or margarine at room temp. + 4 Tbs. chilled
4 eggs
(2) 15 oz. cans pumpkin
(1) 5 oz. can evaporated milk
1 ¼ cups sugar
1 Tbs. Pumpkin Pie Spice Mix –See blend recipe above
1 cup chopped walnuts or pecans
Whipped cream for topping
Grease and flour a 13X9 inch baking pan. Reserve 1 cup of the cake mix and blend the rest on low speed, with 1 egg and the stick butter until combined. Press into the bottom and slightly up sides of the pan. Using same bowl and beaters, combine the pumpkin, 1 cup sugar, spices, milk and remaining eggs and beat until lighter in color and texture, about 2 min. Pour into prepared pan. With clean bowl and beaters, on low speed, beat the reserved cake mix, sugar and butter until crumbly; stir in the nuts and sprinkle it over the custard. Bake in a 350 deg. preheated oven 70-75 min. Center should still jiggle, but nuts should have browned. Cook 20 min. on a wire rack. Serve topped with whipped cream. Cake can be stored covered in the refrigerator for up to 1 week.
Pumpkin Roulade: Serves 16
Filling
8 oz. cream cheese
(1) 8 oz. tub Cool Whip
1 tsp. maple flavoring or vanilla
½ cup chopped toasted walnuts or pecans
Cake
1 box plain spice cake mix
2/3 cup canned pumpkin
½ cup buttermilk
½ cup buttermilk (or 1 ½ tsp. vinegar in ½ cup milk, allow to stand 10 min.)
1/3 cup vegetable, seed or nut oil
4 eggs
½ tsp. cinnamon
½ tsp. nutmeg
Confectioners' sugar for dusting
Parchment paper
Butter for preparing pan
Make the cake: Butter the bottom only of a 16 ½ X 11 ½ X 1 inch jelly roll pan. Line it with the parchment, leaving a couple inches overlap on the ends, and butter the paper. Put the cake ingredients in a bowl and beat, scraping the sides, until batter is thick and combined about3min. Pour into the prepared pan, smoothing it out with a spatula. Bake on the center rack of a preheated 350 deg. oven for 15-17 min. until it springs back when pressed with a finger. Liberally dust a clean kitchen towel and starting with the long side, carefully roll the cake away from you in the towel. Place seam side down on a flat surface to cool for about 20 min.
Make the filling: Beat the first 3 ingredients until smooth. Stir in the nuts.
Assembly: Carefully unroll the cake enough to generously spread the inside with the filling; reroll, pulling the towel away as you go. Place the filled cake seam side down on a serving platter and chill. Just before serving, generously dust with confectioners' sugar.
Optionally: If you think the cake seems split in places, and it will as it's rolled, have a can of vanilla or cream cheese frosting ready. Garnish with sprinkled cinnamon or nuts.
*These two recipes are based on but modified from ones in The Cake Doctor by Ann Byrn
Pumpkin Cake: Serves 8-10 This is James Beard's recipe. Though 'from scratch' it's as easy as a mix and can be made with any winter squash.
½ cup butter
1 cup packed brown sugar
2 eggs
¾ cup cooked pumpkin
3 cups sifted cake flour
¾ tsp. baking soda
1 ½ tsp. baking powder
½ tsp. EACH salt, cinnamon, ginger, nutmeg, allspice
½ cup buttermilk (or 1 ½ tsp. vinegar in 1/2cup milk and allow to stand 10 min.)
½ cup chopped toasted nuts
Sift the dry ingredients. Cream the butter well then cream in the sugar, beat until fluffy. Beat in the eggs and pumpkin; add the dry ingredients alternately with the milk, mix until batter is smooth. Add the nuts and pour into a greased and floured sheet cake pan 11X 14X 2 or two layer pans. Bake in a preheated 350 deg. oven for 35 min. for a sheet cake, 25 min. for layers. Cook 5 min. on a rack then turn out and cool completely on a rack. Frost with caramel, cream cheese or vanilla icing. Decorate with additional toasted nuts if desired.
Pumpkin Cookies: Yield about 3 ½ doz. From the Moosewood Restaurant New Classics Cookbook
1 cup butter
1 cup sugar
1 cup pumpkin
1 egg beaten
2 cups flour
1 tsp. vanilla
1 tsp. baking powder
½ tsp. baking soda
1 tsp. cinnamon
¼ tsp. allspice
½ tsp. salt
1 cup chopped toasted peanuts
1 cup raisins
½ cup chocolate chips-optional
Sift dry ingredients. Cream together the butter and sugar; add the eggs and pumpkin and blend well. Add the dry ingredients and stir into a soft batter. Stir in the nuts, raisins and chips, if using. Drop by teaspoonfuls onto an unoiled cookie sheet , leaving a little room to spread. Bake in a preheated 375 deg. oven for 10-15 min. until edges begin to brown, and a toothpick inserted into the center comes out clean. Cool on a rack and store in an airtight jar.