GIRL SCOUTS GET A ZEBRA CAKE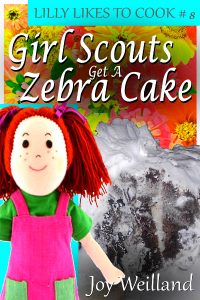 (Book XIII in the Lilly Likes to Cook series, available on site, on Amazon and in our Etsy store)
Girl Scout cookie time brings back memories. As the mother of two daughters, both of whom spent elementary school in Brownies then Scouts, with no overlapping years, I put in a long time as an 'Involved Mother'. I'm reminded of a den filled with cases of cookies, and frigid Saturdays selling them, but I'm also reminded of what a great organization it is and that inspired Book XIII of my Lilly Likes to Cook Series; Girl Scouts Get a Zebra Cake.
The Lilly Likes to Cook series is based on my experiences working with children in the kitchen. In fact, the first book stems from my older daughter's wish one Father's Day to bake her Daddy a cake. I confess I forgot to grease the pans which led to a tearful episode. Thankfully Daddy was on the golf course at the time and fortunately, by a stroke of luck, I thought of the solution. The result was as much of a success as it is in 'Making a Cake for Molly'.
This series is the ongoing story of Lilly, an 8 year old girl, who learns that cooking is more than just making something to eat. Her journey starts with a cake disaster which, to her delight, she watches in fascination being turned into a triumph. She decides then that she wants to learn to cook.
Often helped by her sister Brianne 13, she makes cookies for an Uncle overseas, helps her mother with the meatball booth at her school fair, makes lunch for her grandmother, cooks dinner with Brianne, and has other adventures. Along the way, Lilly discovers that cooking can be fun, creative, thought provoking, and very rewarding, especially when it provides a way to help people, make new friends, or strengthen relationships. She also finds that her new interest teaches lessons about life that hold true away from the kitchen. All the books in the series contain recipes that are easy to make, require minimal kitchen skills, are child friendly and adult pleasing.
In this book, Lilly's Girl Scout Troop has signed up for a booth at the town's Crafts for Charity event. The girls are excited about earning badges, but, when their leader first suggested the project, had worried about what they could make to sell. Then Lily's friend Zoe suggested making a variation on a craft she had taught the troop several months before and they all voted to do it. A special Saturday was scheduled for a group work meeting.
Zoe is as into crafts as Lilly is into cooking. In fact, it was each girl's ability to focus on a special interest at such a young age that formed the special bond between them and made then BFFs. So when Lilly decides to make a treat to reward the girls on that Saturday, after a hard day's work, she drafts Zoe to help her make a Zebra Cake.
This book tells the story of Lilly's Girl Scout troop crafting the stock items and manning their booth at the town fair. It contains detailed instructions on how to make an attractive, colorful, warm blanket throw with no sewing and how to make a Zebra Cake with no mixing, bowls, pans or cooking. Both activities need minimal to no adult supervision depending on age and responsibility level, but both are also interesting for, and appreciated by adults. The blanket requires only a scissors, ruler, chalk and pins and/or a stapler. The cake can be made using just a plate and a butter knife. It's the perfect gift for a Girl Scout or activity book, as are all the books in the series, especially for rainy days.
Find this book, and the rest of the series, on our Bookshelf by clicking on this page's Header or the window in the right margin. It can also be found on Amazon and in our Etsy store.