Fantastic Pumpkin and/or Squash Desserts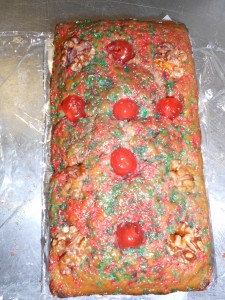 Here, as promised, are the pumpkin/squash desserts to follow the main course dishes I posted last week. If you want a change from the traditional, or a variation on it, or perhaps you don't care that much for squash and want a dish with only a nod to the spirit of the season, there's a recipe below for you.  You can even do as I do and add candied fruits to the bread recipe, decorate the top and serve it sliced, warm at Christmas. Instructions to do this are with the recipe below. In any case here's your chance to try something new before the holiday.
I'm going to make the discussion short this week because the recipes are so long, but remember that all these dishes, as the ones from last week, are for any of the winter squash, pumpkin, butternut, acorn, calabasa -all of them. The cooking directions remain unchanged and the cavities should always be cleaned before cooking, unless steaming whole.  Also please remember that the pumpkin on your doorstep, treated properly, can be an investment in a wonderful meal or two.  So long as you don't cut into it, or allow it to freeze and thaw, or for those in warm climates, expose it to direct hot sun, it will happily do double duty as decoration and dinner.
For fuller information on pumpkins, or winter squash in general, please consult last week's posts and visit the archives to read the postings of Nov. 8, 2012 and Oct. 21, 2014. Simply click "Blog" on the   Home Page header and on the right side of any blog page you'll see a "Select Month" button. You can then choose the proper month and year and pull up the posting.
Sliced Pumpkin Tart-Can also be made with any winter squash, butternut, acorn and calabasa
3lb. Sugar pumpkin or other squash
1 cup water
¼ cup sugar
½ tsp. cinnamon
1 tsp. cornstarch
½ cup apricot preserves
! Tbs. toasted chopped walnuts
1 baked 9-inch tart shell—commercial or homemade
Scrub squash, cut in quarters and remove seeds and pulp. Place shell side down in a Dutch oven with the water, sprinkle with sugar and simmer, covered 20-30 min. until tender, reserve juices. Cool pieces on a rack over a pan. Measure drippings and add reserved cooking liquid to measure ½ cup. Stir together cinnamon and cornstarch in a saucepan; gradually add the ½ cup liquid. Boil mixture until thickened and stir in preserves off heat. Peel squash, slice quarters into 2 inch wide strips then cut crosswise into 1/8 inch thick pieces. Spoon 2 cup squash into tart shell, making a flat layer and pour on half the sauce. Arrange the rest of the squash pieces in circles and cover with the rest of sauce. Garnish with walnuts. Chill at least 3 hours.
Pumpkin Nut Bread
2 cups flour
2 tsp. baking powder
½ tsp. baking soda
1 tsp. cinnamon
½ tsp. nutmeg
½ tsp. salt
½ cup milk
1 cup pumpkin
1 cup sugar
2 eggs
¼ cup butter or margarine
½ cup chopped nuts-walnuts or pecan
Powdered sugar
Sift dry ingredients together . Combine everything else but the nuts in a large bowl and beat until blended. Beat in flour mix just until smooth, and then stir in nuts.
Pour batter into a greased and floured 9x5x3 inch loaf pan. Bake in a preheated 350deg.oven 50-60 min. until tester
comes out clean. Cool in pan 10 min. then remove from pan and cool on a wire rack. Serve dusted with powdered sugar, cut in thin slices.
To make a Holiday Bread
¾ cup chopped candied and dried fruits—apricots, pineapple (chopped) craisins and raisins
Candied cherries and nut halves for decoration
½ cup red wine—to replace milk
2 Tbs. whisky
Toss fruits with the dry ingredients to separate and coat them.  Mix batter as directed above but instead of using a beater, stir in flour mix as with a quick bread. Remove from oven after about 20 min. when risen, and place decorations on top. Return to oven and continue baking. The reason, here, is that the decorative fruits sink into the batter as it rises if put on at the start. Cool on a rack, sprinkle with whisky or wine, wrap in plastic wrap and refrigerate. For the first couple of weeks, remove, re-sprinkle with whisky, re-wrap and return to fridge. Will keep for months.
Peach Pumpkin Cake
1can (1 lb. 13oz. ) peach halves in heavy syrup
1 ½ cups flour
1 tsp. baking powder
1/4 tsp. baking soda
½ tsp. salt
½ tsp. cinnamon
½ tsp. nutmeg
½ cup oil
1cup sugar
2eggs
1cup pumpkin
1/3 cup pecan halves
¼ cup peach preserves
Drain peaches reserving ¼ cup syrup and set halves aside to drain well. Sift dry ingredients. Beat oil and sugar in a bowl until well combined then beat in eggs one at a time, beat in pumpkin then flour mix at low speed just until combined. Pour batter into a greased and floured 10 inch springform pan. Arrange peaches and nuts on top. Bake in a preheated 350 deg. oven 40-45 min. until top springs back when pressed with a fingertip. Combine reserved syrup with preserves and bring to a boil until preserves melt. Remove cake from pan to a serving plate. Brush with glaze. Serve warm or cool.
Pumpkin Flan Serves 8
¾ cup sugar
Custard
1 cup pumpkin
1 cup milk
1 cup light cream
6 eggs
½ cup sugar
½ tsp. salt
2 tsp. vanilla
1/3 cup brandy
Boiling water
2 Tbs. brandy

Cook sugar in a large heavy skillet over medium heat stirring until it melts into a light brown syrup. Immediately pour syrup into a heated 8 ½ inch round shallow baking dish. Using pot holders swirl to cover bottom and sides. Set aside. In a saucepan combine pumpkin, milk and cream. Stirring to blend, heat over low until bubbles form around the edges. In a large bowl, beat eggs slightly then add sugar, salt and vanilla. Gradually stir in the hot milk mix and the 1/3 cup brandy. Pour into the prepared dish. Set dish in a baking pan and add boiling water to a depth of ½ inch. Bake in a preheated 325 deg. oven 50-60 min. until a silver knife inserted in the center comes out clean. Col custard and refrigerate overnight.
To serve: run a spatula around the edge to loosen and invert onto a serving plate. At the table, pour the 2 Tbs. brandy into a ladle, ignite and pour flaming over the flan.
Cold Pumpkin Chiffon Pie –This should be made a day ahead, because it needs to be well chilled. The pie filling can also be made in a mold and served as a mousse.
Needed –Double Boiler (also called a Bain Marie) and an 8 inch pie plate.
1 pie crust – home-made or purchased – baked*
1 Tbs. gelatin
¼ cup cold water
1 1/2 cups cooked pumpkin – 1 can
½ cup sugar
¼ tsp. salt
1 tsp. cinnamon + dash for pastry.+ dash for nuts.
1-2 Tbs. sugar for pastry + 1 Tbs. for nuts
½ tsp. ginger
2 eggs – separated
1 cup milk
¼ cup toasted spiced walnut pieces **
Line the pie plate with pastry, crimp or flute, and bake in a preheated 450 degree oven for 10 – 15 min, until brown.* If homemade, incorporate dash cinnamon, and 2 Tbs. sugar into the dough.  If purchased, sprinkle cinnamon and 1 Tbs. sugar over the pastry in the pan.
Soften gelatin in cold water. Combine pumpkin, ¼ cup sugar, salt, spices, slightly beaten egg yolks and milk. Cook over boiling water 5 min, stirring constantly. Add softened gelatin and stir until gelatin is dissolved. Chill until slightly thickened. Beat egg whites until stiff, (remember to use clean beaters) and gradually add remaining ¼ cup sugar. Fold into thickened pumpkin mixture. Pour into lined pie plate and garnish with nuts. Chill until firm.

*To stop an empty pie shell from buckling, line the bottom with a piece of foil filled with about a cup of raw rice or dried beans. Remove the foil after 10 min. if the crust isn't brown enough by then. An alternative method is to prick the crust several times with a fork, but this allows juices from the filling to seep through and make it soggy after a few hours. The beans and rice are reusable in future pies, but if you plan on frequent baking, go to a home hardware center and buy 18 – 24 inches of the beaded chain used to make key chains. It works beautifully!
**Preheat oven to 350 degrees. Melt a thin sliver of butter on a piece of foil. Toss walnuts in butter, separate into one layer allowing ample room, sprinkle with 1 Tbs. of sugar and a dash of cinnamon. Toast for 6-8 min. until beginning to brown. Remove from oven, trying not to disturb the coating, allow to cool completely. Sprinkle nuts over the pie, and gently press, if needed, to make them stick.
A Twist on Classic Pumpkin Pie
One of the very best Pumpkin Pie recipes is Libby's. I'm not going to copy it here because it's on every can of that brand of pumpkin and at this season featured in every ad for that product, as well as headlined on the Libby's website. However I do have a twist to add to it.
Anyone who reads this blog knows I'm a huge fan of meringue. It can be used in so many ways, not the least of which is to dress up a dish while keeping the contents from drying out. This is true of adding a meringue topping to pumpkin pie.
For a normal 8-9 inch pie, beat 2 egg whites until soft peaks form, then gradually add ¼ cups sugar and beat to stiff, glossy peaks. Using a spatula, spread meringue over the top of the pie covering the filling up to but not touching the crust. Swirl, leaving a few peaks. Bake in a 300 deg. oven for about 20 min until edges begin to brown. Cool to room temperature.