EGGS AND SPRING-THE PERFECT PAIR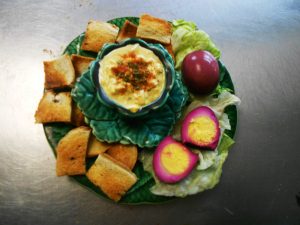 This article has made me think of the how Easter celebrations have changed and become subdued. Gone are the parades, the new outfits, fancy hats and corsages but the egg hunt has survived and thrived, graduating from the backyard to an event sponsored by towns and organizations. In fact, nowadays the egg not only symbolizes the holidays but, crossing cultures, is an icon of spring. The bright yellow and white colors suit the season, and the wide variety of ways they can be prepared reflects all the options of spring. It's the perfect time to enjoy them.
Of course, the days of using real eggs in hunts or as decorations has long passed; the ones for fun and decorating are mostly plastic, wood and ceramic. Real eggs are potentially messy, and can be truly dangerous when eaten if improperly stored. Children used to love coloring them, but I don't recall seeing displays of coloring kits in markets recently, and most families I know have only dyed them once period. So I guess that tradition has fallen too.
Although this eliminates the old problem of what to do with all the hard boiled eggs, I still like to have a few on hand over the holidays, to serve deviled or in a dip as a snack or appetizer. It seems fittingly seasonal. It's also seasonal to take advantage of the fact that eggs are usually on sale during the spring and are perfect for the lighter meals we begin to crave as the weather warms.
People complain that the price of eggs has risen steeply in the past few years, but that's all the more reason to enjoy them now. Actually, the recommended amount is 2 eggs per adult serving, so even at $3.00 per dozen, one serving is $0.50—still a bargain, but even more so at a sale price.
So think eggs and consider the recipes below. I've included a few for hard-boiled eggs and the rest are for fresh egg dishes, either way, appropriate for any meal of the day.
HARD BOILED EGGS
Pickled Eggs
I do have to admit, my favorite treatment for hard-boiled eggs is the one I described 2 weeks ago in the posting on Cabbage and Beets, marinating them in pickled beet juice. It turns them a lovely color, gives them an interesting taste, allowing them optionally, to be served alone, without other seasonings and preserves them for several weeks, eliminating the need to use them or lose them.
Simply place cooled hard-boiled eggs in a lidded container, covered with the juice of pickled red beets. Turn occasionally to keep the color even and they keep for 2 or so weeks.
To Pickle Beets: This can be made using freshly cooked beets or canned
Place cooked, peeled and//or sliced beets in a pot, covered in their juice. Add cider vinegar slowly to taste. Add sugar to taste. (Optionally other flavorings are added according to ethnic recipes, also to taste, cloves, caraway, peppercorns, allspice and sliced onions.)
Bring to a simmer, reduce heat and cook until the sugar dissolves and beets are heated through. Remove and cool. Store covered in a cold place and marinate for at least 36 hrs. These will keep for weeks properly stored. Serve well drained
To Pickle Eggs: After the beets are eaten the juice is a wonderful marinade to devil hard-boiled eggs. Put the eggs in a jar, covered with the juice and allow to pickle for at least 5 days. At full flavor, they should be burgandy color. They are eaten whole, deviled and/or chopped into a salad. Don't worry if they feel a bit tough, that's to be expected.
Egg Dip: Yield about 2/3 cup—increase recipe to yield desired amount
2 hard-boiled eggs—chopped fine
1 Tbs. mayonnaise
½ tsp. Dijon mustard
Pinch cayenne pepper- optional
Mix all ingredients gently and chill. The dip may seem dry at first, but the egg yolks dissolve in the mayonnaise and it becomes more fluid with time. The consistency can be adjusted before serving, Best made one day in advance. Garnish with parsley or chives to serve.
Vegetable and Egg Dinner Salad – Serves 4
4 hard-boiled eggs cut in 8ths
1 lb. spring vegetables cooked to crisp tender—asparagus, green beans for example*
4 cups lettuce leaves—red or green leaf, Romaine, Bibb or spinach for example
2-3 Tbs. mixed chopped spring herbs – -Parsley, lemon thyme, tarragon, cilantro for example
Salt and Pepper
½ -3/4 cup fresh vinaigrette dressing.
1/3 cup toasted nuts for garnish-optional
¼ cup crumbled feta cheese
Artesian bread for serving
Line plates with the lettuce and layer with the vegetables , then the eggs. Scatter the herbs over them and then pour over the dressing, finally add the cheese and nuts as garnish. For dressing suggestions please see the site Archives for 7/31/15 and 8/21/15.
*Thinly sliced radishes and onions add to the flavor and texture
Eggs a la King: Serves 4 – A vegetarian option as an entrée
8 hard-boiled eggs-halved lengthwise -at room temperature*
2 cups milk
4 Tbs. butter
4Tbs. Flour
¼ tsp. curry powder
1 jarred red pepper in julienne
4 oz. can of sliced mushrooms -drained
12 ripe olives-halved lengthwise
Salt and pepper to taste
Chopped or dried parsley for garnish
4 English muffins split and toasted OR 4 slices of toast (artesian bread preferred)
Make a white sauce by bringing the butter to a simmer, then remove the pan from the heat and add the flour stirring to make a paste. Add the milk all at once, return the pan to a medium heat and stir constantly until sauce is smooth and thick. Add olives, red pepper, mushrooms and seasonings. Stir to incorporate and heat through. Divide the bread among 4 plates; place 4 egg halves on each, cover equally with the hot sauce, garnish with parsley and serve at once.
* 2 cups chicken pieces can be substituted for the eggs. Stir in and heat through before serving
NOTE: To up the taste, add 1 envelope chicken bouillon granules to the white sauce
FRESH EGGS
Frittata; Serves 2
Count on using about 1 cup vegetables, leftovers or canned are perfect. If using frozen or raw, they must be sautéed or blanched first. Frittatas are forgiving. If one sticks and won't slide onto a plate, slice it in wedges and serve it in the pan.
4 large eggs
1 cup vegetables*
2 Tbs. oil
1/8 tsp. baking soda
1/3 cup milk or water, or milk + water to equal this amount
¼ tsp. curry powder
¼ tsp. paprika
Ground pepper to taste
Optional toppings- for example ¼ cup grated cheese or 1 cup tomato sauce.
Cut vegetables to ½ inch size or thin slice *
In a bowl, lightly beat the eggs, with all other ingredients except the oil and the vegetables. Heat the oil in an 8-9 inch skillet over medium. Turn on the broiler. Sauté the vegetables, or if cooked, turn them over in the oil to coat and warm. Reduce the burner heat to medium-low and pour in the eggs. Cook, gently pulling the eggs away from the sides of the pan, and tilting it to allow the uncooked portion to run into the spaces, until the eggs are fairly set, but still quiver in the center. Put the pan under the broiler, until the top begins to tan and all the eggs are cooked. Add the cheese, if using, before broiling and the sauce as serving. Be careful not to put the handle of the skillet in the oven, unless it is metal. Slide the frittata onto a plate to serve.
* If not using leftovers, substitute an equal amount of cooked fresh or frozen vegetables. Broccoli and green beans can be parboiled. Others, such as a zucchini and onion combination don't needpre-cooking.
* ½ cup diced meat can replace ½ cup of the vegetables
NOTE: Recipe can be doubled or tripled.
Eggs Florentine: Serves 4 or 2 for a main meal
(1) 10 oz. box frozen chopped spinach- or (2) 10 oz. boxes for an 8 inch pie plate
4 eggs
1 tsp. salt OR 1 envelope bouillon powder-beef or chicken
Pinch nutmeg
Grated Parmesan cheese
Thaw and drain the spinach in a sieve until it is moist but not wet. Mix in the bouillon or salt and nutmeg then divide one box between 4 greased custard cups or ramekins or two boxes in a greased 8 inch pie plate. Top custard cups with a raw egg or make 4 indentations the top of the spinach and break an egg into each; sprinkle with cheese. Place containers in a pan with ½ inch water and bake at 350 deg. 15 min. or until eggs are set.
Serve with sliced meat, bread or other vegetables such as sliced tomatoes.
Eggs Parmesan: Serves 4—Custard cups are needed for this
4 slices Deli ham—optional
8 large eggs
8 Tbs. heavy cream, half-and-half, or evaporated milk
4 Tbs. Grated Parmesan cheese
Line each custard cup with a slice of ham. Break 2 eggs into each cup. Cover with 2 Tbs. milk or cream. Top each with 1 Tbs. cheese. Place cups on a cookie sheet and bake in a preheated 350 deg. oven until set about 12-15 min. Serve hot with rolls or toast and/or a salad
Classic Quiche Lorraine: Serves 4
Quiche is a dish that allows a lot of room for variety, yet is quite simple to prepare. If one of these won't be enough for your family, make two and use different ingredients. Think of it as if you were making pizzas with different toppings.-but here it's bottoms!
(1) 9 inch deep dish pie shell-store bought is fine—baked
1 Tbs. butter
4 oz. sliced mushrooms—(1/2) 4 oz. can will do –optional
1 small onion diced
4 eggs
1 cup light cream or whole milk
½ tsp. dried mustard OR prepared Dijon mustard
1 cup shredded cheese -Swiss usually preferred
Salt and pepper.
8-10 slices bacon cooked and crumbled OR ¼ lb. sliced Deli smoked turkey
Dash of ground nutmeg
Paprika and dried parsley
Spray skillet with cooking spray and cook bacon until crisp or frizzle smoked turkey and dice. Melt butter in skillet add mushrooms and onion and cook until they render their juice.-about 3 min. Line a 9 inch pie plate with the crust. Put mushrooms, onion and bacon in the bottom of the pie shell and cover with the cheese. Then pour over the eggs beaten until frothy with the milk, mustard and salt and pepper to taste. Sprinkle with the nutmeg, garnish with the paprika and parsley and bake in a preheated 400 degree oven for 15 min .Reduce heat to 325 degrees and bake for 30 min. more. Allow to stand 5 min. before cutting.
NOTE: Quiche can be made with a large variety of ingredients. Actually, the above recipe works with chicken, ham, sausage and most firm fish, shellfish and mollusks in equal quantities, in place of the bacon.
Easy Cheese Souffle: Serves 4- This is a truly never-fail recipe*
3 eggs separated
2 Tbs. butter
3 Tbs. flour
½ cup evaporated milk
½ cup grated cheddar cheese
½ tsp. salt
Beat the egg yolks until pale yellow. Make the cream sauce as described above in Eggs a la King by melting the butter, adding the flour to make a paste and adding the milk, stirring constantly to make a smooth sauce. Add the cheese, yolks and salt. Cool slightly. With clean beaters and bowl, beat the egg whites until stiff. Fold whites into yolk mixture. Pour into an ungreased 1 quart soufflé dish. Bake in a 350 deg. oven for 30 min.
* Anyone who's ever tried to make a soufflé will see this recipe is simplified, but it does work and is great practice for more complex and grand recipes.