Easy, Stress Free Recipes For Mothers' Day Part I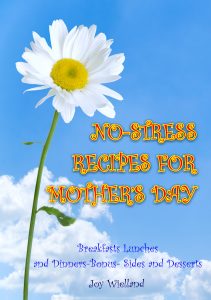 Mothers' Day has a fun, secretly conspiratorial side to it. On Fathers' Day, Mom is still in charge of the meal planning, so it's business as usual but on Mothers' Day, the chief is gone and the Indians are in charge of the game. The point is to give Mom a rest from household chores, mainly cooking.
Even if the game plan includes having dinner out, that still leaves two meals to prepare at home, breakfast and lunch or perhaps brunch and a light supper. The trick is to play it well leaving no bad aftermath, no messy kitchen, no dirty dishes, no spills and above all nothing broken or burned. Usually, that means there still has to be a referee on the sidelines at the very least.
However, the experience of cooking for Mom can still be fun, safe, delicious, enjoyable and above all rewarding for children. A few years ago, I had a chance to work on making Mothers' Day a happy one with two children whose father was deployed. I write about it in detail in my post of May 10, 2012 "A Full Day's Recipes that Need Little Supervision" and also include it in my book No Stress Recipes for Mothers' Day I don't know who felt prouder, or more gratified, at the end of that adventure, me or the children.
In that case, I showed the children how to plan the day's meals, helped to provide the supplies and did most of the advance preparation. I chose recipes that were suitable for their age skills, yet would please their Mother.  I knew that once breakfast was served, she would catch on to the day's agenda and keep a watchful eye on them as they finished and served the dishes. The day was a big success, so much so that I did an 'encore' the following year, but that's a story for next week. This week I'm sharing a few of the child-friendly recipes that can brighten your family's Mothers' Day by making the menus stress free. They're a sample from No Stress Recipes  for Mothers' Day. Side dishes scaled to be child-friendly are included. The accrual menus I did with the children, and directions on helping them prepare the dishes in advance are in the book.
BREAKFAST
Fast Fruit Crisp: Serves 4-This can be made with one type of fruit or a mix. This is a mix.
2 apples
2 pears
¼ cup quick oats
¼ cup flour
¼ cup brown sugar
¼ cup butter or margarine
½ tsp. cinnamon
Cooking spray
Peel and core the fruit and cut it in thick slices. Lay the slices not overlapping in a lightly sprayed pan. Put the sugar, flour, oats in a bowl and mix in the butter until texture is crumbly. Sprinkle the topping over the pieces of fruit, and bake in a preheated 350 deg. oven 15 to 20 min. until topping is golden and bubbly.
Store Purchased Pancakes and Waffles—Upgraded for a Special Day
The waffles can be topped the traditional way with butter and syrup but can also be served with   various fruit toppings.
Pancakes can be served traditionally too but try folding them over fresh fruit slices, which have been microwaved with a pinch of sugar just to take the crispness away, or use canned fruit. Wrap the fruit in the pancakes with a dollop of sour cream, yogurt or cottage cheese. Garnish with powdered sugar if you like.
LUNCH
Orange Banana Salad; Serves 4
2 large oranges
2 large bananas – thickly sliced
2 cups alfalfa sprouts
2 cups cottage cheese
6 cups shredded lettuce
1/3 cup sunflower seeds
1 Tbs. Walnut oil or dark sesame oil
Remove about 2 Tbs. zest from the oranges. Cut them in half and remove the sections over a bowl, squeezing the juice from them into the bowl after the meat is removed. Line 4 plates with the lettuce. Divide the sprouts over the plates and then the banana. Top with the drained orange sections. Put ½ cup cottage cheese in the center of each plate. Mix the oil with the orange juice and sprinkle over the cheese. Garnish the plate with the sunflower seeds.
Zucchini, Onion and Bean Salad: Serves 4 –Can be made ahead
2 large zucchini OR 1 zucchini and 1 yellow squash thickly sliced
1 medium onion thinly sliced
15 oz. can cannellini beans drained
1 Tbs. oil
1 fresh lemon
¼ tsp. garlic powder
Place the zucchini and onion in a microwave safe bowl; add the oil and the garlic powder. Microwave on high 2-3 min until soft.  Zest and juice the lemon. Combine vegetables, beans and lemon in one bowl. Check for taste, add salt and pepper if needed and adjust seasonings. Chill at least 30 min. or until ready to serve. Suggestion–serve on lettuce lined plates.
DINNER
Chicken with Mustard and Honey: Serves 4-easy to divide and/or multiply
NOTE: The seasoning ingredients are placed under the skin to help them infuse the meat.
4 large chicken thighs
4 tsp. honey
4 tsp. Dijon or grained mustard
¼ tsp. ground black pepper–optional
Mix the honey, mustard and pepper, if using. Lift the skin on the chicken and place 2 tsp. of the mixture on the meat. Place the pieces slightly separated in a roasting pan. Bake in a preheated 350 deg. oven for 30- 40 min. or until juices run clear when pricked with a knife point.
A pan sauce can be made by adding a bit of apple juice, cider or broth to the pan drippings to deglaze.
*Both the above two entrees go well with broccoli, green beans or asparagus cooked and served with a sprinkle of lemon-pepper, and sweet potato fries cooked along with the meat in the oven.
Grilled Swordfish Steaks with Melon Salad:
This is a salsa I worked out and find very refreshing. Fresh fruit is necessary though, and try to make it at least 30 min ahead. Mango or peaches would probably replace the melon, and Marlin, or even Tuna the Swordfish.
4 thick Swordfish steaks –Tuna will do as well.
2 Tbs. butter – divided
¼ cup White wine
½ a cantaloupe – cut in bite sized cubes
1 small red onion diced
½ a green bell pepper diced
¼ cup chopped fresh mint or to taste
½ a lime juiced
1 lemon quartered
Cooking spray – if broiling
Kosher salt
Mix the melon, mint, onion, green pepper and lime juice in a bowl and chill to let flavors meld.
Prepare grill or broiler. If broiling, put fish in a sprayed pan, and dot with the 1 Tbs. butter. Cook about 6 inches from broiler, about 8 min total, depending on thickness of fish, without turning until fish is opaque. Deglaze pan with wine, and pour over plated fish. For grilling, melt 1Tbs.butter and cook fish over direct hear about 4 min. per side, brushing occasionally with the butter, again until opaque, turning once.  Melt the rest of the butter in a saucepan with the wine, pour over fish and serve. Divide the lemon quarters and the salsa between the plates
Suggested sides: If available corn-on the cob, if not, perhaps parsley buttered potatoes. Combine (2) 14oz cans drained, tiny whole potatoes, 1 Tbs. butter and 1Tbs. dried parsley in a microwave safe bowl, and cook until butter is melted and potatoes are hot. Toss before serving, or 1 lb. Whole Green Beans cooked and drizzled with oil and lemon pepper.
DESSERTS
Pistachio Pie:
1 store purchased chocolate crumb pie crust – 9 inches
1 pkg.Pistachio instant pudding and pie filling
3 cups vanilla frozen yogurt
1 can chocolate fudge sauce – or Quick Set Shell Sauce
Soften the yogurt and mix with the pudding. Fill the pie shell and re-freeze. Decorate the top with a lattice pattern or swirls of the chocolate sauce before serving.
Wrapper Fruit Cups: Makes 12
24 Wonton Wrappers
2 cups raspberries, blackberries, blueberries or strawberries sliced
2 cups yogurt- vanilla or lemon Or 1 pkg. instant pudding and pie filling – flavor optional
2 Tbs. melted butter
Cooking oil
Powdered sugar
With a little oil on a paper towel, lightly coat the inside of each muffin cup in two 6 cup pans. Lay one wonton wrapper on a diagonal in each cup and lightly butter it. Butter the remaining 12 wrappers and lay them on top of the first in the cups on an opposite diagonal making sure the points form sides to the cups. Bake in a preheated 350 deg. oven for 10 min. Cool and remove from pan. Mix I cup berries into the yogurt or pudding and spoon into the cups. Top with remaining berries and garnish with sugar. Serve at once.