EASY BACK-TO-SCHOOL DINNERS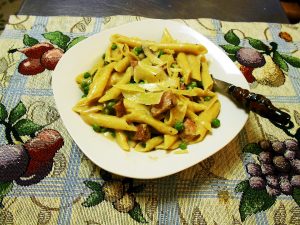 Labor Day is a unique holiday, not only in origin but in its effect on our attitude and behavior. In my resort hometown, the change was dramatic. The tourists disappeared, literally, overnight. Gone was the traffic, the flow of beach-goers, the sounds of lifeguards whistles, sputtering motorboats and the drone of banner planes, as well as the coconut smell of suntan lotion and the allure of charcoal grills heating up. The weather was unchanged but the summer was OVER.
In the places I've lived since, this change was less dramatic but just as evident. Americans transform in very few hours, from a relaxed, convivial mood to one of business-like efficiency. In addition, schools open in this narrow window and parents are preoccupied with setting-up schedules for that, after school activities, evening orientations and, once again, study time.
It's a hectic time, new schedules need time to become routine and often dinner is a victim of a squeeze play. What's needed are fast, easy recipes, which can be simply and neatly prepared, because there's no time to change clothes. It's also a help if the meals can be served and/or cooked in individual portions, in case of appointment conflicts.
I'm re-posting my 3 favorite dinners for the back-to-school crush. First, though, I want to share a trick I learned which opens a variety of great recipes not just for week nights but for anytime you want a nice meal without much effort. Chicken, pork and turkey can substitute for veal in many recipes, and are interchangeable in most of their own, especially dishes in which the meat is sautéed and served in a pan sauce. This includes most of the dishes popular with today's chefs and diners across cuisines.
Although the current food focus is on 'fast, easy, fresh', when a meal has to be ready in a hurry, the key words are 'fast and easy'. Starting with a freshly made pan sauce then adding cooked, rather than raw meat, shortens and simplifies the preparation time and results in acceptable renditions of these recipes. Meat prepared ahead, even in a pinch 'Deli' slices, are O.K. but this is one of my favorite ways to use leftovers and not just from last Sunday's roast. I've used packets of frozen turkey stripped from the holiday bird. Plus, the wide variety of menu choices keeps the family interested in 'dinner'.
I'm using some familiar pan sauce recipes to show how easy it is to convert them into speedy dinners. Since raw meat isn't being cooked, I add bouillon granules to compensate for the loss of flavor from pan juices and reduce the amount of oil to equal that remaining after meat is sautéed. I also quote the quantity and type of raw meat stated in the original recipes so you can calculate your needs and options. I'm sure if you just study these below, you'll be into transforming family favorites into week night meals too. However, if you want to try the recipes in their original form, simply re-adjust them. Brown the raw meat first in oil and/or butter and lengthen the simmer time until the meat is cooked through. The other ingredients and the way they are handled are unchanged.
Let's start with an easy, child-friendly recipe, followed by two familiar ones, then my personal favorite and finally my three standard go-to recipes for back-to-school time.
Orange-Soy Sauce: Serves 4 –The best substitutions for the pork are turkey or chicken dark meat. There are 2 recipes here, pick the one which best fits your schedule and the supplies you have on hand.
The meat in the original recipe is:
1 ½ lb. thin pork chops=@ about 1lb.-1 ¼ lb. cooked meat.
Recipe #1
½ cup marmalade
½ cup soy sauce
1 tsp. chicken bouillon granules
1 tsp. oil
Mix these ingredients together and pour over meat in a pan. Simmer over low about 8- 10 min. until flavors are melded and the meat is heated through.
Recipe #2
1 cup orange juice OR 2 Tbs. frozen orange juice concentrate +1 cup water
1 Tbs. soy sauce
¼ tsp. garlic powder
¼ tsp. chicken bouillon granules
Sugar to taste-optional
2 tsp. canola oil
Freshly ground pepper, to taste
Mix all the ingredients and bring to a simmer. Add meat and simmer over low heat about 10 min. or until sauce reduces and thickens a bit.
Marsala Sauce: Serves 4-The best option for veal in this recipe is white meat of chicken or turkey.
1 lb. meat (veal cutlets-if using raw meat, roll in 1/2 cup flour)
2 Tbs. butter
1 tsp. flour
1 tsp. chicken bouillon granules
½ onion sliced thin
½ cup Marsala
Salt and pepper to taste
1 lemon sliced thin
Dissolve the flour and bouillon granules in the Marsala. Saute the onion in the butter; add the Marsala and stir until sauce starts to thicken. Add the meat, spoon some sauce over, top with the lemon, cover and simmer on low about 10 min. Plate and serve.
.Pepperonata: Serves 4-The original recipe calls for 1 ¼ lb. boneless, skinless chicken breasts cut in strips, so this rendition is pretty much made for leftovers.
1 lb. cooked turkey, chicken or pork
1 large onion in Julianne lengthwise*
2 large red bell peppers sliced in Julianne lengthwise*
*OR ½ lb. frozen bell pepper and onion mix =(1/2 ) a 16 oz. bag + more if desired
2 Tb. oil
½ tsp. garlic powder or to taste
½ tsp. chicken bouillon granules
1 small bunch basil-leaves stripped and torn OR ½ Tbs. dried—Optional
Saute the peppers and onions in the oil until just beginning to soften. If using raw vegetables, start the onions about 3 min. ahead. Add the garlic and chicken bouillon and stir to dissolve. Add the meat and simmer over low, covered, about 10-15 min. until peppers are soft.
Note: Beware if the vegetables are still frozen the water they hold will sputter when they hit the oil. Put them in the fridge in the morning, or give them about 20 sec. in the microwave and drain before adding to the oil.
Deviled Sauce: Serves 4–The best substitute options for pork in this recipe would be dark meat of turkey, or chicken. Also, it can be done in stages to suit your schedule.
@ 2 lbs. meat (8 pork chops – rib or loin)
2 Tbs. butter
1 Tbs. oil
½ cup water
1 tsp. chicken or beef bouillon granules
3 Tbs. chili sauce
½ large onion thinly sliced
½ tsp. dry mustard
2 Tbs. lemon juice
2 Tbs. Worcestershire sauce
½ tsp. Paprika
Trim meat well and make a marinate of last 7 ingredients. Marinate meat overnight, or up to 3 days. Scrape off the marinade and reserve. Melt the butter in a skillet over medium heat and brown the onion adding more butter as needed, and then the oil. Deglaze the pan with the water. Place the meat in the pan, with the reserved marinade. Cover and simmer on low for about 10-15 min. Serve with the marinade as a sauce.
QUICK SIDES: The entrée is only half the problem when you need a quickly prepared meal. Choice of sides can be one too. Frozen veggies are part of the answer. Pre-cooked rice, and 'instant' boxed sides are another, but, when it comes to potatoes, I like to do my own. Microwaved sweet potatoes are great when split and toppings added. White potatoes are better pricked and nuked for about 2 min. then split lengthwise in halves or quarters, buttered and browned under a low broiler or roasted at about 400 deg. for 20 min. until brown. Another presentation is to nuke them, then cube them, dot them with butter, liberally sprinkle with parsley and microwave for about 2 min. until tender.
THE THREE STAND-BYS
Penne With Ham and Peas in Creamy Sauce: Serves 4-This is quick to make and portions can be set aside to reheat in the microwave for about 2 min.
(1) 1 lb. box of penne –I like  the whole grain or equal amount of cheese tortellini
2 cups frozen or fresh peas – not canned
4-5 oz. Sliced ham cut in 1 inch squares  OR 2 cups leftover ham  in ½ inch pieces ***
2 Tbs. oil
1 tsp. chicken bouillon granules
¼ tsp. garlic powder—optiona
1 cup skim or 1% milk, or half and half *
1/3 cup pasta water
Shredded or grated Parmesan cheese.
Cook the pasta according to box directions until just al dente= about 8-9 min. Drain over a bowl saving the pasta water. Return the pot to the stove. Add the oil and ham and stir over medium heat until ham pieces separate.  Add peas, bouillon and if using, garlic powder. Stir to dissolve powders and coat all ingredients with the oil. (2 min. total) Return the drained pasta to the pot. Add the pasta water and milk and/or cream. Raise burner temperature to high, bring contents to a full boil. Occasionally lifting the pot to prevent sticking, maintain at a boil, stirring constantly with a wooden spoon until a creamy sauce forms. (4 min.) Remove from heat at once. Divide among plates and generously garnish with Parmesan. Serve hot.
*Whole milk and light cream separate and curdle when boiled
Potato Hot Pot: Serves 2- This is easy and fast to prepare. Using canned, sliced potatoes cuts the cook time in half and reduces the prep skills required to only a can opener. Can be made in individual portions and cooked separately.
15 oz. can diced tomatoes- drained juice reserved
15 oz. can dark kidney beans-drained juice reserved-really any beans can be used.
1 cup cut green beans –briefly cooked
1 medium onion in ½ inch dice
1 Tbs. oil
4 hot dogs each cut in 6 pieces
2 large potatoes-white or sweet
Salt and pepper
Cook the beans to crisp tender. Pierce the potatoes with a fork and microwave 3 min. When cool cut into thin slices. Saute the onion in the oil until soft, remove from heat. Add all the ingredients but the potatoes to the pot and warm slightly. Add enough reserved juice to give the consistency of chili. Ladle into oven-proof bowls and cover the tops with potato slices in a circular pattern. Bake 35-40 min in a 350 deg. oven until mixture bubbles and potatoes are golden. Serve at once.
Glamorous Ham Casserole: Serves 4. – This is easy to prepare and leftover portions reheat well in the microwave.
2 cups cooked rice – suggest packaged pre-cooked product, Uncle Ben's or Zataran's*
2 cups cooked ham in ½ inch dice. About ¾ lb. 3 thick slices from the Deli work fine.**
2 eggs beaten
2 plum or small tomatoes in large dice-do not use canned tomatoes
1/3 cup green bell pepper diced
¼ cup diced onion
1 ½ tsp. Dijon or spicy brown mustard
1 ½ tsp. Worcestershire sauce
¼ cup cream sherry
½ cup light cream
½ cup bread crumbs
2 Tbs. melted butter
Paprika and parsley to garnish
Combine all ingredients, except last three, in a lightly greased 2 qt. casserole. Stir to mix well. Combine butter and bread crumbs, sprinkle over top. Decorate with parsley and paprika. Bake 350 degrees for 45 min or until nicely browned and bubbly.
*The pre-cooked rice packets only take a couple of minutes in the microwave-if you are using leftover rice, or making your own, do not use the minute type.
** This is a great dish for leftovers, and suitable for a buffet as well as a week night. Smoked turkey can be substituted for the ham.