Discover A New Type Of Cookbook For Busy People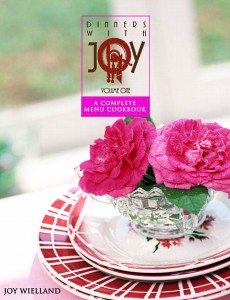 This is truly the perfect cookbook for busy people who like good food and makes a great gift. The restaurant quality recipes have been modified for easy, even advance prep and quick cooking.  It  can provide an answer for that nagging question  asked, by yourself, or another at the end of a long day; "What's for dinner?" and teaches by example how to avoid that stressful dilemma permanently. The introduction contains information on fats, carbohydrates, choosing and using poultry, meats and seafood as well as  making gravies and sauces and their various types from dips to desserts.
However, the real difference with this cookbook is in the formatting. It's based on a professional chef's approach to menu planning. Healthy, balanced entrée dishes, with suitable side recipe suggestions, are arranged in twelve weekly groups, three months, each accompanied by cooking tips covering everything from specific directions to general information such as freezing raw and cooked foods, a dessert recipe, and most importantly a detailed shopping list complete with pantry check. This shopping list is key to relieving the stress of meal planning.
Whether one simply pulls it up and heads to the store, or crosses off ingredients of a  recipe they don't want  and substitutes those of one they do, a list will function. It is important to keep the food categories intact though, when altering ingredients, because maintaining the order is needed  to make the menu planning process easy. Used as  learning tools the lists in the book illustrate how to effortless it can be to provision a week's meals. It's very relaxing to know that in one trip you have the whole week covered—completely—no quick trips to pick up something!
The weekly entrees themselves are varied; a poultry, a pork, a beef, a seafood, an ethnic dish, a casserole and a fun meal. They are presented in the same sequence only to simplify editing. They can be switched or replaced as desired. Again, the important fact is that any ingredients required for the week are transported to the list and entered in the proper category or deleted if rejecting a recipe.
For the truly busy person, several recipes can be prepared ahead  for the night there will be no time to cook, or made in excess for anticipated guests and frozen. Those recipes are noted and freezing, plus re-heating instructions are included. Also included are suitable suggestions  for restricted diets where indicated, mainly for the pork, ham and shellfish recipes.  A recipe, Pork Chops Basil, with both notations is included below as an  example.
Does the book work? Well a friend had a printed copy on her desk recently, when an associate known for his disdain of cooking was intrigued by a recipe. He was amazed when he was able to successfully make it and bought the book. He hasn't turned into Chef Clifford, but he is now interested in trying dishes at home and has even entertained. The recipe that started him off, Chicken in Lemon Wine Sauce is also listed below, as is a sample of a week's menu with its shopping list. Any special notations or references were covered in that week's tips section.
CHICKEN IN LEMON-WINE SAUCE
A classic dish, with recipes found in various forms, but always a good choice.
Saute-Skillet
4 boneless, skinless chicken breasts
¼ cup flour
2 Tbs. cooking oil – -canola
2 Tbs. butter
1 small onion diced
2 cloves garlic sliced
1 lemon  – zested and juiced
1/3 cup white wine – – recommend dry vermouth
¾ cup water
1/2 envelope chicken bouillon granules
½ cup chopped fresh parsley – – or 2 Tbs. dried
2 tsp. garlic powder
Pound chicken between two pieces of plastic wrap, to an even thickness, and dredge in flour. Place 1 Tbs. oil in a skillet over medium heat and begin to cook chicken, add 2 Tbs. butter, and brown chicken in both sides – @ 6 min. total. Remove chicken to a plate. Add 1Tbs. oil to pan and sauté onion until soft @ 2 min., add sliced garlic and sauté 1 min, more. Add wine, and deglaze pan by scraping all the browned bits from the surface with a wooden spoon. Add water, bouillon powder, 1 Tbs. lemon juice, and return chicken to pan. Reduce heat and cook, uncovered, over medium- low about 8-10 min. until chicken is done and sauce thickens.
Meanwhile, make what the Italians call "Gremalata" by mixing the parsley, garlic powder and lemon zest in a small bowl.
Plate the chicken pieces individually with sauce. Top each with a small portion of gremalata, and pass the rest.
Suggested sides: 1 lb. fresh sugar snap peas or (1) 10 oz. box frozen. Blanch in boiling water @ 2 min. Drain and toss with 1Tbs. olive oil and 1/8 tsp. lemon pepper.
4 sweet potatoes, washed, dried and lightly rubbed with butter. Pierce Xs with a fork in the tops, and microwave, on a paper towel, as oven directs @ 6-9 min. Split tops and fill with butter or sour cream. For an added taste boost, add a drizzle of maple syrup.
PORK CHOPS BASIL
This is an old family favorite, and it also works well for roasts but consult charts for temperature and cooking times per pound. It can be refrigerated for three days, or even frozen for three weeks, after the baking, so it can be made ahead and quickly ready on a rushed night. Veal chops, boneless chicken thighs or turkey cutlets may be substituted for the pork.
Bake: Oven Proof Pan
(8)  ½ inch thick center pork chops well trimmed*
½ cup flour
1 Tbs. garlic powder
2 Tbs. dried basil
½ a small can frozen orange juice concentrate
Water to dilute juice @ ½ cup
¼ cup cream sherry
Sprinkle half the garlic powder and half the basil in the bottom of an oven proof dish or pan that will hold the chops closely but not overlapping. Dredge the chops in the flour, by shaking in a plastic bag, one at a time, making sure they're well coated. Place in pan, and sprinkle the rest of the garlic and basil over them. Cover and seal the pan with foil. Bake, preferably at 250 degrees for 2 hours, but acceptable at 350 degrees for one hour. Remove from oven, turn on broiler, and lift foil.** Dilute orange juice with the sherry and just enough water to come almost to the top level of the chops in the pan, and pour over the chops. Broil until chops brown and the sauce thickens.
*If using the chicken, divide the thighs into 2 pieces and pound them between plastic wrap to an even thinness. Baking time for poultry will be reduced by as much as 1/3 depending on thickness of meat.
** Can be frozen at this point, be sure chops are room temperature.  Return to room temperature, add liquid and proceed as above.
Suggested sides: 2 boxes. 10 oz. each, cooked squash. Drain well, mix with 1 Tbs. butter, salt, pepper and sugar to taste. Heat in microwave according to package directions.
(2) 10oz boxes, chopped spinach. Drain, put in a greased pie plate or shallow casserole. Mix with 2 raw eggs and 2 packets chicken or beef flavored bouillon granules. Top with a sprinkle of nutmeg, and bake along with meat .for 30 min. at 250 degrees, or 20 min at 350 degrees.
A Weeks Menu
Mustard Chicken
Cauliflower au Gratin
Italian Green Beans
Pork Madrilène
Baked Sweet Potatoes
Sugar Snap Peas
Grilled Steak with Skewered Vegetables
Caesar Salad
Broiled Scallops
Broccoli Crowns Ranch
Tomatoes Basil
Ham with Asparagus
Chicken Flavored Rice
Pickled Tiny Whole Beets
Stuffed Zucchini
Linguini al alio
Green Salad
Artisan Bread
Salad Nicoise
Special Dressing
Warm Rolls
Key Lime Pie
SHOPPING LIST
An "x" marks the items now in the house              
PANTRY CHECK
Dijon or Spicy Brown mustard- x
Garlic powder –x
Mustard powder
Envelopes of chicken bouillon granules – x
Salt & pepper – x
Dried parsley – x
Dried oregano – x
Dried basil – x
Dried tarragon – x
Grated Parmesan
Paprika – x
Lemon pepper – x
Kosher salt – x
Black peppercorns
Oil – cooking and olive – x
Butter – x
Flour – x
Cornstarch – x
Salt & pepper – x
Sugar – x
White vinegar – x
Red wine vinegar – x
White wine – x
Madera
Bread Crumbs or Panko – optional – x
(4) 6 inch bamboo skewers
MARKET
 MEAT
4 chicken parts-breast or thigh- with bones and skin
(8) ½ inch slices of pork loin or center chops
1 lbs. ground Beef
1 ½ pts. or 1 ½ lbs. SEA Scallops = 20 to 24
2 lbs. beef for grilling ½ to ¾ inch thick – see Charts
8 slices Cooked Ham at least 1/8th inch thick – from Deli
PRODUCE
2 large all-purpose potatoes – x
2 large onions – x
2 medium zucchini AND 4 large zucchini
2 medium yellow squash
8 cherry tomatoes
1 green bell pepper
2 lemons
24 asparagus spears fresh OR frozen
1 Head BOSTON lettuce see Recipe # 7
¾ lb. red skin or new potatoes
¾ lb. whole green beans
1 large Bermuda or red onion
3 or 4 large tomatoes – depends on size = x
1 small shallot    – an onion will do – x
Key Limes-at least 15 – or @ 3 regular ones
DAIRY
1 qt. milk
8 oz. shredded Sharp cheese
¼ cup light cream – optional – x
1 cup grated Parmesan-at least see recipes # 1& # 6
4 eggs – x
8 oz. sour cream
(1) can Whipped Cream
GROCERY
(1) 10 oz. can Madrilène
(3) 8 oz. cans tomato sauce
(2) 7 oz. cans White Albacore Tuna in water
(1) 2 oz. can anchovy fillets – x
(1) 5 oz. can colossal pitted ripe olives
1 envelope Unflavored Knox Gelatin – check pantry – x
1 can Sweetened Condensed Milk – x
(1) 9 inch Unbaked Pie Shell purchased or homemade – x
SIDES
1 head cauliflower
Grated Parmesan – check pantry
4 sweet potatoes or 1 box frozen Candied Sweet Potatoes
(2) 15 oz. cans Tiny Whole Potatoes – x
Ground Cinnamon – check Pantry – x
(2) 15 oz. cans Tiny While Beets
Cider Vinegar – check Pantry – x
1 box frozen Italian green beans
½ lb. thin Linguini – see recipe # 6
1 lb. green leaf lettuce
1 box sweet pea pods
1 small red onion
1 lb. Romaine lettuce
1 Loaf Crusty Bread
2 broccoli crowns – x
Crescent or other Dinner Rolls – x
2 large tomatoes – x
1 box chicken flavored Rice Mix or See Recipe # 5
Caesar and Honey or Ranch Dressing – x