Composed Salads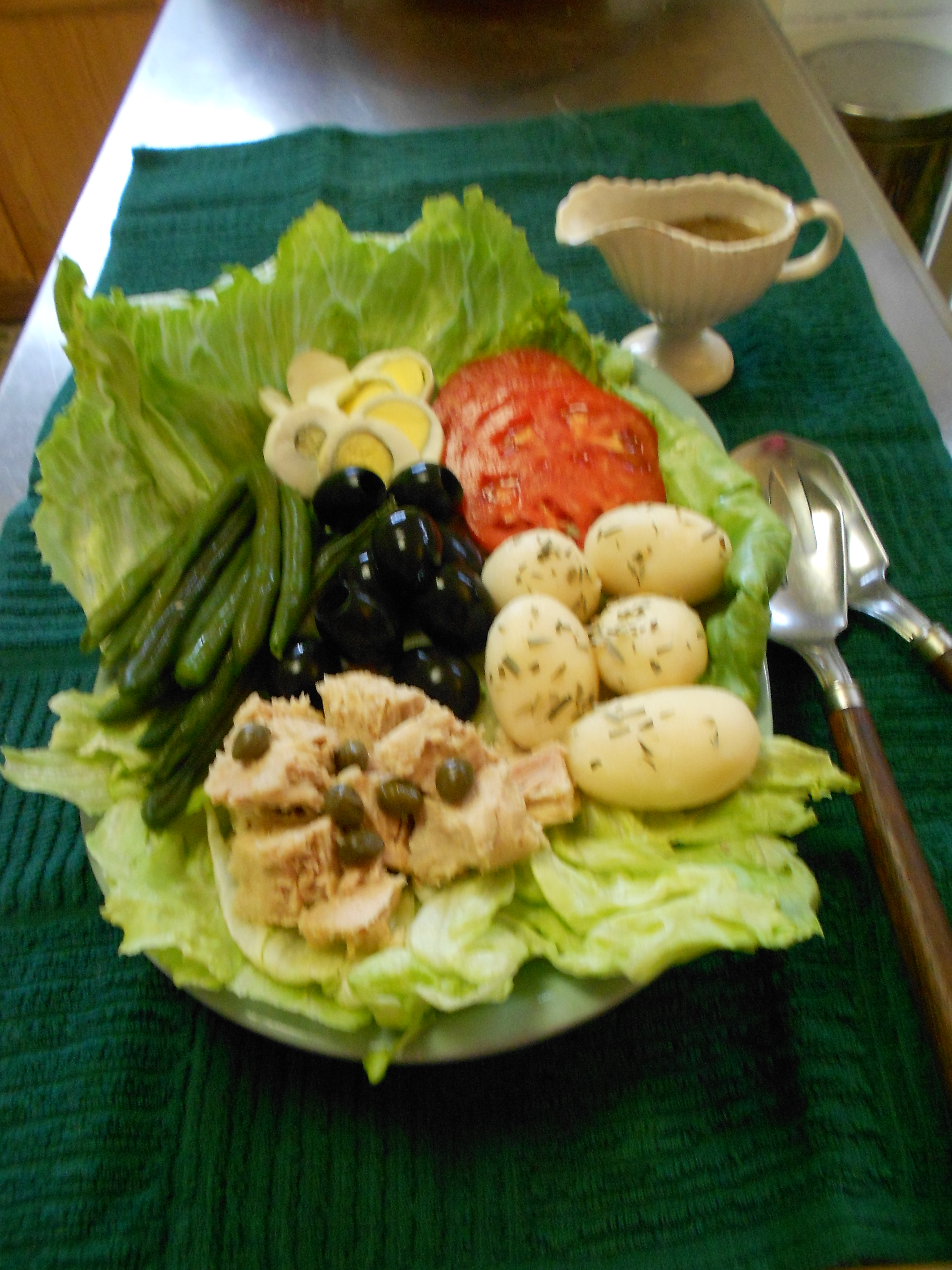 Composed salads, as opposed to tossed ones, are salads in which the ingredients are carefully arranged. They are also salads featuring protein as one of the principle elements. As a result, they make excellent luncheon or dinner entrees, especially in hot weather when steamy kitchens and heavy meals aren't appealing. Other advantages are that many require no more than a can opener and a sharp knife and can be assembled using Deli purchases and/or leftovers. Arranged on a large serving platter, just add a loaf of artesian bread, allow everyone to help themselves, and you have a full, satisfying meal. What more can a busy family ask for?
Moreover, these salads, well presented can be showstoppers. Nutritious, heart smart, low fat and healthy, they are acceptable for most dietary requirements. A study of the recipes shows they are economically conservative too, making them perfect, not only for family dinners but also for entertaining. As a meal category, they are a good example of this site's motto—Making wonderful scents, while saving cents, by using sense.
Below are some classic recipes for composed salads Perhaps the best all-around example is the Cobb Salad. Dating to the 1930s, it was invented using leftovers by Bob Cobb, manager of the Brown Derby, as a late-night meal for some unexpected celebrities. All recipes serve 4.
Cobb Salad
1 Head Romaine lettuce –A combination of iceberg and Romaine is better, with some watercress added for taste.
3 large eggs hard boiled and in large dice
1pt. grape tomatoes- halved – or 2 large tomatoes diced
5oz. package of crumbled Roquefort cheese
2 avocados diced
4 slices bacon cooked and crumbled
2 cups cubed cooked chicken
Dressing*
Cut the greens in small pieces or ribbons. Toss them with the dressing and spread them on a platter as bedding. Starting at the left, line the other ingredients in stripes across the platter in the order listed above.
*The traditional dressing mentioned for this is French, but it was a special blend, not the commercially bottled found in a market. For convenience, oil and vinegar vinaigrette, such as Balsamic, would be a good substitute, especially with the addition of a dash of Worcestershire and a bit of mustard powder.
Salad Nicoise
1/2 small head of Romaine coarsely chopped
(3) 6oz. cans tuna-solid white is best- drained
½ lb. green beans – whole is best but frozen cut are fine
(2) 15oz. cans small whole potatoes-drained
2 large tomatoes sliced
3 large eggs hard boiled and sliced
(1) 6oz. can pitted ripe olives
½ cup white wine
Capers for garnish – optional
Cook the green beans just to crisp-tender. Marinate with the potatoes in the wine for 1hr. at least.
Line a platter with the Romaine. Arrange the other ingredients in a clockwise pattern starting at the number 6 position in the following order: Tuna, green beans, eggs, tomatoes, potatoes. Fill the center with the olives. Garnish the tuna with the capers.
Nicoise Dressing: 6 servings*
4Tbs. minced shallots – or mild onions
2Tbs. dry mustard – 4 of Dijon can be used
5 drops of hot sauce
5Tbs red wine vinegar
3Tbs fresh lemon juice – 4tsp. of concentrated will do
2 ½ cups salad oil.
1 Tbs. dried Tarragon or to taste
Mix the ingredients well and allow to meld for several hours. Drizzle a little over the Tuna, and serve the rest on the side. Chill leftover for other salads.
*A simpler dressing can be made by combining in a jar and shaking.
¼ cup olive oil
2 Tbs. white wine vinegar
½ tsp. Dijon mustard
1 clove garlic- mashed
1 tsp. dried tarragon
Roast (or Grilled) Beef Salad
5 oz. roast, or grilled beef sliced thinly-Deli or leftover grilled will do
3 oz. blanched snow peas in 3 inch slices
1 red beet peeled and cut into matchsticks
1 small head green leaf lettuce-chopped
1small onion thinly sliced
2 oz. sliced raw mushrooms
2 oz. bean sprouts
1/3 cup olive oil
1 Tbs. fresh lemon juice
1tsp. Worcestershire sauce
1 tsp. Soy sauce.
Combine the last 4 ingredients in a bowl to make a dressing. Add the beet, onion, and mushrooms to the bowl and marinate 1 hr. Drain the vegetables and toss the lettuce with half the
dressing. Cover a platter with the lettuce, top with the vegetables plus the snow peas Arrange the beef in a decorative circular pattern over them and fill the center with the sprouts. Drizzle the remaining dressing over all.
Antipasto
6-8 oz. sliced salami
2 oz. sun dried tomatoes in oil – drained
(2) 14 oz. cans artichoke hearts- drained and sliced in half
8oz. Cheddar cheese thickly sliced
(1)6oz. can pitted ripe olives
(2)4oz. cans button mushrooms – drained
¼ cup Italian vinaigrette dressing
12oz.= 1 bag baby spinach
Marinate the artichokes and mushrooms with half the dressing in a bowl for 1 hr. drain ,Arrange the ingredients across an oval platter in the following order from left to right cheese, olives, salami, artichokes, mushrooms, tomatoes. Place the spinach in a bowl. Toss greens with the drained dressing, and drizzle the reserved half over the items on the platter.
Be sure to have a large loaf of crusty artesian bread to serve with this.
Lamb Salad with Mint
12 oz. cooked sliced lamb –well trimmed of fat- leftover is fine
1 pt. cherry tomatoes- halved
1 small head red-leaf lettuce olive oil
¼ cup olive oil
1Tbs. white wine vinegar
½ tsp. Dijon mustard
½ tsp. sugar
1 Tbs. + 1 tsp. chopped fresh mint
4 oz. feta cheese
Place oil, vinegar, mustard, sugar, and 1 Tbs. mint in a jar and shake well. Cut the lettuce in salad sized pieces and place on a platter. Arrange lamb and tomatoes on top, drizzle with dressing, crumble cheese over and garnish with the remaining 1 tsp. mint.
Oriental Pork Salad
1 lb. lean raw pork-tenderloin, center chops or 12 oz. leftover roast
1 tsp. shredded gingerroot or 1 tsp. ginger powder
1 clove garlic minced or 1 tsp. garlic powder
2 Tbs. soy sauce
4 Tbs. oil—Not olive – Divided
1 medium carrot shredded
8 oz. Chinese cabbage- shredded
2 scallions thinly sliced
(1)15oz.can pineapple chunks—drained 2 Tbs. juice reserved
¼ cup white wine vinegar
½ tsp. honey
¼ cup sprouts for garnish
Place ginger, garlic 1 Tbs. pineapple juice and soy sauce in a plastic bag with meat and marinate overnight. If using raw pork, hear 2 Tbs. oil in a skillet and brown meat with marinade slowly for about 10 min. or until just cooked through. Allow to cool and slice. If using leftover pork, heat the oil, add meat and marinade, heat through, turn off heat, cover and allow to absorb flavor for about 20 min.
Combine 2 Tbs. oil, 1 Tbs. pineapple juice, vinegar and honey in a jar, add any marinade left in the pan, to taste and shake well. Plate cabbage and carrots, top with pineapple chunks, then pork slices. Drizzle with dressing and garnish with sprouts.
Cranberry Salad Dressing (for Poultry)
¼ cup cranberry sauce – whole berry
1 Tbs. oil
1 Tbs. white vinegar
2 oranges sectioned
2 Tbs. chopped salted nuts
1 lb. sliced cooked chicken or turkey
12oz. greens in salad sized pieces.
Arrange orange sections and meat slices on greens. Place the cranberry, oil and vinegar in a jar and shake well. Pour decoratively over meat. Garnish with nuts.
There you have 7 attractive, healthy, affordable meals which need very little time or effort. So eat well, enjoy—and don't forget the bread!!