Can I help? BOOK PROVIDES SUMMER FUN, BONDING WITH CHILDREN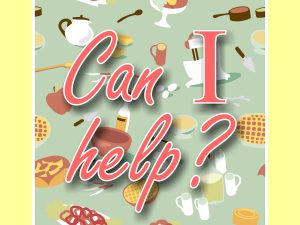 If a bored child wanders into a kitchen and asks Can I help? it's a plea to be given an activity, but if a slightly knowledgeable one asks the same question, it's a welcome offer of assistance. The neat thing is that the first child can become the second with a little time, effort and a lot of pleasure. All that's needed is a receptive mood and the best time to find that is during summer vacation.
I confess, I always looked forward to summer vacation as much as the kids did. During the winter, the gathering dusk in the afternoon creates an urgency to get things done before day's end, whereas summer's increased hours of daylight make anything seem possible. The elongated, sunlit evenings are especially relaxing.
Without academic pressures, dinner is no longer a fueling session compressed between after school activities and adequate time for homework before bed. It can be later and leisurely enjoyed, offering a daily bonding opportunity. So why not extend this chance to bond to include the prep time as well? After all, it's a fact that enjoying the fruits of joint labor is a great way to build relationships. Nowadays cooking intrigues boys as much as girls, as I learned from my children and their friends, so the whole family can benefit from the experience.
Psychologists claim habits are formed in three weeks. Hopefully, by September, helping with dinner prep will be so routine that it continues into the fall. Not only will this give you more time with your children and welcome help on those busy winter nights, but working in the kitchen benefits them as well. Of course they're learning about cooking, which is a help once they're out on their own, often as early as college. They're also learning about nutrition and healthy eating especially if they're taught to read the value listing and ingredient labels on packages. There are general life-lessons in safety, handling knives, electrical appliances and working with heat. There is math, a lot of math, not just in measuring and timing but in changing the number of servings in recipes. Above all cooking teaches accuracy, attention to detail AND it requires concentration, all aides in studying and career advancement.
You may ask what young children can safely do in a kitchen, and the answer, as I wrote in my post on 5/4/17, is plenty. To quote myself; "They can spread bread and fill sandwiches, stir and mix, particularly if it involves squishing things with their hands, like meat balls, rinse and drain, or strain and sieve. They can spray oil on pans, shake items in bags to flour coat them, sprinkle herbs for flavor or garnish and they love forming patties, cutting dough shapes, chopping nuts with the bottom of a can and stringing skewers. Older children can measure ingredients, even combine them in to a recipe, open cans, use a grater or chopper, with supervision run a blender or processer and many other tasks. The trick is to give a child a job that requires they pay attention and then more difficult jobs as they progress. Keep an eye on them but don't hover. Play up their pride in accomplishment but don't overly praise, especially the older ones and treat them as colleagues achieving peer status in the kitchen
The person in charge of cooking for the family on a regular basis usually does these things instinctively, because they welcome help on a regular basis. However, for other family members, they are tips to help get to know a child…"
Of course the older the child, the faster will be the progression to the more difficult tasks and assumption of responsibility. This is great for the busy parent, but it also does wonders for a child's self-esteem, especially young teens. The secret is to keep children focused on the creative side of cooking, while introducing the need to clean up after themselves. Don't start them out with a dish towel asking them to dry, no matter how young they are.
In my posts of 5/4/17 and 5/11/17, I offered many recipes from my Mother's Day book. Can I help? includes all of the ones from that book plus many more, 104 in fact, suitable for a wider age range. Below I list some of the more advanced ones. I'm giving 3 dessert recipes, because young people always think making sweets is more fun. Please see the other two postings for a sampling of the simpler ones. To find them simply click on the correct listings in the panorama at the top of the blog Home Page.
Baked Eggs in a Cloud–– Recipe for 4
4 large eggs separated
4 thin slices of ham or smoked turkey
2 drops of cider vinegar
Butter for the pan
Salt and pepper
Optional seasonings
Lightly butter a 7x7x1 ½ inch square ovenproof pan. Preheat oven to 350 deg. Lightly grease the bottom of the pan, and line the bottom and sides with a single layer of ham leaving a slight overhang all around. Whip the egg whites until they stand up in peaks, incorporating the vinegar half way through. Add seasonings. Spoon them over the ham. Using a spoon, make 4 dents in the whites, evenly spaced for portions. Put a yoke in each depression. Bake 12 to 15 minutes until whites are slightly brown and yokes are just set. Serve at once. I like a bit of curry powder or dry mustard in the whites. Alternately serve with Worcestershire sauce to top.
Strata Burger: Serves 4
This is a healthy, fun burger for the family to share, however, if serving 4 for dinner, double the recipe. Either way, the 1 jar of Salsa will suffice. Remember in choosing it that cooking intensifies peppers' heat.
6 oz. hamburger- can also be made with leftover or sliced Deli beef.
¼ tsp. ground cumin
(1) 16 oz. jar garden style salsa – level of spiciness optional – you'll use a little over half
(6) 6 inch tortillas
½ cup sour cream
(1) 15 ½ oz. can black beans rinsed and well drained
(1) 4oz can green chilies
2 Tbs. chopped fresh cilantro
8oz shredded Monterey Jack cheese
Non-stick cooking spray
NOTE: This dish can be made in 6 layers in a 9 inch pie plate or more functionally for serving in two 3 layer burgers in a 13 x 9 inch baking dish.
Brown the beef in a skillet coated with non-stick spray, allow to cool; then mix with the cumin. Spread 2 Tbs. of the salsa in the bottom of the casserole. Top with a tortilla then begin the layering with 2 Tbs. of salsa, 1/6th of the sour cream, then 1/6th each of the beans, beef, peppers, cilantro and cheese. Top with a tortilla and repeat the layering again starting with the salsa and ending with the cheese until all the ingredients are used, pressing down gently on each tortilla to keep the stack level. End with a tortilla. If making two burgers, divide the filling ingredients into quarter portions for each layer.** Can be made a day ahead at this point, cover and refrigerate, then allow to warn a bit before baking. Preheat oven to 350 degrees and bake for 15-20 min., until cheese melts and salsa bubbles.
*This is more attractive if it can be seen through a clear container
** This dish does tend to lean a bit. One way to keep it straight is to put a bamboo skewer down through the center before baking. I make the skewer into a decoration by putting a cherry tomato on it before serving.
Cornish Game Hens with Wild Rice and White Grapes
4 Cornish Hens
1 box Long Grain and Wild Rice
8 lightly toasted slices of white bread if you decide to split the hens into 8 servings
2 cups chicken broth
2 Tbs. cornstarch or flour
¼ tsp. each thyme and rosemary
1 Tbs. butter
1lb. seedless white grapes, stems removed
Prepare the rice according to package directions, and use it to stuff the hens. If the birds are split, cover each stuffed half with a slice of bread and invert as placed in the pan. If left whole, place the hens breast side up in the pan. Rub the butter over the game hens. Pour ¼ cup broth in the bottom and roast at 350 deg. for 1 hour, basting every 20 min. and maintaining the fluid level in the pan. Meanwhile chop the giblets and cook them in 1 cup of broth. Spread the grapes out in a microwave safe pie plate with 1 Tbs. water. When the hens are done, add the pan drippings to the remaining broth with enough water to equal 1 cup. Dissolve the four or cornstarch in the cold broth, and add to the pan with the broth and giblets. Cook over medium heat until the sauce thickens. Microwave the grapes 30 sec. before serving and plate with the hens. Serve the sauce on the side. The rest of the Romaine will make a salad to complete this meal.
Baked Alaska Pie
1 1/3 cups graham cracker crumbs*
¼ cup butter or margarine melted
¼ cup sugar
1 quart ice cream – NOT one with sauce swirls
2 egg whites
¼ cup sugar
1 tsp. vanilla or almond extract
2 drops vinegar
Mix first 3 ingredients and press into a 8 to 9 inch pie plate. Bake at 375 deg. for 10 min. Cool then freeze. Fill shell with very firm ice cream and freeze again. Beat egg white until soft peaks form, add vinegar and continue beating. Gradually add sugar until stiff, glossy peaks form hen beat in extracts. Spread the meringue over the ice cream, sealing the edges and place under a preheated broiler for 2 min. until slightly golden. Serve at once.
*This can be made with a commercial graham crust but it yields a smaller pie needing less ice cream and with fewer servings.:
NOTE Broiling makes this a safe egg dish
Pear Ginger Upside-Down Cake
(1) 17 oz. can pear halves
2 Tbs. butter
½ cup brown sugar
¼ cup maple syrup—pancake syrup will do
½ cup chopped pecans, toasted chopped walnuts, craisins (dried cranberries) or raisins
1 box gingerbread mix
A spring-form pan is recommended, but a 10 x 2 inch one will work as well. Grease pan. Fitting the bottom with a piece of greased parchment paper helps release the cake. Drain the pears well. reserving juice. Melt the butter into the sugar and syrup in a microwave mixing well, and pour into the bottom of the pan. Arrange pear halves, cut side down, in the pan and fill in the spaces between them with the nuts or fruits.
Mix the cake according to box directions substituting the pear juice for equal amount of liquid. Pour the batter on top of the pears, cook according to box directions adding 5min. or until a toothpick inserted into the center comes out clean. Cool the cake in pan, on a rack for atleast20 min. allowing the bottom to set. Remove sides or invert pan onto a plate to free from pan. Peel off paper if used.
Mock Black Forrest Sheet Cake;
I have seen several versions of the cake over the years. One directs using Brownie mix instead of cake mix and omitting the frosting, but giving the option of adding chocolate chips. It's richer and heavier, but you might want to try it. Otherwise the recipe is the same and it's really easy and tastes great.
(1) Box Devil's food cake mix
(1) 21 oz. can cherry pie filling
2 large eggs
1 tsp. Almond extract
1 can ready to spread dark- not milk- chocolate frosting
Cooking spray
Mist a 9 x 13 inch pan with the cooking spray. Place the rack in the middle of the oven, and preheat to 350 degrees. In a large bowl, blend with a hand mixer, the cake mix, pie filling, almond extract and eggs for 1 min. on low speed. Stop and scrape the sides of the bowl and the beaters with a rubber spatula. Beat on medium for 2 min.* Pour into the prepared pan and smooth the top with the spatula. Bake 30 to 35 min. until the center springs back and the sides up will do
before cutting
For Brownie recipe, directions are the same, but add ¼ cup of oil when mixing. Spread the chocolate chips on top as soon as the cake is removed from the oven, and swirl them until they melt and form a crust. Wait 30 min to cut
*NOTE: For a more textured cake, reserve ¼ of the pie filling until after the 2 min of beating. Add the remainder the filling and beat about 30 sec. on low just to incorporate them. Proceed as directed