BEAN SOUPS ARE GOOD FRIENDS IN WINTER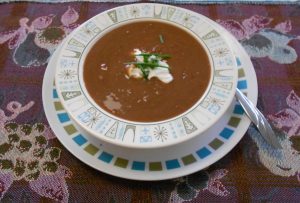 I was a late-comer to understanding the bountiful benefits of beans. Reared in the Mid-Atlantic region of the U.S., I knew Boston Baked Beans, occasionally Pasta e Fagioli and Senate Bean Soup appeared on menus, there was a small diner in town that served wonderful chili, but that was it. I never appreciated beans' versatility or utility until I began chefing. Shortly after I joined, my U.S.P.C.A. chapter was asked to serve an expo for a health spa and I was assigned to provide a bean soup. My choice was a Weight Watchers recipe, see below.
Well, not only had the organizer overestimated attendance, but it rained that day, and there was a lot of leftover food. I was flattered when a team member, a former restaurant chef and C.I.A. graduate asked to buy my excess soup. When I remarked on the amount, he told me it would keep, chilled, for a week, freeze well and could be used as a sauce, spread and even a flavored thickening agent. Knowing I was new, he advised me to brush up on legumes, because they were going to become big, nutritionally and in connection to our broadening interest in other cuisines.
That was in the fall, and a nasty winter followed, but by spring, I knew I would never face another cold season without a bag of beans in the pantry. They were a go-to winter meal when a trip to the store was impossible. The only drawback was the soaking and cooking time. Then I saw directions that eliminated the overnight soak by boiling the beans for 2 min. and soaking for 1 hr. then rinsing and boiling for the normal 2 hrs.
Quite by accident, I discovered that boiling for about 6 min. soaking for 1 hr. before rinsing, reduced the final boiling time to 1 hr. This made a hearty soup doable in a morning. Extra ingredients, like onions, and garlic etc. can be sautéed in the cooking pot while the beans are being rinsed, before they're reintroduced to the pot with the fresh cooking water.
However, several of the recipes below use canned beans, requiring only a brief cooking time, easily doable for a quick dinner. I also found that often the addition of a bit of vinegar, choice depending on recipe and cook's option, can really boost the flavor help it meld, and improve over the next few days as well as keeping the soup fresh longer.
I've come to appreciate that chef's foresight as beans have gained prominence in our diets, and to follow his advice, to be open to using the soup in other ways. My Mother mashed baked beans as a sandwich filling and we loved it. I use the soup as a spread or topping. It's very good on hot dogs or ham, especially with barbeque sauce. With the current practice of incorporating the salad into the entrée, bean soup makes an excellent basis for a dressing, particularly if there are beans in the salad. A little in pan juices can turn them into a sauce quickly. Nearly every bean soup can do these tasks, but I would avoid those with prominent special ingredients such as the ones with shrimp and squash below.
So, if you aren't familiar with bean soups, try them; if you are, try experimenting with new recipes or adding to your old ones. These soups are full of nourishment, very satisfying, can be real flavor treats but above all, they can be a cook's or a mother's best friend when it comes to menu planning and a valuable culinary tool.
RECIPES: For those marked with * see directions for reduced cooking times above.
Black Bean Soup: Serves 4-6-Adapted from Weight Watchers Favorite Recipes
2 large onions –diced
2 Tbs. oil
12 oz. bag of dried black beans OR (4) 15oz, cans of black beans
15 oz. can of plum tomatoes with juice
2 jarred Jalapeno peppers chopped
2 tsp. garlic powder
2 tsp. ground cumin
1 tsp. coriander
1 tsp. chili powder
½ tsp. red pepper—optional
Water
Sour cream or plain yogurt—optional for garnish
If using dried beans, soak in water overnight*, drain and rinse well. In a large pot sauté the onion in the oil until soft. Add all the other ingredients, except the sour cream or yogurt, with enough water to cover. Bring to a boil, reduce heat and simmer for about 1 ½ hrs. until beans are soft.- 30 min for canned. Allow to cool, and puree to a rough texture. Return to pot and adjust seasonings. Serve hot, but beware, the longer it's kept heated the more fire it has.
NOTE: Jalapenos gain intensity with heating. Do not add more pepper until ready to serve.
Bean and Shrimp Soup with Pesto: Serves 4
12 oz. bag of dried small white beans
1 qt. container of chicken broth
1lb.salad shrimp—frozen is fine—slightly chopped
2/3 cup pesto sauce
Salt and pepper
Soak the beans overnight in water*. Drain, rinse and place in a large pot with the chicken broth and 1/3 cup pesto. Boil until soft, about 1 ½ hrs. Puree soup to a rough texture. Return to pot and add the shrimp and the rest of the pesto. Heat through and allow to cook for 15-20 minutes to meld flavors. Adjust seasoning adding salt and pepper as needed.
NOTE: Parsley pesto works well with this recipe as well as the classic basil.
2 cans water packed, white tuna can replace the shrimp— in a pinch
Baked Bean Soup: Serves 4-6-From American Cookery by James Beard
3 cups cold baked beans- canned is fine
1 ½ cups canned diced tomatoes-drained
6 cups –I use drained tomato juice + water
½ cup chopped celery
Salt and pepper
Crisp bacon- crumbled for garnish
Heat all ingredients but the bacon, to boiling then reduce heat and simmer for 20-30 min. to reduce liquid a bit. Puree with a processer, blender, immersion blender or hand mixer to a rough consistency. Rewarm if needed, adjust seasonings, garnish with bacon and serve
French Lentil Soup: Serves4-6
1 lb. dried lentils
6-7 cups water
1 cup red wine
1 large onion-diced
1 Tbs. oil
2 bay leaves
Salt and pepper
1/4-1/3 cup sour cream-for garnish
Saute the onion in the oil. Add the lentils, bay leaves and water, bring to a boil, then cover and simmer until tender about 45-60 min. adding wine as the liquid reduces. Cool a bit, remove bay leaves and puree soup to a coarse texture. Serve hot with a dollop of sour cream.
Variations: 1) Replace the wine with water and add sherry or Madera to the soup before pureeing.
2) Add (1) 15 oz. can diced tomatoes to the soup, using tomato juice to replace an equal amount of water
3) Peel and slice a large carrot and add it half-way through cooking. Remove several slices before blending and put them back before reheating and serving.
4) Boil a ham hock in the soup, remove it before pureeing, pick off any meat and add to the soup before serving.
5) Split peas can be used in place of lentils. Replace the wine with half-and-half
Italian Bean Soup with Squash: Serves 6-8-From The Moosewood Restaurant New Classics
(2) 15 oz. cans pinto beans – rinsed and drained
1 Tbs. oil
6 garlic cloves – minced
3 ½ cups chopped onions
1 celery stalk, with leaves, chopped
(1) 15 oz. can crushed tomatoes
4 cups diced peeled butternut squash
1 quart broth-any flavor
1 tsp. oregano
Pinch red pepper flakes
Salt and freshly ground pepper
Grated Pecorino Cheese for topping
Saute the garlic, celery and onions in the oil until soft, about 10 min. Add the tomatoes, broth, oregano and red pepper bring to a simmer and add the squash. Cook until soft, about 10-15 min. Add the beans and salt and heat through. Add the ground pepper; adjust taste and serve hot topped with the cheese.
Red Bean Soup-with Guacamole Salsa: Serves 6
½ Tbs. oil
2 garlic cloves-chopped
2 onions –chopped
2 tsp. cumin
½ tsp. oregano
1 Tbs. tomato paste
1 Tbs. paprika
(1) 14 oz. can diced tomatoes
(2) 14 oz. cans kidney beans- rinsed and drained
3 ¾ cups water
Salt and pepper
Dash Tabasco or other hot sauce to serve
Saute the onions and garlic in the oil until soft. Add seasonings and stir in the tomato paste, then add the tomatoes, beans and water. Simmer for 15-20 min. cool slightly and puree. Season and return to pan to reheat. Serve hot. with a dollop of salsa
Salsa
2 avocados
1 green chili
1 small red onion
1 Tbs. chopped fresh cilantro
1 lime-juiced
Finely chop all ingredients and gently mix. Spoon a little on each bowl of soup and pass the rest.
.
Black-Eyed Peas and Tomato Soup: Serves 4
(1) 14 oz. can black-eyed peas
1 Tbs. oil
2 onions- chopped
1 hot or 2-3 mild challis-chopped
2 garlic cloves-minced
1 tsp. cumin
1 tsp. turmeric
9oz. canned diced tomatoes
2 ½ cups broth
1 oz. cilantro – chopped
Juice of ½ lemon
Saute the onions and garlic in the oil until soft. Add the rest of the ingredients and half the cilantro and simmer for 30 min. Stir in the lemon juice and the rest of the cilantro. Serve at once.