AMORTIZE HOLIDAYS-SAVE MONEY, TIME, STRESS=PRICELESS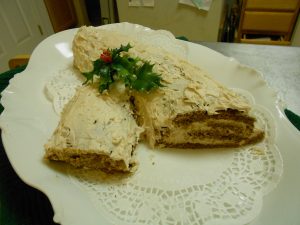 Three posts ago I mentioned the main sales on holiday food supplies, especially baking ingredients, occur during the weeks before Thanksgiving. Taking advantage of the prices saves money and relieves stress with the knowledge that when it's time to tackle a kitchen project, everything needed is at hand. Above all, it lessens the financial burden of the holidays by amortizing the food expenses.
Time can also be 'amortized' by preparing dishes as early as their recipes allow or making and preserving them, mainly by freezing. Nothing is a greater relief during the hectic holidays than realizing something is ready and waiting, without having to gorge a chunk out of your busy schedule to do it, except, perhaps, knowing the cost has been defrayed.
Personally, the idea of preparing ahead for the holidays appealed to me because as the nest emptied and family grew, the tasks didn't increase in number, but they did in size. Fewer hands around to help meant a lot more work for me alone. Professionally, the idea intrigued me. The main function of a personal chef service is to provide meals for its clients to consume later. This combination of motives has given me the incentive for the past several years to explore how far I can push the envelope.
I always made my fruit breads and cheeses a month or more ahead, to give them time to age, using liquor as a preserving ingredient. Then I found rolled cookie batters could be prepared two weeks before baking. Next I learned that elements of stuffing could be made well in advance. Raw seasoning ingredients, celery, onion, herbs can all be chopped or blended as early as summer and frozen. Bread cubes can be toasted or fried and keep in tins for weeks as do decorated, unfrosted Christmas cookies.
All these discoveries brought welcome savings but nothing opened my eyes like a request from a fellow personal chef. She contracted to cater a wedding reception for 400 and asked for help from others in our U.S.P.C.A. chapter*. The job held some real challenges; the bride had downloaded the menu and recipes, most distinct variations on classics; the venue offered a wait staff and dining needs, linins etc., but only a 'holding ' pantry, no real kitchen. All the food had to be delivered ready to serve. How the chef, an experienced caterer, solved the obvious problems doesn't disguise the fact that most of the food had to be prepared days ahead. I learned this is normal for caterers dealing with large events and was amazed at the ways these experts in safe handling food, keep it unspoiled and fresh tasting.
Imagine being able to duplicate the catering methods for your personal holiday preparations! The first step is to review your normal seasonal routine. Do you host a major dinner; throw a party, entertain house guests, make food gifts or donate a culinary effort to a bazaar or other event? If you follow my
weekly shopping schedule you'll know the next move is to plan your menus for each occasion and compile a detailed list of all the ingredients required. Then as you read the market flyers to plan each week's shopping trip, if you see an item your holiday list, you make a note to get it at the sale price.
Remember though, supplies bought ahead should be kept in the original package and stored at the same temperatures as in the market. Produce, of course, needs refrigeration. If bought far in advance, or to be served out of season, consult my blog of Sept 22, 2016 on freezing fresh produce and there are more reference posts in the site archives. There are also great sales on frozen vegetables and other products now. I always bought a fresh turkey for Christmas, but having braved a blizzard five years ago, to pay three times more than the price a month earlier, I changed my ways. Now, I buy a frozen bird at Thanksgiving and store it. No one has noticed the difference and the forecast of a White Christmas doesn't scare me.
Amortizing time with advance preparation is equally straightforward, with a few simple rules. One is never re-freeze anything without cooking it. If adding a thawed vegetable to a dish, cook it first, or cook the dish and plan to re-heat it. Be aware that most seafood, especially shellfish is frozen for transport. The only exceptions are fish your monger guarantees were caught within 24 hours and shellfish steamed in store daily. The second is that if exists in the markets' glass cases, you can do it, but if it doesn't there is usually a good reason, so don't try to innovate. This is particularly true of imitation 'diet' and/or 'no-cook' cream sauces, which tend to separate when frozen,
Tried and true menu choices are important in advance preparation and are the reason caterers offer printed lists of suggestions, but even a traditional holiday dinner comprised of family recipes usually affords some wiggle room. Updated twists aren't always a bad thing. For example, roasted vegetables done a few days ahead can replace those cooked with the meat, saving prep time on the day of the event. Frozen vegetables can be cooked to near-doneness and kept chilled, with a little butter or flavored oil, even in their serving dishes, a few days ahead, as can current garnishes, and the two combined before or after quick re-heating. Salad ingredients can be cut and stored, chilled in water for several days and the dressings mixed weeks ahead.
Buffets are easier to prep ahead than seated dinners. Food served at table should be hot, but even roasts can be cooked ahead and served room temperature at a buffet. Casseroles and sauced meat dishes are the darlings of advance preparation. They can be cooked, frozen, thawed, reheated and still taste fresh. Of course, cold foods are a natural. They can be prepared and simply chilled until served or frozen and just thawed. No effort is needed at the last minute and minimizing the last-minute work load is one of the main reasons to do advance preparation.
Desserts are a good category to reference to illustrate the optional levels of advance food prep. Cookies, as noted, can be made 6-8 weeks ahead if stored in air-tight tins. All kinds of pastry freeze well rolled and stacked with paper dividers or lining pans, even whole unbaked fruit pies and turn-overs can
be made months ahead. However, baked pastry products only hold well for 24 hrs. After that they become soggy as the fillings lose their moisture and harden. To have these desserts table-ready, you must leave room in your schedule, as well as your oven's, at the earliest the afternoon before, to bake the items and/or make the fillings. This can be a strain during a hectic holiday week.
So what dessert can be made ahead and produced the day of a major dinner ready to be served? Cake! Several years ago my Yule log survived Christmas dinner almost intact. I decided to freeze it to serve sliced with a bowl of whipped cream on New Year's. I froze it uncovered for an hour to firm up the icing, then I wrapped it snugly in plastic wrap and put the whole cake, still on the platter, in a plastic bag in the freezer. I was pleased to see it looked fresh on New Year's morning but surprised that it tasted fresh too. I served it on the original platter, without the cream, and had many compliments with no leftovers.
Now I bake my Yule logs three weeks ahead and limit my December holiday desserts to cookies and cakes. I've tested other cakes, layer cakes, bar cakes, even a multi-layer sponge Opera Cake, with the same great results. Planning this way allows me to take the time to be sure I do a good job creating the cakes, and it's soooo relaxing to know the whole dessert portion of my dinner is ready and waiting. All I have to do is open the freezer.
In point of fact this feeling of freedom is a major part of the overall concept of amortizing holidays. Buying the food as it appears on sale during the preceding weeks and preparing things ahead, saves money, defrays costs and assures time for careful preparation. It provides the security of knowing what you need is on hand when you decide to start a project and the confidence of having been able to do it well, rather than rushing through slip-shod. Above all there is the comfortable assurance that everything's y ready and you are free to enjoy the festivities.
So set yourself up right and enjoy!!
*United States Personal Chef Association