ADD ZEST TO WINTER MEALS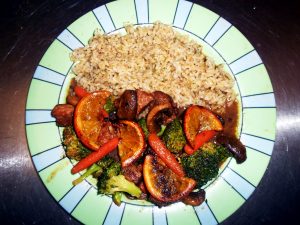 With today's fast transportation and developing agricultural methods, many fruits are now in markets all year, berries and summer melons for example, but the stars of mid-winter are still the traditional citrus fruits, chiefly grapefruit and oranges. I think they maintain this status because, like summer's stone fruits, they come from trees which yield only one crop per year limiting their availability but mostly because they play increasingly visible roles in the our evolving tastes and dietary concerns.
For decades there has been increased interest in healthy eating and weight control. Grapefruit has figured prominently in many diets. At the same time, our taste preferences have expanded as we've explored new cuisines, mostly Asian, where oranges and their relatives, the mandarins and/or tangerines, often appear in recipes. Clementines, a hybrid orange-tangerine, have become popular December produce. Actually, oranges have been a Christmas treat for centuries, because they were durable enough to survive the sailing voyage from Asia to Europe, giving them a unique link to the season.
These are good reasons to take advantage of grapefruits and oranges while they're here but the basic fact is that their bright, sweet-tart, slightly acidic flavors can do wonders to perk up a winter meal on a cold, drab day. I've come to rely on their help to the point that I freeze the zest in ice cube trays and the peel in wax paper separated layers to use all year.
The recipes below are a mixed bag. Some are old, some new, some Asian, some Asian inspired and some definitely 'fusion' but all are relatively simple, taste terrific and great pick-ups for winter spirits.
RECIPES:
Please check 'Tips' after the recipes for more ideas
Chicken with Sweet Potatoes and Oranges: Serves 4-Adapted from a recipe in Bon Appetit Magazine 2/17
4 chicken thighs
2 tsp. garlic powder
2 Tbs. lemon juice
4 Tbs. olive oil
2 medium sweet potatoes
2 oranges-one sliced the other quartered
2 Tbs. rosemary
(1) 15 oz. can chickpeas-rinsed
½ cup pitted Greek oil-cured olives-sliced or in pieces
1 small head Romaine
½ cup feta cheese
Salt and ground pepper
Brine chicken in salted water 15 min. Rub with 1 Tbs. oil and place in a pan skin side up. Cook under a preheated broiler until skin starts to bubble, then turn over. Continue broiling until underside is well
browned. Put the orange slices in the pan, or on a piece of foil and broil until peel is tan, remove to a plate. Turn chicken again, add 1 Tbs. oil and 1 Tbs. lemon juice and sprinkle the skin with the garlic powder. Broil until skin is almost black, turn off broiler and turn oven to 350 deg. add rosemary and cook chicken about 15-20 min. until done. Meanwhile prick potato and microwave 3-4 min. until soft, set aside. Toss Romaine, olives, chickpeas and feta in a large bowl with the remaining oil lemon juice, salt and pepper. Plate chicken, add the pan juices to the salad, plate the salad alongside the chicken, squeeze the quartered orange over the greens, tear or cut the sweet potatoes in chunks and scatter over the salad and garnish with the orange slices. Serve.
Chicken in Soy- Marmalade Sauce: Per serving-A quick, elegant dinner
1 boneless, skinless chicken breast or thigh-pounded to even thinness
1 Tbs. orange marmalade
¼-1 tsp. soy sauce-depending on taste
1 Tbs. oil
Brown the chicken on both sides in the oil until done, about 8-10 min. total, remove to a plate. Lower the heat and stir the marmalade and soy sauce into the pan juices. Return the chicken to the pan, cover and cook for 3-6 min. to warm though. Serve at once.
Lamb with Orange and Ginger: Serves 4-From One-Pot Cooking by Mary Reader
2 Tbs. soy sauce
2 Tbs. dry sherry
2 Tbs. orange juice
2 minced cloves garlic
½ inch piece of ginger root grated
1 lb. lamb cut in strips*
2 Tbs. oil
4 oz. broccoli flowerets
8oz. carrots in matchsticks
1 red bell pepper sliced
1tsp. brown sugar
Cilantro sprigs for garnish
Place the first 5 ingredients in a bowl for a marinade, add the lamb and chill for 2-4 hrs. Heat oil, add lamb, reserving marinade, cook until browned well and cooked, at least 8-10 min. Add vegetables and cook, stirring 5 min. Add marinade and sugar, bring to a boil, reduce heat, cover and simmer 5 min. Serve hot garnished with cilantro.
* Ground lamb can also be used. Form it into patties and proceed as above.
Ginger-Orange Pork with Vegetables: Serves 2/4-depending on amount of vegetables added
½ lb. lean pork in cubes
2 Tbs. oil
1 large orange – zested and juiced + orange juice to equal ¼ cup*
2 Tbs. vinegar
2 tsp. soy sauce
2 tsp. orange zest
½ tsp. grated ginger root
Hot pepper flakes to taste-optional
Sugar or honey-optional to taste
6 baby carrots-halved lengthwise
6 oz. broccoli flowerets
Sliced water chestnuts or mushrooms
Brown the meat in the oil, in a skillet over medium-low heat. Add next 7 ingredients and stirring, heat to boiling. Reduce heat to low and stir in vegetables, coating well, cover and cook until vegetables and meat are done. Serve hot over rice.
* I shave 2 thin slices from the center of the orange and brown them with the meat to use as garnish.
Beef with Orange: Serves 4
12 oz. lean beef, thinly sliced
2 tsp. soy sauce + 2 tsp. extra
2 tsp. dry sherry
1 tsp. chopped ginger root
1 tsp. sesame oil
1 Tbs. oil
¼ tsp. ground pepper
2 tsp. orange zest
1 ½ tsp. sugar
1 ½ tsp. cornstarch
1/3 cup beef broth
Mix the beef with the next 4 ingredients and marinate for 15 min. Dissolve the cornstarch in the both. Heat the oil and stir fry the beef over high heat until it changes color, about 2 min. Remove to a plate. Add the next 3 ingredients plus the extra soy sauce and stir briefly; add the broth mix and stir until the sauce thickens. Pour over the meat and serve at once.
Poultry Stuffing: Will serve for a 7-8 lb. bird-excellent for duck
2 large cooking apples-cored and diced
2 slices raisin bread- toasted and torn in 1 inch pieces
1 celery rib-diced
1 small onion –diced
2 large oranges
1egg-lightly beaten
1tsp. sage
Salt and pepper
Remove the peel and meat from one orange. Finely slice the peel, Juice the second orange. Lightly toss all the ingredients with the juice. If it seems dry add a bit of milk. Stuff the bird and roast as directed.
Halibut with Orange: Serves 4- From One-Pot Cooking y Mary Reader
(4) 6oz. Halibut steaks*
½ cup flour
½ tsp. nutmeg
2 Tbs. butter
6 scallions-sliced
¾ cup orange juice
1 Tbs. Worcestershire sauce
1 tsp. lemon juice
Salt and pepper
Mix the flour and nutmeg and coat fish. Melt butter in a skillet and sauté scallions until soft, about 3 min. Add fish and cook over medium-low heat 5-6 min. until done, remove from pan and keep warm. Add remaining ingredients to pan and boil until slightly reduced and thickened. Pour over fish and serve at once.
*Any mild, sweet, large flake white fish firm enough to stand up to pan frying will do bass, perch, cod etc.
Flounder with Rosemary and Orange: Serves 2
(2) 5 oz. flounder fillets*
1 Tbs. butter
1 Tbs. oil
2 tsp. dried, crushed rosemary
1 orange – zested and meat removed
1/3 cup orange juice
Lemon pepper
Melt the oil and butter in a pan and turn the fish over to coat both sides. Sprinkle tops very lightly with lemon pepper, then with rosemary and then the zest. Cook fish in a preheated 350 deg. oven until done, about 8-10 min. Remove to a plate, mix orange juice with pan juices and pour over fish, then garnish with orange pieces. Serve hot at once.
* Any mild, lean small flake white fish will do-tilapia, fluke, sole, roughy etc.
Shrimp-Avocado Salad: Serves 4
1 lb. cooked large shrimp
2 avocados-peeled, each half cut in 4 slices
(1) 8oz. bag spinach leaves
1 small cucumber thinly sliced
2 large oranges – sections removed and ½ tsp. grated peel
2 oz. watercress
1 cup cooked quinoa
3 Tbs. olive oil
1Tbs.lemon juice
1 ½ Tbs. orange juice
¼ tsp. honey
1 tsp. chopped parsley
Place the last 5 ingredients in a jar and shake well to make the dressing. Arrange the spinach on plates or a large platter, top with watercress, tossed with the quinoa, if using, then onion rings. Place the avocado slices and orange segments in a circle and pile the shrimp in the center. Drizzle with the dressing and garnish with the zested orange peel.
This salad should be served as made, but all the components can be prepped ahead and kept chilled.
TIPS:
1. The combination of garlic and ginger gives many Asian dishes the signature flavor. It also adds heat so be careful when altering amounts 'to taste'.
2. Asian cuisines have gained some popularity because they don't rely heavily on dairy or include elaborate desserts, or in fact, many desserts or sweeteners at all, other than fruits and honey. However, they don't 'get a pass' from several weight-loss programs because they do contain saturated fats. This sauce is a compromise from Betty Crocker's Chinese Low-Fat Cooking. It can be used with any meat for a quick meal. Just sauté raw meat and add the sauce or simply warm up leftovers in it.
Orange-Ginger Sauce: Yield ½ cup
¼ cup seasoned rice vinegar
2 Tbs. peanut or vegetable oil
1 tsp. orange zest
2 Tbs. orange juice
1 Tbs. honey
2 cloves minced garlic
1 tsp. crushed red pepper flakes-optional
1/3 tsp. grated ginger root.
Shake all ingredients in a sealed container. Keeps about 2 weeks chilled. Can also be used as a dipping sauce.
NOTE: I often reverse amounts of juice and vinegar, eliminating the honey. I also substitute canola oil and cider vinegar for the ones in the recipe. I sometimes use powdered garlic in place of fresh and ground ginger for the root, but take care on this last because the root has a different taste than the ground. One is easier, but if you want 'authentic' keep some root in the freezer-it's easy to grate.
3. This is a great area of cooking for experiments, whether creating your own 'Fusion' dishes or just perking up the regular ones. It doesn't require many extra supplies, much effort, equipment or time and what better time to do something different than in deep, drab winter?