'A' IS FOR APPLES – PART II Just Desserts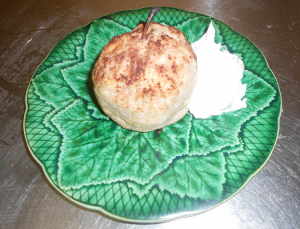 New York has been called "The Big Apple" in show biz lexicon since vaudeville days. Back then, anyone booked to 'play the Palace' gained instant super star status and was welcomed to the theater with a huge basket of fresh fruit arranged in a pyramid topped with a big red apple. Eating the apple was considered such good luck that the term; "taking a bite of the apple" came to mean the act was a 'hit'. Other phrases refer to apples as being linked to good fortune too, or at least to the right path to choose; 'Take an apple to the teacher', 'An apple a day keeps the doctor away' and 'Don't upset the apple-cart' are some of them.
This is quite a feat for a fruit that got a 'bad rep' in the Garden of Eden. Other objects, like black cats, have been permanently stigmatized for less. My guess is that people liked apples so much they didn't let anything stand in the way to enjoying them, and enjoy them we have for thousands of years.
Originating in Central Asia, and related to the rose, apples are now grown worldwide. Through simple transplanting in different climates and soils, plus cross breeding, over 7,500 different species of apples now exist, most of which were developed for specific use. Juice, cider or alcoholic beverage, baking and raw 'table apples' are the main categories of apple production and there are plenty of choices within each, many introduced in the past fifty or so years. If you picture the 'Big Apple' in the fruit basket as a Red Delicious, forget it. They appeared in the 1950s, followed by the Golden Delicious about the time Granny Smiths were imported from Australia.
First, to clear up a misconception, all apples can be eaten raw, some just won't taste as good. Those better cooked are usually more tart and have less juice. However, the public rarely sees the major types for juicing or commercial processing, except to buy crab apples for jelly at a farm market. It is important though, since the majority of apples sold in markets can be eaten raw or cooked, with the exception of the Red Delicious which can't tolerate heat, to choose the right apple for the job. The most recommended breeds for cooking in the U.S. are the Golden Delicious and Granny Smith, but Winesap, Macintosh and Rome have traditionally been baked. The choice is really an individual one. Pick the type you like. Wikipedia offers this advice:
"Properties of a good apple — Apples for table are characterized by a firm pulp, elevated, poignant flavor, regular form, and beautiful coloring; those for kitchen use by the property of falling as it is technically termed, or forming in general a pulpy mass of equal consistency when baked or boiled, and by a large size. "
The recipes below are as 'easy as apple pie' but a bit more cosmopolitan and even gourmet, without being more complicated, time consuming or difficult to make. I've made them all, several often, and actually I'm always surprised at how quickly and neatly the dish was completed. My family and/or guests are always awed at how flavorful and downright good they taste. The best thing is that they provide a welcome change and a little change is a good thing, right?
Apple Compote:
Yield 3 cups—A multi-use recipe. It appears again next week in desserts as an ingredient, but can be served as alone as a fruit course, as an accompaniment to meat or as a dessert with whipped or ice cream. A few tablespoons can be stirred into hot or cold cereal.
6 large cooking apples –Golden (NOT Red) Delicious, Granny Smith, Rome etc.
1 cup water
¼ cup sugar
1 Tbs. lemon juice
¼ cup raisins—optional
½ tsp. cinnamon—optional
¼ cup chopped toasted walnuts-for optional garnish
Peel, core and dice apples in ½ inch chunks. Bring sugar and water to a boil, add apples, raisins and juice. Cook until fruit is tender but not mushy. Taste if more sugar is needed, add cinnamon if desired. Serve warm or chilled, topped with nuts if desired
Easy Apple Strudel:
Serves 6-8-FromRecipes 1-2-3 by Rozanne Gold
2 ½ cups compote
5 Tbs. unsalted butter-melted
7 sheets phyllo dough
lay sheets of phyllo on a flat surface and coat each lightly with butter using a pastry brush, restacking them as you do. Spoon apple compote parallel to one of the short sides of the phyllo leaving a 3 inch margin. Roll up tightly like a jelly roll. Place, seam side down on a baking sheet. Brush top with remaining butter and bake in a 375 deg. oven for 25min. Cool and serve in slices. Best within 3 hrs. of baking, do NOT refrigerate, not even leftovers.
Dutch Apple Cake:
Use an 8 inch round cake pan
2-3 apples-depending on size, peeled, cored and sliced
1 cup flour
2 Tbs. sugar + a little for garnish
2 eggs beaten
2 ½ oz. butter
2 Tbs. milk
½ tp. baking powder
¼ tsp. salt
Cinnamon and sugar for garnish
Sift dry ingredients, blend in butter. First stir in eggs then milk. Pout into a greased and floured pan and arrange apple slices decoratively in a circular pattern over the top. Sprinkle with cinnamon and sugar. Bake at 450 deg. for 40 min. Serve on a plate or from pan. Optionally pass whipped cream.
PIES:
All serve 8-10, baked in a 9 inch pan. Packaged pie crust dough is fine or—
My Crust Recipe for single crust pie
1 cup flour
1/3 cup shortening- Crisco
3 Tbs. + if needed ICE water
In a deep bowl, cut shortening into flour with 2 knives until pea sized crumbs form. Add the water a Tbs. at a time mixing until dough holds together. Form into a ball cover and chill 30 min. Roll on a floured surface until slightly larger than the pan. Line the pan with the dough, cutting off or tucking excess under and crimping edges. Crust can be frozen, chilled or baked ahead according to pie directions.

French Apple Pie
3-4 lb. cooking apples-peeled, cored in ¼ inch slices
¼ cup melted butter
¼ cup sugar
½ tsp. ground cinnamon
Successively layer the apple slices so they lay flat, in the pie shell; a circular pattern looks best for presentation. Sprinkle each layer with some sugar and cinnamon. When the crust is filled, pour the melted butter over all, and then garnish with sugar and cinnamon. Bake in a preheated 450 deg. oven 10 min, then at 350 deg. for 30-40 min. until apples are tender and crust is crisp. Best done serving day, but can be done the day before. Store at room temperature.
Apple, Raisin, Walnut Pie
1 ½ cups chopped cooking apples
2 cups raisins
3 cups apple cider
1 cup sugar
1 tsp. cinnamon
1 Tbs. lemon juice+ ½ tsp. zest
2Tbs.butter
½ tsp. salt
3 Tbs. cornstarch
½ cup chopped walnuts.
Double crust recipe or buy 15 oz. package of 2 dough rounds
NOTE; I like a thin crust, so this will allow for some extra, especially if making a lattice top. Don't use over a heaping ½ cup shortening. Store left over dough chilled and use within 10 days, or roll and freeze.

Line pie pan.
Dissolve the cornstarch in ¼ cup of the cider; put all the other ingredients except the walnuts in a pot and heat to boiling. Stir in cornstarch mix, and simmer, stirring until thickened. Stir in nuts. Pour into bottom crust. Top with top crust, well vented, or lattice top. Bake at450 deg.for10 min. then at 30-35 min at 350 deg. Cool before slicing.
To prepare in advance; the cooked filling can be kept chilled, in a plastic container for several days and then poured into the shell and topped before baking. The pie pan can be lined and the top crust dough kept chilled in plastic wrap for several days as well
Apple Dumplings:
Serves 4
Pastry for a 2 crust pie* or 1 sheet puff pastry-see note below
4 cooking apples- peeled and cored
½ cup sugar + more if needed
4 drops vanilla syrup or ¼ tsp. cinnamon
Separate dough into 4 parts. Roll each to ¼ inch thickness and cut about a 6 inch square in the center. Save extra dough for another use. Trim the bottoms of the apples so they stand upright and place one in the center of each square. Fill the cores with sugar and a drop of vanilla or a pinch of cinnamon. Pull the dough up around the apple, completely covering it, pinching seams together and at the top to close**. Sprinkle tops with remaining sugar and cinnamon. Bake on a sheet at 400 deg. for 40 min. or until crisp. Serve warm or chilled, alone or with whipped cream. *NOTE: Rozanne Gold's recipe in Recipes 1-2-3 replaces the pie crust with a sheet of puff paste. The cooking time is reduced to 20 min. Otherwise the recipes are the same
** I like to save the stem and stick it into the top, it's decorative and defines the pastry.
Grandmother's Sour Cream Apple Cake:
Serves 12 +
5 cups peeled, cored and sliced tart apples
¼ cup butter
½ cup sour cream
1 cup sugar
1 lemon- zested and juiced
2 Tbs. flour
½ cup chopped almonds + ½ cup toasted, slivered almonds
8 eggs separated
½ tsp. salt
Sugar, cinnamon and dry bread crumbs for garnish
Whipped cream for serving—optional
Cook the apples with the butter in a covered skillet over low heat until soft, stirring occasionally. Add the next 4 ingredients and the egg yolks, lightly beaten, to the pan and cook until thickened. Cool. Whip egg whites with salt until stiff and fold into apple mixture. Spread batter 1 inch thick in a large pan or baking dish and sprinkle top with sugar, cinnamon, bread crumbs and slivered almonds. Bake at 325 deg. for 45 min. or until the cake is firm. Can be served hot, but is best chilled with whipped cream.
Amaretto Souffle with Caramelized Apple Pearls:
Serves 6– From 5 Ingredient Gourmet Cooking by Deborah Anderson
2 cups whipping cream
2 cups sugar – divided
2 Tbs. amaretto liqueur
4 large tart apples – peeled and cored
½ cup toasted slivered almonds, slightly chopped
Whip cream until stiff, beat in1 cup sugar and liqueur. Pour into 6 ramekins or a round 9 inch serving dish. Chill. Using a melon baller, scoop out (24) 1 inch balls from the apples. Heat the remaining sugar in a small saucepan, stirring constantly until it caramelizes and becomes pale amber. Spread the toasted almonds on a sheet of waxed paper. One at a time, using a toothpick or skewer, dip the apple balls into the caramelized sugar, coating well and then onto the almonds, rolling to coat one side or one half. Cool the 'Pearls' on the almonds and place them, almond side down on the chilled, whipped cream 'souffle' just before serving.

Easy Mulled Cider:
This is a great, fast way to serve a hot drink on a cold day, or a way to finish the meal for those who don't want dessert. Kids love it because it makes the 'ordinary' special.
20 whole cloves
(4) 3-4 inch cinnamon sticks
1 gallon cider
Stud the apple with the cloves, bring everything to a simmer for 2-3 min. and pour into a bowl to serve. Ladle hot into mugs.