8 MAKE AHEAD CRANBERRY DESSERTS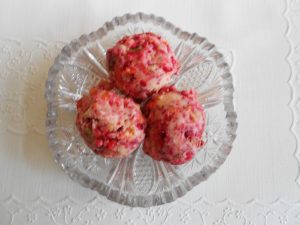 I happened to catch a segment of a morning talk show last week. The guest expert mentioned that holiday entertaining can be stressful and I laughed. First of all, any event you hold during the festive, busy winter holidays doesn't get the singular attention it would at any other season, even from you. As a veteran of many years of personal, not professional, holiday hosting everything from brunches to cocktail open houses to buffet suppers, and always the big family feast, I know how quickly the arrangements can begin to look like a freeway pile-up. You gotta have a plan!
Outwardly the plan is to have as many things including food ready ahead as possible but its real purpose is to assure the party runs smoothly, especially if you're flying solo. You will be wearing many hats and want to change them as unobtrusively as possible. This isn't hard during a moving party like a buffet but it can be downright awkward during a sit-down dinner, particularly that main family feast.
For me the pause to clear the entree and set out the dessert is the most difficult. If it's too long, guests get restless, or worse reflect on how much they've eaten and decide to refuse more. Being able to put out a bright, attractive, light and yes, cold dessert soon after the entrée plates are cleared elicits the response; "I'll try a bit to top off the dinner.." rather than "I couldn't eat another bite".
A dessert made with cranberries is the solution. Their bright red color is cheery and seasonal; their sweet-sour slightly acidic taste is perfect after a rich entrée; their affinity for the cold makes them ideal for icy sweets and they're very easy to work with. The recipes below are geared to ease and convenience, able to be prepared ahead and ready for serving. Even scoops of Ice cream can be arranged in a bowl, waiting in the freezer to be spooned into dishes at table. The only exception is the Angel Nest, which can be stored in a container for several weeks and filled quickly before serving.
So do yourself a favor, and make a cranberry dessert part of your master plan for the holidays, whether you're planning on entertaining or not. You'll be glad you did! However, don't forget there are 3 great dessert recipes Cranberry Cake, Cranberry-Raisin Pie and an easy Cranberry Crisp in last week's post (11/30) along with other cranberry dishes you might like as well.
Angle Pie: Serves 6-8: From James Beard's American Cookery
4 egg whites
1 cup sugar
1/4 tsp. cream of tartar
Filling
4 egg yolks
½ cup sugar
1/3 tsp. salt
1 tsp. lemon juice
1 cup whipping cream
Beat egg whites to soft peaks and gradually add sugar and cornstarch, beating to stiff peaks. Spread in a well-oiled pie plate and bake at 300 deg. for 1 hr. When golden, turn off oven and allow to cool on rack with door ajar.
For the filling, beat the yolks slightly and place in a double boiler with the salt and lemon juice. Stir until beginning to thicken and add ¾ cup strained cranberry sauce using heated, strained whole berry sauce OR prick 1 cup cranberries and place in a pan with ¼ cup water. When it begins to boil add the ½ cup sugar. Boil 5 min. until translucent and cool; stir until thick. Strain and have ready to add to pie filling.
Whip cream, spread half in shell, spoon in filling then, top with the remaining cream and chill 24 hr. or overnight.
NOTE: Keeps for 2 days in the refrigerator but reserve and spoon on the top layer of cream just before serving for a fresh look.
Angle Nests: Serves 6-8
3 egg whites
1 cup sugar
1 Tbs. flour
1 Tbs. cornstarch
Compote-see next recipe or cranberry compote-11/30/17
Beat egg whites to soft peaks; add sugar gradually beating until stiff peaks form, adding flour and cornstarch along the way. Shape the mixture on an 8 inch round template, using the back of a fork to raise the sides into a nest shape. Bake at 250 degrees for 60 min. Leave in oven for 30 min. then cool on a wire rack. Can be stored in a dry place until ready to use for several weeks. Fill centers with cranberry compote (post 11/30/17), Cranberry-Pear Compote (below), sauce or prick 2 cups cranberries and place in a pan with ¼ cup water. When it begins to boil add the 1 cup sugar. Boil 5 min. until translucent. Cool before filling meringue nest.
I would imagine Angel Cakes can be made in individual portions, and would be most attractive. Judging by the timing to cook basic meringues, I don't think there would be much adjustment to the directions either. Something you might want to try.
NOTE: Nest can be made several weeks ahead and stored in an air-tight container.
Cranberry-Pear Compote in Syrup: Serves 4 Serves 6 using suggestion below* From Rozanne Gold's Recipes 1-2-3
2 large Bosc or Comice pears
2 cups cranberries
1 cup sugar
2 cups water
Peel, core pears and cut each into 8 slices. Bring water and sugar to a boil, When sugar is dissolved, add fruit and simmer 30 min. or until pears are firm-tender. Remove fruit, cool and chill. Boil syrup down to ¾ to 1 cup, cool to room temp and pour over fruit and, if not serving at once, chill. After serving save any extra syrup to use over pancakes etc.
*Serving suggestion: Present bowl of fruit accompanied by slices of pound cake to act as bedding. This raises the portion total to 6.
NOTE: The compote will hold about 5 days in the refrigerator. Do not freeze.
Cranberry Ice Cream:* Serves 6-Very quick and easy to make.
2 cups cranberries
¾ cup sugar
1 orange –quartered, seeds removed
½ cup chopped, toasted walnuts
1 pint vanilla ice cream- softened
Coarsely chop berries and orange, with rind. Stir in sugar and blend fruit mix, making sure the orange rind is pulverized, add walnuts and stir into softened ice cream. Pour into a mold and freeze until firm. Unmold and serve garnished with cranberries and walnuts. Or spoon ice cream into a freezer container; a couple of hours before serving fill a decorative freezer-proof bowl with individual scoops of ice cream and spoon them into dessert dishes at table
*This ice cream, as shown, can be densely packed with fruit. I love it this way but some people, especially children, may prefer it if the quantity of vanilla ice cream is doubled in proportion to the fruit.
NOTE: Keeps as long as commercial ice cream in the freezer.
Cranberry Sherbet: Makes 2 quarts
1 packet unflavored gelatin
2 cups cold water
1 cup boiling water
3 Tbs. lemon juice
¾ cup sugar
1 cup bottled cranberry juice
Soften gelatin in ½ cup cold water for 15 min. dissolve in boiling water. Add all the other ingredients and simmer, stirring until sugar dissolves. Pour into a mold or ice trays.
NOTE: Keeps as long as a commercial product in the freezer.
Cranberry Refrigerator Cake: Serves 6-8
3cups cranberries
1 ½ cups water
1/3 cup raisins
3 figs- finely chopped
1/3 cup chopped walnuts
10 dates- finely chopped
1 small sponge or pound cake
1 cup sugar
Cook cranberries in water until skins pop; strain, pushing down on solids. Add fruits and nuts to strained juice, mix, cover and simmer 5 min .Remove from heat, add sugar, stir to dissolve and cool. Line a greased mold with the cake slices, add a layer of the fruit mix, then a layer of cake, repeat, ending with cake. Chill in refrigerator, unmold and serve with whipped cream.
NOTE: Keeps for 2-3 days
Cranberry-Nut Refrigerator Torte: Serves 12-16
2 ¼ cups flour
1 cup sugar
¼ tsp. salt
1 tsp. EACH baking powder AND baking soda
1 cup chopped walnuts
1cup cranberries
1 cup chopped dates
2 oranges – zest grated-juice reserved
2 eggs beaten
1 cup buttermilk OR plain yogurt (see note*)
¾ cup oil
1 cup orange juice-includes reserved juice from oranges
1cup sugar
Sift first 5dry ingredients together. Stir in nuts, fruits and zest. Lightly beat or whisk eggs, buttermilk and oil and add to flour mixture. Stir until blended. Pour into a greased 10 inch tube pan. Bake in a 350 deg. pre-heated oven for 1 hr. Let stand in pan until lukewarm. Remove to a rack placed over a wide dish. Combine orange juice and 1 cup sugar and pour over cake. Set cake in a deep refrigerator or freezer proof dish and pour drippings over cake again. Wrap in plastic wrap and chill at least 24hr. before serving or freezing. Serve sliced with whipped cream.
*Substitute buttermilk with 1Tbs. vinegar or lemon juice + milk to equal 1 cup—allow to stand 5-10 min. before using.
NOTE: Cake keeps in refrigerator for 2 weeks or more, frozen for several months but thaw before serving.
Easy Berry Cream Cake: Serves 4-6–A quick, elegant answer to the problem of providing a nice dessert when there isn't time to prepare one from scratch, and a tasty end to a meal anytime.
1 Pound cake – purchased or made from a mix*
1 can whole berry sauce – 2 cans for a larger cake
1 pint whipping cream or 1 container of whipped topping—2 for a larger cake
Cut the cake into 3 layers using toothpicks, a ruler and a knife OR 2 layers for a small pound cake. Spread ½ topping on cut side of a layer, then cover with sauce, add another or top layer and repeat, spooning sauce in a decorative line down the center of the top. Refrigerate until serving.
Variation: For a large or round regular vanilla cake. Add to ingredients
1 box Vanilla Pudding mix
Combine the pudding mix and berries with juice, reserving 2 Tbs. berries, in a saucepan and bring just to a boil. Remove from heat and chill. Whip the cream and fold all but 1/3 cup into the chilled berry mixture. Spread on the two or three cake layers. Garnish the top with the reserved cream then the reserved berries.
*1 lb. boxed pound cakes are available on the shelves of many stores bakery departments including The Dollar Store.