7 PERFECT DESSERTS FOR VALENTINE'S DAY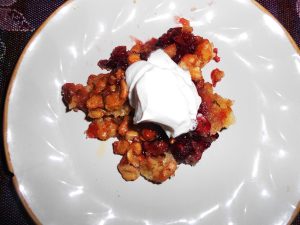 Valentine's Day is near and the media is crowded with recipes and menus for 'dinners for two'. I've made a lot of dinners for two, but, looking back, I realized few have been for Valentine's Day. Most of those have been happily celebrated in restaurants. So I'm taking a different approach with a suggestion that combines the easy but still retains the personal touch in observing the holiday.
I spent my bachelorette days in a city filled with good restaurants and interesting people, who appreciated food but normally ate out. I still haven't figured the chicken-egg sequence there. Then came marriage, children and Valentine's Day became a 'date night' on the next free Saturday. Naturally, 'empty nesting' involves regularly having dinners for two, but for an event like this, a special restaurant, with others doing the work, is choice of most people I know.
The plain truth is that, unless two people enjoy cooking together, the simple mechanics of serving a dinner can cause jarring interruptions to conversation and concentration at a time when such distractions are unwelcome. Add to this the stress of getting everything right, while appearing calm and interested, or trying to time a dish while concentrating on conversation, can be a spoiler. My advice is, whether you eat in or take out, even fast food, let someone else make the entrée, then have a wonderfully romantic dessert ready to serve at home with liqueur or wine or espresso. This allows people to spend time together, yet ends the evening on the proper note.
I'm listing 7 desserts below which fill the bill. Two are more spectacular, three need a few seconds of finishing touches and two are table ready, but all can be served quickly and with little effort. Don't let the first two scare you, they really are simple to make and the recipes easy to divide.
Bananas Foster with Grapes: Serves 4
4 ripe bananas –choose chunky ones – peeled and halved
½ lb. seedless grapes – halved
½ cup butter
2 lemons juiced
1 cup sugar
½ tsp. cinnamon – optional
¼ cup rum
Toasted slices of pound cake or ice cream
Melt the butter in a sauce pan over medium-high heat or in a chafing dish. Arrange bananas in the dish and sprinkle over ½ the sugar and lemon juice. Keep adding the sugar and turning the bananas. When slightly brown add the grapes and cinnamon and toss gently in the sauce. When grapes are heated through, add the rum and set ablaze. Be sure to blow out the flames because the sugar will continue to burn. Serve warn over ice cream or toasted cake slices. I see no reason this can't be made ahead, kept at room temperature and gently reheated in the microwave to serve.
NOTE: The rum can be omitted, or extract can be substituted to taste, and don't try to set ablaze.
Cherries Jubilee: Serves 8
1 lb.4oz.can of pitted black Bing cherries
2 tsp. lemon juice
1 Tbs. cornstarch
¼ cup sugar
1 Tbs. butter
Pinch salt
Drain cherries, reserve 1 cup juice. Mix the sugar, cornstarch and salt with the juice in a saucepan. Bring to a boil over medium heat and simmer, stirring, until thickened, about 3 min. Add the butter and lemon juice. Cool and add the cherries. Serve over ice cream of preferred flavor. This presents better if the ice cream is cut into square blocks rather than scooped. The ice cream can be ready on plates in the freezer hours ahead. Sauce may need gentle reheating before serving to pour easily.
NOTE: Optionally, make or reheat the sauce in a chafing dish. Add 1 Tbs. brandy at the finish and ignite, then pour over the ice cream.

Cranberry Crisp: Serves 6
12 oz. fresh cranberries=2 cups
1/3 cup sugar
½ cup chopped walnuts
1 egg
½ cup of flour
½ cup sugar
3/4 cup butter- melted
Lightly grease a 9 inch pie plate. Fill with berries, top with 1/3 cup sugar and nuts. Beat egg until foamy, beat in butter, flour and remaining sugar until batter is smooth. Pour over berries. Bake in a preheated 325 deg. oven until browned, about 45 min. This is best served warm with ice cream or whipped cream.
NOTE: This can be stored, the berries in the pie plate, covered, and the batter in a container in the refrigerator for about 3 days. Combine and bake. Itt can also be reheated in the microwave the day after baking.
Cranberry-Nut Tart: Serves 8-10
(1) 9 inch unbaked pie shell
2 cups sliced apples
½ cup halved cranberries
8 oz. cream cheese
½ cup brown sugar – divided
1 egg
1 tsp. cinnamon
1/3 cup flour
1/3 cup quick cooking or regular oats
¼ cup butter
¼ cup toasted chopped walnuts
Mix cheese with ½ the sugar until blended, mix in egg and pour into shell. Toss half the cinnamon and fruit and spread over filling. Mix the oats, remaining sugar and cinnamon, cut in butter and add nuts. Spread over fruit. Bake in a preheated 350 deg. oven 40-45 min. until lightly browned. Cool slightly before serving or serve at room temperature.
Chocolate-Burnt Almond Snowballs: Serves 2
½ cup chopped toasted almonds—salted is O.K.
2 scoops vanilla ice cream
¼ cup chocolate sauce (dark)- more if needed
Carve out 2 scoops of ice cream and store in coldest part of freezer. Toast nuts again until very well browned, almost black in spots. Put the nuts in a shallow bowl and roll each ice cream ball in them covering completely as if breading. Return the ice cream to the freezer until ready to serve. To serve, plate the ice cream and pour half the sauce over each. Top with whipped cream and a cherry if desired.
*Don't be tempted to try other flavors. Vanilla fudge is O.K. but other flavors mask the almond taste
Chocolate-Covered Strawberries: Serves 4
You can have this dessert ready for any unexpected event or add a sweet touch to a stormy night.
(1) 12 oz. bag of chocolate chips-milk, semi-sweet or a mixture
1/3 cup cream-heavy is best, light will do
2 Tbs. brandy –optional
Strawberries fit this occasion  but other fruits work too as do cookies, pretzels and squares of toasted pound cake  for dipping.
Melt the chocolate, ideally in a fondue pot, but 1 min. microwaved in a safe bowl will do. Stir in the cream and blend well, then the liquor if using. Place the bowl, or fondue pot, in the center of a plate, surrounded by pieces of fruit or other dippers,and serve with short bamboo skewers or fondue forks for dipping. Have a stack of napkins handy too!
Biscotti*- I'm including a recipe for chocolate biscotti, along with the classic one, because it seems fitting for Valentine's. Traditionally biscotti are dunked in a sweet wine, Marsala, Madera, Port, but spiced rum or brandy will do as well   Served with coffee they make an excellent end to a fine meal. Yield=20.* Recipes from Moosewood Restaurant's New Classics Cookbook
Classic Almond Biscotti
¼ cup butter
¾ cup sugar
2 eggs
1 tsp. vanilla
1 tsp. almond extract
2 tsp. grated orange peel
2 1/3 cups flour
1 ½ tsp. baking powder
¼ tsp. salt
1/8 tsp. nutmeg
½ cup chopped raw almonds – toasted at 350 deg. for 5-10 min.
Cream the butter and sugar until light; add the orange, eggs and extracts and mix well. Fold in the almonds. Sift the dry ingredients and fold into the wet ones until the dough is uniform and holds together when lightly pressed. With floured hands and a spatula, scoop the dough onto an oiled baking sheet and form into a 12 x 3 inch log.  Flatten to a thickness of 1 inch making the log 14 x 4 inches.
Bake at 350 deg. on the top rack of the oven for about 20 min. Remove to a cutting board and allow to c. until the log is firm. Cut into ¾ inch slices and bake again for about 5 min. on each side. Cool on a rack
Serve on a plate surrounding a bowl of sweet wine for dipping. Stored air-tight, these keep for weeks. In Italy, Vin Santo is used.
Chocolate Biscotti
¼ cup butter
¾ cup sugar
2 eggs
1 tsp. vanilla
1 tsp. almond extract
½ cup dried cherries- reconstituted in 1 cup boiling water and dried on towels.
2cups +2 Tbs. flour
½ cup semi-sweet chocolate chips
1/3 cup unsweetened cocoa powder
1 ½ tsp. baking powder
¼ tsp. salt
½ cup chopped toasted raw almonds (optional)*
Follow the directions above, folding the cherries, chocolate chips and almonds, if using, into the egg mixture in that order. Sift the dry ingredients and fold into wet mix as described, then shape loaves of dough and cook as instructed above.  This version is excellent dipped in coffee as well as wine.