7 Great Strawberry Desserts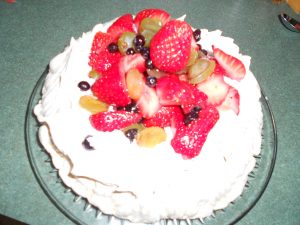 It's time for strawberries, the other, more popular spring fruit. Though they are available year 'round, strawberries, especially local, in season bring a smile to the face and brighten the day. They promise warm sunny days, longer and more relaxed, offering the chance to get outside and have fun. My children thought of our annual pick-your-own trip to a near-by farm as concrete proof that the school year was ending and vacation about to start. They looked forward to it as a holiday to celebrate. Perhaps our reaction to strawberries isn't just due to weather change though. Read on–
Today strawberries are valued all over the world, for their color, smell, taste and decorative qualities, but the earliest mentions of them in Roman texts is mainly for medicinal uses. By the 14th century the fact that they could be easily transplanted from the woods where they grew wild and cultivated in gardens made them popular, but still for medical purposes. In the mid 14thcentury Charles V, of France, kept over 1,200 plants for his personal use. Ironically, they were believed, among other complaints, to relieve depression.
Strawberries were a widely harvested crop in England, Germany and France by the 16th century, but it wasn't until they were introduced with cream at the court of Henry VIII that they gained culinary status.  However, the wild, wood strawberry though very sweet is tiny and fragile. In the 18th century, Fragaria Virginiana, the North American species, was introduced to Europe and the modern strawberry was developed in Brittany. Technically, it isn't really a berry, but an 'aggregate, accessory fruit' for several reasons but briefly, because the seeds are on the outside.
Unlike its seasonal companion, rhubarb, strawberry flavoring is found in products from cough drops to cosmetics, but the fruit is especially popular in sweets.  I think everyone reading this probably has a favorite dessert. Just in case you all want to try something new this year while they're in season, I'm offering 7 easily made recipes, all of which my family has sampled and liked.  So enjoy strawberries while they're here. They're not only good, but according to history, good for you. Have a Strawberry Day as my kids called it!
Strawberry Mousse; Serves 6
1 pkg. frozen sliced strawberries**
1 envelope unflavored gelatin
1 cup heavy cream
½ cup sugar**
1 tsp. vanilla
2 Tbs.  Curacao – optional
Thaw berries and drain, measuring liquid. Add Curacao, if using and enough water to equal 1 cup. Add gelatin and soften for 5 min. then add 1 cup boiling water and stir to dissolve. Add berries and cool the mixture for 30 min. until slightly thickened. Beat the cream until slightly thickened; add vanilla and gradually add the sugar beating 'til thick. Fold the cream into the berry mix and pour into a fancy mold*. Freeze until firm. Kept frozen this mousse lasts as long as ice cream.
* Rinse the mold with water first leaving a light coating on the inner surface.
**If using fresh fruit, wash, hull and slice or chop an equal size into a bowl. Try to get the pieces of comparable size. Allow to stand in 2 Tbs. sugar until juices are released and proceed as directed. Optionally deduct the extra 2 Tbs. sugar from the ½ cup listed in ingredients.
Strawberry Ice; Serves 6
2 quarts strawberries
3 cups sugar
2 1/2 cups water
1 Tbs. lemon juice
Dash cayenne pepper
Wash, hull and chop berries. Place in a bowl with the sugar and let stand for 3 hrs. to draw the juice. Buzz blend and drain by squeezing through a double thickness of cheese cloth. Mix in remaining ingredients and freeze in refrigerator trays until almost frozen, stirring occasionally. Pour into a chilled bowl, and beat well. Return mixture to trays, or if preferred a mold, cover with a wrap and freeze until firm. Like the mousse, this dessert keeps as long as ice cream in the freezer.
Strawberry-Cream Cheese Pie; Serves 6-8
9 inch baked pie shell—commercial is fine
(1)3 oz. pkg. cream cheese
2 pts. Strawberries- washed and hulled
¾ cup sugar
3 Tbs. cream
2 Tbs. cornstarch
Pineapple juice
Blend the cheese and cream until smooth and spread over the pie shell. Select the best berries and slice them. Chop the rest and let stand with the sugar until juicy, then mash and rub through a sieve. Mix the mashed berries with the cornstarch to a paste and add enough pineapple juice to equal 1 ½ cups. Cook stirring constantly over medium heat, until thick and transparent. Cool and pour ½ the mixture into the pie shell. Cover with the sliced berries and pour on the rest of the cornstarch mixture. Chill well.
 Old Fashioned Strawberry Shortcake
The sponge cake shells sold in stores are fine, but I like strawberry shortcake served on
Baking Powder Drop Biscuits for Shortcake
2 cups flour
¾ tsp. salt
¼ cup + 2 Tbs. shortening
1 cup milk
2 Tbs. sugar
Extra sugar and cinnamon for topping
Mix dry ingredients, cut in shortening until crumbly, stir in milk all at once. Drop by tablespoons, several inches apart, onto a greased baking sheet. Sprinkle tops with sugar and cinnamon. Bake in a preheated 450 deg. oven for 10-12 min. until light brown. Cool slightly, remove from pan and cool completely.
To serve, slice in 2 layers and fill with sliced strawberries which have been marinating in sugar long enough to have rendered their juice.* Top with whipped cream or ice cream.
* A splash of Curacao added to the marinating strawberries is good.
Strawberry Crisp: Serves 18-20 (Recipe courtesy of The Cake Doctor)
6 cups fresh strawberries, or (2) 16 oz. bags whole frozen
1 box plain yellow cake mix
1 cup butter – cut in ½  inch pieces
Whipped Cream or ice Cream for topping –optional
Hull strawberries and place in the bottom of a 9 X 13 inch baking pan* Sprinkle ½ the cake mix over the berries and scatter ½ the butter pieces over that. Repeat the layers. Place the pan on the center rack in a preheated 350 deg. oven and bake 60-65 min. until crisp on top. Remove and cool on a wire rack for 10 min. Spoon warm into bowls and top with cream or ice cream.
* Leftovers will keep in glass, covered and refrigerated for 1 week, but only 1 day in metal. If baked in metal, transfer to a glass or ceramic container within a day.
Strawberry-Blueberry Pizza; Serves 14-16
4 cups fresh strawberries – washed and hulled
3 cups fresh blueberries – washed
1 roll shortbread cookie dough
¾ cup apricot jelly + 3 Tbs. water
2 cans whipped cream
(1) 12 inch pizza tin
Roll out the cookie dough to fit the pizza tin, leaving a bit of an edge to fold over making a rim, if possible. Prick a few times with a fork, cover with waxed paper and pie weights (raw rice will do), and bake according to package directions. When cool, place the fruit decoratively over the top, slicing any large strawberries so they appear of even size. Melt the jelly in the water over low heat until it's a smooth liquid. While still hot, spoon evenly over the fruit to give a glazed appearance. Chill well and serve with whipped cream topping.
Angel Nests: Serves 6-8
3 egg whites
1 cup sugar
1 Tbs. flour
1 Tbs. cornstarch
1 tsp. vanilla or almond flavoring.
2 drops of white or cider vinegar
Beat the egg whites into peaks, adding the vinegar to temper them half way through, then the
flour and the cornstarch, finally the sugar in 3 parts while beating until stiff glossy peaks form.  Draw an 8 or 9 inch circle on parchment or waxed paper. Put the paper on a cookie sheet and fill
the circle, with the beaten whites, using the back of a fork to indent the center and raise the sides to form a nest.  Bake at 250 deg. for 60 min. Leave in oven for 30 min. then cool on a wire rack and store airtight. To serve, fill the center with sliced fresh fruit or berries.