6 EASY TRICK-OR-TREAT SUPPERS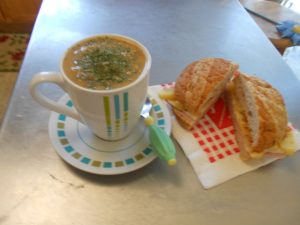 Dinner on Halloween can be a problem for those participating in Trick-or-Treat, especially parents. Trying to feed excited children, fussing over costumes and anxious to get going combined with a constantly ringing door bell is hectic. The kids don't want to stop to eat, not even spend the time to chew much less sit down to a full plate and use utensils. They'll only consider something they really like which is easily consumed and doesn't drip, because one spot on a costume can cause a meltdown.
The choice of food also depends on when and how it's served. Younger children go out early and can be fed when they return, but they want to be near the door, so it has to be something they can pick up. Older children go out later and need something filling or they'll stave off hunger with candy. Parents either eat on the fly, or later after the porch light is off, so easy clean-up is desirable too.
In summary, the food requirements for a Trick-or-Treat friendly Halloween dinner are that the choice be; liked by the children, easily consumed with minimal mess, able to be held ready for several hours, swiftly, even self-servable, portable and with quick clean-up, but above all it needs to be satisfying and nutritious. It seems like a tall order, and it took a bit of trial-and-error for me to find my own solution. I tried casseroles based on rice and couscous, but they dried out, kept on warm, or tasted like leftovers when re-heated. Fast food is meant to be eaten fast, going soggy quickly and build-your-own buffets create a real mess. My final answer was simply soup. Thick, filling, tasty soup, served in mugs, with a platter of sandwiches on the side.
Following are 6 wonderful soup recipes perfect for the occasion; 2 based on potatoes, 2 based on vegetables and 2 based on legumes. All are easy to prepare, and can be made ahead because their taste improves with age. As for the sandwiches, picnic rules apply; no salads or ingredients that can drip or make the bread soggy; stick to slices of meat and/or cheese and chunks of fish and no lettuce that wilts and unappetizingly droops. Think avocados, hard boiled eggs, baby spinach and blanched kale, and microwaved 'baked' apple slices instead.* If the taste of tomatoes is essential, try mixing tomato paste in the spread or a sprinkle of chopped, oil-cured sun-dried tomatoes.
One tip on the bread too; Ciabatta, Portuguese, Telera and Kaiser rolls baked for 5 min.in a 400 deg. oven, form a crisp, almost waterproof crust that keeps the inside soft far longer than bread slices, which dry and curl. Also keeping the sandwiches covered with a dish towel retains freshness.
*Slice a peeled, cored apple in about 3 slices per quarter. Put in a small bowl with a light sprinkle of sugar and another of cinnamon. Add 1-2 Tbs. water or apple juice and microwave about 1min-1 min.30 sec. Store refrigerated in juice. This prevents the apple from browning and is a kid favorite with ham and/or cheese. These are wonderful with the chickpea soup below.
SOUPS: Using an immersion blender is the quickest, neatest way to get the proper texture
Baking Potato Soup: Serves 6
This was a favorite of mine as a child. My Mother made it 'by feel' and this recipe is the closest I've found a soup that tastes like hers.
2 lbs. baking potatoes peeled and diced
7 ½ cups chicken broth- beef, ham or vegetable are options
2 large onions – finely diced
¼ cup butter
¼ to½ cup milk or half and half – optional at end
½ bunch fresh parsley – finely chopped = 3 Tbs. dried
Chopped chives for garnish if available
Saute the onion in the butter over medium heat until very soft, but not browned. Add the potatoes, half the parsley and broth, bring to a boil, reduce heat and simmer until potatoes fall apart. Mash gently, then whisk, leaving some texture to the mix. Add the rest of the parsley, a little milk if desired, and salt and pepper to taste.
Sweet Potato and Corn Soup: Serves 6
1 Tbs. oil
1 onion finely diced
2 garlic cloves- crushed
7 ½ cups vegetable stock
Dash cayenne pepper or hot sauce
2 tsp. cumin
1 large sweet potato- peeled and diced
½ bell pepper finely diced
(1) 15oz. or 1 lb. can corn kernels-preferably yellow- drained
Salt and pepper
Saute the onion in the oil over medium heat until soft, about 5 min. then add the garlic and cook for 2 min. more, add the pepper or hot sauce with 1 ½ cups of the stock and simmer 10min. Dissolve the cumin in ½ cup stock and add to the pot with the potato; simmer 10 min. Stir well and add pepper, corn and remaining stock. Simmer for 10 min. allow to cool and process half the soup to a puree. Return the blended mix to the pot, stir well, season to taste with salt and pepper, reheat and serve.
Tomato and Lima Bean Soup: Serves 4
Substitute peas for the lima beans in this recipe and it becomes one the Pennsylvania Dutch call Mulligatawny, after a local river as opposed to the Indian soup of that name.
(2) 15 oz. cans lima beans or green peas or 1 lb. frozen ford hooks or green peas
3 ½ cups vegetable stock
(2) 8 oz. cans tomato sauce
4 Tbs. pesto OR 1 Tbs. dried basil + pinch of garlic powder and ½ Tbs. oil
If using canned vegetables simply add them with the tomato sauce to the broth and heat. If using frozen, cook them in the broth until soft, then add the tomato sauce. Simmer for 10 min. then blend half the soup to a puree and return to the pot. Gently mash the other vegetables with a spoon to make a thick textured mix. Add the pesto, or optional ingredients and salt and pepper to taste. Reheat and serve.
Irish Yellow Broth: Serves 4
1 large –onion, carrot, celery stalk all finely chopped
2 Tbs. butter
1 pint chicken broth + ½ cup if needed
¼ cup flour
5 oz. chopped spinach = ½ a 10 oz. box
1/3 cup oatmeal-regular
2 Tbs. cream
Parsley for garnish
Saute the onion, carrot and celery until soft about 3 min. Add the flour and stir into a roux, about 1 min., then add the broth, bring to a simmer, stirring, cover and cook for 30 min. Uncover, add the spinach and oatmeal and cook for 15-20 min. stirring occasionally.( Instant can be used. In that case add the spinach and cook for 8 min. then add cereal and simmer 2-3 min. until it's cooked.) Thin with extra broth if desired, add the cream, season with salt and pepper, stir well and serve garnished with parsley.
Chickpea and Parsley Soup: Serves 4
(2) 28 oz. cans of chickpeas drained or 1 ½ cups dried, soaked over-night and rinsed
5 cups chicken or beef stock
1medium onion – chopped
2 Tbs. oil
1 bunch fresh parsley – chopped
½ lemon juiced and rind grated
If using the dried chickpeas, cover with water and boil for 1-1 ½ hrs. until soft, drain. Process the onion and parsley into a rough paste, then sauté them in the oil for 4 min.; add the drained chickpeas and sauté for 2-3 min.; add the broth and simmer for 20 min. Mash the chickpeas with a fork until mixture is thick and chunky; add the lemon juice, stir well, reheat if needed and serve garnished with grated lemon rind.
French Lentil Soup: Serves 6
The beauty of lentils is that unlike other legumes they don't have to be soaked before they're cooked. 1 lb. bag of green lentils
1 large onion diced
3 Tbs. oil
1 large carrot thinly sliced
3 Tbs. tomato paste
2 bay leaves
½ cup red wine
2 tsp. dried oregano
2 Tbs. red wine vinegar
Water to cover
Salt and pepper
Saute the onion in the oil until soft; add the carrot, tomato paste, bay leaves, lentils and water to cover. Bring to a boil and simmer, covered 1-1 ½ hr. stirring and adding more water as needed. When the lentils are cooked, add the wine, vinegar and oregano. Cook 5 min., remove bay leaves and blend a little over half the soup to a rough puree. Combine with soup in pot, stir and season with salt and pepper, reheat if necessary and serve.