5 STUFFING, 5 POTATO RECIPES TO MAKE AHEAD FOR THANKSGIVING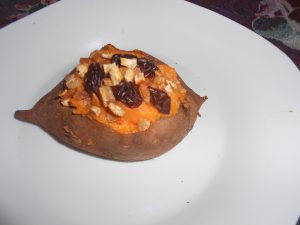 Some holidays don't seem complete unless the dinner consists of traditional family recipes. Others have an open menu, so long as the foods are seasonal. Thanksgiving falls in the middle. Turkey, cranberry sauce and pumpkin pie are musts, so is stuffing, but even when cooked in the bird, recipes vary. The choice of side dishes and additional desserts was always optional, but preferably of autumn produce.
In recent years the holiday has been returning to its communal roots, celebrated with family and/ or friends and the menus have become collective efforts. Actually, the changes are in keeping with the spirit of the holiday and have added to it. New ethnic twists on traditional foods, and the concept of sharing the work, as well as the meal, have added a sense of fun.
While lessoning the work load, these changes add new problems for the person hosting the feast, who now becomes more a coordinator than a creator. This isn't a "Bring what you want" covered dish supper. It takes organization to produce a balanced holiday dinner. While some guests will offer to bring specific things, most will ask what is needed and even be open to suggestions. Usually the biggest menu gaps will be in alternative stuffings, side dishes and salads and it's good to have recipes on hand.
This raises another obstacle, though. The recipes offered have to be for dishes that can be made ahead, are portable and need only chilling or little cooking, because refrigerator space, oven(s) and kitchen time will be at a premium. This is also an aspect to consider when planning the dinner. In fact, if it's a large gathering, you may be glad to have someone bring a spare microwave or counter-top along, and be thankful for cold weather. I have several times!
The next two posts are about dishes that fill the above requirements. Hopefully, you might find them helpful in planning your holiday dinner. The first week has stuffings and potato recipes and the second vegetables and salads. They are all easy to make and some offer options to the basic directions which can inspire modifications or improvements.
STUFFINGS
Apple-Walnut Stuffing: Serves 12
8 oz. chopped mushrooms
1 lg. onion –chopped
2 ribs celery – sliced
1 lb. sausage –hot, sweet, pork or turkey
1/3 cup butter
2 lg. cooking apples, peeled and diced
4 cups herb seasoned stuffing mix-add sage or thyme and onion powder if not included
½ cup chopped toasted walnuts
1 ½ cups chicken or turkey broth
1 egg- well beaten
Cook sausage until no longer pink in a large skillet, drain and set aside in a large bowl. Melt the butter in the skillet and sauté the vegetables 4 min. add the apples and cook 2 min. stirring constantly. Add to bowl with sausage. Add the stuffing mix and nuts to the bowl; toss then add the broth and egg; toss again. Spoon into a greased 2 quart casserole or dish, cover and bake in a preheated 325 deg. oven
20 min. Uncover and bake 25-30min.until internal temperature is 165 deg.
To make ahead: Chill to store, bring to room temperature and microwave, covered, on high 3-4 min. until heated through.
Shiitake and Sourdough Stuffing: Serves 8
3 cups sliced shiitake caps
1 celery stalk- sliced
1 cup chopped onion
¼ cup butter
6 cups sourdough bread in ½ inch cubes
2 Tbs. chopped Italian parsley
½ tsp. thyme
¼ tsp. dried sage
1/3 cup turkey, beef or chicken broth
Salt and pepper
In a large pot sauté vegetables in melted butter for 10 min. or until tender. Remove from heat and stir in the other ingredients. Bake in a greased 3-quart casserole in preheated 325 deg. oven for 30 min. until bread is toasted and golden on top.
To prepare ahead: Store chilled, bring to room temperature and microwave, uncovered 4 min or until heated through.
Brown and Wild Rice Dressing: Serves 6
1 pkg. brown and wild rice mix
3 cups sliced fresh mushrooms
4 oz. sausage, sweet, hot, pork or turkey
1cup diced onion
1 small carrot sliced thin—about ½-3/4 cup
½ cup dried cranberries or cherries
¼ cup chopped Italian parsley
2 Tbs. fresh or 1 Tbs. dried basil
1 Tbs. oil – if needed
Cook rice according to directions and set aside. Saute sausage and vegetables in oil, if needed, until meat is browned and vegetables are tender. Drain and stir in the other ingredients and stir rice into the sausage mix. Place in a casserole dish and serve or chill and bring to room temperature before reheating in a microwave to serve.
Vegetarian Version: Serves 6
2 cups cooked brown rice
2 cups cooked wild rice
6 scallions chopped
½ cup toasted chopped walnuts or slivered almonds
2 Tbs. orange zest
Juice of one orange
1/3 cup plumped raisons, dried currants or cranberries
¼ cup EACH chopped fresh parsley and basil
Salt and pepper
Combine everything in a large bowl, toss well and chill to meld flavors. Serve cold or at room temperature.
Crisp Squash Dressing: Serves 4
2 lb. squash- butternut is best-peeled, seeded and cut in 1inch cubes
4 Tbs. butter – divided
1cup diced onion
2 cups toasted bread cubes
½ tsp. salt
1/3 tsp. pepper
½ tsp. crushed dried rosemary
1/3 cup toasted chopped walnuts
Boil squash in water 7-8 min. until crisp tender. Drain well and toss with half the salt and pepper and 1 Tbs. butter. Put in a 3 quart baking dish and set aside. Saute the onion in remaining butter until soft, add the bread and remaining seasonings and coat well with butter, add the nuts. Spoon over the squash and bake in a preheated 400 deg. oven for about 10 min. until bread is golden. Toss lightly before serving. Prepare the day before, chill, bring to room temperature and bake just before serving.
POTATOES are a favorite part of most holiday menus, even those which include stuffing, but though they store well raw, they don't keep as well cooked. This limits the choices for anyone wanting to prepare a potato dish ahead to an option of mashed, which freeze, or dishes with a cream sauce, which keep refrigerated for up to 5 days. The best presentation for potatoes prepared ahead is double baked stuffed, chilled even frozen between bakings. Minus commercial flash-freezing, preserving dishes in a cream sauce can be 'iffy' because of a tendency to dry. The best thing to do is to chill them, in sauce, and bake before serving. If oven time is a problem, bake and reheat, covered, in the microwave. The recipes below should point in the right direction for successful holiday dishes, whether at home or away.
Two Scalloped Potato Recipes: Scalloped potatoes are a popular easily transportable side dish and these two recipes are quick to make as well.
Harvest au Gratin Potatoes: Serves 4
1 large sweet potato in ¼ inch slices
2 medium Yukon Gold potatoes in ¼ inch slices
¼ cup chopped onions
2 cups 1% milk
3 Tbs. flour
1 Tbs. butter
Salt & pepper
1/3 cup grated Parmesan cheese
Paprika and dried parsley flakes- for garnish
Boil potato slices in water until crisp tender about 5 min. Drain and put in a lightly greased 8 inch non-metal baking dish with onions and dot with butter. In a small sauce pan, combine flour and milk with seasonings and heat, stirring constantly until thickened. Pour over potatoes, cover with cheese and garnish. Bake in a 350 deg. oven until brown and bubbly, about 25 min. When making ahead, leave baking until serving time or if oven space is a problem, under bake by about 5 min. store covered, chilled and reheat uncovered before serving, or follow directions above for microwave.
Quick Scalloped Potatoes: Serves 4
1 lb. medium potatoes – mixed sweet and white- in thin slices
¾ cup skim milk
¼ cup grated Parmesan
Paprika for garnish
Layer potatoes and cheese in a greased 2 qt. casserole. Pour over the milk then garnish, cover with vented plastic wrap and microwave on high 10-12 min. turning dish 3 times. Best served at once, but to prepare ahead, see above recipe for directions.
Sweet Potatoes: For double baked recipes*, oven cooking hardens the skin into a shell. Wash potatoes well and rub with butter, margarine or oil, then bake at 425 deg. for 40-60 min. until they give when gently squeezed. Cut an oval hole in the top of each and hollow out the meat with a spoon. Mash it with a bit of butter and fill the shells mounding the stiffing on top. To prepare ahead, potatoes can be frozen or chilled at this time, wrapped in plastic wrap. Save the second baking for serving time. Alternatively, freshly baked potatoes can be simply split and the toppings added, for immediate serving. A microwave can be used but the skins will be soft and tear easily, so it's not suitable for double baking and timing will vary according to oven.
*When double baking potatoes, apply heavier garnishes, chopped nuts, fruits, zested or sliced peel before freezing. Light garnishes, powdered spices and dried herbs can be added before the final baking.
Cinnamon Butter: Serves 4
¼ cup butter -softened
1 tsp. brown sugar
½ tsp. orange zest
1/4tsp, cinnamon
3 Tbs. toasted chopped walnuts or pecans
Mix all the ingredients and top each of 4 baked potatoes with an equal portion. Serve at once. Topping can be made ahead and kept chilled or, for double baked, mashed with the meat before stuffing, optionally, saving the nuts for garnish.
Orange-Honey Sauce: Serves 4
1/3 cup orange juice
3 Tbs. honey
3 Tbs. butter
Pinch salt
Combine all ingredients in a microwave safe dish and cook for about 1 min. until butter is melted. Whisk to combine and spoon into 4 cooked potatoes. Serve at once. Topping can be made ahead and reheated or mashed into the meat before stuffing for double baked.
Spiked Sweet Potatoes: Serves 4
1/3cup brown sugar
¼ tsp. nutmeg
½ tsp. cinnamon
1/3 cup raisins
½ cup 2 % milk
¼ cup bourbon
Blend these ingredients with the meat from 4 baked sweet potatoes. Refill potato shells or put into a casserole. If not serving at once store covered, chilled, bring to room temperature and reheat gently. Best served within 3 days of making.
Next week easy, delicious vegetable recipes to prepare ahead.