5 Really Traditional Desserts For Father's Day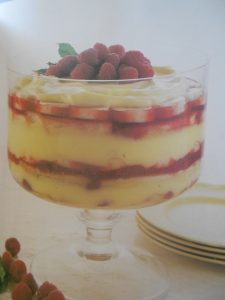 As I promised last week, here are some different desserts, which showcase the fruits of the season, for you to look over. If you want to try one for Father's Day, they fit the requirements. They're delicious, make a good presentation, the recipes are simple and straight forward and they can all be made ahead. They have one other fact in common. All are very old recipes, popular in Europe before the U.S. was settled and favorites of Colonial society. I've modernized some and give options to suit individual situations, but all deliver as promised, a sweet ending to dinner.
Perhaps the best known of these desserts, the traditional English Trifle calls for the cake to be sandwiched with jam and placed in the bottom of the bowl. A home-made egg custard is then added and the topping is whipped cream mixed with beaten egg whites. Maraschino cherries are the only fruit. Chopped together with their liquor they're sprinkled over the cake, and whole ones decorate the top. I find this version difficult to serve, time-consuming to make and far too calorie and cholesterol laden to be healthy, not to mention my aversion to using raw eggs due to Salmonella. There is a solution to the last obstacle given in the Syllabub recipe below, but I still prefer this modern trifle recipe.
American Trifle Recipe: Serves 8
Note: the flavor of the pudding mix can be changed to taste, White Chocolate, Coconut, Lemon etc., as can the type of fruit preserve. For example the trifle could be blueberry-strawberry or peach. Experiment and have fun!
(1) 4 serving package of Vanilla instant pudding-pie filling
10 oz. pound cake –available at the Dollar Store
10 oz. jar of raspberry preserves-whole fruit
3 ripe bananas –sliced*
¼ cup sherry, brandy or orange juice
1 cup sweetened whipped cream –optional garnish
¼ cup berries and/or a few mint leaves for garnish
Arrange 1/3rd of the cake in a single layer to completely cover the bottom of a deep glass bowl or large compote dish (clear glass is best) Spread with 1/3rd the preserves, sprinkle with 1/3rd the liquor or juice, spread with 1/3rd the banana slices and top with 1/3rd the pudding. Repeat layers twice ending with pudding, Top with whipped cream if using and garnish with berries and/or mint. Chill for up to 1 day.
* The banana protects the cake from becoming too moist and falling apart. Other fruits, such as strawberries or peaches, can be sliced and put on top of the banana for extra flavor.
Summer Berry Pudding:
Not really a 'pudding' in the American context, but rather in the English one where 'pudding' is term meaning 'dessert'. The original recipe calls for thin slices of white bread but I've found wheat bread gives a deeper dimension to the flavor. I'm giving two options for making and serving, individually and in a single presentation. The sauce, really a coulis, can be served with either by adjusting the recipes to hold back a few berries or adding a few extras.
General ingredients
2 lb. mixed berries, strawberries, blueberries, blackberries, red or black raspberries, cherries, currents about 2/3 lb. of each of three types
¾ cup sugar
Whipped cream or sweetened sour cream to garnish
Butter or oil for lightly greasing the bowl or cups
8 thin slices white or wheat bread crusts removed
For one large communal pudding: Serves 4-6
Line a 4 ½ cup greased bowl with the bread leaving no spaces. Mix the fruit and the sugar in a saucepan and bring to a simmer. Cook, covered 8-10 min stirring once. Cool slightly and pour the fruit into the bowl, with as much juice as possible, being sure to add some around the sides of the bowl and cover top with bread. Place a plate on the top and tin cans on the plate to weigh it down, Refrigerate overnight. Invert pudding onto a platter and serve with chosen garnish. If sufficient juice remains, it can be thickened with the proper amount of cornstarch and served as a sauce.
Individual servings: Serves 6
1 ¼ cups water.
Grease and line (6) ½ cup – cups or molds with bread. Dissolve the sugar in the water, then boil for 2 min. stirring often. Hold back about ½ lb. of one fruit, raspberries are good for this, add the rest to the pot and simmer only until they soften but still retain their shape. Spoon fruit into the molds and, following the above directions, add the juice, cover the tops with bread and weight them down. Reserve extra juice for sauce recipe below. Refrigerate overnight. Invert to unmold and serve, garnish and pass sauce.
To make coulis sauce
Puree reserved fruit and press through a strainer. Add enough reserved juice to make the sauce coat a spoon-or to desired consistency.
Syllabus
Of these desserts, this is perhaps the easiest to make. Though, undeservedly, the one least seen today it was very popular in Colonial times. In fact, history says that George Washington boasted about Martha's recipe. I give two versions below; the first is 'family friendly'.
Orange Syllabub: Serves 4
This recipe calls for beaten eggs whites. Due to the concerns over Salmonella, I recommend substituting Wilton Meringue Powder for the raw eggs. It's available at all bakery supply stores and craft stores that sell baking equipment such as A.C.Moore*.
2 ½ cups plain yogurt
2 egg whites*
6 Tbs. skim milk powder
4 Tbs. sugar
4 oranges
4 Tbs. orange zest-from oranges+ 1 Tbs. or enough for garnish
Cleanly remove the segments from the oranges, divide them among 4 dessert dishes and chill. Zest enough of the rind for the recipe. Combine all ingredients except the eggs (or meringue powder) in a bowl and chill for 1 hour. Whisk or beat the eggs until stiff peaks form and gently fold into the other ingredients. Spoon over the orange slices, garnish with the reserved zest chill 1 hour and serve.
Syllabub: Serves 4
1 large lemon
1/3 cup sherry
3 Tbs. brandy
¼ cup sugar
1 ½ cups whipping cream
Lemon slices to garnish
Zest and juice the lemon. Mix the juice and zest with the sugar, sherry and brandy in a large bowl until sugar has dissolved. Add the cream and whisk or beat until soft peaks form. Divide into 4 goblets and chill until serving. Just before serving, garnish with thin slices of lemon. This keeps well for 1 day if refrigerated.
Berry Clafoutis; Serves 6
When speaking of traditional European desserts enjoyed in the U.S. in Colonial times, one has to give a nod to the French for this classic. The real beauty of Clafoutis is that it can be made with any fruit in all seasons and served warm or at room temperature. It's wonderful in hot weather because it's not messy to serve or eat.
1 lb. soft fruit: berries, cherries, stone fruits slices, pears
1 cup flour
2 Tbs. sugar
4 eggs lightly beaten
2 1/2 cups milk
Pinch salt
Butter for greasing
3 Tbs. brandy or fruit liquor
Sugar to decorate
Put the flour in a bowl and make a well in it. Pour in the eggs, sugar and salt and gently mix in the flour from the sides with a whisk. Add the milk and beat or whisk until smooth. Grease a 3 pint, ovenproof dish and pour in ½ the batter. Cover with the fruit, and add the rest of the batter. Sprinkle with brandy. Bake in a preheated 350 deg. oven for 40 min. until golden on top. Remove from oven and sprinkle with sugar. Serve warm or room temperature adding powdered sugar or whipped cream for garnish if desired.
Balsamic Strawberries: Serves 4-6
I'm including this recipe, because if you need something a bit different, delicious, seasonal and super easy, here's your answer. Just pick up a pack of berries in the market and you're set to go. If you want to make the dish seem more important, add a tablespoon of ricotta cheese to the bottoms of the individual serving dishes.
1 lb. fresh strawberries- hulled and halved if very large
2-3 Tbs. Balsamic vinegar—allow ½ Tbs. per serving.
Freshly ground black pepper
Fresh mint leaves- chopped, saving a few leaves for garnish
Make sure the berries are completely dry or they may become soggy. Marinate the berries in the vinegar, adding several twists of pepper, chilled for up to 4 hours. Just before serving stir in the chopped mint. Serve from a bowl or on top of ricotta in individual dishes.