23 EASY SIDE DISHES TO PERK UP HOLIDAY DINNERS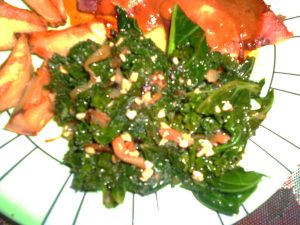 As I said last week, the December holidays are different than the November one. Thanksgiving, focused on the hardy autumn harvest, is more rustic and often communally prepared. In contrast, the December holidays are usually hosted by one person. Since the winter season is without crops, the foods used are preserved, and prepared with sauces herbs and/or spices to make them seem festive for the occasion, which in turn, appears more elegant. Moreover, the December holidays are international, with many ethnically traditional dishes.
In our 21st century world flash freezing, speedy transport and interest in blending cuisines, open the door to opportunities to try new recipes. I don't mean change your traditional family holiday dinner, just to tweak it a bit by introducing a dish or preparing an old favorite in a different way. A good category to introduce changes, obvious or subtle, is vegetable side dishes. I've been doing it successfully for a few years. I always served the same menu, now I have fun using my imagination and get compliments. It's just enough change to be refreshing and arouse interest.
Here's a whole bunch of suggestions for you to see. I'm going to present the most familiar ones in paragraph form first, to save space, because you know how to prep the vegetables. Then I'll write out the full recipes for a few others for you to try. Most can be made ahead, but instructions are on each. To see more suggestions click on the archived posts in my site's Table of Contents on the Home Page.
Sweet Potatoes: See post of Nov. 3, 2016
Sweet Potatoes Anna: Serves 4—Toss 2lb. peeled, thinly sliced sweet potatoes with ¼ cup melted butter, 1 Tbs. sugar, 1 ½ tsp. cinnamon, ¾ tsp. ginger, ¼ tsp. nutmeg, ¼ tp. pepper and a pinch of salt. Layer half the slices in an over-lapping circular pattern in a foil lined 9 inch cake pan. Sprinkle with 4 oz. shredded Swiss cheese; layer the rest of the potatoes on top. Cover loosely with foil and bake at 425 deg. for 60 min. Uncover and invert onto serving platter. Can be rewarmed in the microwave
Sweet Potato Cranberry Casserole: Serves 8—Cook and mash 2 lb. sweet potatoes and place in a casserole. Stir in 1 can (16oz.) whole cranberry sauce and ½ tsp. cinnamon. Combine 2/3 cup EACH rolled oats, flour, light brown sugar and 6 Tbs. butter to make crumbs and sprinkle them over the casserole top. Bake at 375 deg. 20 min. Store crumbs and casserole separately, chilled, until ready to bake.
Carrots: All the carrot dishes can be made ahead and re-heated in the microwave
Potato and Carrot Bake: Serves 4—slice 2 lb. small potatoes and 12 baby carrots. In a baking dish, together with ½ cup shredded Swiss cheese, ½ tsp. nutmeg and ½ tsp. black pepper arrange them in 3 layers ending with cheese. Pour over 1 cup hot broth and bake at 350 deg.45min. until top is brown.
Sweet and Sour Carrots: Serves 4—1lb. sliced carrots cooked in water to crisp tender about 8 min. in a skillet. Drain and add ¼ cup cider vinegar, ¼ cup brown sugar and 1 Tbs. butter. Stir over low heat until coated and glazed. Garnish with parsley.
Brandied Carrots: Serves 4—Prep and cook carrots as above. Drain and add 1 Tbs. brandy, 1Tbs. butter and ¼ cup sugar. Stir over low for 1 min. Garnish as above.
Cauliflower: See post of Nov. 10, 2016
Cauliflower with Raisins: Serves 4—Soak ¼ cup raisins in ¼ cup sherry for 15 min. Break a head of cauliflower in flowerets and steam 3 min. Saute 2 tsp. chopped garlic in 2 tsp. oil until tender. Add 1 Tbs.balsamic vinegar and all other ingredients and cook 3-5 min. until cauliflower is crisp-tender. Serve garnished with 2 Tbs. toasted pine nuts. Can be rewarmed in the microwave.
Southwest Cauliflower: Serves 4+ –1 garlic bulb roasted in 1 Tbs. oil* Steam cauliflower flowerets for 15 min. until soft. Combine garlic, cauliflower, 4 oz. cream cheese, 2 Tbs. milk and 1 tsp. minced chipotle peppers in adobo sauce and freshly ground pepper to taste in a bowl, stir first then beat until smooth. Serve hot, can be reheated in the microwave.
Cauliflower with Bok Choy: Serves 6—Wash and trim stem ends of 2 large heads of baby bok choy. Slice leaves and stems. Heat 2 Tbs. oil in a skillet and over medium heat cook 1 small onion sliced and 1 ½ cups cauliflower flowerets 5 min. until tender. Add bok choy, 2 plum tomatoes cut in 8ths, ½ tsp.garlic pepper and 1 tsp. of seasoned salt(flavor optional). Cook 4-6 min. tossing to mix well. Serve when made.
Brussels Sprouts: See post of Nov. 10,2016- Can be reheated in the microwave.
Quickie Lemon Sprouts: Serves 4—Trim leaves from 1 lb. sprouts and cut an X in the stem end. Put ½ a small onion thinly sliced and 2 Tbs. oil in a microwave safe 1quart dish and cook on high 1 min. Add sprouts, 3 Tbs. water and cook, covered, on high 6-9 min. stirring once until sprouts are crisp tender. Add 1 tsp. lemon zest, 1 tsp. lemon juice and salt and pepper to taste. Cook 30 sec.more.
Snow or Sugar Snap Peas: Vegetables are interchangeable. All recipes serve 4 and require 1 lb. of peas. Because they cook so fast these dishes should be served when cooked.
Basic Presentation: Boil peas in water 1min. Drain and toss with 1 ½ Tbs. melted butter and 1 tsp. lemon zest.
Minted—Brown 2 Tbs. slivered almonds in 1Tbs.butter until golden, 1-2 min. Add peas,1Tbs.sliced fresh mint and 2 Tbs. water. Cover and cook 3 min. on low(2 min. if planning to reheat) Season with salt and pepper.
Sesame—Whisk together 1/3 cup rice vinegar, 2 tsp. sesame oil,1 Tbs. sugar, 1 Tbs. soy sauce, ½ tsp. garlic powder, 1 tsp. grated ginger, add peas and sauté over low about 5 min. until peas are crisp tender. Garnish with 2 Tbs. toasted sesame seeds
Green Beans: All recipes serve 6 and call for 1 ½ lb. green beans trimmed. Try using Italian beans.
Orange Glazed Beans—Boil beans about 4 min. until tender. Drain. Saute 1 large, thinly sliced sweet onion in 2 Tbs. oil with3 tsp. sugar about 25 min. until brown. Stir in beans, 1/3 cup marmalade and 1 ½ tsp. soy sauce. Cook 2-3 min. until mix is glazed and heated through. Can be reheated in the microwave.
Genovese—Boil beans as above, drain and pat dry. Cook ½ tsp. minced garlic in 1 Tbs. oil over medium heat until golden. Stir in beans. 2 mashed anchovies, 1/3 cup chopped fresh Italian parsley and pepper to taste and heat through. Serve when made.
With Garlic—In a deep pot, cook 5 minced garlic cloves and ¼ cup diced onion in 1 Tbs. oil and 1 Tbs. butter, stirring constantly until tender, about 3 min. Add 14oz.ofchicken broth and ½ tsp. sugar, bring to a boil. Add beans, return to a boil, cover and lower heat. Simmer 10 min. + until beans are tender, a bit less if planning to reheat. Garnish with pre-cooked crumbled bacon. Can be reheated in the microwave.
Sautéed Greens: Wilted greens reheat well in the microwave, they deflate if allowed to stand too long or are overcooked.
Lemony Escarole: Serves 4—Heat 1Tbs. oil in a deep pot. Saute 4 cloves minced garlic,1/4 cup pine nuts, ½ tsp. crushed red pepper about 2-3 min. until nuts brown. Stir in ½ cup broth, 1 Tbs. lemon juice, 1 lb. chopped escarole and salt to taste. Cook about 3 min. until wilted. Serve with lemon slices.
Kale and Onions 1: Serves 6 –Cook 2 lb. kale covered in 1cup boiling water for 4 min. tossing once. Uncover and cook 3 min. Saute in 1 Tbs. oil, 1 large onion sliced, 2 cloves minced garlic and ½ tsp. red pepper for 1min. Add kale and cook 3 min. more. Plate and toss with 2 tsp. sesame oil and 2 tsp. toasted sesame seeds.
Kale and Onions 2: SERVES 4—Remove ribs from 1lb.kale. In a lightly oiled skillet, cook kale and 2 thinly sliced onions over medium –high heat 2 min. Add 2 Tbs. rice vinegar, 2 Tbs. soy sauce and ½ tsp. sugar. Cook, tossing until vegetables are crisp-tender, about 1 min. more.
Broccoli and Daikon: Serves 4—Whisk together 1/3 cup broth,2 Tbs. soy sauce, 2 Tbs. oyster sauce 1 Tbs. Cornstarch and ½ tsp. sugar. Heat 1 Tbs. oil in a skillet and over medium-high sauté 3 cups broccoli flowerets and 1 thinly sliced daikon until crisp tender. Add sauce and stir constantly until thickened.
Mushrooms:
Spinach Stuffed Mushrooms: Serves 4—Wash and trim gills and stems from 4 large Portobello mushrooms. Bake caps, stem side down, on a foil lined baking sheet at 350 deg. until liquid is released, about 5 min. Meanwhile, mix 10 oz. box of thawed, drained, chopped spinach with 1 egg and 1 envelope of bouillon granules. Fill mushroom caps with mixture, top each with a pinch of nutmeg and 1 Tbs. shredded Parmesan cheese. Bake at 359 deg. for 20 min. Store stuffed mushrooms and stuffing apart until baked and serve as soon as cooked.
Stuffed Eggplant: Serves 4—Scoop and chop pulp from 2 medium Japanese eggplant divided lengthwise. Place pulp in a microwave safe dish with 2 cups sliced mushrooms, ½ cup diced onion,2 cloves minced garlic, 1 Tbs. chopped parsley, 1 Tbs. soft butter, ¾ cup wheat breadcrumbs. Cover and microwave on high 6min. stirring once. Fill shell with mixture and place in a flat glass baking dish with ½ inch of water; top with ¾ cup wheat breadcrumbs. Cover and microwave on high 6 min. until heated through. Garnish with parsley. Store prepared, cook just before serving.
Fennel with Onions: Serves 4
2 fennel bulbs, trimmed and cut lengthwise in quarters
2 Tbs. chopped fennel fronds
1 Tbs. balsamic vinegar
2 Tbs. oil
2 small red onions- thinly sliced
1/3 cup broth
2 Tbs. chopped, toasted walnuts
Stir and sauté onions in oil over low heat for 5 min. Cover and cook 10 min. more stirring twice; add vinegar and stir until coated. Cook fennel in broth, covered, for 10 min. or until tender. Serve fennel hot, topped with onions. Garnish with chopped fronds and nuts. Can be rewarmed in a microwave and then garnished. Fennel and onions can be stored separately and reheated as one dish before serving.
Kohlrabi Gratin: Serves 4
1 ½ lb. kohlrabi –thinly sliced – ½ cup thinly sliced leaves reserved
½ cup shredded Parmesan cheese
¼ cup heavy cream
2 Tbs. diced onion
Salt and pepper to taste
3 Tbs. seasoned wheat breadcrumbs
Combine onion, leaves, cheese and seasonings; divide into 4 parts. Butter a casserole dish and put in a layer of kohlrabi, cover with ¼ of the mixture and 1 Tbs. cream. Repeat layers 3 more times ending with cream. Sprinkle with breadcrumbs. Bake, covered at 350deg. for 30min. uncover and bake 15 min. more.
Can have the first baking, be chilled and reheated in second baking.
Chayote with Scallions: Serves 4
2 large chayotes peeled and sliced crosswise, large slices halved
6 scallions trimmed and cut in ¼ inch pieces—1/2 green slices reserved
2 tsp. Butter
Pinch nutmeg
Salt and pepper to taste
Grated Parmesan for garnish-optional
Saute the chayote and onion in the butter over medium heat, reducing it if edges start to brown, tossing gently for 6-7 min. Add seasonings and a few reserved onion slices; toss again and plate using remaining onion slices as garnish. Finish with cheese if desired. Serve when cooked.
FOOTNOTES:
*Roasting garlic the conventional way in an oven takes time. This is an easy way to do it quickly:> 1)Get a small clay flowerpot (NOT glazed) and matching saucer–about 3-31/2 inches high
> 2)Trim a wine bottle cork to fill about 2/3 of the drainage hole – leaving the small space open to vent
> 3)Remove outer leaves and slice the top off a head of garlic, exposing the tips of the cloves and place it on the saucer. Pour over 1 Tbs. olive oil.
> 4) Cover with the pot as a lid and microwave on high 1 min. Depending on power of your machine may need a bit more time
> 5) Squeeze the garlic cloves into a bowl and mash or use as is. Store in a glass jar, with oil refrigerated
**Chayotes are relatives of squash, native to South and Central America, now grown globally. The fruit has a delicate taste and is treated as zucchini, lightly cooked but can be diced and mixed raw in salads. The leaves are served in salads and the tuberous roots are eaten as potatoes. It's found in the supermarket produce department.